Over the course of the last century, a gold Rolex watch has become an internationally recognized symbol of personal success and achievement. No other luxury watch manufacturer has as much widespread recognition as Rolex, and gold has been synonymous with wealth and accomplishment since the dawn of civilization.
Excellence
Although many people choose to wear Rolex watches because of the associations that accompany them, there are many others who purchase these watches simply because they are excellent, precision timepieces. Rolex was not always regarded as the luxury manufacturer that it is today, and it is only in more recent decades that Rolex watches have become known exclusively as status symbols and luxury items.
While all Rolex watches are synonymous with precision and quality, a Rolex craft from gold is truly emblematic of luxurious horology. The stainless steel Submariner is one of Rolex's best-selling watches in recent years; however, the Rolex Submariner Gold elevates the iconic dive watch to an entirely new level of luxury and exclusivity.
Stainless Steel or Gold
Retail prices for brand new, gold Rolex watches are significantly higher than those of their stainless steel counterparts. As a point of reference, a stainless steel Rolex Daytona retails for $12,400, while the Rolex Daytona Gold retails for $34,650. This in no way means that there is over $20,000 worth of gold in a Rolex watch; however the proprietary blend of 18-karat gold that Rolex smelts in its in-house foundry does not come without a steep premium in retail price.
Rolex exclusively manufactures the Day-Date line of watches in either solid 18-karat gold or 950 platinum. The decision to only use precious metals for the construction of the case and bracelet is a tradition that has stood since the Day-Date's initial introduction in 1956. Over the last half-century, the Day-Date line, with its iconic, Rolex Presidential gold bracelet, has become the classic, all-gold watch worn by a diverse mix of people, ranging from A-list celebrities to international politicians.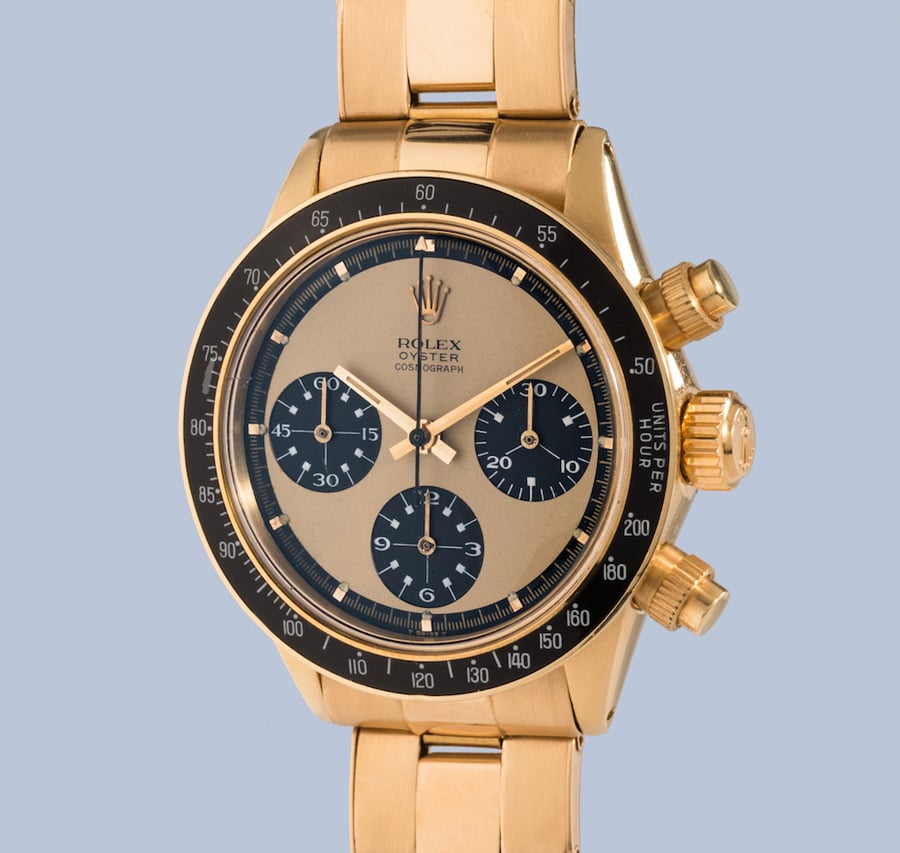 The widespread brand notoriety and legendary levels of collectability – particularly in the vintage market, have transformed Rolex watches from precision timekeeping devices into luxury status symbols. A gold watch is an internationally recognized symbol, one that is emblematic of landmark accomplishments and personal success. Rolex watches carry with them a similar connotation, so a Rolex craft entirely from solid gold is a natural and complementary combination.
Even the most humble and simple, stainless steel Rolex exudes quality and luxury in its pedigree and fit and finish; however a gold Rolex takes one of the world's finest timepieces and combines it with one of the world's most precious and prestigious natural materials.