The news that a rare Patek Philippe desk clock that once belonged to John F. Kennedy, Jr., the most inspiring and charismatic president ever to serve America in the modern era – whose life was of course cut tragically short – is going on display set us to thinking about his preferences in watches.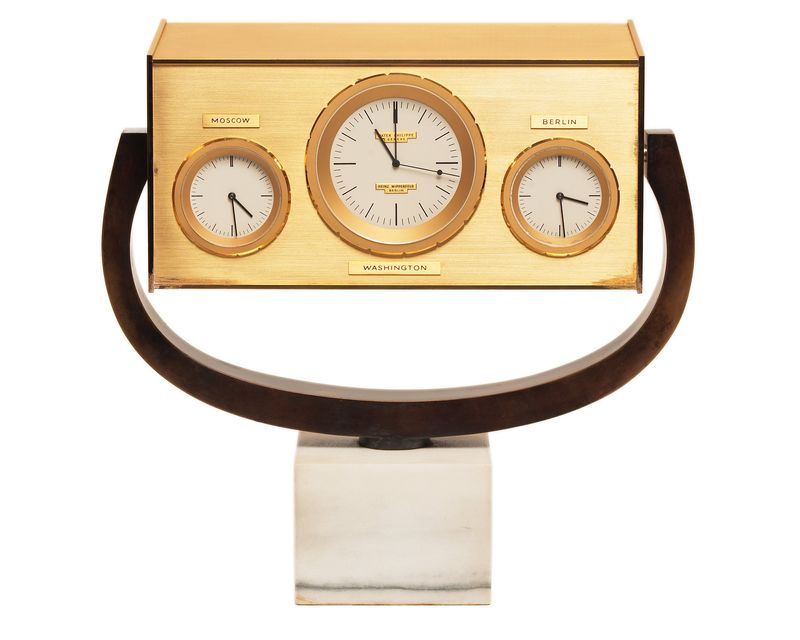 And while it turns out that JFK did have relationships with some of the great watchmaking brands, as befit a man of his character, allure and social class all of them were gifts from his wife and others. And while he did own a Rolex President, as one might expect, he apparently never wore it. But more on that in a minute.
Kennedy has quite the collection of luxury watches that he received as gifts. These vintage watches are sure to be highly coveted by fans of JFK.
John F. Kennedy Watches
The first watch that Kennedy was ever photographed wearing was an Art Deco style gold Bulova, on a stretch gold link bracelet with a plate at the bottom engraved "JFK 1941." With a pink dial and gold numerals, the watch was attractive but not that rugged, and the active Kennedy cracked the crystal several times. The story goes that a female admirer gave him the watch at a Washington, DC function. 1941 was the year Kennedy joined United States Naval Reserve and the staff of the Office of Naval Intelligence, prior to his famed assignment commanding PT boats in the Pacific Theater during World War II. The watch was put up for auction in 2013 but its current whereabouts are unknown.
Omega
The best known JFK watch is a gold Omega "Ultra Thin" tank watch that often gets mistaken for a Cartier. According to Omega, which acquired the watch at auction in 2005 for $420,000, JFK's friend , Florida senator Grant Stockdale, presented the watch to him in 1960, when he was running for President. In a letter addressed to Grant that same year, Jacqueline Kennedy expressed her deepest thanks for the "thinnest most elegant wristwatch'" mentioning how thrilled JFK was about it. At his Inauguration Ceremony in 1961 Kennedy wore the Omega and a photograph was published in LIFE magazine which prominently showed it on his wrist.
President
And perhaps the most notorious JFK watch of wall was one he never wore: the solid gold Rolex President that Marilyn Monroe gave him on his birthday in 1962. It sold for a modest $120,000 at auction in 2005. The actress, who had a steamy affair with the President, is believed to have given the watch to Kennedy aide Kenneth O'Donnell, who passed it on to the president. But when Kennedy saw it – and the blowsy love poem Monroe attached to it – he told O'Donnell to "get rid of it", the story goes. The Rolex is engraved "Jack With Love As Always From Marilyn, May 29th, 1962." No wonder he didn't want his wife to see it.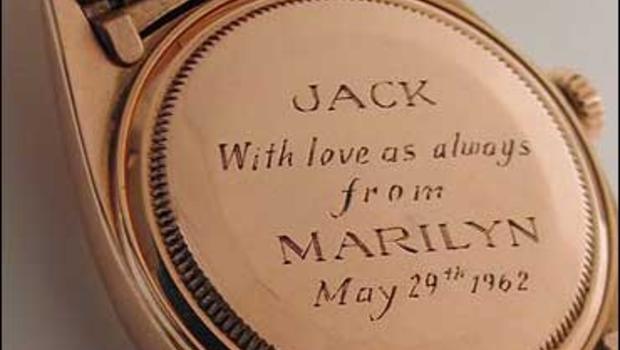 Mystery
There's a bit of a mystery surrounding another thin gold JFK wristwatch, this one an 18k gold Cartier round-dialed piece that was given to him by Jackie for their fourth anniversary in 1957 and engraved with his initials on the caseback. The confusion arises because the Omega Ultra Thin resembled a Cartier tank, and because JFK gifted Jackie a tank as well. But there's no evidence that JFK himself wore a Cartier tank. The round Cartier is apparently the watch he wore when assassinated which was taken off his wrist and given to Jackie at the hospital. Much better documented is a 14k gold waterproof Nastrix timepiece that was a gift from his friend and former ambassador to Great Britain David Bruce.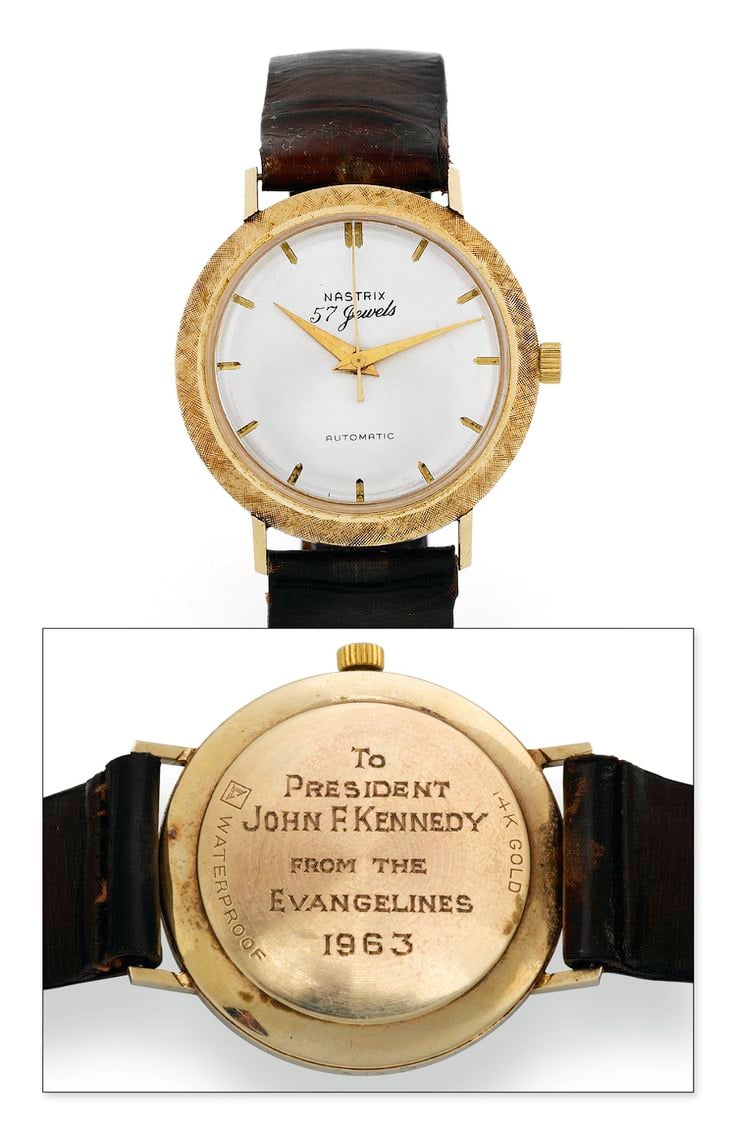 Be sure to check out the rare timepieces owned by JFK and Joe DiMaggio To Be Shown In Patek Philippe's Grand Exhibition.