Dégradé (a French word meaning 'to degrade') is a basically a fade. Normally the fade is from black to a feature color (as with all three of these models), but it can just as easily be a fade from two different colors, or the same color fading from light to dark.
There are different directions that the fade can travel in too. The most common, from the outside in, is called a radial fade. When the color breaks along the horizontal axis it is often described as a vertical fade (from bottom to top or vice versa). It is even possible, though rarely seen, to find watches with the fade breaking at different angles. These are very unusual and don't have such agreed-upon terms to describe them yet.
Here I've picked three truly excellent examples of the dégradé finish. More than that though, I have selected three models that each boast a different underlying dial finish so you can see the effect that it has on each watch's end appearance.
Additionally, there is a very famous – probably the most famous – dégradé dial that I've consciously omitted in the name of diversity and deliberate discord. I look forward to seeing how many of you can identify the watch I'm referring to in the comments section below, and please feel free to tell me which luxury watches you'd have in your top three…
Glashütte Original Sixties Annual Edition 2019
Fresh off the production line, Glashütte Original have followed up their show-stopping Sixties range from 2018 with the addition of a new color-way. If you've a penchant for starting conversations or terrifying hobbits from a distance, this is the watch for you. The blazing orange dial is not only treated to one of the most sumptuous radial fades I've ever seen, it is also domed, adorned with hand-applied, diamond-cut period-appropriate numerals, and decorated with a textured low-relief pattern applied by a 60-ton press that hails from the decade that inspired the collection to begin with.
At just $6,400 this model is a tempting value proposition. Boasting a slimline in-house movement that allows the watch to stand just 9.4mm tall on the wrist, it's a stunner, and, in my opinion, the best thing Glashütte Original has ever done.
Rolex Sea-Dweller Deepsea, Reference 126660
One of the absolute gems that Rolex has rolled out over the past few years, this particular iteration of the Deepsea is desperately cool. The bright green text was a bold move away from a more traditional accent color like red or orange – especially on a sports watch – but it has worked extremely well. Favored by film director, James Cameron, this is a rare watch to see in the wild, but it is a supremely handsome piece that expertly implements the vertical fade, moving from black to an almost royal blue.
The retail price of the Rolex Sea-Dweller Deepsea ref. 126660 is $12,350, but it's such a popular and rare model expect to pay between $1,500-$5,000 over to get your hands on one without joining a queue.
Laventure Sous-marine Stainless Steel Blue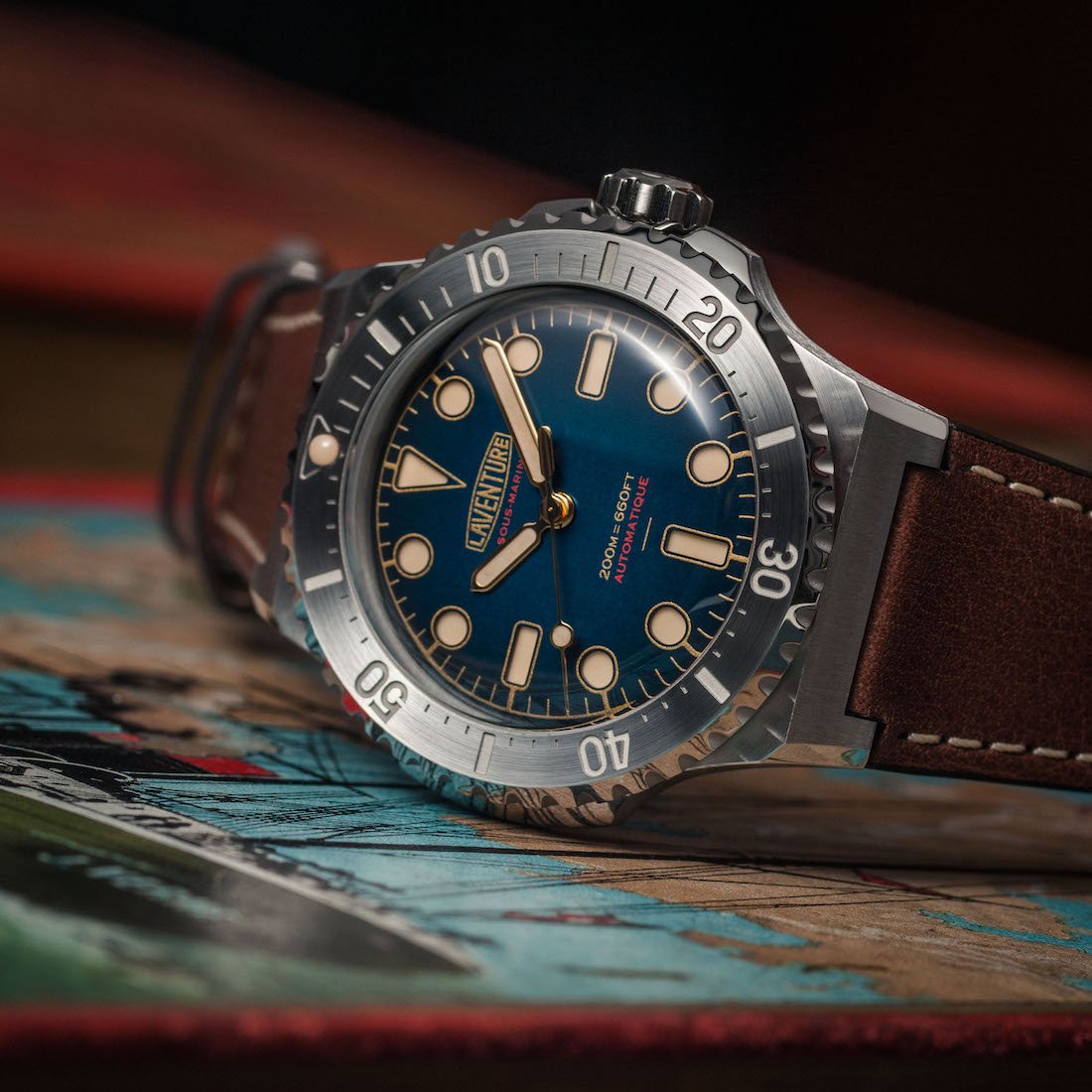 Funnily enough, I own a Laventure Sous-marine, but not this one. I bought the green dégradé version of this microbrand's first watch, so I went for the solid black dial the second time round. The cool thing about the Laventure dials is the vertical graining that catches the light progressively more towards the center of the radial fade. This particular model, which is available on a tan leather strap, the chestnut brown featured, or a black rubber strap, looks best with this combo I believe.
It's a tough son of a gun, perfect for an active outdoorsman that's looking for something that will add a bit of flair to a rough-and-ready wardrobe without completely overhauling his look. The Laventure Sous-Marine is priced at $2,742 before taxes.