It is said the greatest luxury is exclusivity, and it is an adage that certainly rings true in watchmaking. Top luxury watch brands work hard to set their creations apart, giving their followers those tiny individual touches that they can't get anywhere else. It can be done with a radical design or a unique complication, but in the modern day, it is just as likely to be accomplished with the inclusion of some obscure or revolutionary materials.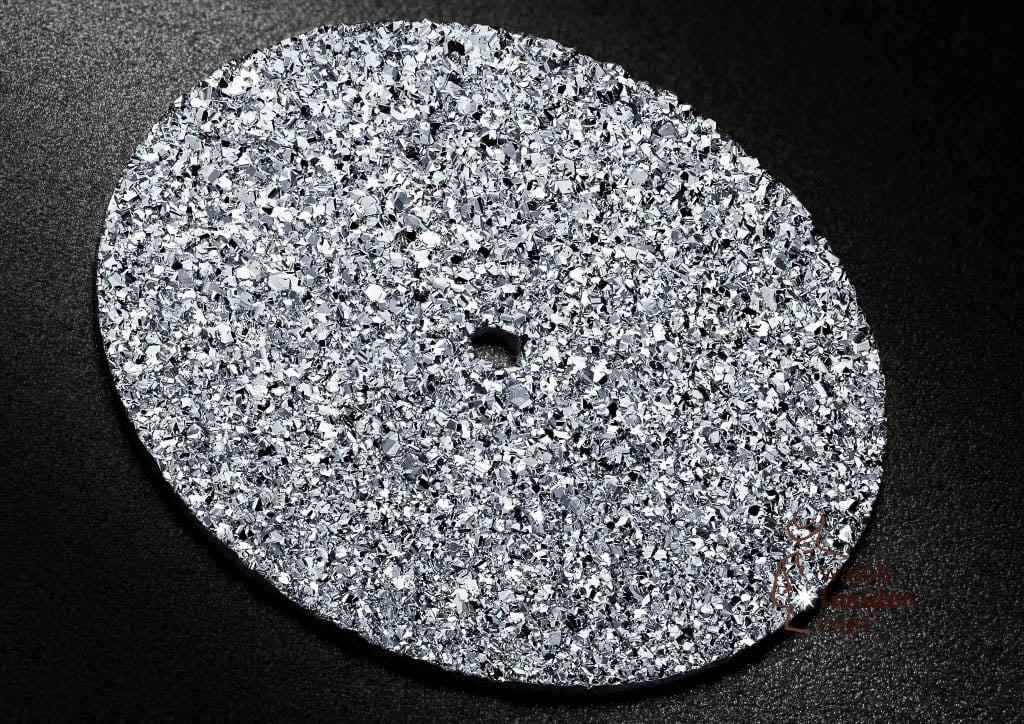 Revolutionary Materials: From F1 to Feces 
Some are at the absolute cutting-edge of what is currently possible, with manufacturers plundering the aeronautical, chemical, or medical industries – or teaming up with the likes of leading Formula 1 teams to exploit some revolutionary carbon fiber composite.
Others have strong links to historic events. Relative newcomers, Romain Jerome made their mark on the horology world (and caused a deal of controversy) by using metal taken from the Titanic in one of their models. Another addition to that series, the DNA range, was made from parts of the Apollo 11 spacecraft, and housed a dial sprinkled in actual moon dust. Elsewhere, Bremont was given permission to take some 18th century oak from the HMS Victory, Lord Nelson's flagship, to include in one of their special edition watches, and have similarly created another limited run piece containing fabric from the Wright Flyer, the world's first airplane.  
And, of course, some are just plain weird. In 2010, Artya brought us the charming Coprolite, an $11,000 watch with a dial made from Jurassic-era fossilized feces – dinosaur poop, in other words. It's clear that for a brand to really make its mark these days, steel, gold, or even platinum just aren't going to cut it, so below we look at some of the most innovative materials used in watchmaking.
Ceratanium (IWC)
With Adamantium and Vibranium already spoken for by Marvel, IWC opted to name its proprietary titanium and ceramic compound Ceratanium. Combining the best properties of both – the lightweight toughness of titanium (the highest strength-to-weight ratio of any known metal), and the hardness and scratch-resistance of ceramic – it offers an incredibly durable material for the marque's range of sports models. Factor in the excellent biocompatibility (skin-friendliness) and its imperviousness to corrosion, and it could well be horology's alloy of the future.
It forms in a dramatic matte black, as we first saw in 2017's anniversary Aquatimer Perpetual Calendar Digital Date-Month Edition '50 Years Aquatimer' (so good they named it twice). Additionally, this year, IWC unveiled a further four pieces from their TOP GUN series of pilot's watches, with one of them – a 44mm Double Chronograph, crafted in Ceratanium. With a black case, black dial, black hands, and black rubber strap, it is the perfect watch for fighter aces, secret agents, or Nigel Tufnel from Spinal Tap ("How much more black could this be? The answer is none. None more black").
It is a major triumph from IWC, a brand long at the forefront of new material development. The difficulties in working with the compound's elements, and ceramic in particular, are legion and the tolerances are minuscule, and the watch's forged from their high-tech composite are definitely striking. It will be fascinating to see what else they bring us in the future.
Osmium (Hublot)
Without descending into an argument over the brand itself and whether it deserves a place at horology's top table, Hublot has a history of using some extraordinary materials in its larger-than-life creations. In 2014, they launched the Classic Fusion Tourbillon Firmament: the first watch ever made with a dial fashioned from osmium crystal.
Part of the platinum group, osmium is a bluish grey metal with about twice the density of lead – in fact, it is the densest stable element. It is also recognized as the rarest metal in the world, with a global reserve of just 200 tons. It has been around since the birth of the planet, forming deep in the Earth's core, and eventually making its way to the surface over millions of years, with the largest reserves popping up in Russia, Canada, and South Africa.
In its unaltered metallic state, osmium remains a fairly unstable material, but scientists in Switzerland were able to develop a highly sophisticated process to bring it to its melting point of 3,033°C (5,491.4°F), whereupon its structure transformed to create osmium crystal. Once in that form, it becomes unchangeable, meaning that it will retain its unique denim blue sparkle forever. That natural shimmer, looking like a starry sky and from where the Firmament gets its name, is caused by the crystals themselves, which vary in size from between fractions of a millimeter to a a couple millimeters across, and ensures no two watches look the same.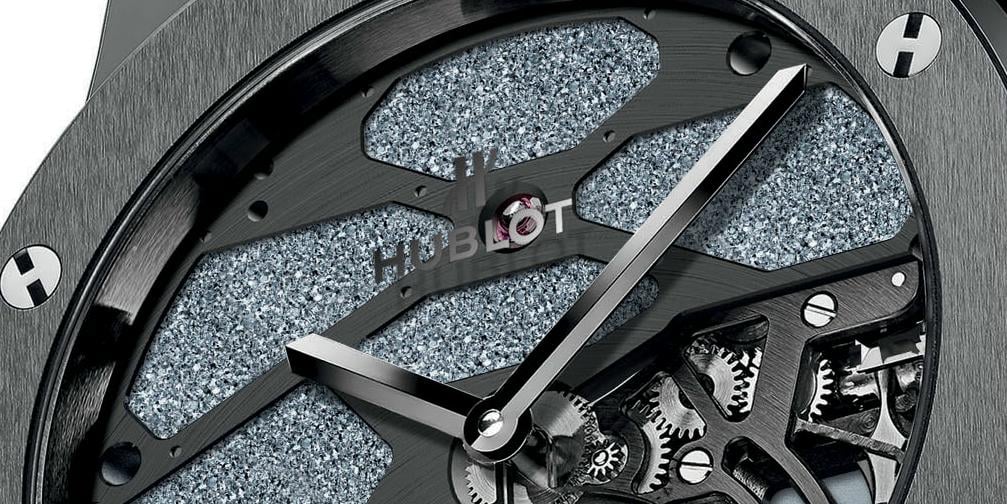 As well as the dial, Hublot also managed to incorporate osmium into the skeleton tourbillon movement itself, contrasting beautifully against the black anthracite ruthenium-treated bridges. Ultra precious metal or not, as part of the Classic Fusion range, the Firmament is one of Hublot's more conservatively styled offerings, although at 45mm, is not completely understated – or cheap. While no longer in the lineup, expect to part with well north of $100,000 for a pre-owned example.
Carbon Glass (Girard-Perregaux)
Swiss manufacturer, Girard-Perregaux arrived at SIHH this year with a conceptual addition to their 70s-inspired Laureato series: the Absolute Carbon Glass. A stunning chronograph, its case is another world first. Formed from an entirely new type of carbon, carbon glass is processed through extreme compression, with pigmented glass fibers injected in at a high temperature.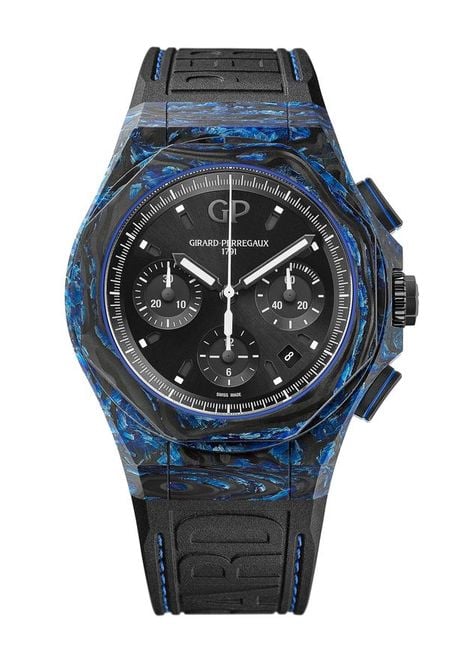 The result is a material 100 times stiffer than steel, completely airtight, and so low in density that the watch almost floats on water. The surface is perfectly smooth and uniform on all sides, and is in this instance, threaded through with a beautiful blue flint-like grain, in keeping with the brand's 'Earth to Sky' aesthetic. Other colors, and other additives, are possible, including gold, according to Girard-Perregaux, and each one is entirely unique.
The rest of the styling is in-line with the sophisticated sportiness of the Laureato collection, with its octagonal-over-circular bezel and highly contrasting black and white dial. Although only at the concept stage, the Absolute Carbon Glass has been very well received, and the material has plenty going for it – both for its inherent structural properties and its one-of-a-kind nature. Whether GP will develop it for future production models remains to be seen, but it stands as an extremely impressive achievement.