Talking about Rolex white face dials never seems to get old.  It's one of those things that doesn't really occur to you until you stop and make a mental list of it, but there aren't that many white-dial Rolex watches. That's relatively speaking of course, when you compare it to all the black dial watches in the portfolio. What's more, they're more often than not confined to the dressier end of the catalog rather than making appearances on Rolex's tool watches.
There's no white dial Rolex Submariner or Sea-Dweller for instance. Nor currently is there a white dial available on the original Yacht-Master, although the Yacht-Master II does get one. And the closest the GMT-Master II gets to having a white dial is the new meteorite version which is not so much white as, well, meteorite colored.
But it is something the brand seems to be addressing. While black dials will always be quintessential Rolex, the last few years have seen a few of the brand's staples also receive white face options. White dials can add a very special quality to design, something that grabs attention but not in an overt way. Although it could be argued that white dials are not quite as versatile as their opposite number, the crisp clean hue is a refreshing blank canvas.
Below we have picked out a few of our favorite white dial Rolex watches from the brand's lineup, including current production and discontinued references.
Rolex Explorer II ref. 216570
Say white dial Rolex and most people will think of the Explorer II. Introduced in the model's second iteration, the transitional ref. 16550 from 1985, the white (or Polar) dial has remained an immensely popular choice to this day. It produces such a radically contrasting effect from the black-dial variant that it is almost like looking at two different watch models.
Where the black piece is all low-key stealth, with its phantom hands and little pops of color, the Polar Explorer II is bright and invigorating – not exactly shouting, but certainly not hiding its light behind a bushel either. The Explorer II ref. 216570 launched in 2011 on the 40th anniversary of the Explorer II collection. It was discontinued in 2021 to make way for the new-generation ref. 226570, which was released on the Explorer II's 50th anniversary.
Powered by the Cal. 3187, the reference 216570 marked the first time the Explorer II was granted a movement of its own, having shared all previous ones with the GMT-Master series. It also saw the dimensions increase, up to 42mm from 40mm, a move made to broaden its appeal with a younger audience.
One of those perpetual underdogs in the Rolex collection for most of its life, the Explorer II is started to attract real attention over the last few years. While its more famous tool watch counterparts get less and less tool-like with each passing year, their gold and platinum shells liberally sprinkled in diamonds, the Explorer II remains the essence of Rolex. Bombproof steel cases and not even a whiff of Cerachrom to be found (let alone gemstones); it is what the brand used to be all about and has garnered a steadily growing cult following because of it.
The Polar Explorer II is just about the most iconic white dial Rolex watch you can buy. Proving its popularity, white Explorer II watches generally command higher prices than their black dial counterparts on the secondary market. Expect to pay anywhere from $10,500 to $12,000 for a pre-owned Explorer II ref. 216570 with a white dial.
Rolex Sky-Dweller ref. 326934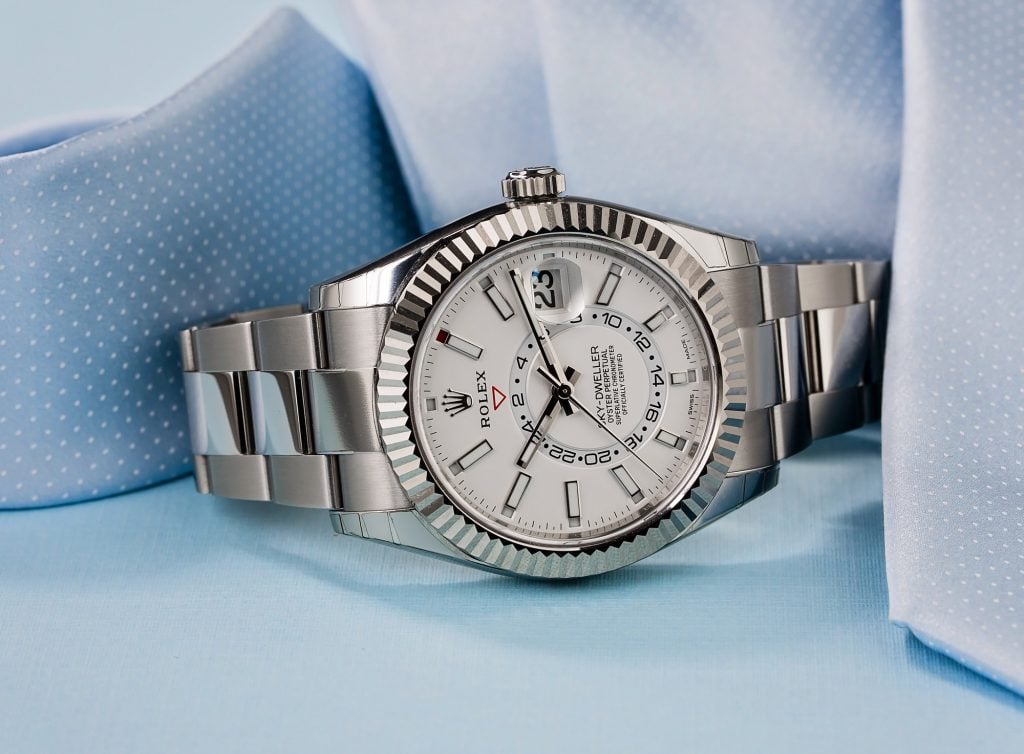 Originally released in 2012 as an exclusively precious metal option (sort of like a Day-Date with an annual calendar and dual time function), the Sky-Dweller was perhaps a bit too avant-garde in design (and expensive), to really capture the imagination of Rolex buyers. Fast-forward to 2017, and Rolex answered the calls of many fans when it launched new additions to the collection; a series of both white and yellow gold Rolesor models, with a range of different dial colors and vastly reduced sticker prices.
Of those, a personal favorite is the Sky-Dweller ref. 326934, featuring a stainless steel case fitted with a white gold bezel. It is available with either a blue, black, or white dial; the fresh white dialed version is one of my favorites.
There is a lot happening on the Sky-Dweller's frontage. Alongside the basics, Rolex had to find a way to display a second time zone, as well as its SAROS calendar. That is a heap of information to cram in, even for a 42mm watch. Sticking to a monochromatic palette helps to keep things legible, making it easier on the eyes, and the white dial is especially readable. The off-centered GMT disc is an ever so slightly different shade from the rest of the dial, and the bright red of the indicator triangle and month markers stands out perfectly.
On top of that, those once challenging looks seem to have matured over the intervening years, now less of an acquired taste and becoming more and more accepted. A mix of unorthodox aesthetics and some truly formidable engineering, the Sky-Dweller is one of a handful of white dial Rolex watches and is a future classic in the making.
The manufacturer's suggested retail price (MSRP) of a Sky-Dweller ref. 326934 is $15,200. However, the watch is valued much higher on the secondary market, ranging from $20,000 to $23,000.
Rolex Oyster Perpetual ref. 114300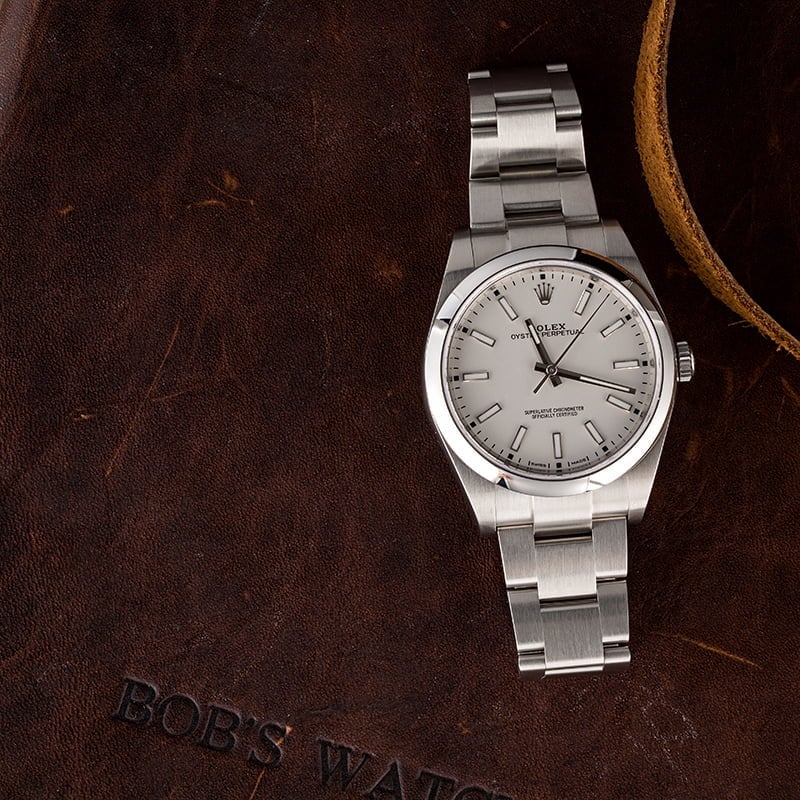 With all the big hitters in the Rolex fold, the humble Oyster Perpetual can often find itself somewhat overlooked – which is a shame, because the OP collection is really the undiluted essence of what a Rolex watch should be. Three hands to show you the passing hours, minutes, and seconds, with typically faultless Rolex accuracy – and that's it. No dual time shenanigans, no calendar-based nonsense, not even a lowly date function. Just a perfectly practical and achingly stylish time teller.
With very few exceptions (vintage Daytona references, Oysterquartz models, the Cellini series, etc.) almost every Rolex watch since 1931 has technically been an Oyster Perpetual. The two words; 'Oyster' for the waterproof casing Rolex devised in the 20s, 'Perpetual' – the name for the brand's self-winding system, have formed the backbone for their output for nearly 90 years. So while we may be more used to seeing them followed by words like Submariner or Datejust, there has been simply the Oyster Perpetual range for much longer than either.
In 2018, Rolex doubled down on the Oyster Perpetual's basic straightforwardness with the release of a new pair of black and white dial 39mm models joining the existing lineup of red grape, dark rhodium, and blue. Both are exceptional – the black is actually given an understated sunburst effect; however, it is the white version that really impresses.
Beautifully glossy and with a soft warm tone, it doesn't jump out at you in the same way the Explorer II does, but rather offers something a little more restrained. It is the perfect tenor for such a simple watch and turns it into a true class act that can be worn as an everyday beater or a special occasion favorite. The white dial is home to lume-filled baton indexes with white gold surrounds, which match the white gold baton hands (also luminescent) flawlessly.
While many found the 39mm size of the Oyster Perpetual line to be the perfect one, Rolex discontinued the OP 39 in 2020, replacing it with the larger OP 41 models. As a result, the white dial Rolex Oyster Perpetual ref. 114300 was only in production for two years.
One of the best parts of the Oyster Perpetual series has always been its value for money. Prices for the entry-level offering from the world's most successful watchmaker start at less than $6,000. However, like just about every Rolex watch these days, these models cost more in the pre-owned market due to their demand. Prices for the now-discontinued Rolex Oyster Perpetual ref. 114300 with a white dial hovers around the $10,000 mark.
Other White Dial Rolex Watches
As mentioned, Rolex does make a few white dials. While the Explorer II, Sky-Dweller, and Oyster Perpetual 39 are some of my favorites right now, there are others worthy of an honorable mention.
Daytona 116500LN
Without a doubt, Rolex's most hyped sports watch at the moment is the stainless steel Daytona 116500LN chronograph with a white "Panda" dial. The combination of the black Cerachrom ceramic bezel, white dial with black rings outlining the trio of counters, and all-steel case and bracelet is a classic one. This Daytona retails for $14,550 but is valued well over $30,000 on the secondary market.
Milgauss 116400
Created in the 1950s to serve the scientific community and quietly shelved in the 1980s, the antimagnetic Milgauss collection returned to the Rolex catalog in 2007. One of the models of the revived line was the Milgauss ref. 116400 with a white dial, which allows the quirky orange lightning-shaped seconds hand to really pop. This discontinued white dial Rolex is currently valued at around $10,000 to $11,000 on the secondary market.
Datejust 41 126334
The Datejust is the quintessential Rolex watch, available in a multitude of sizes, materials, and colors. However, there's something effortlessly charming about the white Datejust 41 ref. 126334, featuring a steel case, white gold fluted bezel, Roman numerals on the dial, and a five-link Jubilee bracelet. Classic in style yet modern in size, this is one white Rolex watch that can wear anywhere, anytime.
Day-Date 36 118238
All of my picks so far have been steel cases, yet, yellow gold Rolex watches pair beautifully with white dials too. Case in point is this ultra-luxe Day-Date President 36 ref. 118238 in yellow gold–from its case and fluted bezel to its three-link President bracelet and Roman numerals on the white dial. The ultimate Rolex power watch, a Presidential with a white dial is one of the finest luxury watches to own.
There you have it; a round-up of some excellent white dial Rolex watches for you to consider adding to your watch collection. Whether you go sporty like the Explorer II, casual like the Oyster Perpetual, or dressy like the Sky-Dweller, a Rolex watch with a white dial is a great choice.