Are you in the market for a pre-owned Rolex Submariner? If so, here are a few important things you should keep in mind before you take the plunge. If you have a Rolex Submariner and would like to sell, please complete our Sell Rolex form for an immediate quote.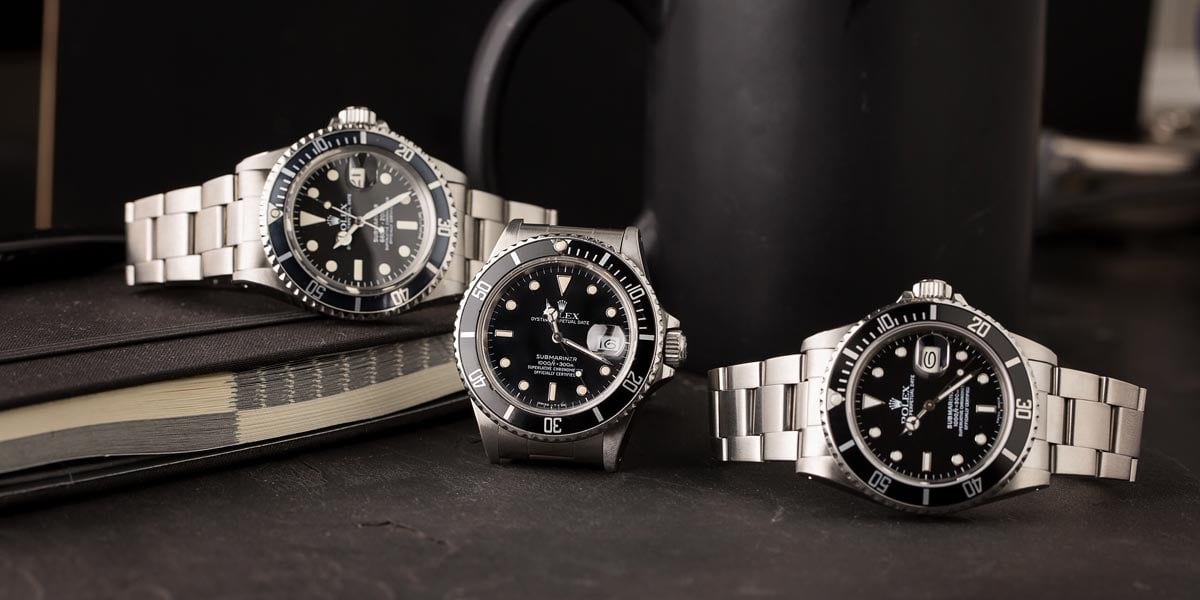 1. There are No-Date Submariner and Submariner Date Models
Although the Submariner started its life as a three-handed dive watch, these days Rolex primarily focuses on the date-displaying versions of their Submariner. Rolex unveiled the very first Submariner Date model in the mid-1960s, which included a date window at 3 o'clock along with a Cyclops magnification lens protruding from the crystal above it.
From then on, Rolex continued to flesh out the Submariner Date collection with a wider variety of references and materials, while sticking to just one or two models at a time for the no-date Submariner collection.
2. The Material Options of the Submariner
As a tool watch first and foremost, Rolex has only ever offered the no-date Submariner in stainless steel and fitted with a black bezel and black dial. On the other hand, the Submariner Date is available in a whole host of metal options, including stainless steel, 18k gold (white or yellow), and two-tone steel and gold – not to mention all the dial shades, bezel colors, and gem choices too.
Since 2008, Rolex has fitted all Submariner models with Cerachrom bezels – the brand's proprietary ceramic alloy – and color choices include blue, black, and green (depending on the type of metal used for the construction of the watch).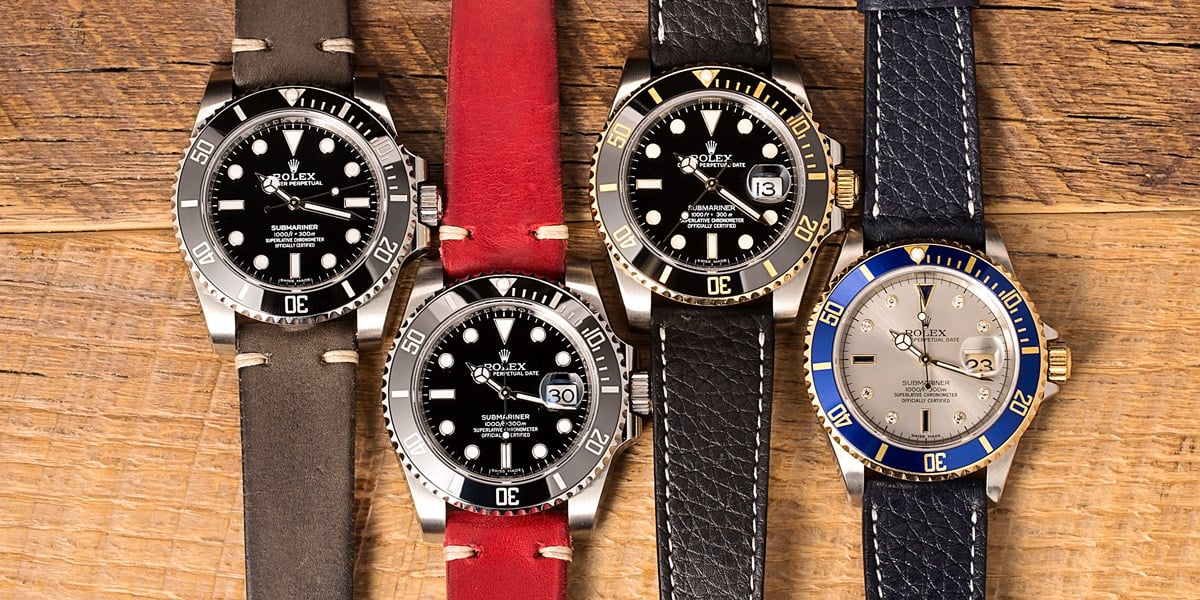 3. Comparing Vintage vs. Retro vs. Current Submariner Models
Rolex has been making the Submariner for over six decades. To help you decide which model to choose when buying a used Rolex, we've divided the entire Submariner collection into three parts: vintage, retro, and current.
Vintage Rolex Submariner Models 1953 – 1988
The earliest Submariner models from the 1950s include references 6204, 6205, 6536, and 5508. These versions sported 37mm cases resistant to 100 meters, housed black gilt dials with radium lume, and did not have crown guards. Around the same time, Rolex produced three models, references 6200, 6538, and 5510 (collectively known as "Big Crown Subs"), which had similar case sizes but came equipped with oversized winding crowns and boasted 200 meters of water resistance. Then, in the late 1950s/early 1960s Rolex released the Submariner references 5512 and 5513, which introduced larger, 40mm case size and marked the addition of crown guards – setting the design standard for all future Submariner references.
In the mid-1960s, the first Submariner Date model joined the catalog in the form of the steel Submariner ref. 1680, followed by the yellow gold Submariner ref. 1680/8 a few years later. These references included 40mm cases, crown guards, matte black dials with tritium for lume, and water resistance ratings of 200 meters. Rolex released the next generation in the late 1970s with the Submariner Date ref. 16800 (16808 yellow gold version and 16803 two-tone version), which introduced sapphire crystals and 300 meters of water resistance to the Submariner collection. Finally, the last of the vintage Submariner models is the transitional and short-lived Submariner ref. 168000 that brought 904L stainless steel cases to the collection to replace the previous 316L steel ones.
Retro Rolex Submariner Models 1988 – 2010
In 1988, Rolex introduced a new generation of the Submariner Date: the stainless steel ref. 16610, the yellow gold Submariner ref. 16618, and the two-tone Submariner ref. 16613. With 40mm cases resistant to 300 meters, aluminum bezel inserts, sapphire crystals, gloss dials with Luminova for lume (early batches still used tritium), and Caliber 3135 movements inside, the Submariner ref. 166xx watches dominated the luxury diving watch scene for over two decades.
In 1990, the Submariner ref. 14060 made its debut (which was updated to the 14060M in 1998) as the Submariner option without a date window. Additionally in 2003, Rolex launched the Submariner ref. 16610LV with a green bezel in honor of the Submariner's 40th anniversary.
Current Rolex Submariner Models 2008 – Present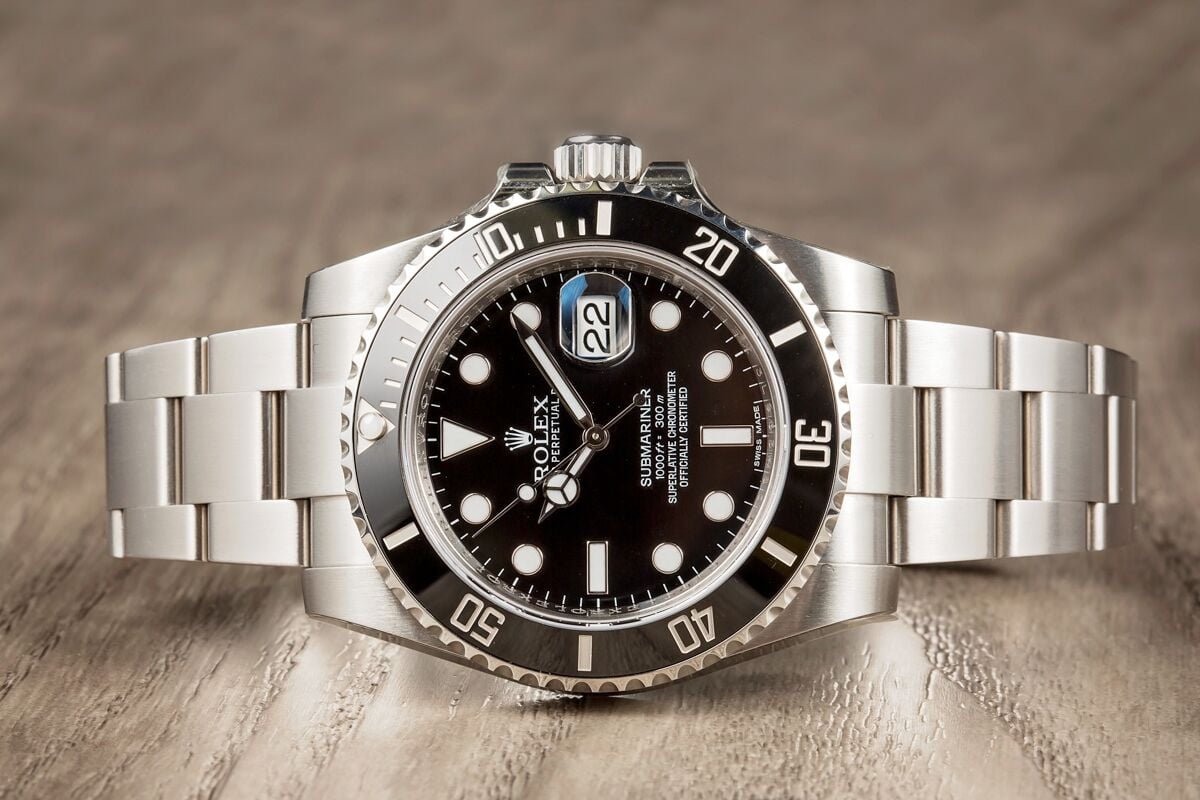 In the late 2000s, Rolex released a completely overhauled Submariner model – first in white gold (116619) and yellow gold (116618) in 2008, followed by two-tone (116613) in 2009, and finally in stainless steel (116610) in 2010. The no-date Submariner 114060 arrived in 2012.
These six-digit Submariner models entered the modern market with scratch and fade resistant ceramic bezels, 40mm "Super Cases" with fatter lugs, and "Maxi Dials" with broader hands and larger luminous hour markers. This family of references is the current generation of the Rolex Submariner that still remains in production today.
4. Understanding Replacement Parts
When buying a pre-owned Rolex Submariner, it is incredibly important to distinguish between genuine Rolex replacement parts and aftermarket/custom components. While these parts may all look similar, they can significantly impact the value of the watch – especially when it comes to collectible vintage references.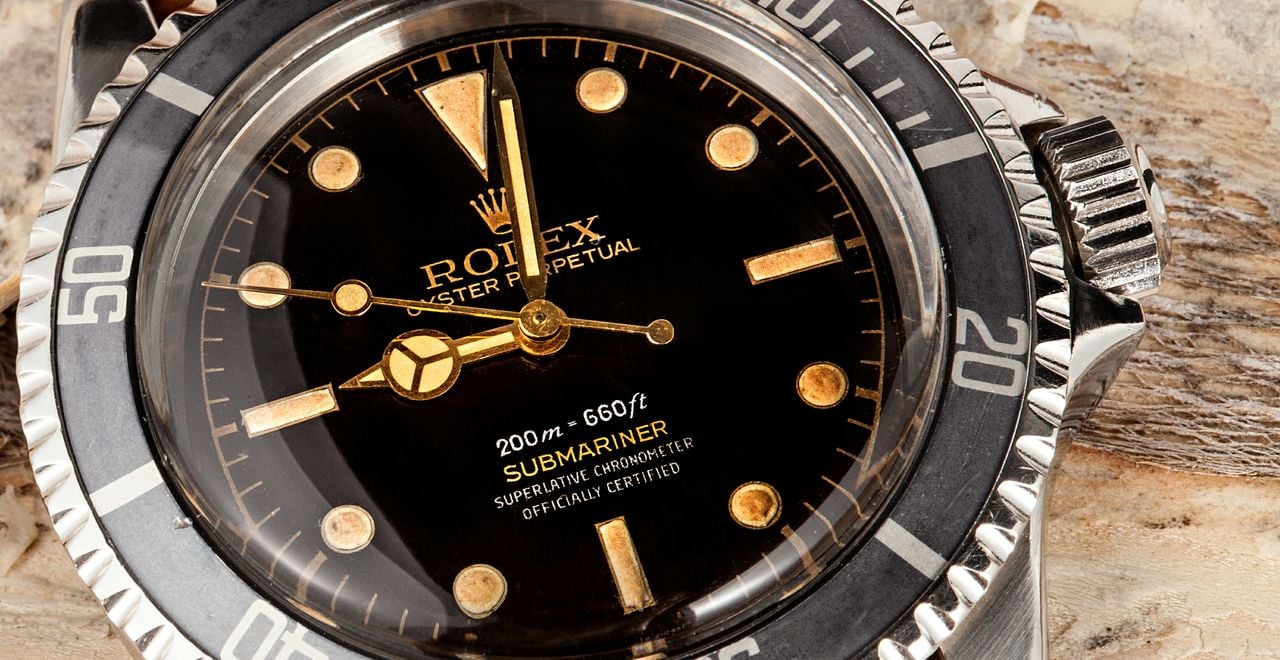 If a Rolex watch is sent into an authorized service center for maintenance, more often than not, the watch will return with replacement parts. These replacement parts are completely genuine and manufactured by Rolex; however, they were produced after the watch was originally manufactured. This explains why it is relatively common to find pre-owned Rolex Submariner watches from the 1960s that now have genuine Rolex dials produced in the 1980s.
Aftermarket and custom components are non-Rolex parts added to a watch at some point after it was originally sold. These can range from simple dial and bezel swaps to intricate gem-setting, engraving, and PVD treatments. Once a Rolex watch has been modified, Rolex will no longer service it at authorized service centers without first restoring it to its factory-intended condition (assuming that is still possible). For this reason, none of the timepieces that we sell at Bob's Watches are fitted with any aftermarket, custom, or otherwise non-Rolex components.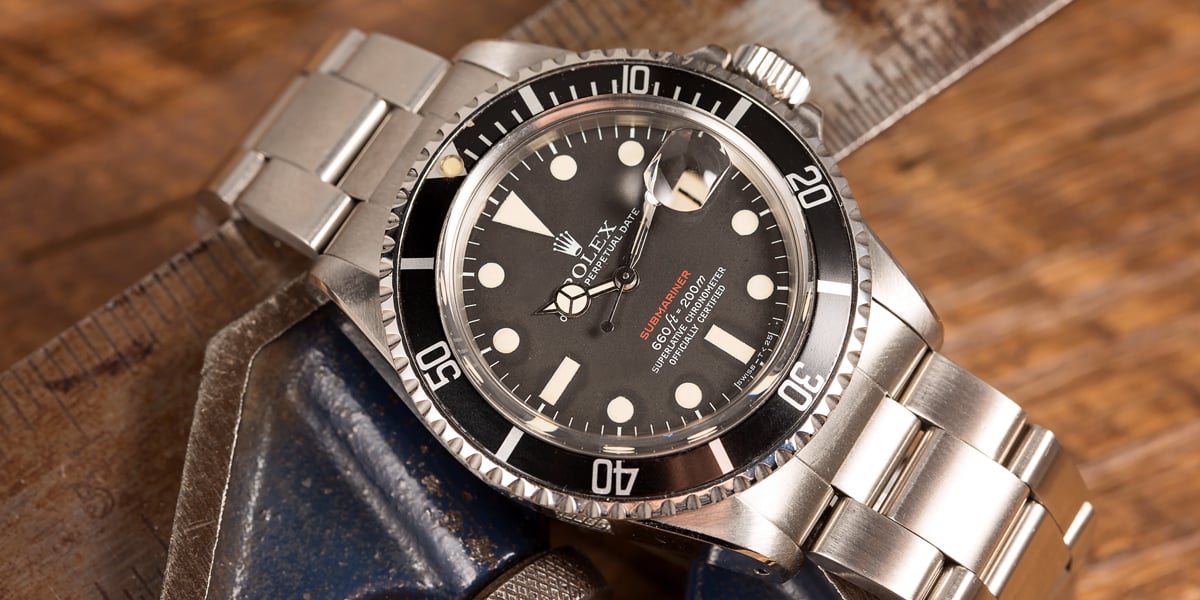 Watches with aftermarket and custom components typically command lower prices than those with all original Rolex parts. Additionally, when it comes to highly collectible vintage references, sometimes non-genuine components can significantly impact their value, and be the difference between a $5,000 Submariner and a $50,000 Submariner.
Remember, the Submariner is the most counterfeited watch on the planet. So if you're buying a pre-owned Rolex Submariner, the most important thing you can do to protect your investment is to "buy the seller" and purchase your watch from a trusted and reliable source.