For vintage Rolex watches, signs of aging and imperfections can often result in enormous premiums in the secondary market. Generally speaking, Rolex rarely makes mistakes; when it does, collectors take notice. In fact, collectors are often willing to pay more for an atypical Rolex watch since anomalies from the brand are so few and far between. Case in point is the so-called Rolex tropical dial, which is a nickname given to vintage Rolex watches with a specific type of discoloring.
These imperfections would be seen as miscalculations or shortcomings had almost any other manufacturer made them. However, because this is Rolex we're talking about, tropical dials are considered exceptional rarities and have attained a cult following.
Rolex Tropical Dials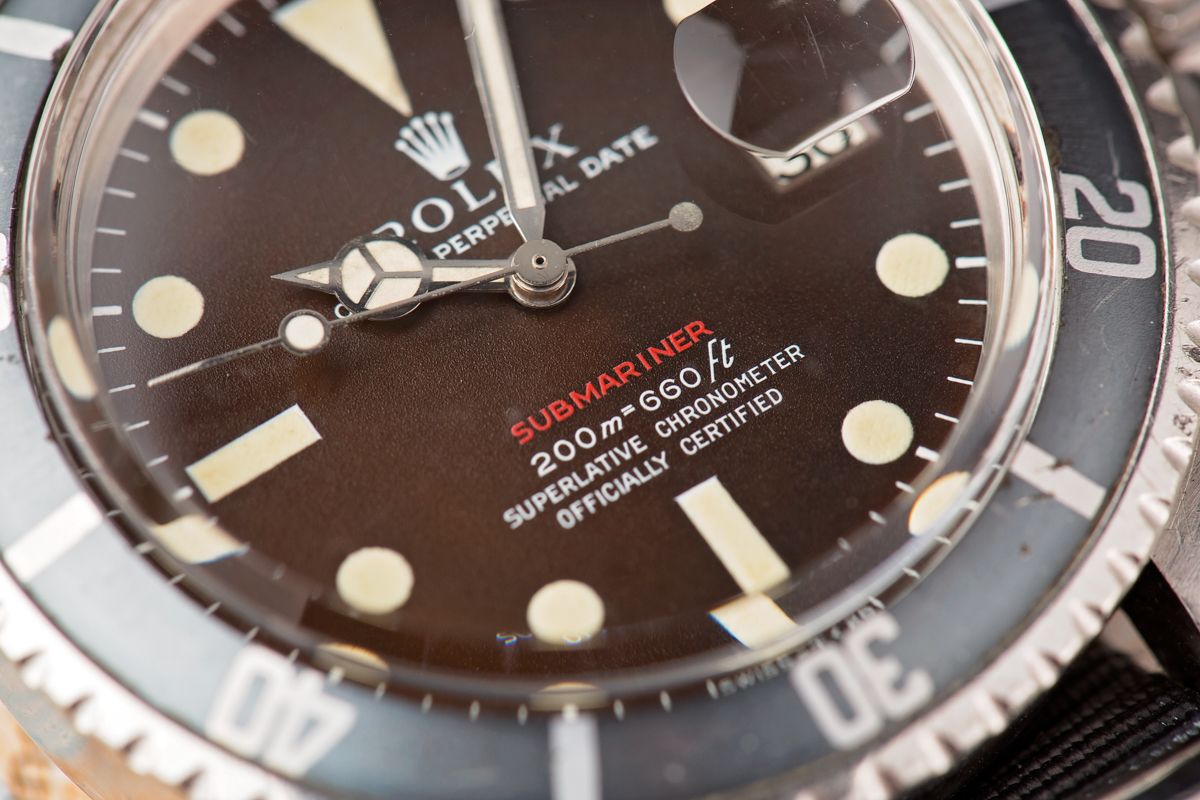 Vintage Rolex Watch Collections With Tropical Dials
– Submariner
– GMT-Master / GMT-Master II
– Daytona
– Datejust / Lady-Datejust
– Date
– Explorer / Explorer II
– Day-Date
– Sea-Dweller
– Milgauss
– Air-King
– Oyster Perpetual
Click here for our guide on How to Start a Vintage Rolex Collection.

What is A Rolex Tropical Dial? A Brief History
A Rolex tropical dial is a dial that has discolored due to sustained exposure to the sun and minor flaws in the manufacturing process. Funny enough, the discoloration of tropical dials is the result of a special paint finish adopted around the mid-20th Century that was meant to make the surface UV-resistant – but it turns out, it had the reverse effect (under certain conditions) due to a chemical reaction brought on by sunlight, heat, humidity, and minor miscalculations in the curing process.
Due to the time it took for the dials to slowly change color, Rolex only became aware of this manufacturing flaw long after it began. Naturally, Rolex remedied the situation by switching to a different coating for dials on later models and also switched out already faded dials with brand new replacement dials during routine servicing.
The nickname "tropical dial" is derived from tropical weather since conditions like plenty of sunshine and high humidity can often activate and accelerate the fading process. Many of today's Rolex tropical dials had spent a considerable amount of time in warmer sunnier regions of the world.
While the term "tropical dial" is often used to describe once-black dials that have transformed into a chocolate brown shade, there are other Rolex tropical dial colors as well. There are examples of vintage Submariner blue dials that have turned purple, turquoise, or gray; vintage GMT-Master "Root Beer" brown dials that have turned greenish, and vintage Explorer II ref. 16550 "Polar" white dials that have turned cream. Plus, the faded "tropical" effect is particularly attractive on two-tone dials, such as on vintage Daytona chronographs where the once-black subdials have developed in a beautiful shade of caramel.
Furthermore, tropical dials are not exclusive to Rolex. There are some fantastic vintage Omega Speedmaster Professional Moonwatches with tropical dials, and a number of other vintage watches can be found with dials that have undergone a similar natural color change process.
Rolex Submariner Tropical Dials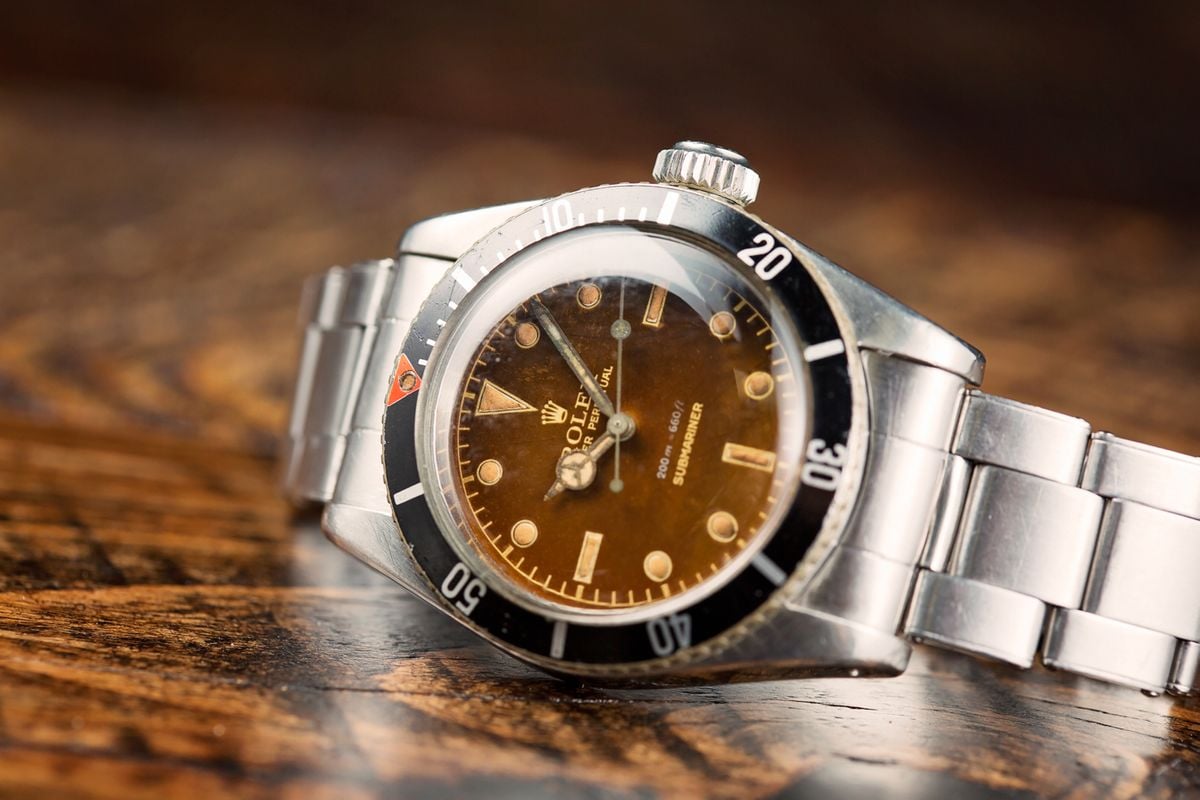 Given the number of Submariner references Rolex launched between the mid-1950s and the late-1980s, there are a variety of options when it comes to Submariner watches with tropical dials. Interestingly, there are examples of both gilt dials (characterized by a glossy background and golden text) and matte dials (characterized by matte black backgrounds and white printing, introduced around 1967) that have transformed into tropical dials. Below are the vintage Submariner models that can sometimes be found with tropical dials today.
– Submariner ref. 6204
– Submariner ref. 6205
– Submariner ref. 6200
– Submariner ref. 6538
– Submariner ref. 6536
– Submariner ref. 5508
– Submariner ref. 5510
– Submariner ref. 5512
– Submariner ref. 5513
– Submariner Date ref. 1680 (and yellow gold ref. 1680/8)
– Submariner Date ref. 16800 (and yellow gold ref. 16808 and two-tone ref. 16803)

As mentioned, tropical dials not only originate from black dials but other colors too. In the case of vintage Submariner models, Rolex offered yellow gold models and two-tone gold and steel models with the option of blue dials, which have been known to have "tropicalized" to various shades of lighter blue, purple, grey, and even brown.
Rolex GMT-Master Tropical Dials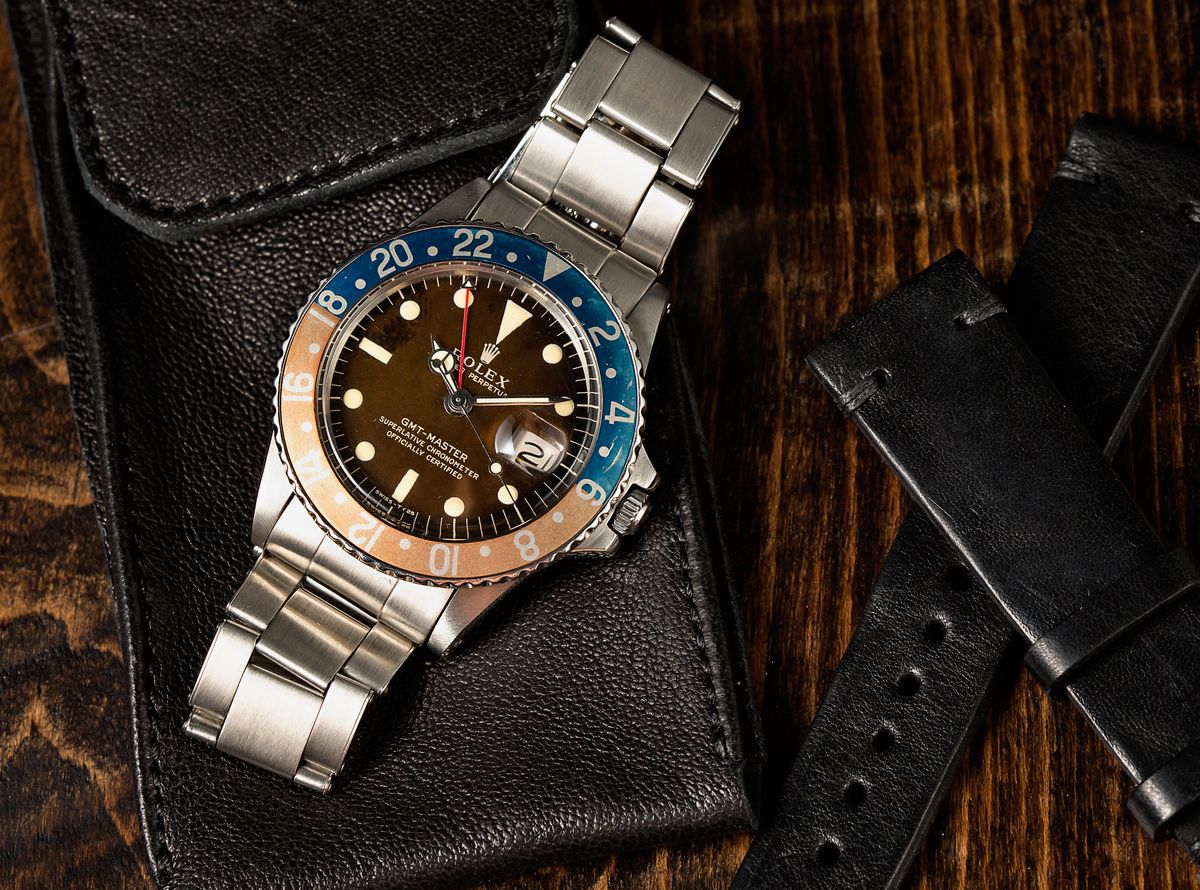 Rolex introduced the GMT-Master in 1955 and over the next three decades, the brand released a handful of references in different materials, bezel colors, and dial colors. GMT-Master tropical dials can be found within the 6542, 1675, and 16750 reference families. Furthermore, there are also examples of the first GMT-Master II reference, the ref. 16760, with tropical dials.
– GMT-Master ref. 6542
– GMT-Master ref. 1675 (and yellow gold ref. 1675/8)
– GMT-Master ref. 16750 (and yellow gold ref. 16758 and two-tone ref. 16753)
– GMT-Master II ref. 16760

Depending on the original color of the GMT-Master dial, tropical dials can come in all sorts of colors today. Black dials typically turned into various shades of brown with some even going into the orange color spectrum. On the other hand, tropical dials that were originally brown – such as those fitted to gold and two-tone GMT-Master models – could have turned into lighter browns, golden browns, reddish browns, or even olive green.
Daytona Tropical Dials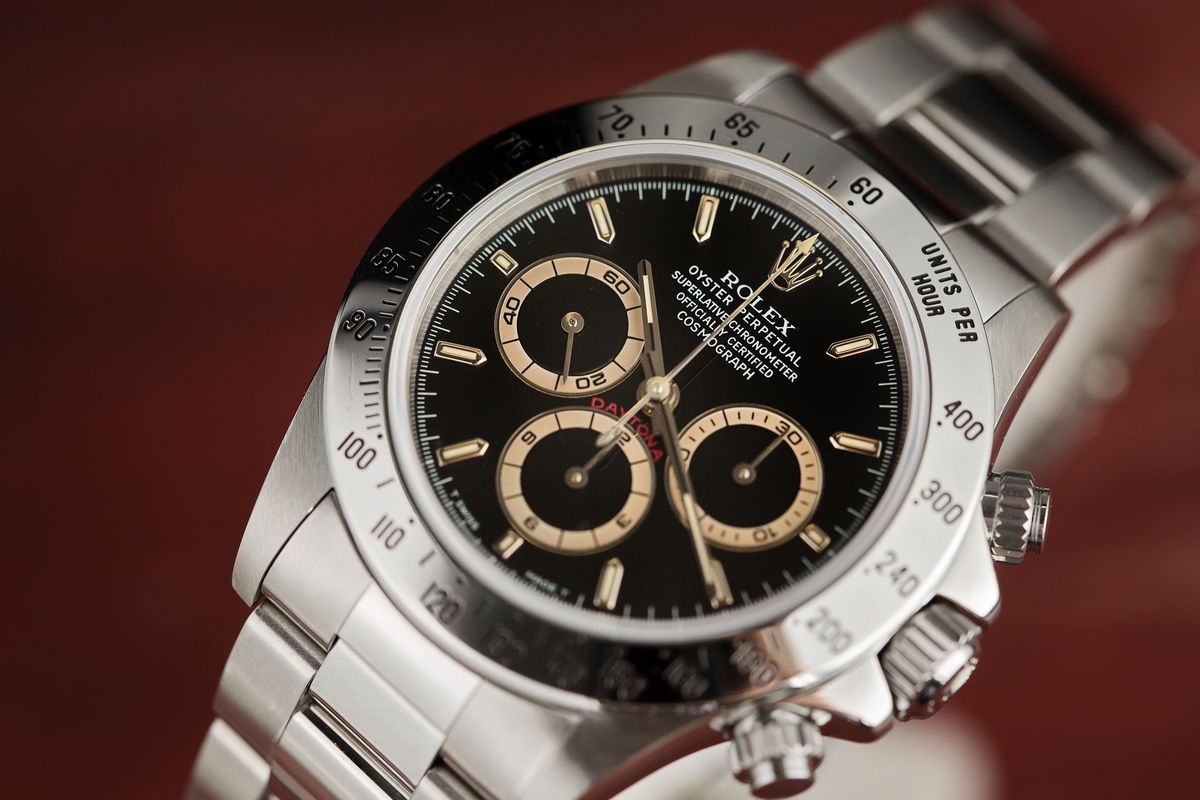 Some of the most beautiful and collectible Rolex tropical dials are those found on vintage Daytona chronographs with manually-wound movements. The Daytona dial has three subsidiary dials at 3, 6, and 9 o'clock – and these sub-dials were often made in a different color than the main dial. Therefore, the tropicalization effect is especially striking on a Daytona due to the contrast of the registers against the main dial.
You can find vintage Daytona models where the sub-dials have developed into gorgeous mocha and caramel shades or models where the main dial has tropicalized into rich browns. The most coveted of the tropical vintage Daytona dials are the immensely popular "Paul Newman" variants. A vintage Daytona with a tropical Paul Newman dial is without a doubt a grail watch.
– Daytona ref. 6239
– Daytona ref. 6241
– Daytona ref. 6262
– Daytona ref. 6240
– Daytona ref. 6264
– Daytona ref. 6265
– Daytona ref. 6263

A particularly fascinating tropical Daytona is the so-called "Patrizzi" versions of the Rolex Daytona reference 16520 – nicknamed after the auctioneer who shed light on the variance. Launched in 1988, the Daytona ref. 16520 was the stainless steel version of the first family of automatic Daytona models. On some versions of the Daytona 16520 with black dials, Rolex used a varnish called Zapon, which eventually caused the silver rings of the three registers to turn brown.
Datejust Tropical Dials
Most of the conversation about tropical Rolex dials is focused on the brand's sports models. This is to be expected since sports watches will generally have spent more time in the sun than dress watches. However, Rolex's dressier watches, such as Datejust and Date, were not immune to the manufacturing flaw that caused dial fading over time. Some popular vintage Datejust references with tropical dials include the following models.
– Datejust ref. 1600
– Datejust ref. 1601
– Datejust ref. 1603
– Datejust ref. 16000
– Datejust ref. 16014
– Datejust ref. 16013
– Date ref. 1500
– Date ref. 1501
– Date ref. 1503

Since vintage Datejust watches were available with several different dial colors, now-tropical dials come in an array of shades ranging including taupe, brown, orange, yellow, blue, gray, and everything in between.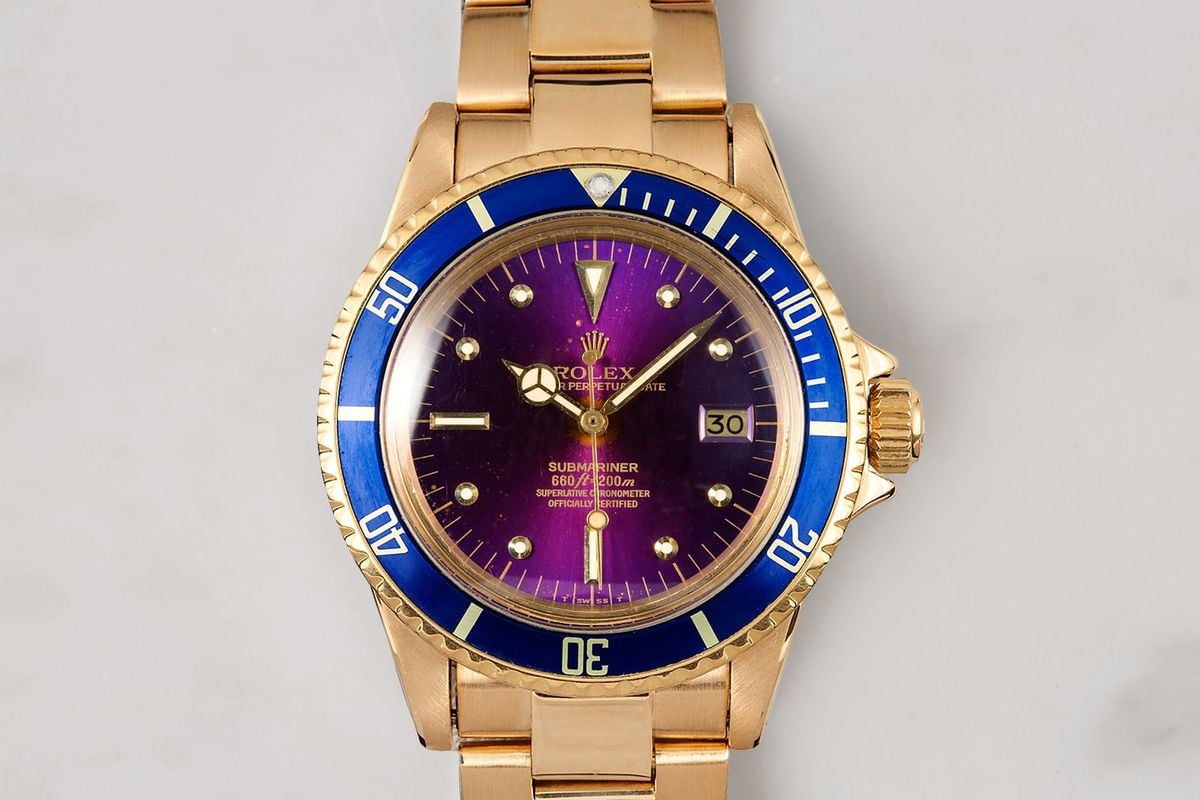 Buyer Beware: Fabricated Tropical Dials
Much like a patina on an old, bronze sculpture, authentic "tropical" dials on vintage Rolex watches are something that can only truly be earned through extended exposure to specific conditions. Due to a slight chemical imperfection in the finish of certain dials, the top layer will change color after extended exposure to sunlight. These tropical dials become symmetrically damaged, fading, and changing into rich and unique colors.
Although many dials appear to be original tropical dials, many of them are actually regular dials that have been damaged, refinished, or intentionally aged. Some dealers will refinish the luminous material on water-damaged dials to make them appear as though moisture played no role in the color-change process. Others will have dials refinished to simulate a "tropical" color or place them in a hot oven to rapidly age the finish. Some individuals will even go so far as to use a cavity magnetron to speed up the aging and fading process.
However, a true tropical dial will have matching and aged, original luminous markers, rather than ones that were freshly reapplied after the dial had been altered. Most of the time, this is the quickest and easiest way to spot an original tropical dial from a refinished one. Additionally, you can also look for bubbles in the dial's finish. This can often be a sign that either moisture or heat was used to rapidly alter the surface of the dial.
The Value of Rolex Tropical Dials
Authentic tropical dials command a hefty premium when it comes to auction prices. As a point of reference, a 6263 Paul Newman "Oyster Soto" Daytona brought in more than $2 million at a Phillips' watch auction in 2016. Part of the reason behind the price: this particular Daytona is only one of two known to exist with a tropical dial. It is not uncommon to pay up to three times for a Rolex with a tropical dial compared to a non-tropical version, and it is highly likely that the exact same Tropical Paul Newman Daytona would achieve an even greater price if it were to be sold again today.
Since tropical dials are essentially otherwise-perfect Rolex dials with minor imperfections in their finish that have sustained prolonged exposure to various environmental conditions, there is no end-all definition for what makes a dial "tropical" and there some collectors consider tropical dials to be just another form of aging or damage, regardless of the massive price premiums that often accompany them. Often, dealers and individuals will take liberties with their definition of tropical dials, and improperly label water/chemically damaged dials as tropical to try to sell their Rolex watches for higher prices.
Collectors treasure watches with tropical dials because their unique coloration is something that can only be acquired through age and just the right conditions. Rolex now produces nearly a million watches each year, and the company maintains a remarkably high level of control over the entire lifecycle of its products. However, not even Rolex can control the number of tropical dials that are currently in existence.