Awareness of our responsibilities in safeguarding the planet are growing every day, and the concepts of recycling and sustainability are at the forefront. Horology brands often lead the way in promoting initiatives, and a number of companies have recently issued eco-friendly dive watches focused on reclaiming materials and resources to counter their environmental impact.
The disturbing images of waste plastic found at the bottom of the Mariana Trench, the lowest point on Earth, have only served as an additional reminder of how much is still left to do in order to clean up our oceans. Portions of the funds accumulated by the sale of these limited edition luxury timepieces will go to a variety of charities devoted to just that cause, and below we have highlighted some of the most eco-friendly dive watches currently available.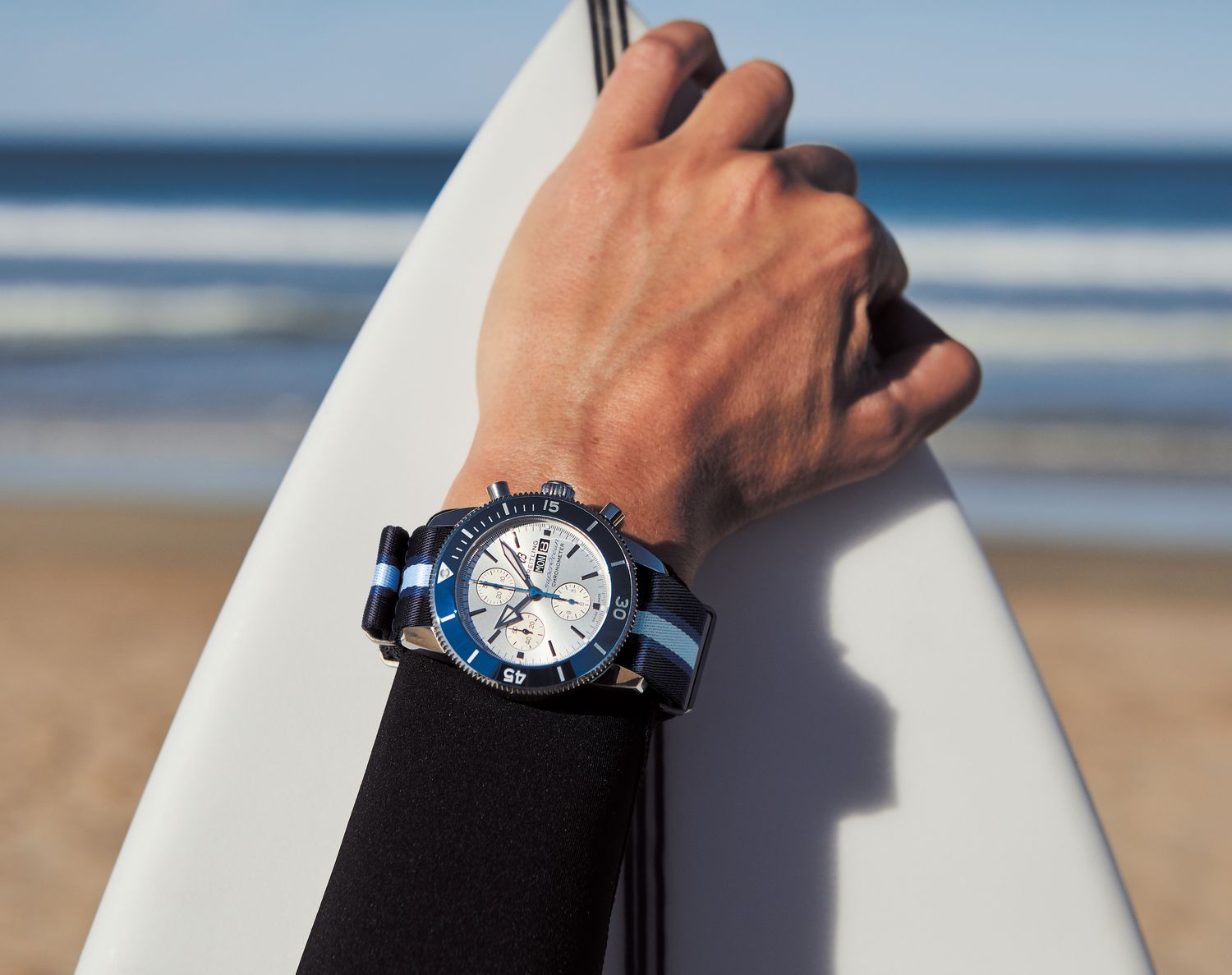 The Oris Ocean Trilogy
There are few manufactures out there as committed to protecting against global pollution as Oris. Last year, in recognition of World Clean-up Day, they released a new version of their Divers Sixty-Five watch, with a strap made of 100% salvaged material – reusing plastic bottles, recycled yarn and plastic flakes. 
This year they have emerged with a host of new pieces, including a trio of special editions from their Aquis series, with shares of the profits from each being donated to different conservation charities, all as part of Oris's own 'Ocean Project'. The set comprises:
The Great Barrier Reef Limited Edition III, a 43.5mm model with an analogue radial date display. It is the third generation offering from the Great Barrier Reef series, limited to 2,000 pieces. Proceeds will go to the Reef Restoration Foundation.

The Clean Ocean Limited Edition, an elegant three-hander with a recycled PET (polythene terephthalate) case back medallion, again with only 2,000 made and money going to the Pacific Garbage Screening Initiative.

The Blue Whale Limited Edition, with just 200 pieces being issued. Revenues from the sale of the three register chronograph will help fund Whale and Dolphin Conservation (WDC), the leading charity protecting endangered marine mammals.
Each model in the family comes with a stunning aqua blue dial, and prices range from $2,300 for the Clean Ocean to $2,550 for the Great Barrier Reef; however the Blue Whale can only be purchased in a gift set of all three watches – in a special recycled PET presentation box, which will set you back roughly $10,000.
Breitling Superocean Heritage II Chronograph 44 'Ocean Conservancy' Limited Edition
Released in conjunction with renowned environmental charity Ocean Conservancy, this latest addition to Breitling's popular SuperOcean range offers the robustly handsome model in a new colorway of silver and blue. It follows on from another recent collaboration with the aid organization, which produced the Heritage SuperOcean II 'Outerknown' that was developed with legendary surfer Kelly Slater's sustainable clothing brand.
Slater, in his capacity as one of Breitling's 'Surfers Squad' ambassadors, was at the launch of the newest model, at a special event in Bali. Along with around 100 invited guests, the manufacturer organized a beach cleanup that removed hundreds of pounds of garbage and plastic waste from the shoreline. 
The watch itself features a silver dial and blue bezel on its 44mm case. Additional blue accents are found on the chronograph seconds hand and the numerals of the minute and hour totalizers. Securing it all is a choice of two NATO-style straps, woven from a special yarn made from recycled nylon waste, mostly from fishing nets found castoff in the world's oceans. Called ECONYL (from Eco-friendly and Nylon) the SuperOcean comes in a choice of all blue or blue stripe. 
Like Oris's Ocean Trilogy, the Breitling Superocean Heritage II Chronograph 44 'Ocean Conservancy' Limited Edition is presented in a special box created with completely recyclable materials. Prices for one of the 1,000 editions are around $6,250.
Panerai Submersible 'Mike Horn' Edition
Two 'Mike Horn' editions were unveiled this year at SIHH; named after the extreme adventurer and brand ambassador, the watches are visually almost identical. But Panerai released both a standard production run model and this, the PAM00985, restricted to just 19 units.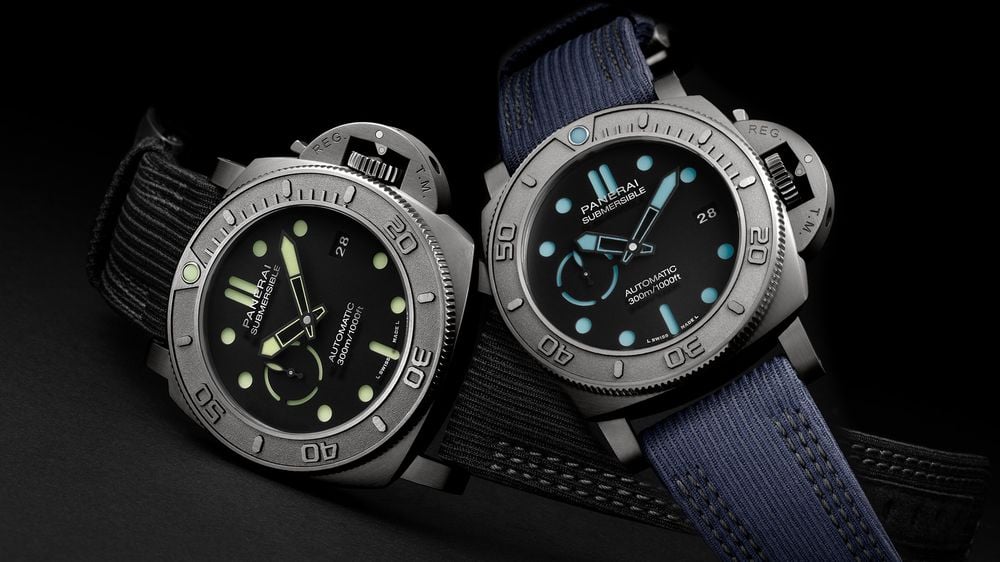 Beyond the color of their straps and their respective luminescence, there is nothing to choose between the two with regards to aesthetics. Both weigh in at a sturdy 47mm, both retain that familiar cushion-shaped case and iconic crown guard, and both are each safe down to 300m. The pair are also crafted from the same material, namely 80 grams of EcoTitanium. It is a recycled metal alloy that Panerai has been pioneering for several years now, working hard to bring it to the industry. On the 'Mike Horn', this eco-friendly metal makes up the case, bezel, back, crown, and guard.
The strap is also environmentally-friendly, again made from PET salvaged from plastic drinks bottles. And the watches are manufactured and assembled in Panerai's base in Neuchâtel, Switzerland that is designed for zero carbon emissions.
The reason the PAM985 is limited to so few pieces, and the reason they cost twice the price of the regular model, is because the lucky owners will get the once-in-a-lifetime chance to accompany Mike Horn himself on part of his latest excursion. The experience will see 19 Paneristi joining Horn for a week's survival training on the polar ice floes of the Arctic Ocean. As well as testing their own resilience and explorer's spirit in the frozen tundra, they will also have the opportunity to learn more about the ecology of the region from a world-renowned expert. It is the last word in money-can't-buy adventures. Well, beyond the $41,000 it costs to buy the watch, I guess. 
As a testimonee for Panerai for more than 15 years, Mike Horn encompasses just about everything fans love most about the brand. Fervently unconventional, more than a little eccentric, and absolutely tough-as-nails. This latest expedition out into the wilds is set to be something those fortunate to own one of these eco-friendly dive watches few will never forget.