While the Rolex President nickname is most often associated with men's Day-Date watches, there are also Rolex Ladies' President watches – however, they are not Day-Date models.
Ladies President watches are gold or platinum Rolex Datejust watches fitted with the famous Rolex President bracelet. In case you need a refresher, the famous Rolex President bracelet is the one with a three-link configuration of semi-circular links and it is always made in precious metals such as gold or platinum. Not all Datejust watches come with the choice of President bracelets, only the smaller versions such as the Lady-Datejust and Datejust 31 offer the option.
Now that we have the basic definition of the Rolex Ladies' President watch out of the way, let's have a look at some stunning versions in 18k gold.
About Rolex Ladies President Watches
Ladies President Rolex Watches Quick Specs
Collections: Lady-Datejust, Datejust 31
Current-Production Reference Numbers: 279178, 279138, 279458, 279139, 279459, 279175, 279135, 278278, 278288, 278289, 278275, 278285
Case Sizes: 26mm (discontinued), 28mm, 31mm
Case Materials: 18k gold in Yellow, White, or Everose
Bezel: Fluted, Diamond-Set
Crystal: Acrylic (discontinued) or Sapphire with Cyclops Magnification Lens
Functions: Central Hour, Minute, Second Hands; Date Window
Current Caliber: Rolex 2236 automatic movement
Click here for our Ultimate Buying Guide on Ladies Rolex watches.
The Rolex Ladies President Takes Its Name From Its Bracelet
The defining trait of a Rolex Ladies President watch is, of course, the President bracelet. The President band was introduced in 1956 on the then-new Rolex Day-Date 36 watch.
Characterized by the semi-circular shape of the links, the President bracelet is an absolute Rolex design icon. While it was initially developed for the Day-Date, Rolex began offering the President bracelet as an option on precious metal editions of women's Datejust watches starting in the 1960s.
The only difference between a regular Datejust watch and a Lady President is the bracelet. In short, Ladies President watches are simply Lady-Datejust and Datejust 31 models fitted with President bracelets instead of Jubilee or Oyster bracelets.
As mentioned, President bracelets are only ever made in solid gold or platinum; therefore, if you see a Datejust paired with a President band then you know (as long as it came out of the factory that way and it's not a custom build) it's a full gold or platinum Rolex watch. There are no steel or two-tone Rolex Ladies President watches since Rolex does not manufacture steel or two-tone President bracelets.
Rolex Ladies President In Three Sizes
While the watches nicknamed 'Rolex Ladies President' are only available within the Lady-Datejust and Datejust 31 collections, there are in fact three sizes available if we include vintage and discontinued models.
Lady-Datejust models with 26mm cases
Lady-Datejust models with 28mm cases
Midsize Datejust models with 31mm cases
Rolex used to make the Lady-Datejust watch with 26mm Oyster cases until 2015 when the Datejust 26 was discontinued in favor of the Lady-Datejust 28. Not only does the newest generation of the Lady-Datejust include larger 28mm cases, but the watches also run on the new-generation Caliber 2236 automatic movement with an increased power reserve of 55 hours.
Midsize Datejust 31 watches have been a mainstay of Rolex's catalog for decades and the range also offers the option of a full gold version fitted with a President bracelet. These variations are also known as a Rolex Ladies President watch.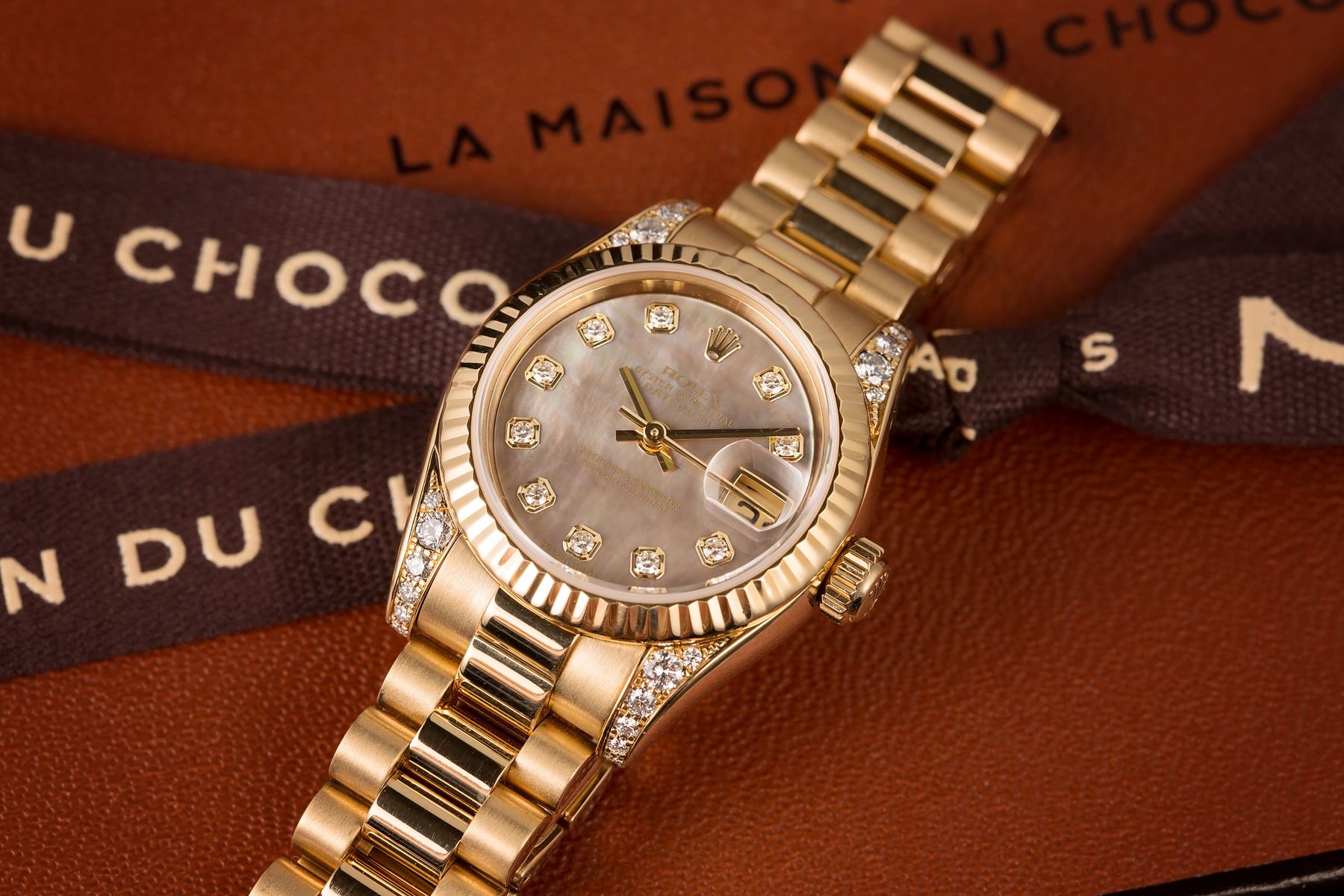 Discontinued 26mm Rolex Ladies President Watches
Although the current-production Rolex Ladies' President collection is large and varied, it's important to remember the vintage and discontinued models that are also available for sale on the pre-owned market. For example, some popular discontinued Ladies President Rolex Lady-Datejust 26 watches include:
Lady-Datejust Ref. 179178
Lady-Datejust Ref 179158
Lady-Datejust Ref 179159
Lady-Datejust Ref 179179
Lady-Datejust Ref 179175
Lady-Datejust Ref 79178
Lady-Datejust Ref 79159
Lady-Datejust Ref 69178
Lady-Datejust Ref 69138
Regardless of the size, it's important to remember that these are Datejust watches. Therefore, all Rolex Ladies President models include the signature date window at 3 o'clock on the dial, along with the accompanying Cyclops magnification lens on the crystal.
Rolex Ladies President In Three Shades Of Gold
Just like the men's Day-Date President watches, Rolex Ladies President watches are exclusively available in precious metals, whether in solid 18k gold or 950 platinum. As for the gold versions of the Ladies President, Rolex makes them in all three shades: yellow gold, white gold, and Everose gold. Everose gold is Rolex's proprietary rose gold alloy that guarantees resistance to fading thanks to a secret blend of gold, copper, and platinum.
A quick way to tell the color of gold featured on a specific Ladies President Rolex watch is by looking at the last digit of its reference number.
Ladies President watches that end in 8 = 18k yellow gold
Ladies President watches that end in 9 = 18k white gold
Ladies President watches that end in 5 = 18k Everose gold
Bezel options for gold Ladies President range from classic fluted to dazzling diamond-set. There are even some vintage versions with bark-texture bezels (and matching bark accents on their President bracelets).
Similar to all Datejust watches, the Ladies President collection offers a vast array of dial options including neutrals like black, white, and champagne, in addition to intriguing stone dials made from materials such as meteorite, lapis lazuli, coral, and onyx. Naturally, the Rolex Ladies President collection offers plenty of diamond dial designs too.
The Prestigious Rolex President for Ladies
Among all of Rolex's women's watches, a gold Ladies President is an especially luxurious option. Available in three different colors of gold, several sizes, various dials designs, and with or without diamonds, there are plenty of Rolex Ladies President watches out there to choose from.
By pairing the landmark Lady-Datejust watch or the midsize Datejust 31 with the iconic President bracelet, Rolex created elegant women's luxury watches that will forever remain classics.