The Rolex Explorer is undoubtedly one of the most ruggedly elegant watches developed by the legendary company. The Rolex Explorer is a top choice for world explorers and adventures since 1953. The watch can be worn while climbing Mount Everest, navigating a yacht through the Caribbean, diving the sea depths, or engaging in business transactions.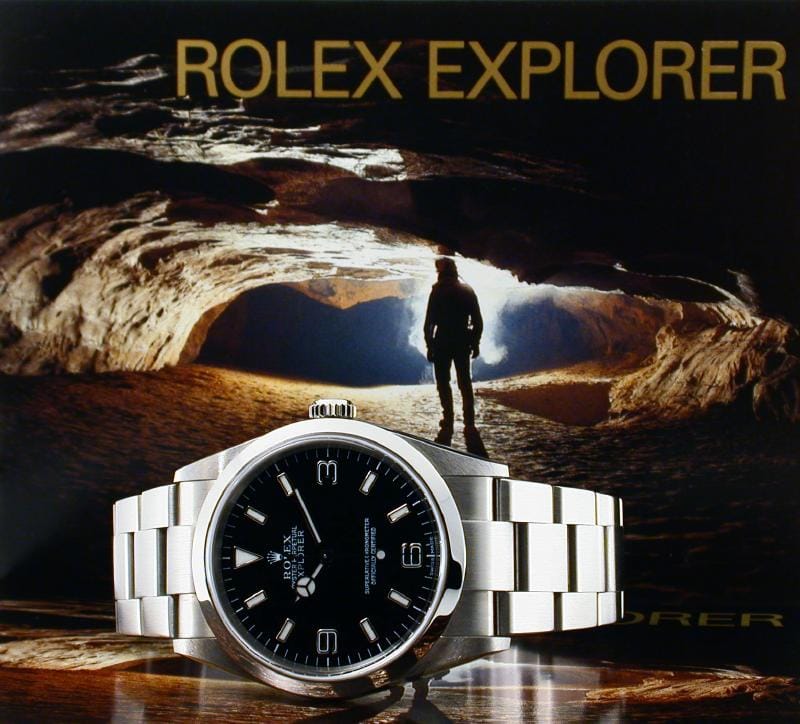 The First Explorer
The Rolex Explorers were developed to withstand temperatures between -20C and +40C without harming the watches integrity. Rumor has it that Rolex watches were designed for adventurous people like Edmund Hilary and Tenzing Norgay, the first to summit Everest in 1953. Rolex officials have debunked this theory, stating the first Explorer was in development at a much earlier time.
Rolex didn't think Explorers would become as popular as they have been over the years. Thus, the company only launched the Explorer with two theme variations including the "Air King Explorer" and the "Dress Explorer." The Air King is still around today and it is a popular choice amongst men. The variations came with white and black faces and were sold primarily in North America.
Read our full guide on the Rolex Explorer here.
Explorer II
Ten years following the watch's conception, a new version of the Explorer was shared with the world. It boasted of 1560 caliber movement. New and used Rolex fans were so thrilled with the product release that it wasn't updated until 1989. The main difference between this model and the first was a dramatic change in movement and an elegant oyster bracelet.
Explorer I enthusiasts were quite upset when in 1989 it was announced the Explorer wasn't being manufactured any longer. What Rolex wasn't telling the public is that a new and exciting Rolex Explorer II was in the works. Model 14270 was brought into existence and sported a brand new case, flawless dial, newly conceived watch movement and upgraded sapphire crystal glass. The Explorer's beat was upped to 3000 calibre and was smoothed out considerably.
Read our full guide on Rolex Explorer II watches here.
Today, the Explorer is as beautiful as ever. If you have an affinity for a Rolex Explorer, you are sure to find a great deal at a leading online pre-owned Rolex Exchange. It has been reported that by simply placing an Explorer with history on your wrist, your adventurous side is sure to emerge!