Whether you've bought a pre-owned Rolex watch that fits a little too tight or need to extend your existing Rolex bracelet for a more comfortable fit, you can add another link to your watch all by yourself from the comfort of your own home. Rolex watches feature some of the very best bracelets in the world, and in addition to being incredibly comfortable on the wrist, they also make it very easy to both add and remove links. If you're not sure how, read on to find out how to add a link to your Rolex bracelet.
Click here for our Ultimate Buying Guide on Rolex watches.
First, What Kind Of Rolex Bracelet Do You Have?
Rolex has produced a number of different metal bracelets over the years. There's the sporty three-piece link Oyster bracelet with a flat profile. As Rolex's most popular bracelet style, the Oyster bracelet is found on both Rolex's sports models such as the Submariner, Daytona, GMT-Master II, and Explorer, in addition to dressier models like the Datejust, Sky-Dweller, and Oyster Perpetual. The Rolex Oyster bracelet is available in stainless steel, gold, two-tone (steel and gold), and even platinum.
There's also the dressier five-piece link Jubilee bracelet, which made its debut on the Datejust in 1945. This bracelet includes two outer rows of larger semi-circular links bordering a set of three smaller center links. As a more formal option, the Jubilee bracelet is typically found on Rolex dress watches such as the Datejust and Sky-Dweller, but it is also available on certain Rolex sports watches like the GMT-Master II. The Jubilee bracelet is available in stainless steel, gold, and two-tone.
Finally, there's also the iconic President bracelet that Rolex produced to accompany the first Day-Date watch in 1956. This bracelet features a three-piece construction of semi-circular links and its design is instantly recognizable by Rolex fans everywhere. As Rolex's most prestigious bracelet, it is only ever precious metals (either 18k gold or 950 platinum) and it can be found on the Day-Date collection and on select Midsize and Lady-Datejust models, which are known as Midsize President and Lady President watches, respectively. While Rolex has made other bracelets, such as the Masterpiece, Pearlmaster, and integrated bracelets, the Oyster, Jubilee, and President are by-far the most common.
A Quick Note About Non-Removable Rolex Links
For decades, Rolex bracelets have used screw-in pins to secure the removable links of the bracelets together. This makes it relatively easy to add or remove links to them; however, not every link on a Rolex bracelet is removable.
The links that taper in width near where the bracelet attaches to the watch are not removable, which means that you can only remove the ones with small screws on their sides. These will be located closer to the clasp on either side of the bracelet and they will all have a symmetrical width.
Additionally, certain vintage Rolex bracelets, such as the rivet-style Oyster bracelets found on watches from the 1950s and 1960s do not use screws to hold the links together and are instead built using folded pieces of metal that are riveted together. While this style of Rolex bracelet link can be added and removed, the process is quite a bit more involved than simply turning a couple screws, and we would recommend that this is something that you let your local watchmaker do for you.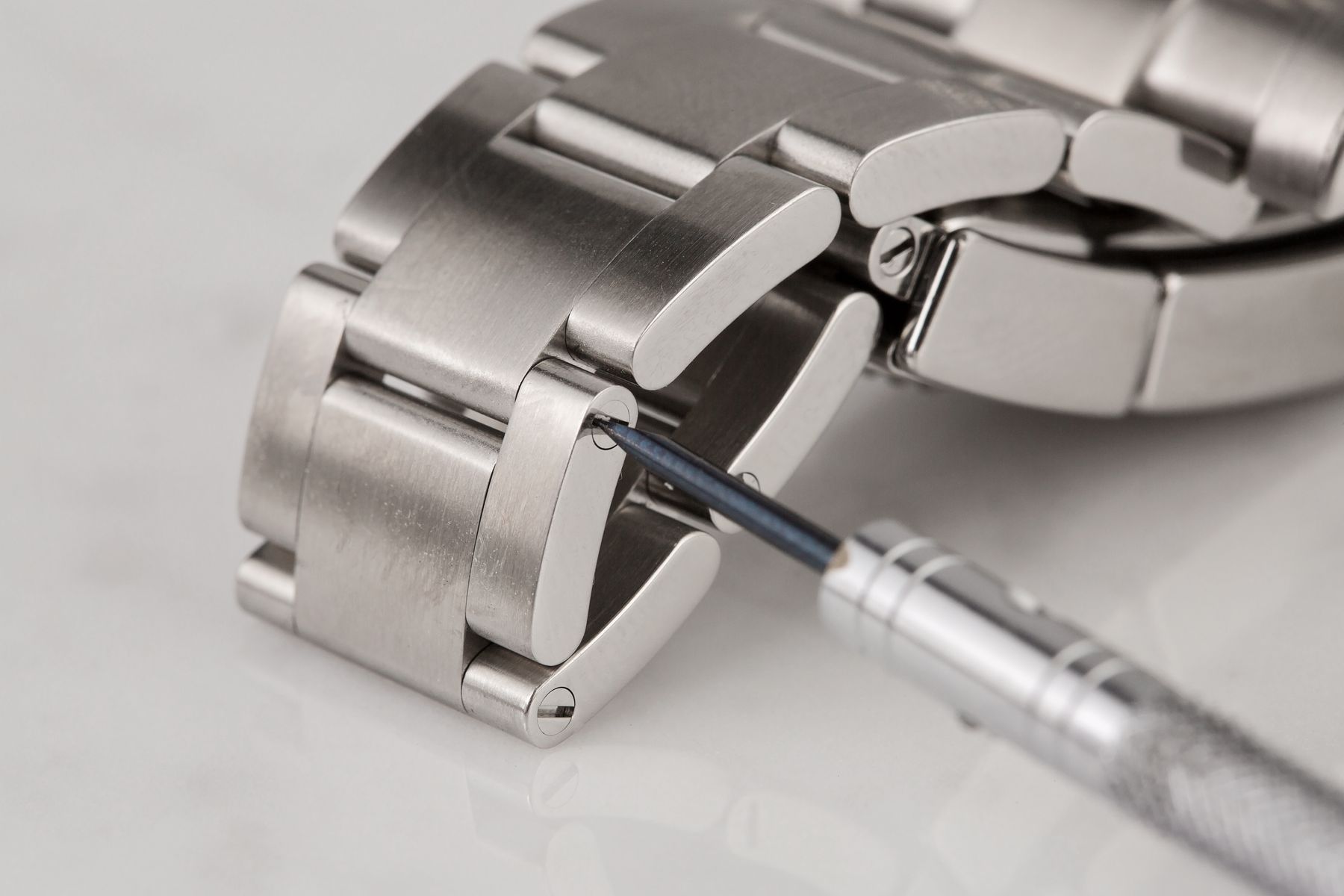 Tools Needed To Add Links To Your Rolex Bracelet
Before you begin, make sure you have the correct extra link for your particular Rolex bracelet. Similar to their watches, Rolex enhanced, modified, and upgraded their bracelets over the years, and even though the core bracelet styles have not changed, the way that they are designed and constructed has evolved.
Therefore, if you're adding a link to the bracelet, it should either be an original one that came with your watch or one that you've sourced correctly according to bracelet style/version/year. This is important since all bracelets have a bit of history, thus there can be numerous different iterations of just the classic stainless steel Oyster bracelet.
Additionally, you will also need a small flathead screwdriver to unscrew the pins that connect the bracelet links. Having the right sized screwdriver is highly important because too small or large of a screwdriver will risk stripping the small heads of the screws. Beyond that, it also helps to have a soft cloth to lay on the table while you work, so that you don't accidentally scratch your Rolex while you are adding a link to its bracelet.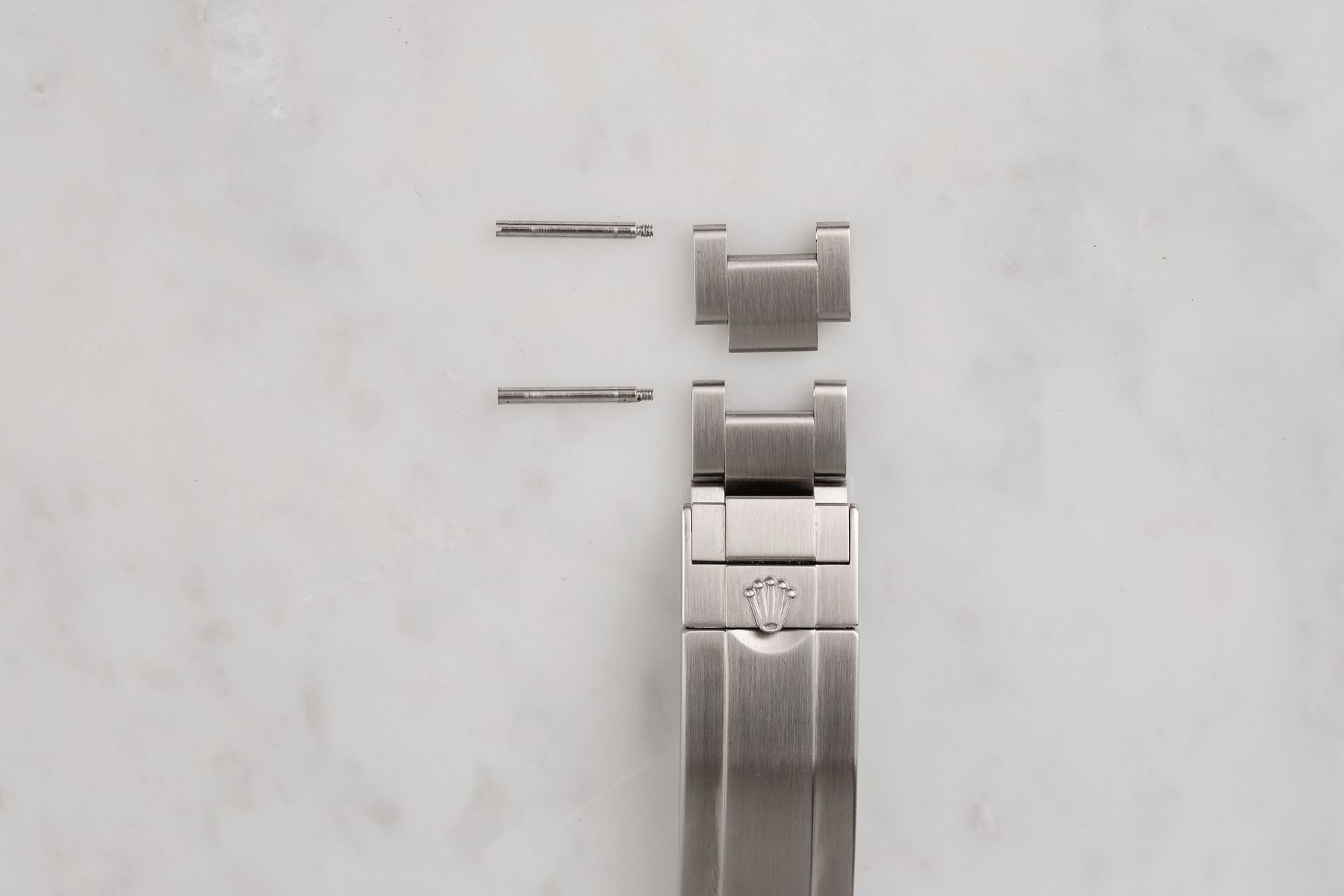 Adding Links To Your Rolex Bracelet
Decide where on the bracelet you want to add your link (try to keep the clasp as centered to the case as possible) and use the screwdriver to carefully unscrew the pin holding two links together. Pull out the pin and put it aside for safe keeping, as you will need to reinstall this same pin later on.
Take your additional link that you want to add to your bracelet and remove the pin from it. Align the extra link to an open link on the bracelet, thread the pin through the hole, and carefully screw it back into place.
Take the pin that you first removed from the bracelet and set aside, and then connect the two open links together, thread the pin through the hole, and screw it back, taking care not to scratch the bracelet or cross-thread the screw.
Make sure everything is tight and secure – and just like that, you've successfully added a link to your Rolex!