First off, it is worth saying that having to choose between a Rolex GMT-Master II and a Tudor Black Bay GMT is hardly the worst problem in the world. Either way, you are going to end up with a stunning Pepsi GMT watch and a fair number of envious glances. Rolex and Tudor are of course sibling companies and their approach to the Pepsi GMT is undeniably similar. However, one is going to cost much more than the other. Not only is the current-production Rolex GMT-Master II Pepsi more expensive than the Tudor Black Bay GMT Pepsi but its resale value is also significantly more. So that leaves us with the question: is the Rolex Pepsi worth that much more than the Tudor Pepsi?
We'll look at the Rolex GMT-Master II ref. 126710BLRO and the Tudor Black Bay GMT ref. M79830RB in a bit more detail below.
Rolex GMT-Master II ref. 126710BLRO  – "Pepsi"
Pepsi GMT-Master II Key Features
– Year of Introduction: 2018
– Case Size: 40mm
– Materials: Oystersteel (904L Stainless Steel)
– Functions: Time with Running Seconds, Date Display, GMT Functionality
– Dial: Black w/ Luminescent Hour Markers
– Bezel: Bidirectional, Red and Blue Ceramic Insert w/ 24-Hour Scale
– Crystal: Sapphire (Flat w/ Cyclops Lens)
– Movement: Rolex Caliber 3285
– Water Resistance: 100 Meters / 330 Feet
– Strap/Bracelet: Oyster Bracelet or Jubilee Bracelet
– Retail Price (USD): $9,500 (Oyster); $9,700 (Jubilee)
– Pre-Owned Price: $23,000 – $25,000 (approx.)
Click here for our Ultimate Buying Guide on the Rolex GMT-Master II.

Tudor Black Bay GMT ref. M79830RB – "Pepsi"
Pepsi Black Bay GMT Key Features
– Year of Introduction: 2018
– Case Size: 41mm
– Materials: Stainless Steel
– Functions: Time with Running Seconds, Date Display, GMT Functionality
– Dial: Black w/ Luminescent Hour Markers
– Bezel: Bidirectional, Red and Blue Aluminum Insert w/ 24-Hour Scale
– Crystal: Sapphire (Domed)
– Movement: Tudor Caliber MT5652
– Water Resistance: 200 Meters / 660 Feet
– Strap/Bracelet: Stainless Steel Bracelet; Leather Strap; Fabric Strap
– Retail Price (USD): $3,725 (Strap); $4,050 (Bracelet)
– Pre-Owned Price: $3,500 – $4,000 (approx.)
Click here for our Ultimate Buying Guide on the Tudor Black Bay.

The Power Of Blue And Red
– Rolex's BLRO: Bleu/Rouge (French for Blue/Red)
– Tudor's RB: Rouge/Blue
– "Pepsi" is the nickname given to blue and red bezels
A Rolex GMT-Master with a blue and red "Pepsi" bezel is an icon in the horology world. It was the first example of what would go on to become the most famous, dual time zone watch ever created. Over the more than six decades that followed, the Rolex GMT has always been an option, in one form or another.
The original Bakelite bezels soon gave way to aluminum, which carried the various GMT references all the way up until 2005. That was the year Rolex introduced its Cerachrom (ceramic) bezel inserts to the model; however, the company had not yet perfected a method of applying a twin-color scheme to it. Instead, the GMT's ceramic bezel was issued in solid black and was missing the split-color appearance that had been a part of the collection since its debut back in the 1950s.
The closest we got to a Pepsi GMT bezel for the next few years was an extremely costly example encircled with rubies and sapphires; however by 2014, Rolex had achieved the method of adding a second color to its ceramic inserts, and a true Pepsi model made its entrance. Unfortunately, it was exclusively fitted to a solid 18k white gold piece, leaving the legendary watch out of most people's price range. This is largely why 2018's reintroduction of a Pepsi GMT-Master II in stainless steel stole the headlines for months on end.
Nevertheless, the Rolex masterpiece didn't have it all its own way. Like the little brother always trying to get one up on his older sibling, Tudor rocked up to Baselworld 2018 with a Pepsi GMT of its own.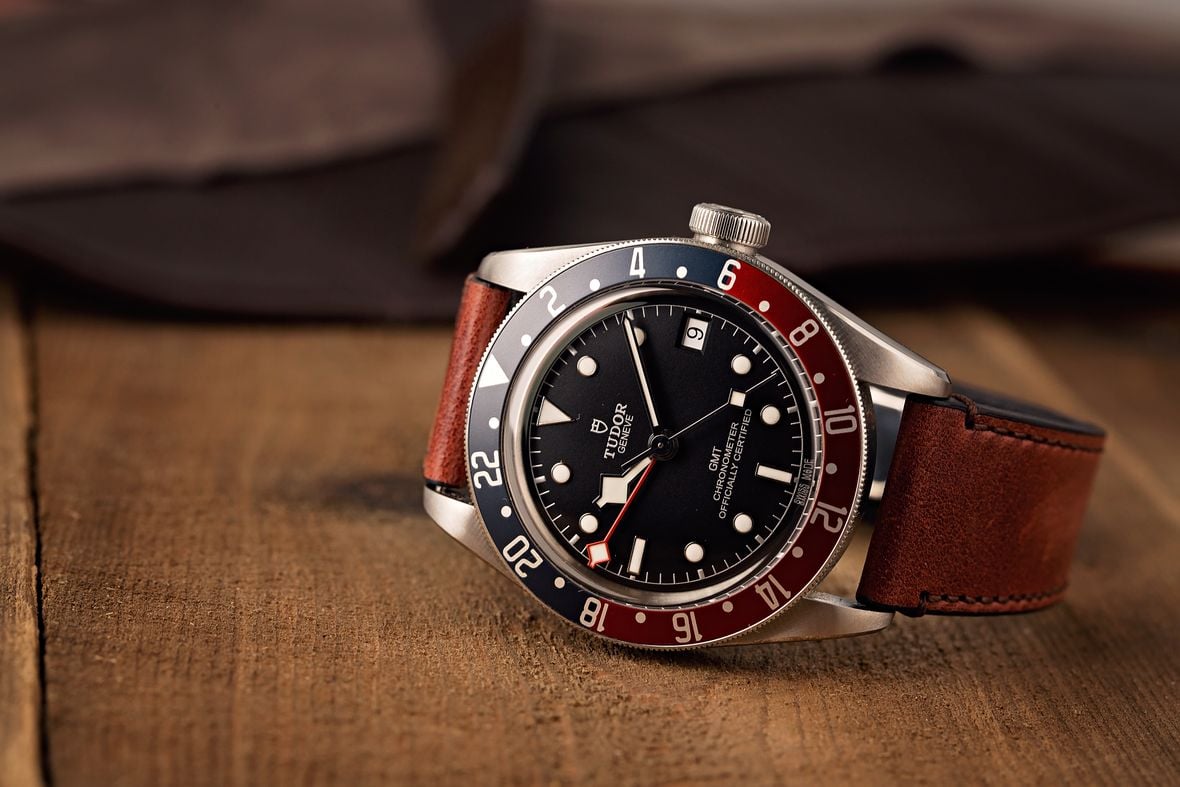 The Cost of Tudor and Rolex Pepsi
– Rolex 126710BLRO with Oyster bracelet: $9,500
– Rolex 126710BLRO with Jubilee bracelet: $9,700
– Tudor Black Bay GMT with bracelet: $3,725
– Tudor Black Bay GMT with bracelet: $4,050
Technically, wandering into a Rolex AD and leaving with a Pepsi GMT-Master will set you back $9,500 to $9,700 depending on the bracelet design. For the Tudor, you'll be parting with $3,725 to $4,050 depending on the bracelet or strap you choose. That is already a massive gulf between the brands, but as we already reported here many times, trying to get your hands on a stainless steel Rolex GMT-Master II at retail is pretty much impossible. The downside of the model's popularity is, as always, the demand significantly outpacing supply.
This has translated into mammoth waiting lists (not helped by Rolex seeming to distribute as few examples of the watch as possible), in addition to pre-owned pieces that have more than doubled – even almost tripled – the official retail price. An unworn Pepsi GMT-Master II can now fetch as much as $27,000 at auction, and if you have that much lying around, you could probably stretch your budget by several extra thousand dollars and get yourself the white gold version of Rolex's Pepsi GMT.
About The Rolex GMT-Master II Pepsi 126710BLRO
– 40mm Oystersteel case
– Blue and red Cerachrom ceramic bezel
– Black dial with a date window at 3 o'clock
– Cyclops date lens on the crystal
– Mercedes hands
– Caliber 3285 with 70 hours power reserve
– Oyster or Jubilee bracelet
– Water resistant to 100 meters
There is no denying Rolex's Pepsi GMT offering is a beautiful watch. The brand's use of 904L stainless steel, now known as Oystersteel, gives a shine you won't find from any other manufacturer, and Rolex has redesigned the 40mm case for the GMT-Master II, with the lugs subtly altered for an overall sleeker profile.
The change from the classic, three-link Oyster bracelet to the dressier five-link Jubilee raised a few eyebrows upon its release in 2018. However, it helped give the watch a nice retro vibe, as well as helped differentiate it from the white gold model – which could look very similar at first glance. Rolex now also fits the white gold version with a blue dial to distinguish it further, while the new stainless steel model retains the classic black dial. However, Rolex has now also added the Oyster bracelet as an option with the steel GMT-Master II "Pepsi."
Inside, resides the Cal. 3285 with some substantial updates over the previous Cal. 3186. Most notably, it includes the Chronergy escapement that first made an appearance in the latest movement used to drive the Day-Date, the Cal. 3255. This completely reworked variation on the traditional Swiss lever escapement purportedly gives an increased efficiency of 15% and combined with a redesigned barrel and gear train, provides the watch with a longer 70-hour power reserve. Like all other contemporary Rolex movements, it is (of course) Superlative chronometer certified and promises an accuracy rating of +2/-2 seconds per day.
However, it is the bezel that everyone comes to see, and it too has caused some discussion. Compared to the aluminum bezels of times past, the colors are certainly on the more muted side. In fact, stand up the contemporary model next to one of the very first examples with a nicely faded Bakelite bezel and there is a definite parallel. With that in mind, the color of Rolex's ceramic Pepsi bezel inserts has changed over the years, and while the older versions offer a more muted take on the classic red and blue insert, the more recently produced ones are a bit more punchy and bright, although still not quite to the same degree as the older aluminum inserts.
In all, a steel Rolex GMT-Master II with a ceramic Pepsi bezel is just something that should exist in the world (whether or not you are ever able to get your hands on one), and the release of the current version made plenty of Rolex fans happy.
About The Tudor Black Bay GMT Pepsi M79830RB
– 41mm steel case
– Blue and red aluminum bezel
– Black dial with a date window at 3 o'clock
– Snowflake hands
– Caliber MT5652 with 70 hours power reserve
– Steel bracelet, leather strap, or fabric strap
– Water-resistant to 200 meters
If Rolex's offering dipped its pinky toe into the retro nostalgia, Tudor's jumped in with both feet. The case is straight out of the 50s archive, elegant and simple, and the absence of guards around the oversized winding crown only adds to the vintage vibe. At 41mm, it is slightly larger than the GMT-Master II as well, making it perfect for those who like a bit more wrist-presence in their tool watch.
The handset is also going to look very familiar to anyone with a passing acquaintance with the brand's vintage catalog. The hour and seconds hands are given the signature "Snowflake" styling from 1969, as is the tip of the red 24-hour hand.
The matte black dial features a vintage-style chapter ring, and the bezel insert is no-nonsense anodized aluminum. While that could be seen as a step down from Rolex's Cerachrom, only the aluminum is going to fade and develop an attractive patina over the years, giving the Black Bay a hint of backstory. Here too, the colors are slightly subdued, with Tudor taking the red and blue hues from its diver's series range and marrying them on the watch's 24-hour bezel. It is still an aluminum Pepsi bezel, but a much more muted version of it compared to what you will find on older Rolex Pepsi GMT watches.
Despite the merits of its aesthetics, the movement may be the most impressive element. Not so much for its functionality (although it does have quite a lot to offer), but for the fact that it is an in-house mechanism. Back in the day, the reason for Tudor's much lower price point (compared to Rolex) was mainly due to the fact it used calibers from a third party. Not having to spend money on expensive research and development to build your own engines is a massive cost-cutter, but since Tudor's return in 2009, it has been on a mission to develop in-house movements.
The Caliber MT5652 inside the Black Bay GMT is one such movement. Based on the highly accomplished MT5612, but with a 24-hour module added on, it offers a similar three-day power reserve as Rolex's new Cal. 3285, as well as the same balance frequency of 28,800vph. A typically reliable and accurate workhorse, it even has an anti-magnetic silicon hairspring. This practice of developing in-house movements has very much brought Tudor out of Rolex's shadow, and the brand is now no longer seen as just the more affordable alternative. The current Pepsi GMT watches from Rolex and Tudor are, in fact, almost comparable in every aspect – except for the price.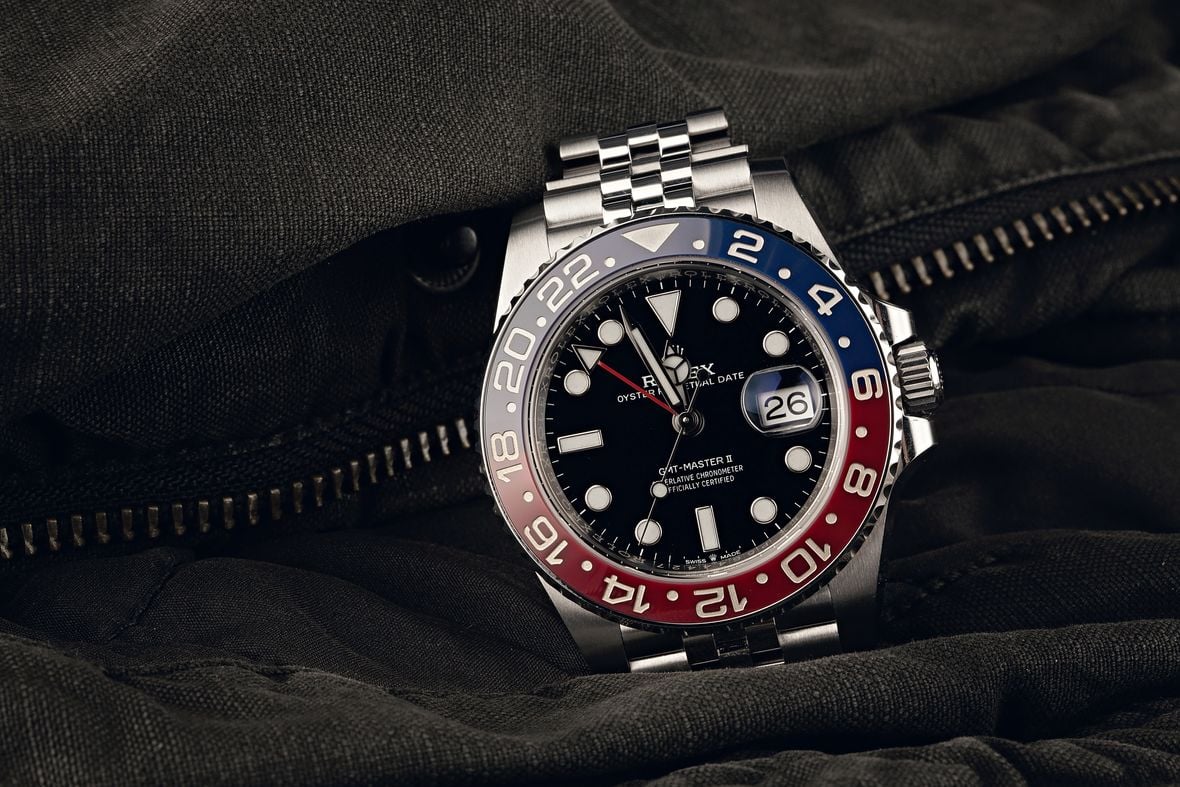 Which Pepsi GMT Is For You? Tudor or Rolex?
So the question is, do you buy a Rolex GMT-Master II or a Tudor Heritage Black Bay GMT? Actually, the better question is, do you buy one Rolex or several Tudors and still have money left over?
The difference in quality between the two is completely disproportionate to the disparity in prices, that much is obvious. The Tudor is a great watch, beautifully built and steeped in enough period details to satisfy the most ardent purist. In addition, the final piece of the puzzle, the homegrown movement, is present and correct. Best of all, you can get a Tudor Black Bay GMT and pay about the same as its regular retail price. Even if your local retailer is sold out, you can find a Black Bay GMT available online and only pay a small premium (if one at all) to get it on your wrist immediately. This is simply not the case with the Rolex GMT-Master II Pepsi. Should you wish to buy one without the wait, plan on spending at least 2 to 3 times more than its official retail price.
However, the Rolex is the real icon, the one everybody wants – not just now, but in the future as well. That means it is going to hold its value far better, should you decide to sell it at any point down the line. On top of that, it has the edge in both technology and brand image. You don't have to be a "watch guy" to know about Rolex in the same way you do with Tudor – and that has to be a consideration whatever purchasing a luxury product (whether we want to admit it or not). In the end, it is a matter of personal taste. But in the age-old debate of Rolex vs. Tudor, the gap has never been smaller.