Without a doubt, Rolex is easily the world's most famous luxury watch manufacturer. Although other companies produce timepieces that are both more expensive and exclusive than Men's Rolex, none carry quite the same level of global recognition as The Crown, and it is ultimately a Rolex watch that has become a universally recognized status symbol that is synonymous with excellence, success, and personal accomplishment. However, buying a Rolex can sometimes be an intimidating process and for first-time buyers, it can sometimes be tricky to even figure out where to start.
In this guide, we are going to break down everything that you need to know in order to buy a Rolex and walk you through the steps of how to make your first purchase. Additionally, we are also going to go over the pros and cons of buying new vs. pre-owned Rolex watches, the different levels of condition you are likely to encounter, how you can find a trusted dealer, and what you should always keep in mind as you go about searching for your dream watch. More than anything else, buying a Rolex should be an enjoyable process, but nothing can ruin the fun more than feeling lost and confused, so here is everything you need to know about how to buy a Rolex.
Why Should You Buy a Rolex Watch?
About Rolex and Its History
Rolex was founded way back in 1905 by Hans Wilsdorf and today, the iconic Swiss watch manufacturer is headquartered in Geneva, Switzerland. Rolex watches are now sold in more than 100 different countries and the brand produces approximately a million timepieces per year in addition to sponsoring countless different sports, athletes, cultural projects, and conservation efforts all around the globe.
Throughout history, Rolex has been a pioneer in the industry and the brand is credited with numerous groundbreaking innovations such as the waterproof Oyster case and self-winding Perpetual movement. Additionally, Rolex is also responsible for creating one of the world's very first dive watches (the Submariner) and the 1945 release of the Datejust quite literally set the standard for how a calendar complication on a wristwatch should function. Today, Rolex is one of the most vertically integrated manufacturers in the entire world, and the company even creates its own special stainless steel and 18k gold alloys that get used in the construction of its watches, all from inside its own Switzerland-based foundry.
There are many different reasons why someone would want to buy a Rolex. Some people want a Rolex watch due to their impeccable quality and universal recognition, others buy one as a means to celebrate a specific life event, and some seek out specific models due to their amazing ability to serve as wearable investments.
Click here to learn more about the history of Rolex.
Celebrations and Status Symbols
Many people choose to purchase a Rolex watch as a means of celebrating a significant life event. Whether it is a milestone birthday, a wedding, the birth of a child, or even just achieving your professional goals, a Rolex is always the perfect way to commemorate a special occasion, and it can be worn every single day as a constant reminder of a remarkable time in your life.
Additionally, since Rolex is the world's most famous luxury brand, Rolex watches serve as universal status symbols that are instantly recognized all around the world. Regardless of age or model, all Rolex watches convey to others that you have attained a certain level of success in your personal and professional life. Rolex are by no means the absolute most expensive luxury watches available, but when it comes to widespread recognition and celebrating your accomplishments, nothing makes a statement quite like a Rolex.
Investment Potential
Most people buy watches simply because they like them and want to wear them, but luxury timepieces also have an amazing ability to retain their value over the years and Rolex watches are able to retain their value better than almost anything else. Rolex watches can serve as investments that you can wear and enjoy every day, and they can even appreciate in value if given enough time or the right market conditions.
For some buyers, purchasing Rolex watches is just like adding stocks or other assets to their portfolio. These types of buyers may purchase Rolex models due to their value, rarity, and potential future value, rather than due to any reasons related to actually owning or wearing the specific watch. While buying Rolex watches is by no means a plan to get rich quick, it is undeniable that the prices for many of them keep going up each year. We always say that it is most important to buy what you love, but if you are savvy about your purchases, you can make a decent amount of money doing nothing more than owning the right Rolex watches and then letting go of them once prices increase.
Is it Worth Investing in a Rolex Watch?
With that in mind, is it worth taking the leap and investing in a Rolex watch? For many, the initial investment will be significant because the entry point to Rolex ownership starts at a few thousand dollars minimum. However, as mentioned above, Rolex watches almost always hold their value. The odds of them appreciating are also really great, given the right conditions. A few conditions that can significantly affect your watch's value include buying new or pre-owned, market demand, and condition. Is the watch brand-new? If so, it may or may not depreciate after you leave the store, depending on how sought-after it is. If it is pre-owned, what is the condition of the watch? Considering these factors, we'd say it's almost always worth investing in a Rolex watch.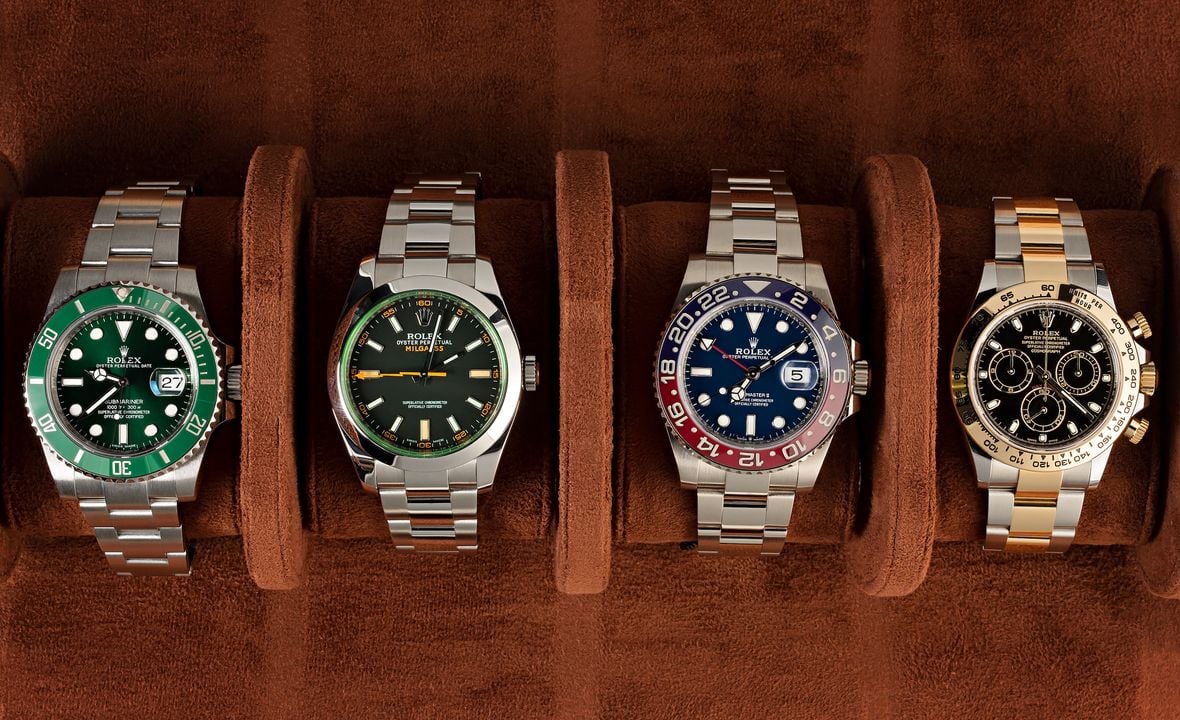 About Rolex's Catalog
Rolex makes an incredibly wide range of models that span everything from classically-styled dress watches, to purpose-built divers that are able to travel to the very deepest parts of the ocean. However, despite this diversity and numerous different models that the brand produces, all Rolex watches fall into one of two categories: either Classic or Professional.
Classic
The Classic side of Rolex's catalog is where you will find all of the brand's traditionally styled watches such as the Oyster Perpetual, Datejust, and Day-Date, along with the Cellini collection, which is Rolex's dedicated line of dress watches. Models from the Classic series are not designed specifically for any one type of sport, environment, or lifestyle activity, and they could be best described as your "everyday" watches that can be worn in a variety of different situations and paired with almost any attire.
Professional
The Professional side of Rolex's catalog is where you will find all of its legendary sport and tool watches such as the Submariner, Daytona, GMT-Master, and Explorer. These models are all designed specifically for a sport or demanding work environment, and they often feature additional features or complications to help them perform their specific functions. Generally speaking, these models feature larger cases and more utilitarian aesthetics, and also often include more robust cases and increased water resistance ratings.
Click here for our Ultimate Buying Guide on Rolex watches.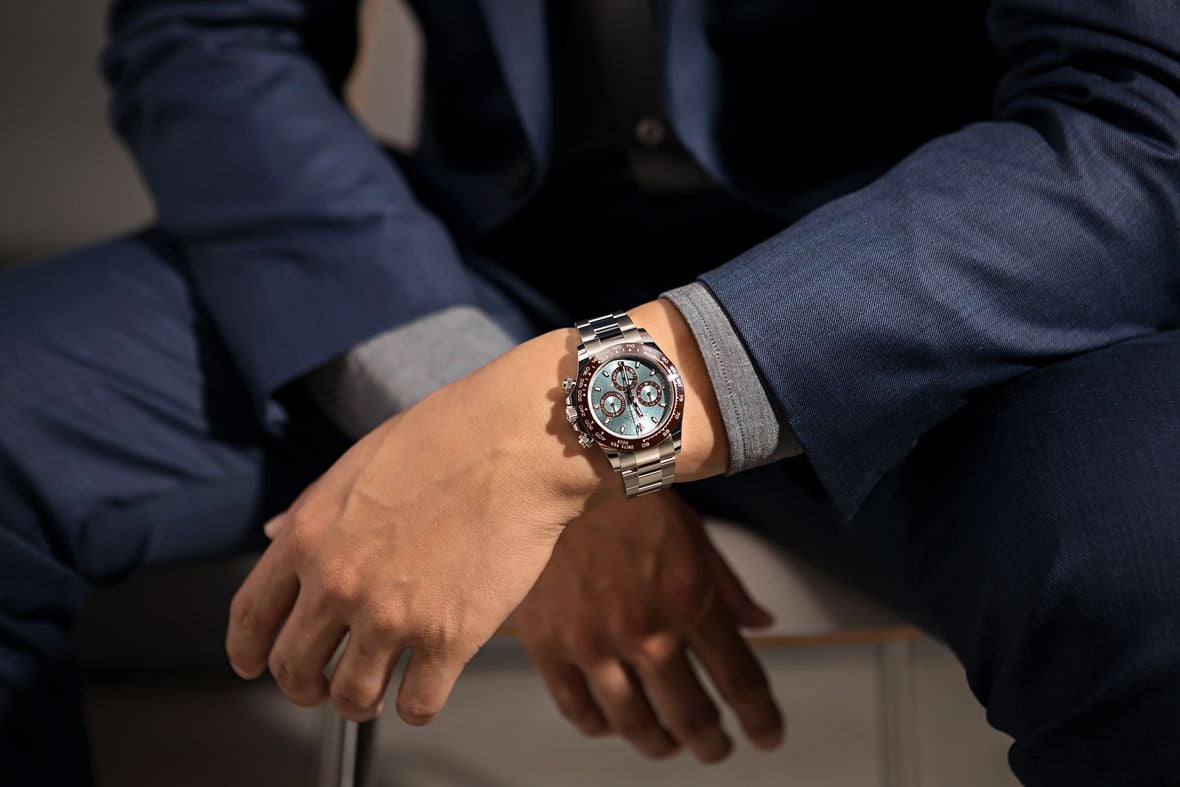 How to Choose a Rolex Watch
Once you decide to buy a Rolex, the next step will be figuring out which model is right for you. Rolex makes watches for everyone from scuba divers to frequent travelers, and on the pre-owned market, they can cost as little as a few thousand dollars all the way up into the millions.
How Do You Plan on Wearing Your Rolex?
Before you start browsing through models, it's first important to ask yourself, how you plan on wearing your Rolex. If you see yourself only wearing it on special occasions or with formal attire, then you might want to consider one of the many timeless and traditional models from Rolex's classic lineup. Alternatively, if you plan on wearing your watch all-day, every-day and through a wide variety of active situations, one of the brand's sports models such as an Explorer or Submariner might be a better fit.
It's also important to figure out what you need from your watch. Finding a watch that has a style you like is certainly important, but it is also crucial that your Rolex actually does what you need it to do on a daily basis. For example, if you require a date display on your watch, then a classic time-only model like an Oyster Perpetual may not be ideal for you – even if you absolutely love the way it looks. Similarly, if you require your watch to have precision stopwatch functionality, the Daytona will be the obvious choice since it is the only Rolex model with a chronograph movement. Knowing what you need out of your watch up-front will significantly help narrow down your search to just the models that will ultimately make you happy.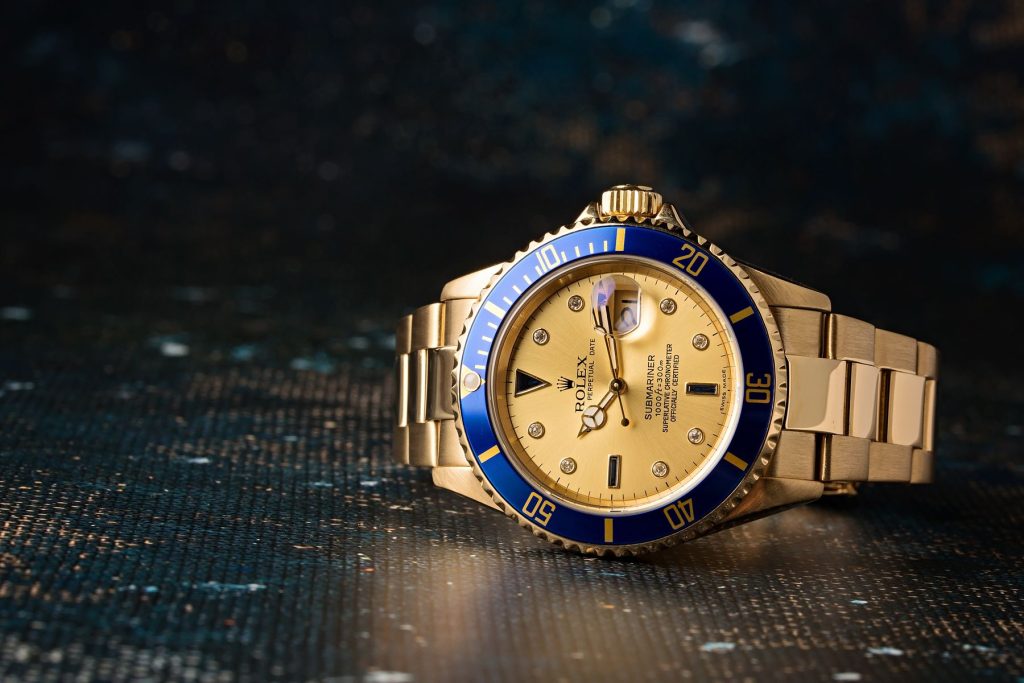 Find Out What You Like
Once you have a rough idea of what you need out of your watch, the next step is finding out what you like. For example, if you have decided that you need a classic everyday watch that has a date display, the Rolex Datejust is a great place to start your search and there are countless different variations and configurations that span numerous different case sizes, materials, dials, bezels, and bracelets.
While it may sound obvious, the actual size of the watch is one point that you should not overlook. Aesthetics and functionality certainly are important but if the watch simply doesn't fit your wrist properly, you will ultimately find that you don't wear it as much as you should. Most of Rolex's men's models have cases that range between 36mm and 41mm, but there are some models as large as 44mm, which are perfect for those with larger wrists or that want a timepiece with a bit more wrist presence.
Additionally, it is equally important to note that not all Rolex watches are available in all sizes. In fact, many of Rolex's various sport and tool watches from the Professional side of its catalog are only produced in a single size and depending on your wrist, that one size may or may not be agreeable to you. Nothing is worse than spending a ton of time to find what you think is your dream watch, only to discover that due to its size, it is not something that you can comfortably wear. While most Rolex models have fairly standard and versatile case sizes, this is just one other thing to be aware of as you go about browsing through models and narrowing down your search.
Set a Budget
Lastly, when shopping for a Rolex, it is important that you go into it knowing how much you plan on spending. The price of a Rolex watch can range from as little as a few thousand dollars all the way up to well-over a million, and sometimes it is the smallest details that are responsible for an additional zero (or two) at the end of a watch's price. In the same way that you don't want to waste time looking at watches that you cannot comfortably wear, it is equally frustrating to find your dream watch and then realize that it is far outside the realm of any financial possibility.
Simply put, there are some Rolex models that you will not find below certain price points, and this is especially important to remember if you are working with a limited budget. For example, the complexity of the Sky-Dweller's in-house annual calendar movement guarantees that it is consistently one of the more expensive Rolex models available. If you are working with a budget of less than $10k, it is highly unlikely that you will be able to buy one at all. If after setting your budget you realize that all of the Rolex models you like are too expensive, then that is a good sign that you may need to save a little more before you can ultimately make your purchase.
How to Buy a New Rolex
Rolex does not sell any of its watches online, so when it comes to buying a new Rolex, the process is as simple as going onto the brand's website and looking up the location of your nearest authorized Rolex retailer. However, anyone that has tried doing this within the last few years will have inevitably discovered that it is nowhere near this simple or straightforward.
Pricing
At a retail level, Rolex watches are not all that expensive compared to many other luxury brands. The vast majority of Rolex watches cost between $5,000 and $50,000 when purchased brand-new, which is certainly a significant amount of money, but relatively modest compared to some brands, whose least expensive offerings start out at six-figures. Additionally, Rolex retailers are not allowed to jack up the prices of their watches, so the prices that you see online are actually the prices that you will pay. However, whether or not you will actually be able to find a brand-new Rolex watch for sale is a completely different story.
Availability
Due to the fact that Rolex is the most famous luxury watch company in the entire world, the demand for Rolex watches far exceeds their supply on a global level, and the vast majority of Rolex's most desirable models are completely sold out at retailers. Although they are still in production and technically available at retailers, they cannot be purchased brand-new without spending a considerable amount of time on a waiting list.
The Waitlists
It is nearly impossible to talk about buying a new Rolex watch without discussing the infamous waitlists that exist for many of the brand's most iconic and popular models. Many of Rolex's most famous timepieces – including all of its stainless steel sports watches – are perpetually sold out at dealers around the globe, and most have multi-year waiting lists with no guarantee that you will ever receive a watch before the model gets discontinued entirely. It has been reported that waitlists for some of the brand's top models like the stainless steel and ceramic Daytona still exceed five years at some retail locations, despite the fact that the model has been available for a number of years now.
Which Rolex Models are Hard to Get?
While most of the stainless steel sports models are the hardest to buy on the retail level, some of the specific references that are the most sought-after include the ceramic bezel Daytona ref. 116500, the newest edition of the stainless steel GMT Master II ref. 126710 with both the Batman and Pepsi bezels, and the brand-new Submariner 41 in stainless steel ref. 126610. Rolex also recently introduced a selection of colorful stella-inspired Oyster Perpetuals to their catalog, which are also increasingly hard to come by at local authorized dealers.
Do You Have to Wait to Buy A Rolex?
Joining a long waitlist isn't the only option if you've got your eye on the newer, most desirable Rolex watches. You can turn to the secondary market if you don't want to wait years to purchase one at retail. Should you choose to wait, the possibility that the watch of your dreams will be discontinued before you get the chance to buy it also becomes a factor.
With that in mind, it doesn't usually take long for the newest Rolex offerings to trickle down to the pre-owned level. However, there are many factors to consider should you choose that route. First, the watch will likely command several thousand dollars over its original price tag. Rolex watches tend to hold their value well, though. Especially long-term. Paying extra to skip the waitlists might not be a huge concern if you're in it for the long haul. Also, the question of the watch's authenticity comes into play. However, if you shop from a trusted reseller, like us at Bob's Watches, they will shoulder that responsibility and often even offer an authenticity guarantee. Ultimately, it comes down to if you're willing to join a waitlist or pay a premium on the secondary market.
How to Buy a Pre-Owned Rolex
Unless you want one of the handful of Rolex models that are currently in production – and you don't mind waiting around for your name to come up to the top of the waiting list, then the pre-owned market is going to be your best bet when buying a Rolex.
Why Buy a Pre-Owned Rolex
There are many reasons why you would buy a pre-owned Rolex instead of a new one. For starters, you will be able to find all the models that are currently in production and sold out at retailers. While you will almost certainly have to pay a premium to skip the line and get your hands on them today, there are many who feel that the immediate availability is well worth the additional price.
Additionally, not only will you have access to all of the current-production models, but you will also have your choice of all the discontinued and vintage references from Rolex's archives. Remember, Rolex only sells brand-new watches at its authorized retailers and boutiques, so if you want an older model or one of the mega-collectible vintage Rolex references, then the pre-owned market will be your only option.
On top of that, it's also important to note that the absolute least expensive Rolex watches are going to be found on the pre-owned market. At retail, the cheapest Rolex models are going to cost a minimum of $5,000 to $6,000 but when it comes to pre-owned Rolex watches, prices start out at approximately half of that for older discontinued references. If you are working with a limited budget, the pre-owned market is easily going to be your best bet, as it will offer the widest range of options and the least-expensive prices.
Lastly, a pre-owned watch does not in any way mean that it will be old and beat up. In many instances, you will find completely unworn Rolex watches on the pre-owned market, whose original owners sold them because they knew they could make a significant profit by selling them to a pre-owned dealer. For example, if you are lucky enough to be able to buy a stainless steel Rolex Daytona at retail, you can immediately turn around, sell it, and more than double your money in the process. Additionally, watches can always be restored and repaired, so there are many older models that have lived previous lives that have been fully brought back to their original factory specifications before they get sold on the secondary market.
Different Types of Condition
When it comes to pre-owned Rolex watches, you will find examples in a wide range of different conditions. Some are virtually brand-new and entirely unworn, while others are not running and are essentially fixer-upper project watches. Below is a quick overview of the main types of conditions that you are likely to encounter.
New Old Stock
In many instances, the most expensive pre-owned Rolex watches are those that are in the best condition. While the right patina can be desirable on vintage watches, there will always be some collectors who place a strong value on perfect condition pieces. New Old Stock (NOS) watches are essentially brand-new watches that have never been worn or used. You will often come across new old stock examples of modern Rolex watches, but you will also sometimes encounter NOS vintage watches, and it is some of these models that rank among the most expensive Rolex watches in existence.
Mint Condition
In order for something to be new old stock, it really has to be entirely unworn and in pristine condition. However, there are many other Rolex watches out there that have been worn, but never abused and that show no signs of wear or damage on them. These Mint Condition watches are going to generally be the second most expensive, and since their condition is contingent on not showing signs of wear, vintage mint condition watches are quite a bit less common than their modern counterparts.
Used and Unpolished
Once a watch has been worn for a while and has accrued some marks and scratches, it falls into the "Used" category. While you can always service and polish watches to remove damage and restore their original finish, it is actually the unpolished examples that are worth more to collectors. This is because you can always polish a watch but can never un-polish it. Over the years, many Rolex watches get polished and so it is rather rare to find entirely unpolished examples of older vintage references. On modern watches, the price premium for an unpolished example can be relatively negligible but for highly-collectible vintage references, being unpolished can mean thousands of dollars in resale value.
Used and Polished
All of the other previously worn watches that have already been polished fall into the greater used category, and it is this Used and Polished section that accounts for the majority of Rolex watches available on the second-hand market. These watches may be free from all marks and scratches, but because they have previously been polished, they are actually worth less than their unpolished counterparts. Again, the difference in value can be more-or-less negligible for modern references, but for collectible vintage models, polishing the watch can significantly detract from its resale value.
Click here to learn more about whether or not to polish your Rolex watch.
Fixer Upper
At the bottom of the Rolex condition hierarchy are the Fixer Upper watches. These timepieces are often not running properly, need service, or can even be missing parts; however, they are by far the least expensive. The average Rolex watch contains over a hundred tiny parts, so you should be careful when buying any fixer-upper watches and really make sure that you are positive that you can get them repaired in a cost-effective manner. In some instances, the cost of repairs can end up being more than the value of the watch itself – especially if you need a lot of replacement parts – and in some instances, replacement components are entirely unavailable.
Box and Papers
Regardless of the condition of the Rolex watch itself, if it is still accompanied by its original Rolex box and warranty card or paperwork, then it will likely be worth more because of it. For modern Rolex watches, having the box and papers might only be worth an extra hundred dollars or so when it comes to resale value. However, for collectible vintage Rolex references, a full set can mean a huge premium simply due to how few owners managed to hang onto the box and papers for multiple decades.
When it comes to having a full kit for a Rolex, the more materials the better. The original box and warranty papers/card are certainly necessary to qualify, but sometimes you will find a watch that still has every single thing that came with it from the dealer, including the original purchase receipt. All of these things help establish provenance, and can also increase overall resale value.
Find a Dealer that Has What You Want
Once you have narrowed down your search and have decided on the specific Rolex model you want, the next step will be to find a reputable pre-owned dealer that has the watch you need. Finding a pre-owned dealer that has the watch you want is one thing, but finding an honest and reputable one is far more important than getting a good price.
This is one area where you never want to cut corners, and you really should only buy your Rolex from a well-known and established dealer that has been in the business for a number of years, and that has many positive reviews. Additionally, you also want to buy from a company that specializes in watches. Some local jewelry stores may sell used Rolex watches at fair prices, but if the people who work there are not watch experts themselves, they may be unintentionally selling you one that has either non-genuine components or needs a significant amount of work.
Generally speaking, when it comes to buying a pre-owned Rolex, you get what you pay for, and the cheapest price is never going to be your best option.
Verify Authenticity
Once you have the watch in front of you, the next key step is to verify that it is entirely genuine, both inside and out. Since the average Rolex watch is made up of more than a hundred tiny components, it is of the utmost importance that every single one of them is entirely authentic.
Since Rolex is the world's most famous luxury watch brand, it has become a popular target for counterfeiters, and it is estimated that there are now more fake Rolex watches in the world than the real thing. To make matters worse, modern technology has allowed counterfeiters to make increasingly deceptive fakes, and sometimes it takes both a keen eye and an expert-level knowledge to truly spot one. Make sure you learn the basics of how to spot a fake Rolex, but for some of the highly convincing models, your best protection against getting a fake is to only buy from a trusted and reputable dealer.
Click here for our Ultimate Guide on How to Spot a Fake Rolex.
Verify Condition
In addition to verifying the authenticity of the Rolex you intend to purchase, it is also important to verify its condition – both cosmetic and mechanical. External condition is easy to ascertain for yourself, but it is important to note that certain components cannot be restored or have any damage to them remedied. For example, a small scratch on the side of the case can easily be polished away, but any damage to the dial – no matter how small or faint – is likely to be permanent unless you replace the entire dial itself.
Beyond the dial, hands, bezel, and case, it is also important to check the condition of the bracelet. While the bracelet may seem almost like an afterthought, Rolex bracelets can wear and stretch out over the years and replacements can be rather costly, especially when they are made out of solid gold or platinum. For many Rolex watches, their bracelets are an integral part of their iconic appearance, and it is always important to remember to check bracelet condition whenever you are considering the purchase of a Rolex.
While cosmetic condition is certainly important, the mechanical condition of a Rolex is equally crucial to determining whether or not you should purchase it, as this will be what determines the actual performance of the watch. Rolex watches cost a minimum of several hundred dollars to properly service, and if the watch is badly damaged and in need of numerous replacement parts, it is not uncommon to have repair bills exceed a thousand dollars. Without being able to open up the watch and inspect its movement, you can only go by what you can feel and observe, but there are a few things you can check to verify whether or not it is running properly.
For starters, try running through all of the watch's various functions. Does everything function as it should? Does the watch feel rough or gritty while winding it or operating its features? Does the movement rattle when you gently shake it or move the watch around? You may not be a watchmaker or expert, but remembering to go over some of these basic points can help ensure that you do not get stuck with a Rolex watch that is going to require a ton of repairs.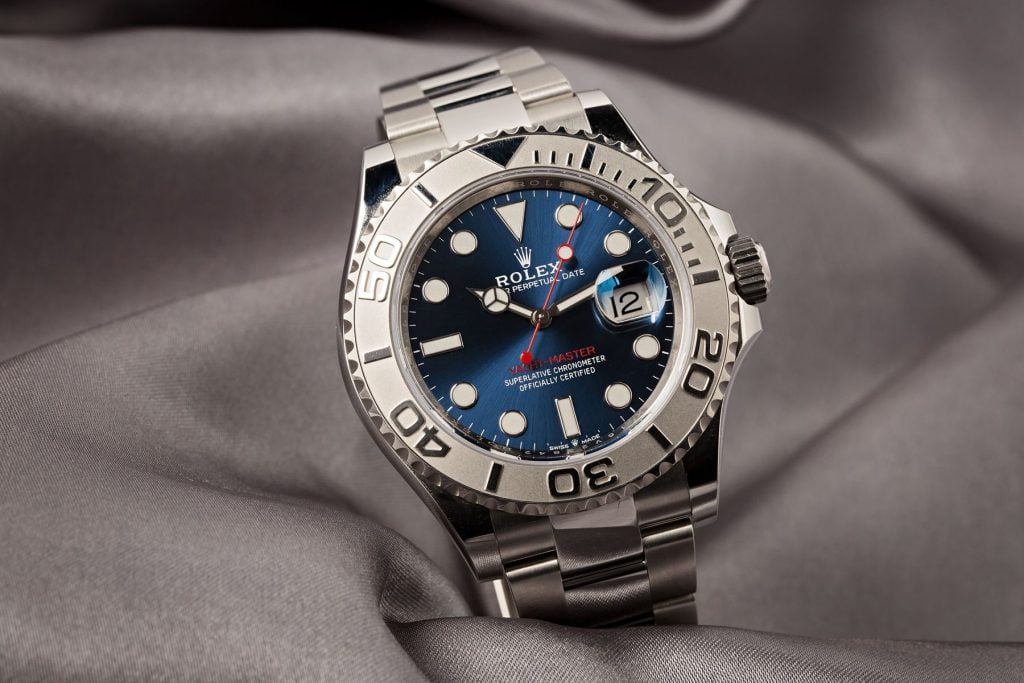 Confirm Warranty and Guarantee
It is also imperative that whatever pre-owned Rolex dealer you choose stands behind their watches. For example, here at Bob's Watches, we stand behind each and every Rolex that we sell with a full 1-year warranty to make sure that your new watch is in excellent condition and running properly when it reaches you.
On top of that, we also offer a lifetime authenticity guarantee on every single timepiece, so that you can rest assured that all 100+ components in your watch are 100% genuine. Furthermore, we also offer our customers the option of ordering a third-party certification report, so if you still have any doubts about whether or not your watch is genuine, you can get a fully independent authenticity and condition report for your Rolex from Watch CSA, the leading authority in watch certification services.
Not all pre-owned Rolex dealers offer these types of safeguards for buyers, but when it comes to purchasing an expensive item like a Rolex, these are the type of things that you really need to look for – especially if you are just starting out. Nothing will turn someone off to watches more than having a bad experience with their first purchase, and the best way to guarantee that you have a positive first-time buying experience is to buy from a trusted and verified seller that has a track record of happy customers and completely stands behind their watches.
Lastly, it's incredibly important to do your research and ask questions. Many Rolex models look similar, and understanding all the nuances and differences between them is no easy task. Read reviews and articles, and don't be afraid to ask other collectors whenever you don't understand something. Most people who like watches are always happy to talk about them, and you'll be surprised to find how willing they are to help you learn more about this fascinating hobby.
A Few of Our Favorite Rolex Watches
Every single Rolex will make a worthwhile addition to any luxury watch collection, so when choosing between Rolex models, there really is no way you can go wrong. No matter what Rolex you buy, you will be receiving one of the finest timepieces in the world, and what is most important is finding the right Rolex watch for you. To help you start your search, below we are taking a closer look at a few of our favorites.
Rolex Submariner
Click here for our Ultimate Buying Guide on the Rolex Submariner.
First released in 1953 as one of the world's very first dive watches (and the first one to achieve a depth rating of 100 meters), the Rolex Submariner is a true industry icon and easily one of the most famous luxury watches ever created. Despite the fact that it was originally designed specifically for scuba diving and underwater use, the Rolex Submariner is now worn by countless individuals all around the world, regardless of whether or not they dive, simply due to its ultra-durable construction and timeless good looks.
Although the Rolex Submariner was initially offered only as a time-only model in stainless steel that was fitted with a black dial and bezel, Rolex has expanded the collection over the years to include both date and no-date models, along with a number of different material options and colors. Regardless of the specific model, its materials, or configuration, all modern Rolex Submariner watches feature scratch-resistant Cerachrom (ceramic) bezels and offer 300 meters (1,000 feet) of water resistance.
Rolex Datejust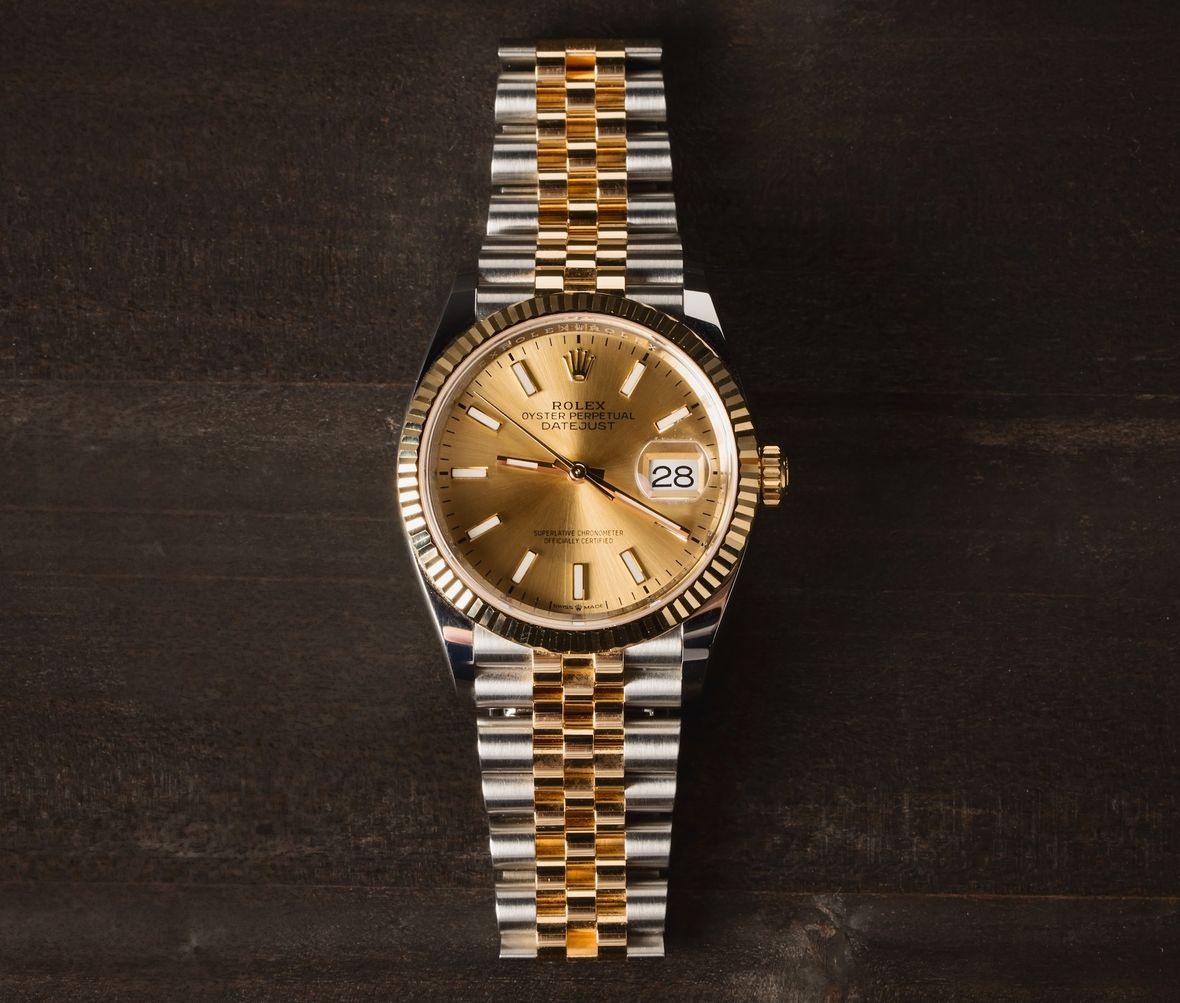 Click here for our Ultimate Buying Guide on the Rolex Datejust.
Launched in 1945 to celebrate the brand's 40th anniversary, the Rolex Datejust was the watch that forever set the standard for how a date display on a wristwatch should function, and it has remained in constant production ever since. Today, the Datejust is Rolex's most diverse collection of watches, offered in a wide range of different sizes, materials, and configurations, along with holding the distinction of being Rolex's best-selling model of all time.
Unlike Rolex's various sports watches, which were each developed specifically for a particular sport, environment, or demanding lifestyle activity, the Datejust was simply created to be a durable and reliable watch that could be worn every single day throughout a wide variety of different activities. Additionally, when shopping for a Rolex Datejust on the pre-owned market, you will have the option of case sizes that range from 26mm to 41mm in diameter, along with a near-endless list of different configurations that span multiple materials, dials, bezels, bracelets, and movements. The Rolex Datejust was conceived in an era before it was a common practice to own multiple watches, and it was built to be the one quality watch that a person could own and wear for the rest of their life.
Rolex Daytona
Click here for our Ultimate Buying Guide on the Rolex Daytona.
The Daytona is Rolex's collection of chronograph watches that were built for the world of professional automotive racing. Launched in 1963, the Rolex Daytona gets its name from the famous Daytona International Speedway in Florida, and although few still use this chronograph for timing laps at the racetrack, the Rolex Daytona can be spotted on the wrist of countless celebrities and professional athletes all around the globe.
When it comes to ultra-desirable and collectible Rolex models, the Daytona is typically the first name out of a person's mouth. Looking at a list of the most expensive Rolex watches of all time, it is no coincidence that the Daytona makes up the majority of them, and vintage Rolex Daytona watches are often some of the most expensive models available. At a retail level, the majority of Daytona watches are completely sold out and cannot be purchased without spending a significant amount of time on a waiting list. Consequently most pre-owned Rolex Daytona watches trade hands for values that are more than twice their original brand-new retail prices.