Since its creation, Rolex has never stopped pushing the limits of its knowledge and the constant pursuit of innovation. The brand is committed to making the best watches in the world, one perfect timepiece at a time. That's why whether it is watches, chronographs, or sports timers, Rolex has everything you need for a luxury timepiece.
One example of Rolex's intricate technology and design masterpiece is the Rolex Day-Date Platinum. Triple-tested for perfection, this model combines innovative design, precision engineering, and impeccable quality, creating a timepiece that's as beautiful as it is functional.
Elegant and sophisticated, the watch is a true accessory that completes a man's attire. The platinum case complements the two-tone dial, adding another layer of sophistication to the watch. The hint of silver around the bezel adds a focal point that highlights the overall look and feel of this exceptional timepiece.
There are many models under the Rolex Day-Date Platinum series, which makes it confusing to choose. For this reason, we have compiled a guide that lets you understand and helps you select the timepiece of your dreams.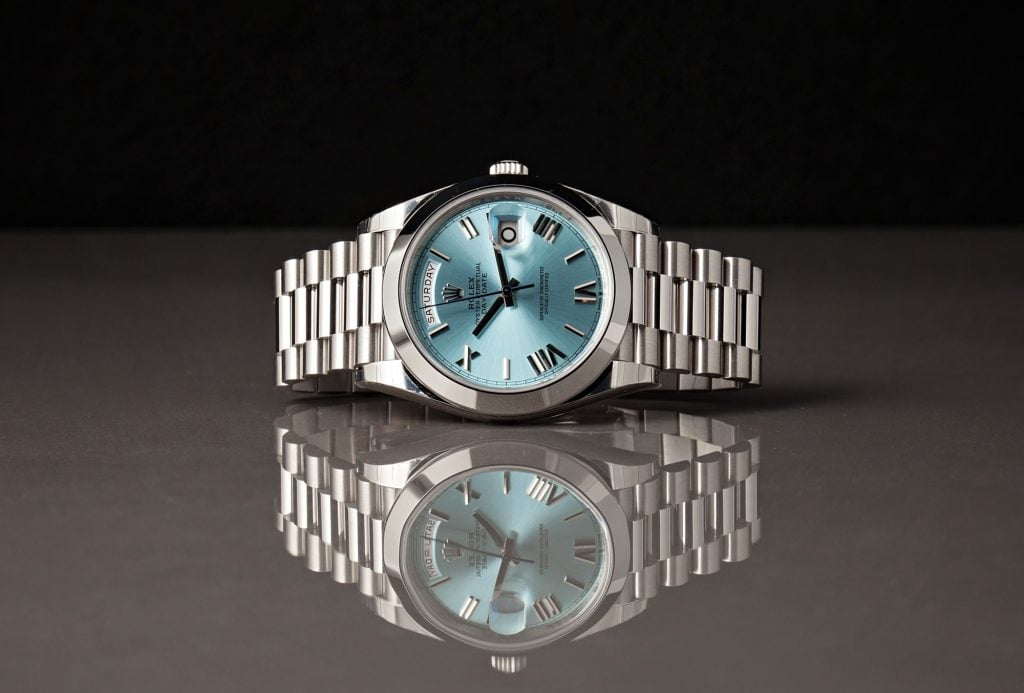 A Closer Look at the Rolex Day-Date Platinum
For a select few aficionados, some Rolex updates feel like discoveries. They are features that are uniquely Rolex and feel almost revelatory. They are the sort of things that would make non-enthusiasts roll their eyes at the brand, but that real Rolex fans can't get enough of.
The Rolex Day Date Platinum is a representative of Rolex's celebration of its own history and the latest offering with a platinum case. A lineup of the Perpetual Oyster family, this variant is widely considered the most prestigious version of Rolex's classic luxury watch.
As we know, the OP lineup is available with and without a day-date display. The Day-Date Platinum belongs to the latter, which is called the Rolex Day-Date series. The term "Day-Date" refers to the fact that these watches display the day and date on their dials, at 12 o'clock and 3 o'clock, respectively.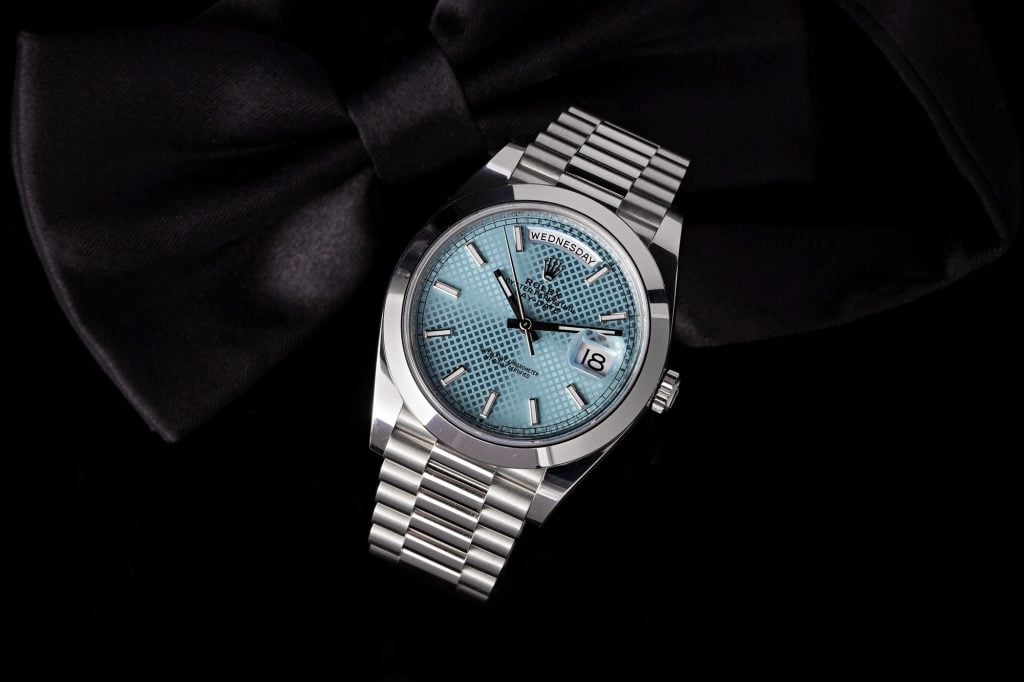 Why Is It Called "Rolex Day-Date Platinum?"
Rolex models come in a variety of materials, including stainless steel, rose gold, yellow gold, or white gold. However, the Rolex Day Date Platinum holds the distinction of being one of the top luxury watches in the world due to its platinum material.
Platinum is rare and precious, prized for its unique, lustrous beauty. It is distinguished by its vibrant luminosity, silvery whiteness, and great density. Plus, this metal has outstanding corrosion resistance. Furthermore, platinum appears soft, ductile, and malleable, making it very hard to work with. It requires highly skilled artisans to craft and polish it into its beautiful forms, which you see on every Rolex Platinum timepiece.
Rolex never compromises its devotion to flawless craftsmanship in its groundbreaking designs. Every piece is made using 950 platinum, a metal alloy consisting of 950‰ (thousandths) of platinum, meticulously crafted in-house by the brand's renowned fine metalworkers.
For these reasons, if you truly appreciate the finer details, the Rolex Day-Date Platinum is a watch you can't resist. Designed for the most discerning of tastes, this model is perfect for those who want to make a statement through their accessories. It has an elegant design and a sleek finish that will make you feel like royalty while wearing it.
Rolex Day-Date Platinum: An Innovative Timepiece
For the discerning man, the Rolex Day-Date Platinum regularly tops many lists of watches to own. The one-of-a-kind luxury watch offers a varied selection of platinum, diamond, and precious metal combinations.
Apart from that, this Rolex collection also boasts the following astonishing features:
Fluted bezel: For the newly released Day-Date in platinum, it has an upgraded fluted bezel. Meanwhile, the older versions have a smooth and polished platinum bezel.
Case: It comes in an Oyster steel case with a highly recognizable bracelet.
Dial: From silver to baby blue and black dials, you have various options that suit your specific preference.
Hour markers: The hands have been treated with luminescent coating, so they can glow in low light conditions.
Cyclops lens: Equipped on the date window, this magnifies the date by two times, making it easier to read.
Sapphire crystal: Like other Rolex timepieces, it comes with a sapphire crystal glass for maximum protection.
Water resistance: The watch is waterproof up to 100 meters, with a screw-down crown and a single line indicating the patented Rolex Twinlock winding system.
Rolex Day-Date Platinum: Popular Models
To make it easier for you, we have listed the popular Rolex Day-Date Platinumcollection below:
Rolex Day-Date 40 228206
With its timelessly elegant design, fine details, and superior craftsmanship, the Day-Date 40 ref 228206 is one of the most prestigious watches for men. It is made from pure 950 platinum and was finished in-house by Rolex craftsmen. As a result, it will never dull or fade over time. Plus, it has a weight that exudes quality and exclusivity.
Moreover, the unique icy blue dial gives off a clean and crisp appearance that makes it perfect for any occasion. Also, the platinum casing lends to its sophisticated nature and the beautiful baguette-cut hour markers complement the overall design. Full of technological advances, it is a timepiece of functionality and masculine elegance.
Rolex Day-Date 40 228236
Are you looking to buy a Rolex Day-Date 228236 in platinum? For their first platinum watch, the Rolex Day-Date gained appreciation from watch connoisseurs for its fluted bezel and blue dial. While it was not the first watch to use these features, it became the most iconic due to its unmatched quality, precision, and updated technological features.
Moreover, the watch is run by caliber 3255, a new feature for this model. This ensures that the wristwatch will always work properly no matter how long they have been without using it. Ref 228236 embodies a 40mm case. However, if you prefer the smaller version, you can opt for the 36mm reference number 128136.
Rolex Day-Date President 18206
The Day-Date ref. 18206 bears all the classic design details of the President's watch. It has dual apertures on the dial and the collection's signature three-link bracelet with semi-circular links. Powered by 3155 calibers, the watch is crafted using solid platinum and has an icy blue dial that exudes prestige.
Stunning beyond compare, this timepiece from the Day-Date collection is a must-have for fans of modern style. It is considered a highly collectible, luxury item, thanks to its exclusivity, inimitable design, and incredible functionality.
Rolex President Day-Date II 218206
Featuring its unique reference number and a 41mm case diameter, the men's Rolex 218206 is an excellent find for those seeking a timepiece with a dominant presence on the wrist. In addition to its broader size, this timepiece also features a highly valuable case constructed out of solid 950 platinum and an accompanying Presidential bracelet.
Moreover, the Rolex logo is engraved on its bezel and dial. Its elegant appearance is the perfect complement to its durability, precision, and high-quality craftsmanship. Besides, this model is a rare item, having been discontinued to give way to the Day-Date 40. Hence, it can be a quintessential investment that's sure to appreciate over time.
Rolex Day-Date President 118206
Bulging with unique detail and iconic style, the Rolex 118206 exudes pure luxury and power. This Day-Date variant is made of 950 platinum and has the highest level of craftsmanship, with the finest ornamentation on its bezel, dial, and bracelet. In addition to a much more modern appearance, the 118206 also comes with a sapphire crystal, helping it to be more resistant to scratching than its predecessors.
The dial's silver finish and white gold plating deftly complement one another and help accentuate the Roman numeral hour markers and centrally-mounted hands. With its two apertures for day and date and bold silver dial, it is perfect for the modern executive. Thus, if you are looking for rare elegance, this is the watch to buy.
How Much Does a Rolex Day-Date Platinum Cost?
A classic symbol of luxury, the Day-Date Platinum watch is one of the most expensive models in the Rolex collection. This is because the watch is crafted with the finest platinum, and it is decorated with a series of prongs and grooves. When shopping, expect to pay tens of thousands of dollars to a few hundred dollars. The good news is that you can opt for pre-owned timepieces, which give you the benefits of a brand-new watch at a competitive price.
Find Your Dream Watch at Bob's Watches Today
It is no surprise that the Rolex Day-Date Platinum has long been considered the most prestigious Rolex model. Thanks to its innovative engineering and superior appeal. Besides being an excellent statement accessory, the watch is also perfect for those looking for a worthy investment. If you are looking for the best watch, Bob's Watches has a range of pre-owned vintage and designer timepieces. You can be sure to find the most suitable watch for your lifestyle.