I asked an old watchmaker once why Rolex movements look different from other watch movements. You know, those red reversing wheels, ventilated rotor, multiple plates and bridges, and even the balance bridge – none of these Rolex caliber parts look like your typical equivalent ETA 2824, 2836, or 2892 movements.
Some are design considerations (for example, the rotor, and the balance bridge with its associated balance guard). Some are the result of production surface treatments (those red reversing gears are coated with Teflon for instance). And some are seemingly simply the result of what some might call over-engineering, such as the multiple bridges which add thickness as well as robustness to the assembly.
As for the old watchmaker's answer to my question? He offered a sly smile and said, "Rolex just does things a bit differently."
Click here for our Ultimate Buying Guide on Rolex watches.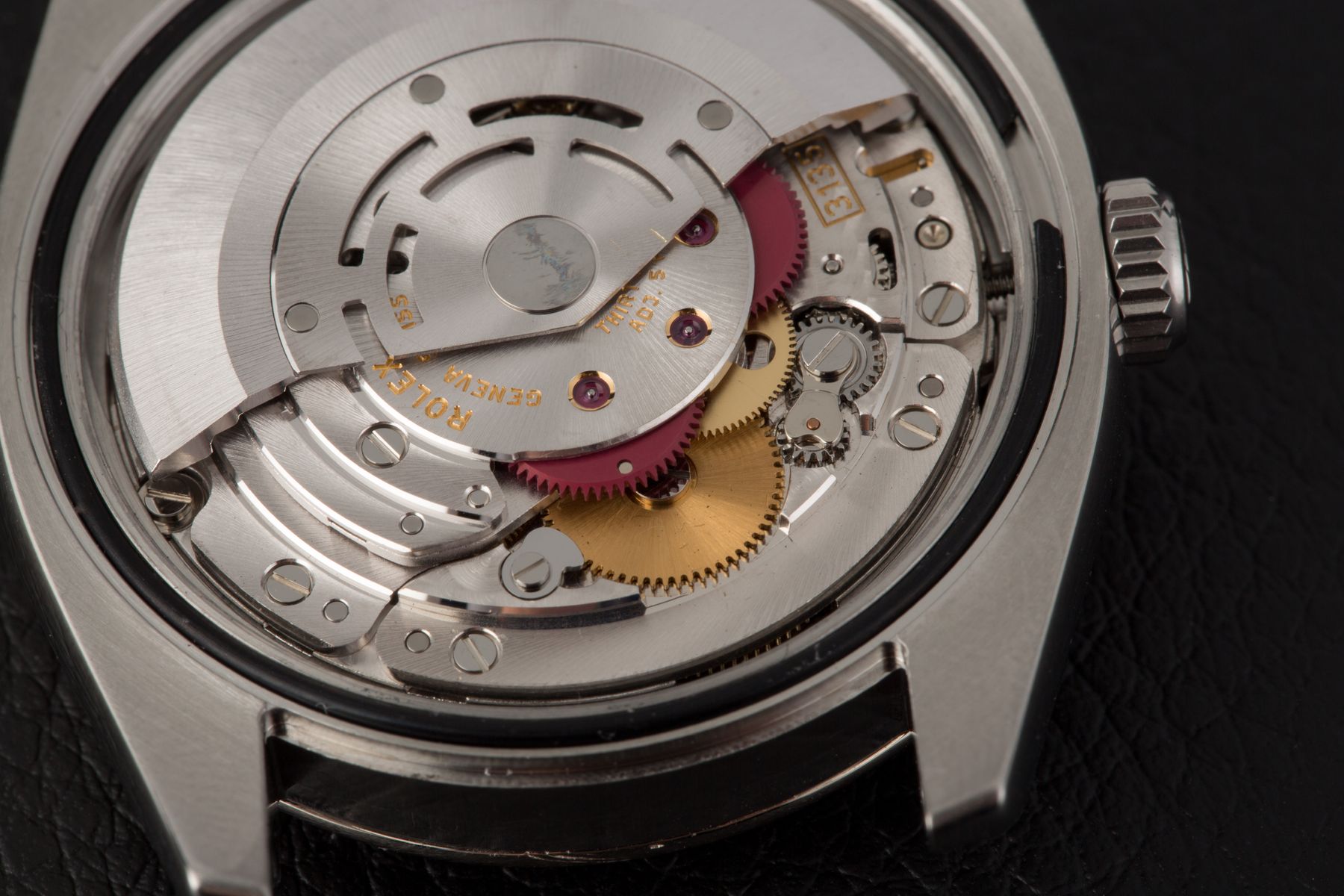 The Engineering of Rolex Movements
Watchmakers and watch enthusiasts alike will tell you there are indeed some movements that are the equal to Rolex's calibers. Many hold up the Caliber ETA 2892-A2 as an example. And from an accuracy point of view, it may be true. Or from a reliability standpoint. Or from that of durability/toughness. But all three? Give me a Rolex caliber every time – and here's why.
Those multiple bridges – the parts that constrain the wheels and provide mounting points for other components. Here's a list of bridges for the Rolex Caliber 3135:
Barrel bridge
Train wheel bridge
Pallet bridge
Minute pinion bridge
Winding bridge
Automatic device lower bridge
Automatic device upper bridge
Balance bridge (this works in tandem with a balance guard)
All of these bridges fit and work together like pieces of a three-dimensional puzzle. They form a structure that represents an abundance of engineering and precision that other movements simply don't match.
Rolex Movements vs. ETA Movements
By contrast, the bridges of the ETA 2892-A2 movement consist of the barrel bridge, train wheel bridge, balance bridge (which really isn't a bridge at all, as it's only screwed down on one end), the pallet bridge, and the automatic device lower bridge. Five bridges to the 3135's eight (nine if you count the balance guard).
Some would call it over-engineering, but really, Rolex's design intent is for the movement to handle just about anything the wearer can throw its way. And do so while remaining as accurate as possible.
The downside of this robust engineering? Those bridges take up volume. The movement is often nearly twice as thick as a competitor's counterpart. The Rolex Caliber 3135 is approximately 6mm thick, while ETA's 2892-A2 is only 3.6mm thick.
Rolex's Blue Parachrom Hairspring
Another unique feature of modern Rolex movements is the Parachrom Bleu or Blue Parachrom hairspring. A watch movement's oscillator consists of a hairspring (an incredibly thin coil of wire) mounted in the center of the balance wheel. Much like a pendulum on a clock, the oscillator in a mechanical movement governs the watch's precision via the regularity of its oscillations.
Since Rolex is always on a quest to improve the performance of its movements, the company introduced the Parachrom hairspring in 2000, which is made of an exclusive alloy of niobium and zirconium. The Rolex Parachrom hairspring boasted benefits like resistance to magnetic fields and fantastic stability during temperature variations. Additionally, the paramagnetic Parachrom hairspring remains up to ten times more accurate than a traditional hairspring when subjected to shocks.
In 2005, Rolex unleashed a new (and of course, patented) process to the surface of the Parachrom hairspring to improve long-term stability. A welcome side-effect of this process? It turns the hairspring into a striking blue color, hence the "Blue Parachrom" hairspring name.
It's important to note that many but not all of the current-production Rolex watches for sale are fitted with the Blue Parachrom hairspring. For instance, modern Rolex watches that are 34mm and smaller have a Syloxi hairspring, which is made from silicon and silicon oxide, and which was first released in 2014.
Rolex's New Generation Movements
In 2015, Rolex debuted two brand new movements in the form of the Caliber 3235 (in the Pearlmaster 39) and the Caliber 3255 (in the Day-Date 40), which replaced the long-running Caliber 3135 and Caliber 3155, respectively. These two self-winding movements didn't just have a couple of updates; according to Rolex, they were built almost entirely from the ground up, and over 90% of the new movement parts have been redesigned.
The new-generation movements boast 14 patents for improved precision, reliability, durability, and energy consumption. However, for wearers, the most notable improvement lies in the increased 70-hour power reserve, which is notably longer than the 48 hours of the preceding calibers. Not only did Rolex roll out the in-house Caliber 3235 and Caliber 3255 to other watch models, but the pair also paved the way for the whole batch of new-generation Rolex movements that followed in the subsequent years.
Here's a list of Rolex's latest Caliber 32xx family of movements and the current production models that use them:
Caliber 3235 – (time and date movement): Datejust 36/41, Submariner Date, Sea-Dweller, Deepsea, Yacht-Master 40/42
Caliber 3255 – (time, day, date movement): Day-Date 36/40
Caliber 3230 – (time only movement): Oyster Perpetual 36/41, Air-King, Submariner, Air-King
Caliber 3285 – (GMT and date movement:) Explorer II, GMT-Master II
Now, if you claim that the modern cubicle spelunker or corporate ladder alpinist doesn't need all the robustness of a modern Rolex movement, I'm not going to argue.
Instead, I'd suggest those corporate adventurers are traversing a pitch every bit as perilous as those of the cavers and climbers they admire so much. Why shouldn't they wear a Rolex watch that can withstand either environment?