The classically elegant Lyre is a product of Longines, one of the oldest Swiss luxury watch brands and one of 19 companies in the Swatch group. Longines represents obtainable luxury with entry-level price points and countless different designs available. The Lyre is just one of many models produced by Longines, characterized by sophisticated lines and a traditional dress watch aesthetic.
While the Longines Lyre is no longer in production, it remains a fixture on the secondary market. Finding the perfect reference to suit your wrist and your budget is relatively easy. Are you interested in learning more about the collection? This Longines Lyre buying guide will cover everything you need to know about the Lyre series, including its history, features, price points, and a few of our favorite examples. Read on to learn more.
Click here for our Ultimate Buying Guide on Longines Watches.
What is the Longines Lyre?
The Longines catalog consists of Classic and Sports categories. The Sport Collection includes the Diving, Avigation, and Performance Collections. The Classic Collection consists of the Watchmaking Tradition and Elegance Collections. The Lyre once belonged to the Elegance Collection alongside the La Grande Classique de Longines, PrimaLuna, DolceVita, Symphonette, and Présence. Longines has since added the Flagship model to the Elegance Collection and discontinued the Symphonette and Lyre.
While many variations of the Lyre exist, the model is usually distinguished by a 9-link bracelet, a classic round case, and lugs that somewhat resemble the curved lines of the instrument after which the Lyre collection was named. You also have your choice of all steel or two-tone models, a Quartz or automatic movement with self-winding, men's or women's sizes, and a metal bracelet to match the case or a strap. The Lyre always displays the time on a clean dial with simple hour markers and hands. Overall, the Lyre is a versatile and wearable model many collectors consider a watch box staple.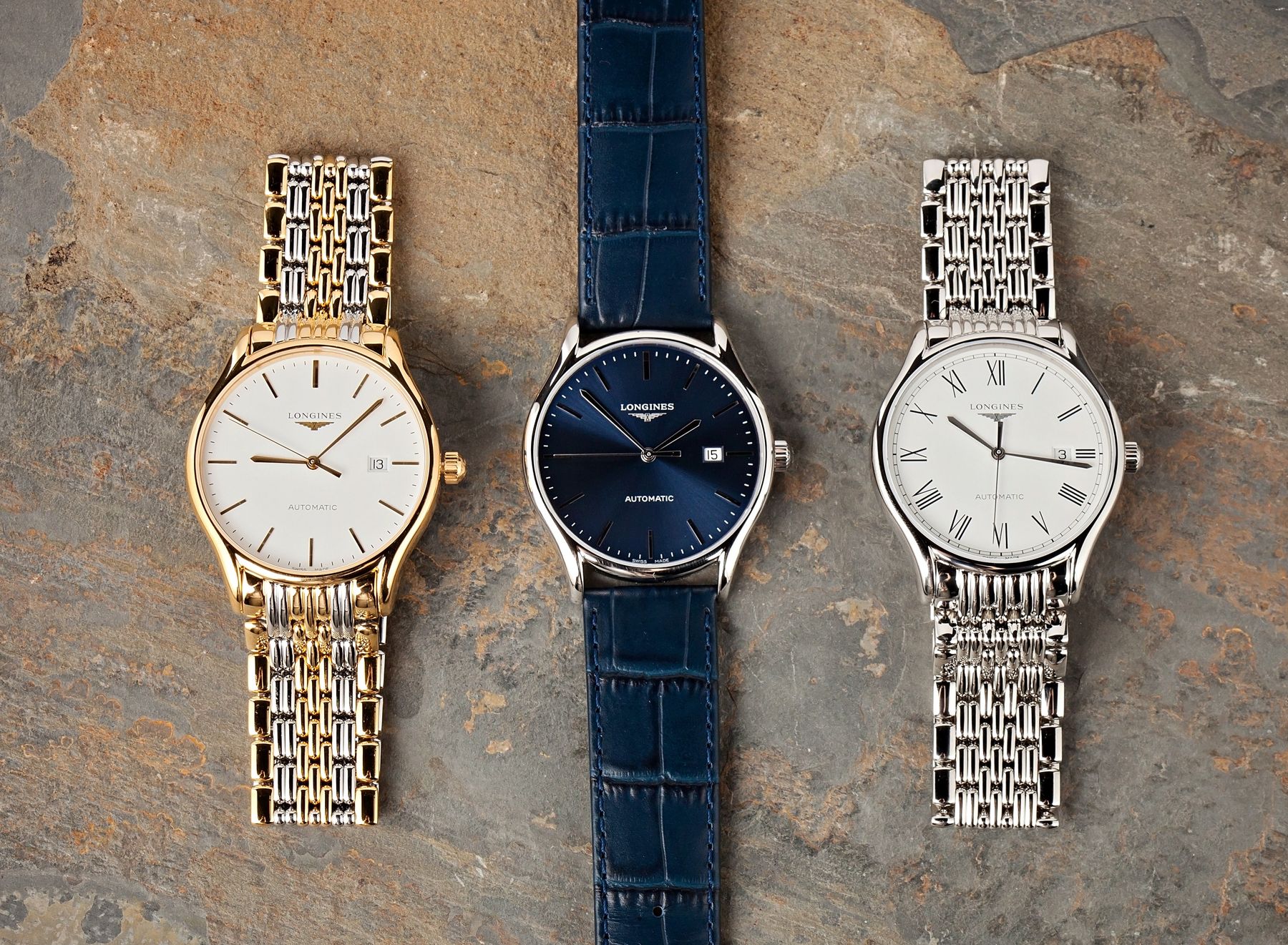 Longines Lyre History
Longines has been in business for over 180 years and has produced luxury wristwatches since the early 1900s. Much of their early production focused on sports timers and pilot's watches. However, today, the Longines catalog has amassed an impressive variety of purpose-driven tool watches and all-occasion dress watches for every lifestyle.
Longines launched the La Grande Classique de Longines in 1992, giving it a slim profile and very sophisticated design. The collection was integral to forming the brand's stellar reputation in the Swiss luxury watch industry as we know it today. The DolceVita joined the Elegance lineup a few years later in 1997, focusing more on contemporary elegance with a fashion-forward rectangular case.
That aesthetic endured into the 2000s with an equally stylish PrimaLuna, but this time with a rounded case shape. The now-discontinued Symphonette joined the Longines catalog in 2015, named after a symphony orchestra. It featured a retro design set, much like the classic dress watches produced by Longines decades ago. It's unclear exactly when Longines first released the Lyre since its defining elements can be found on watches that pre-date the "Lyre" name itself, but the model held a very special place in the Elegance collection with its traditional dress watch aesthetic.
Understanding Longines Reference Numbers
Like many Swiss luxury brands, there is a rhyme and a reason behind each part of the Longines reference number. You can tell a lot about a watch if you know how to decode its reference number.
Longines reference numbers follow this format: LV.W.X.Y.Z.
LV = Model

2: Symphonette
4: La Grande Classique de Longines, Présence, Flagship, Lyre
5: DolceVita
8: PrimaLuna

W = Size

1 – 4: Lady's
5: Mid-Size
6 – 9: Men's

X = Material

0: Steel w/ Diamonds
2: PVD
3: Steel/PVD
4: Steel
5: Steel & Gold
6: Gold
7: Gold w/ Diamonds
8: Pink Gold
9: Pink Gold w/ Diamonds

Y = Dial
Z = Bracelet

0: Strap
1: Case Only
2 – 5: Strap
6: Bracelet
7 & 8: Bracelet or Strap
9: Strap
Looking at the Lyre ref. L4.961.4.92.2, we can determine that the watch is a men's size because the three digits following "L4" begin with 9xx. Additionally, we can tell that the watch is made in stainless steel (4) and wears on a leather strap to match the case (2). Although the dials are not as clearly defined, we can gather that "92" is a variation of a blue dial.
How Much is the Longines Lyre?
The Longines Lyre is positioned as an entry-level Swiss luxury watch with many options on the secondary market falling below or around the $1k price point. However, prices can go up depending on the actual feature set and use of precious metals or gems. Overall, the Lyre offers excellent value if you're in the market for an affordable and high-quality Swiss Luxury watch.
Popular Lyre Watches
Steel & Gold Longines Lyre Ref. L4.961.2.12.7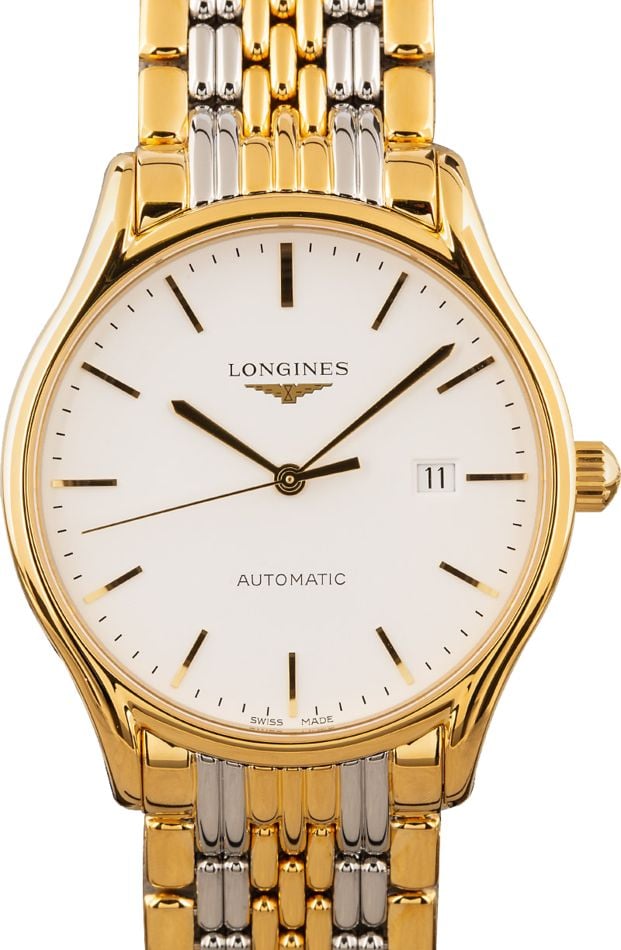 Two-tone watches are making a big comeback. They're easy to dress up or down and seem to transcend time and fashion. The two-tone Lyre is particularly striking because it features a stainless steel and PVD coated case, allowing it to maintain a very attractive price tag. At 40mm in diameter, it will also appeal to a broad range of wrist sizes. Other features include scratch-resistant sapphire and a classy white dial.
The watch is powered by the caliber L888 movement, an ETA-based automatic movement with a date mechanism, a 65-hour power reserve, and 21 jewels. Every watch needs a really great two-tone timepiece, and this edition of the Lyre delivers.
Lady's Stainless Steel Longines Lyre Ref. L4.361.4.92.6
Approx. Price: $795 (Pre-Owned)
You get a lot for your money with this watch. For well under $1k, you can buy a women's size Swiss luxury watch powered by an automatic movement and neatly packaged in a stylish mid-size 30mm case. It's also a versatile all-steel model on a matching metal bracelet suitable for all occasions. Perfect for the stylish woman on the go!
Stainless Steel Longines Lyre Ref. L4.961.4.12.6
Approx. Price: $1k (Pre-Owned)
The stainless steel Lyre 40mm also utilizes the caliber L888 self-winding movement, a reliable movement powering many of the dress models produced by Longines. This edition of the Lyre is a must-have because it also features a steel-on-steel finish. If you're in the market for a modest daily watch, a special occasion statement piece, or anything else in-between, the steel Lyre always seems to fit the bill and looks elegant at the same time.
Stainless Steel & Leather Longines Lyre Ref. L4.961.4.92.2
Approx. Price: $895 (Pre-Owned)
You can add an automatic men's Swiss Luxury watch to your collection for just under $900 when you invest in the Lyre ref. L4.961.4.92.2. It forgoes the traditional metal bracelet for leather, allowing it to fall within the $1k and under price range. Not to mention the pairing of steel with leather is sophisticated and widely sought-after by many collectors. This example displays the time on a stunning blue Sunray dial and features a matching blue leather bracelet and transparent case back.
The Longines Lyre joins the ever-growing club of discontinued luxury watches, making it an intriguing collection to hunt for on the secondary market. Its affordable price point and vast selection of design set options make it an easy and worthy choice for collectors of all budgets and lifestyles.