Walk into the lobby of our Newport Beach headquarters and you will be greeted by one of Ryan Jones' paintings. The specific piece that occupies the focal point in our Southern California showroom depicts James Bond and his famous Rolex Submariner. However, this is just one of the San Francisco-based artist's numerous amazing works that provide a healthy dose of excitement for anyone who loves luxury watches, the world of cinema, or the iconic imagery of American popular culture.
You have likely seen his painting in our lobby but now it's time to get to know the man who created it – meet American contemporary artist, Ryan Jones.
About Ryan Jones
Born in California in 1981, Ryan Jones studied art at Stanford University before beginning his career as a painter of lifelike backdrops for Industrial Light & Magic (George Lucas's visual effects company) while working on a number of major Hollywood films. His skills producing photo-realistic work merged with his passion for the lasting imagery of popular culture and cinema, creating a signature artistic style that recontextualizes famous scenes from the past to tell new stories about the present.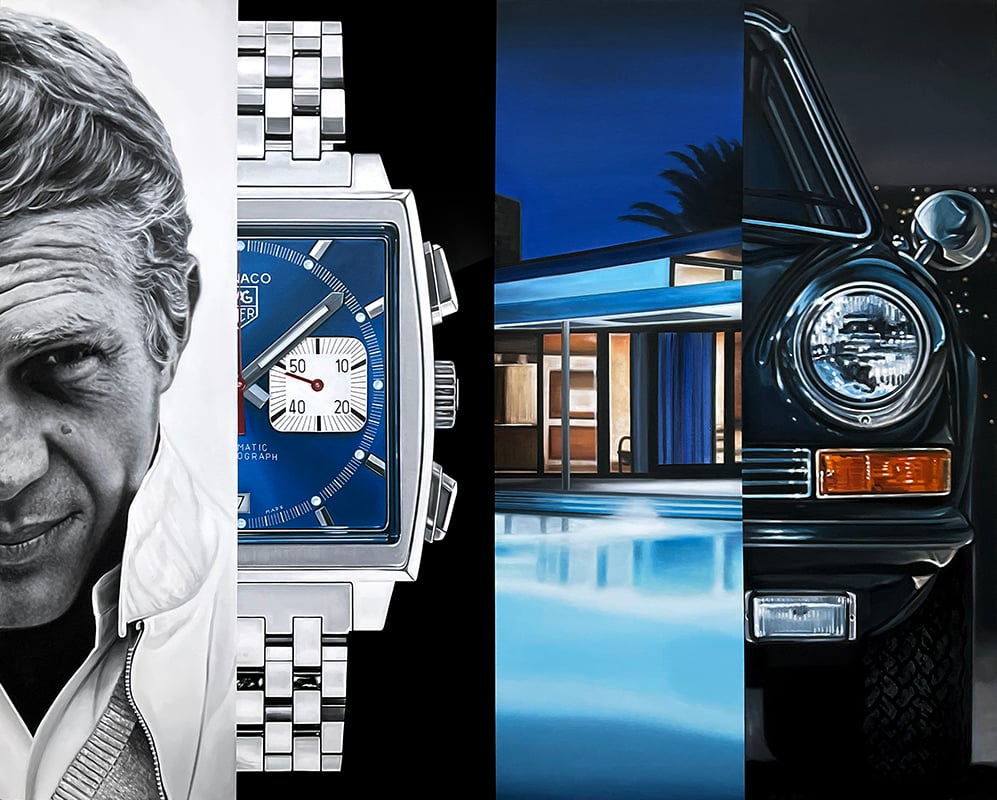 A Style Inspired by Cinema and Media
Ryan Jones' paintings are characterized by their divided canvas composition that evokes the layout of the storyboards produced for scripts and screenplays. The series of frames creates what Jones describes as an "accumulation of experiences," which forms a larger narrative that remains open to interpretation on the part of the individual viewer. The manner in which Jones chooses to only depict partial views of the various subjects within each frame allows viewers to fill in their own storylines, based on their unique projections and interpretations of his selected images.
Luxury Watches in Art
A passion for watches can exist in many different forms and for Ryan Jones, iconic vintage timepieces play a focal point in many of his works, although his paintings are not exclusively about the watches themselves. Instead, they play an integral part in a much larger thematic concept that combines archival imagery from cinema, advertising, and popular culture to produce stylized compositions that explore the concepts surrounding the passage of time and the evolving significance of media and symbolism in our contemporary society.
How to Follow Ryan Jones
Ryan Jones has an upcoming solo exhibition called Fragments at Caldwell Snyder Gallery from April 16th through May 7th, 2022 and several of the paintings featured in the show will prominently feature watches.
For more information, visit Ryan's website at RyanJonesArt.com