Do you live to dive the world's most amazing seas and are currently in the market for the ultimate diving watch? With numerous watches to choose from, it can be quite confusing as to which one offers the highest degree of quality and efficiency. Looking at the Rolex Sea-Dweller, what exactly makes it superior to other models in the brand's catalog? Read on to find out why we think it deserves the title of the "Ideal Dive Watch."
Rolex Sea-Dweller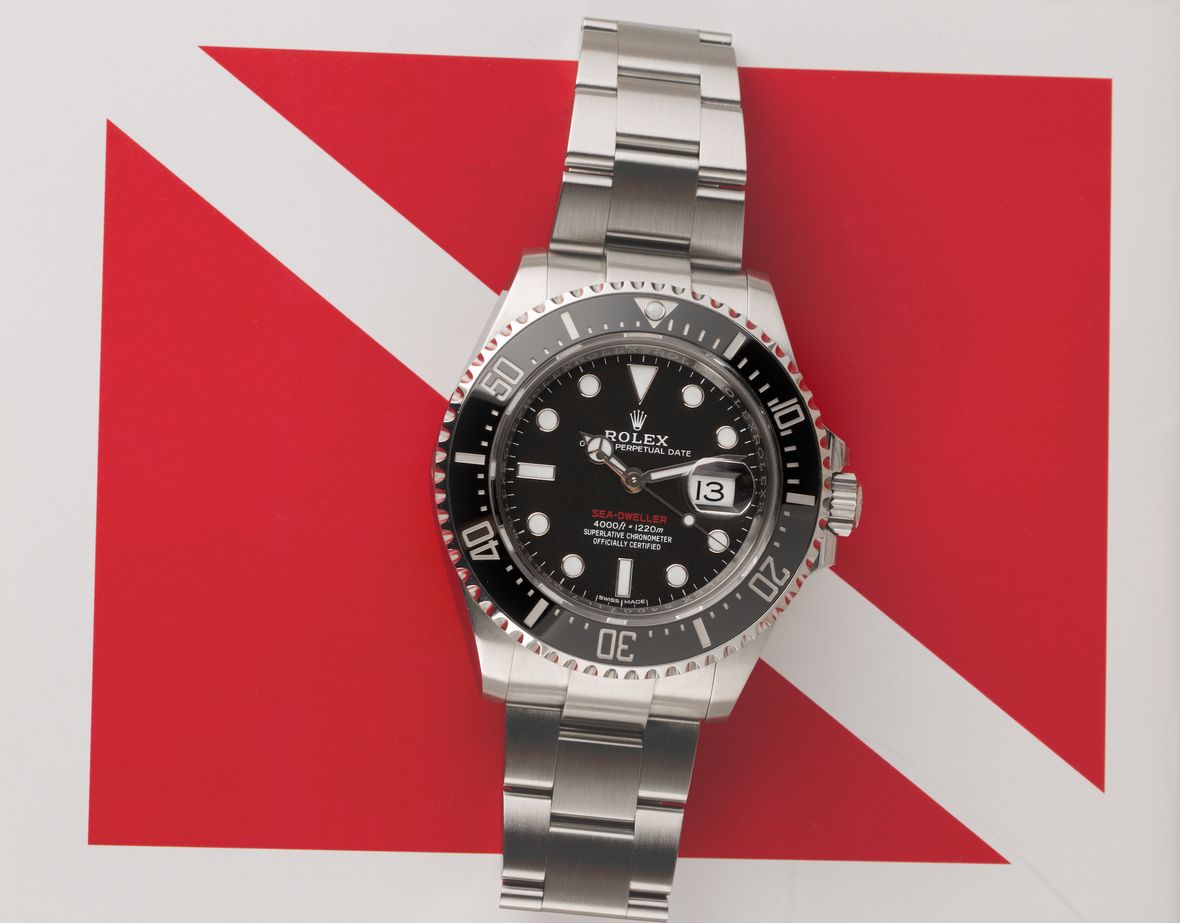 Sea-Dweller Key Features:
Year of Introduction: 1967
Case Size: 40mm or 43mm
Materials: Stainless Steel or Two-Tone (Stainless Steel & 18k Yellow Gold)
Functions: Time w/ Running Seconds, Date Display, Helium Escape Valve
Dial: Black w/ Luminous Hour Markers
Bezel: Unidirectional or Bidirectional, Black Aluminum or Cerachrom Insert w/ 60-Minute Elapsed Time Scale
Luminescent Material: Tritium, Luminova, Super-LumiNova, or Chromalight
Crystal: Acrylic (Domed) or Sapphire (Flat)
Movement: Rolex Caliber 1575, 3035, 3135, or 3235
Water Resistance: 2,000 feet (610 meters) or 4,000 feet (1,220 meters)
Strap/Bracelet: Oyster Bracelet
Price: $12,000 – $100,000+ (Pre-Owned)
Click here for our Ultimate Buying Guide on the Rolex Sea-Dweller.

Rolex Sea-Dweller History: A Deep Saturation Diver
Back in the 1960s, French diving company COMEX reported a technical glitch associated with the Submariner during their expeditions. During saturation diving in helium-rich environments, the Rolex Submariner 5513 would actually explode from its case during the decompression stage after being taken to great depths. Rolex quickly moved into action to create a watch that is perfect for the unique challenges of saturation diving. The result was the creation of a one-way gas escape valve placed within the side of the case. Rolex then distributed the watches to COMEX and even placed the COMEX logo on the watch's dial.
The first official Rolex Sea-Dweller came to market in 1967 and was known as the reference 1665. Divers could dive to amazing depths – 2,000 feet under the water's surface. The watch was coined the Sea-Dweller Submariner 2000 and included a Triplock crown, before the Submariner part of its name was dropped and the Sea-Dweller became its own collection. References 16660, 16600, 116600, 126600, and 126603 followed, bringing numerous innovations with them, including increased water resistance up to 4,000 feet, improved movements, and even the first two-tone steel and gold metal option.
Rolex Sea-Dweller References
1967 – 1983: Ref. 1665
1978 – 1989: Ref. 16660
1989 – 2009: Ref. 16600
2014 – 2017: Ref. 116600
2017 – Present: Ref. 126600
2019 – Present: Ref. 126603
Sea-Dweller vs. Submariner
Aesthetically, the Submariner and Sea-Dweller are very similar, both featuring a 60-minute diver's bezel, a luminous display, and Rolex's trusty waterproof Oyster case. However, what sets them apart is the fact that the Sea-Dweller has a Helium Escape Valve, and the Submariner does not.
When the Sea-Dweller came to market in the 1960s, the Submariner had already been in production for a few years and boasted an impressive depth rating of up to 200 meters (660 feet). Sea-Dwellers produced during the same time were water-resistant up to 610 meters (2,000 feet). Today, the Sea-Dweller's base depth rating is 1,220 meters (4,000 feet), and the Submariner is waterproof up to 300 meters (1,000 feet). Simply put, the Sea-Dweller is superior when it comes to how deep each watch can dive.
That begs the question of how does it affect case size? Until 2017, both models measured 40mm in diameter – reference 126600 was the first Sea-Dweller to feature a 43mm case, and, as of 2020, the Submariner is now available in 41mm. Furthermore, the increased water resistance of the Sea-Dweller does require a thicker case than the Submariner. For example, compare the current production Sea-Dweller ref. 126600 measuring 15.5mm thick to the Submariner 126610, which is considerably slimmer at 12.5mm thick.
If you're in the market for an everyday watch, one might argue that the Submariner wins because it is more comfortable for daily wear. If you're in the market for a professional diver with serious water-resistance and a helium escape valve or just a robust watch to add to your rotation, the Sea-Dweller is an excellent choice.
Sea-Dweller vs. Deepsea
Rolex took their technical prowess to the next level with the Deepsea in the late 2000s. It still has the Helium Escape Valve, only now it's equipped with a titanium case back, a 5.5mm thick sapphire crystal, and the brand's proprietary Ring Lock System. These upgrades allow the Deepsea to travel as far as 3,990 meters (12,800 feet) below the ocean's surface. Compared to the Sea-Dweller and Submariner, the Deepsea can't be beaten when it comes to water-resistance, and the Deepsea Sea-Dweller is the brand's ultimate dive watch.
However, the Rolex Sea-Dweller Deepsea is pretty thick – 17.7mm to be exact, and at 44mm in diameter, it's a very large watch. The standard Rolex Sea-Dweller is in the sweet spot when it comes to robust divers that can outperform most watches while maintaining a comfortable size and weight.
Rolex Sea-Dweller Versatility and Price
The Rolex Sea-Dweller has come a long way since its debut decades ago. There are more variations to choose from within the Submariner collection, including those furnished in solid gold or two-tone. However, the Sea-Dweller appears to be catching up in the aesthetics department with the first-ever two-tone ref. 126603 released in 2019. Depending on the year released, you have your choice of either a 40mm or 43mm case, aluminum or ceramic bezel, and 2,000 or 4,000-foot depth rating, just to name a few. The Sea-Dweller is, arguably, a versatile deep saturation dive watch.
The Rolex Sea-Dweller's price depends on numerous factors, including production year, overall condition, and availability. At retail, the Oystersteel ref. 126600 costs $12,950, while the Yellow Rolesor ref. 126603 costs $17,000. Discontinued Sea-Dweller watches will set you back from well over $100k for the rare vintage models to $12k for the more affordable ref. 16600 and everywhere else in-between.
The Sea-Dweller is an innovative luxury dive watch deeply rooted in Rolex history. It can go from the ocean to a night out on the town without skipping a beat and takes an impressive stance on the wrist. Overall, the Rolex Sea-Dweller is just a joy to examine and wear.