A rare and historically important reference 6105 Rolex Explorer (c.1955) that Rolex gave to British Army officer and famed mountain climber, Tony Streather OBE – the first man ever to scale two peaks above 25,000 feet, is being offered for sale by Phillips Perpetual.
What is Phillips Perpetual?
Phillips Perpetual is the auction house's new platform that aims to "present the finest collectors' timepieces for private sale through ongoing curated programming, private selling exhibitions, and innovative partnerships" – a move which echoes the classic car market, where many of the really top dollar examples such as the legendary Ferrari 250 GTO are offered via private sales. This ref. 6105 Rolex Explorer is expected to go for at least $100,000, and possibly a lot more if it stirs the interest of collectors.
A 6105 Explorer Given to Tony Steather by Rolex
Rolex in 1955 when he was preparing to climb Kangchenjunga, one of the world's highest peaks, located on the border of Nepal and India. He had scaled K2, the world's second-highest peak, in 1953, the same year Sir Edmund Hillary, whose feat inspired the Explorer, famously conquered Mt. Everest.
Steather, who later reached the rank of Lieutenant-Colonel in the British Army's famed Gloucestershire Regiment, died last year at the age of 92, and the watch now comes from his estate. Steather wore this ref. 6105 Explorer on the historic climb, proving Rolex's claims about its reliability, and helping to establish the brand as the pinnacle of luxury sports watchmakers.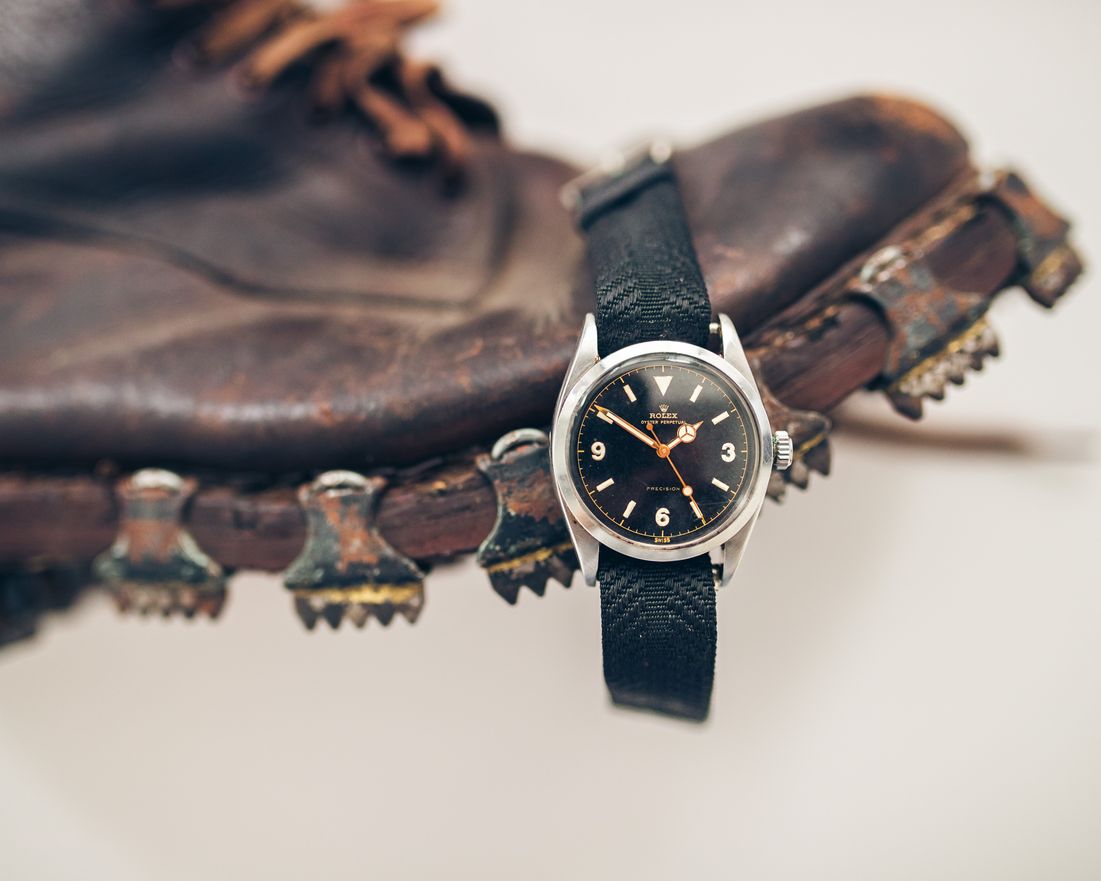 "Tony Streather was an incredible man," says James Marks, Phillips' International Specialist and Director of Watches. "His Rolex 6150 Explorer is a unique piece of history for the brand. Phillips Perpetual is proud to present the watch worn by Streather through the most extreme of hardships and to remarkable summits."
In the 1960s, while furthering this military career, Streather was given a NATO strap for the watch which it is now featured on it to this day (and included in the auction). This historically important Rolex Explorer also comes accompanied by an assortment of Streather memorabilia, which certainly adds to its appeal in our view and provides context for an important timepiece that should probably be in a museum.