The Rolex Submariner dive watch is widely considered to be the world's single most famous dive watch and to celebrate the 50th anniversary of the collection in 2003, Rolex released the reference 16610LV. Immediately recognizable due to its bright green aluminum bezel insert, the Rolex Submariner 16610LV quickly picked up its nickname the "Kermit" and in the years since its release, it has continuously grown in terms of both value and collectibility.
With that in mind, not all Kermit Submariner 16610LV watches are considered equal, and there exists a number of small variations between examples, which can account for thousands of dollars in resale value. One of the most discussed and desirable traits that a Kermit Submariner 16610LV can have is a Flat 4 bezel, so in this guide, we will take a look at Flat 4 vs. Sharp 4 bezels and why today's Rolex collectors place such a value on this easily overlooked feature.
Rolex Submariner 16610LV – "Kermit"
Kermit Submariner 16610LV Key Features:
Reference Number: 16610LV
Production Years: 2003 – 2010
Case Size: 40mm
Materials: Stainless Steel
Functions: Time w/ Running Seconds, Date Display
Dial: Black (Maxi) w/ Luminous Hour Markers
Luminous Material: Super-LumiNova
Bezel: Unidirectional, Green Aluminum Insert w/ 60-Minute Scale
Crystal: Sapphire (Flat w/ Cyclops Lens)
Movement: Rolex Caliber 3135
Water Resistance: 300 Meters / 1,000 Feet
Strap/Bracelet: Oyster Bracelet (Stainless Steel)
Approx. Price: $17,500 – $35,000 (Pre-Owned)
Click here for our Ultimate Buying Guide on the Rolex Submariner.
About the Rolex Submariner Kermit 16610LV
The Rolex Submariner Kermit 16610LV is essentially just a standard reference 16610 that is fitted with a green aluminum bezel insert and a black 'Maxi' dial that has slightly larger indexes and hands (similar to the ones found on modern Submariner watches). Not only is the Kermit the first Rolex watch to feature a Maxi dial, but it also represents the first time that a stainless steel Submariner has ever been available in any other color other than black. We have seen a number of these specific references as pre-owned Rolex models. No matter how many times I see one I always stop for a moment to appreciate them.
Internally, the Kermit Submariner 16610LV is powered by the same in-house Caliber 3135 movement as the standard all-black model, and it uses the same 40mm case crafted from 904L stainless steel. In fact, the "LV" part of its reference number simply stands for "Lunette Verte" (which means "green bezel" in French). You will find this same "LV" suffix included on other Rolex watches with green bezels such as the "Hulk" Submariner 116610LV, which replaced the Kermit in 2010.
Although the standard black Submariner 16610 was introduced in the late 1980s, the Submariner 16610LV didn't make an appearance until 2003, so you won't find older traits like holes-cases or tritium dials on Kermit Submariner watches (although it is rumored that there is a small handful of prototype examples with the older style of holes-case). However, there is some degree of variation between Submariner 16610LV watches when it comes to things like the alignment of dial text, the presence of engravings along the rehaut, and whether the bezel has a Flat 4 vs. Sharp 4 insert.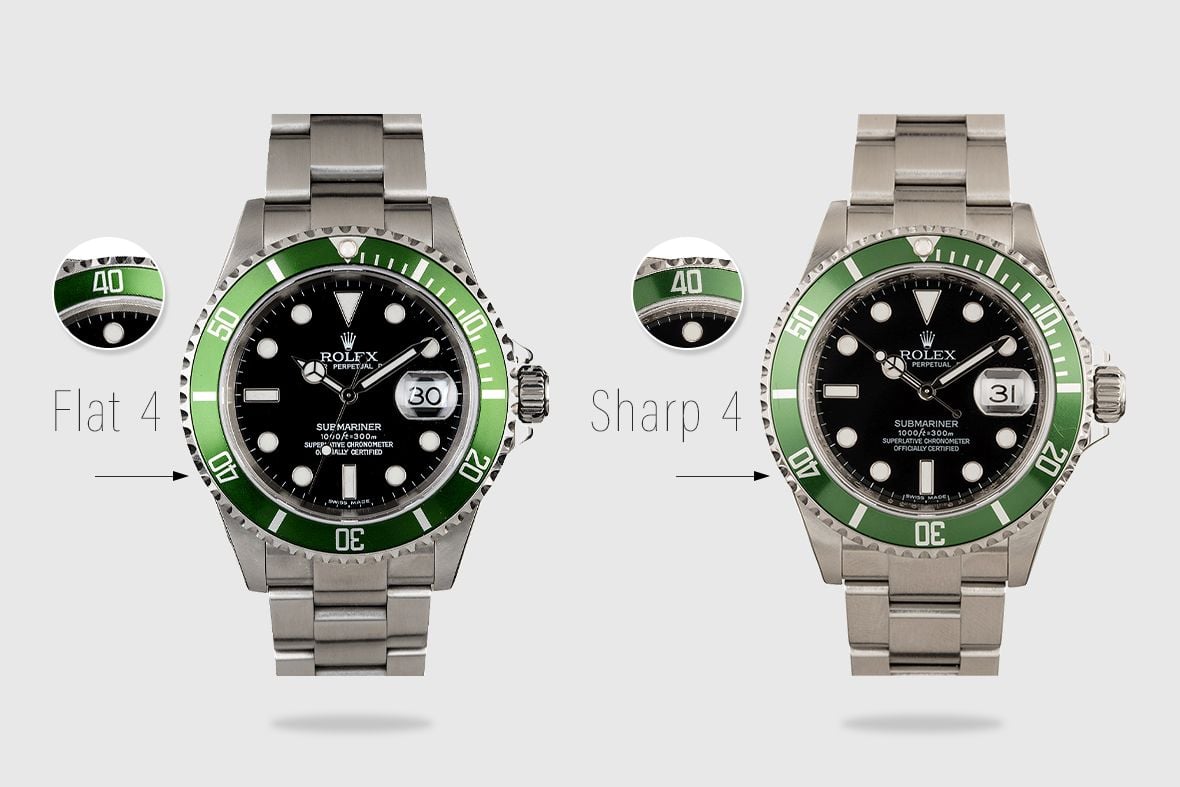 Kermit Submariner – Flat 4 vs. Sharp 4 Bezel Inserts
Probably the most famous variation that exists among Rolex Submariner Kermit 16601LV watches is the Flat 4 bezel. These inserts were only fitted to the very earliest examples that were released during the first few years that the reference 16610LV was in production. After that, Rolex slightly altered the font, and all subsequent green Submariner bezel inserts have been the more-modern Sharp 4 variety.
So what exactly is the difference between Flat 4 vs. Sharp 4 bezel inserts? If you look at the "4" in the number "40" on the bezel – specifically the space inside the 4 – you will notice a slight difference in shape on the two bezels. On the Flat 4 insert, this shape is more of a trapezoid with a flat top, while the Sharp 4 bezel features a triangular shape with a pointed top section. As minor as this detail may seem, collectors place a huge emphasis on Flat 4 bezels and they are forever decreasing in supply since Rolex now only uses the Sharp 4 style when it replaces inserts during routine service and repairs.
Generally speaking, you will find these coveted Flat 4 bezels fitted to Submariner 16610LV watches with serial numbers that begin with either a Y or F (with Y-series models being the most desirable). However, there are a few recorded instances from years ago of people sending their later-era Submariner 16610LV watches in for service and receiving the older style of Flat 4 insert. This was likely due to a small existing batch of service replacement components that has since been exhausted, and Sharp 4 inserts have been the only style available for a number of years now.
The Value of the Flat 4 Bezel
As seemingly insignificant as this small detail may initially appear, a Flat 4 bezel on an early-production Kermit Submariner can mean thousands of dollars in resale value over a later-era example of the reference 16610LV. A budget of $18,000 to $20,000 is typically enough to purchase a standard Kermit Submariner 16610LV; however, that price jumps to about $25,000 – $30,000 should you wish to add a Flat 4 version to your collection, with some examples known to trade hands for close to $50k on the open market.
The world of vintage Rolex collecting is full of small details that account for thousands of dollars in resale value, so it seems only natural that we will start to see these small details also begin to appear in more modern Rolex watches as they continue to establish their respective places within the greater Rolex collecting landscape and history. Rolex's production process is more standardized today than ever before, so although some collectors like to dismiss Flat 4 vs. Sharp 4 bezels as no more than internet-era hype, small variations in production runs are becoming increasingly less common, and today's collectors are willing to pay significant premiums to own them.