If there's one activity that makes us acutely aware of time, it's traveling—especially air travel. What time is my flight? How many hours before my departure do I have to be at the airport? How long does it take to get to the airport? What time do I land? What's the time difference between my destination time zone and my home time zone? What time do I have to be at the gate?
These are just a few of the time-related questions that race through our head prior to and during travel. And while there are some who depend on their smartphones to keep track of the time, as Rolex enthusiasts we, of course, rely on our infinitely more stylish Rolex watches to do that.
But what makes a good traveling Rolex watch? We like stainless steel ones for their robustness and if they have an extra time zone indicator, even better. Here is our roundup of the best traveling Rolex watches to bring along on any journey.
GMT-Master II 116710BLNR
Key Features
40mm stainless steel case
Blue and black Cerachrom bi-directional 24-hour bezel
Local time, reference time, date
Black dial
Oyster bracelet

The GMT-Master was born to travel—literally. As most of you probably know, in the 1950s Pan Am commissioned a tool watch from Rolex for pilots to wear during their flights. The watch had to be able to indicate GMT time and local time simultaneously and Rolex obliged with the GMT-Master watch in 1955.
Fast forward about six decades, and one of the most popular Rolex sports models today is the GMT-Master II ref. 116710BLNR, also known as "Batman" thanks to its black and blue colorway. As a travel companion, it checks off all the boxes. First, there's the super durable stainless steel 40mm Oyster case and matching steel Oyster bracelet. Then there's the scratch-resistant Cerachrom ceramic bezel split by color into day and night hours. And finally, there's the GMT function that allows wearers to keep track of three time zones. Local time via the center hands, home time via the extra 24-hour hand pointing to the bezel, and the ability to read a third time zone with a couple of clicks of the bezel.
Sky-Dweller 326934
Key Features
42mm stainless steel case
White gold fluted Ring Command Bezel
Local time, reference time, date, month, annual calendar
White, black, or blue dials
Oyster bracelet

The Sky-Dweller only joined the Rolex catalog in 2012, making it the newest model from the brand. As its name suggests, the Sky-Dweller was created for those who spend a lot of time traveling. Not only is the Sky-Dweller an annual calendar equipped with the date and month, but it also indicates an extra time zone on the 24-hour disc on the dial—perfect for jet setters who frequently find themselves in another city.
While the Sky-Dweller was initially only available in gold, Rolex introduced the stainless steel Sky-Dweller ref. 326934 in 2017. Accompanying the stainless steel 42mm Oyster case and steel Oyster bracelet, however, is an 18k white gold bezel. And that fluted bezel isn't just there for a stylish touch, but it's in fact how the wearer chooses between the date, 24-hour time, and center time functions to adjust them, hence its name, the Ring Command Bezel.
Daytona 116500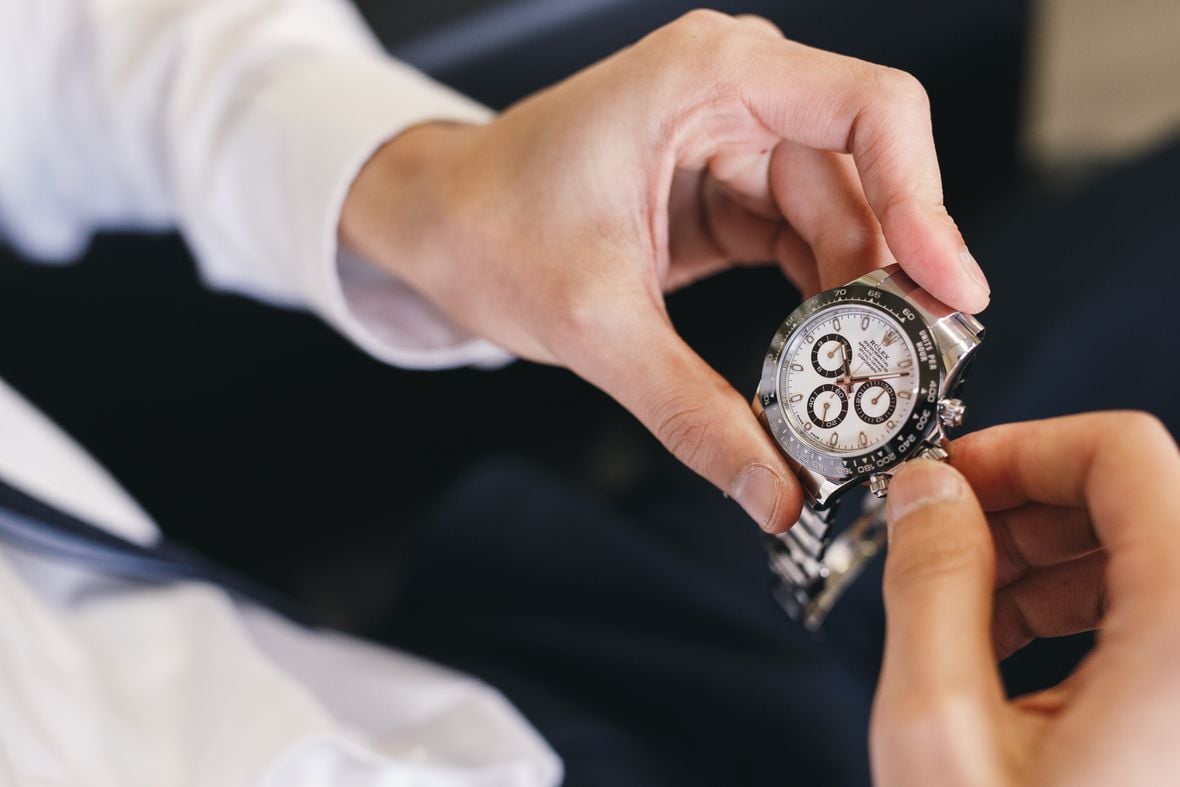 Key Features
40mm stainless steel case
Black Cerachrom fixed tachymeter bezel
Hours, minutes, running seconds, chronograph, 12-hour register, 30-minute register
Black or white dials
Oyster bracelet

Presented in 2016, the Daytona ref. 116500 quickly became the must-have luxury watch. Even five years later, the waitlists to get this coveted chronograph are still years-long.
Although the Rolex Daytona ref. 116500 does not include an additional time zone indicator, it's still one of our favorites to travel with since it's such a fine looking watch! Plus, this version of Rolex's signature chronograph sports a tough stainless steel 40mm Oyster case, a sturdy steel Oyster bracelet, and the coveted scratch-resistant Cerachrom ceramic bezel. Travel the skies in style with the Daytona C.
Explorer II 226570
Key Features
42mm stainless steel case
Fixed engraved 24-hour bezel
Local time, reference time, date
White or black dials
Oyster bracelet

Although the Explorer II was conceived in the 1970s as a watch for spelunkers, this Rolex model has evolved to become a fantastic traveling watch for a much wider audience. Unlike the inaugural Explorer II reference that came equipped with a day and night indicator, modern Explorer II references are GMT watches, complete with a fourth hand and 24-hour bezel.
The newest version is the Explorer II 226570, which was released in 2021. Similar to the previous reference, the newer Explorer II 226570 also sports a 42mm Oyster case and a fixed bezel engraved with a 24-hour scale. However, the case offers slightly different proportions thanks to slimmer lugs and a trimmed-down profile.
The dial, which is available in either black or "Polar" white, is home to the familiar Mercedes-style hands and large luminescent hour markers. The arrow-tipped 24-hour hand permits the wearer to read another time zone on the bezel while the date window at 3 o'clock is magnified by the iconic Rolex Cyclops lens protruding from the sapphire crystal.
Like all Explorer II watches, the ref. 226570 is fitted with a sporty Oyster bracelet in stainless steel. However, modern versions, such as the Explorer II 226570, also benefit from the Easylink 5mm comfort extension link—perfect for adjusting to any wrist swelling that can happen on a plane. Powering the Explorer II 226570 is Rolex's newest-generation Caliber 3285 automatic movement with a longer 72-hour power reserve.
Oyster Perpetual 39 114300
Key Features
39mm stainless steel case
Smooth steel bezel
Time-only
Rhodium, blue, grape, white, or black dials
Oyster bracelet

The Oyster Perpetual is Rolex's entry-level watch collection. However, far from basic, these watches bring together two of the brand's most important innovations: a water-resistance Oyster case and a self-winding Perpetual movement. And sometimes when traveling, an understated watch that doesn't announce to onlookers that you're wearing an expensive Rolex is the safest choice.
Though the Oyster Perpetual is available in so many sizes, one of our favorites is the now-discontinued 39mm version. Neither too big nor too small, the Oyster Perpetual 39 114300 fits most wrists flawlessly. Rolex released the Oyster Perpetual 114300 in 2015 and discontinued it in 2020. Through its short production run, the watch was available with a choice of a few dial colors including dark rhodium, blue, and red grape. Plus, Rolex also added white and black dials during the later production years.
Regardless of what color you opt for, the Oyster Perpetual 39 114300 is a solid Rolex watch with a beautifully symmetrical dial and a robust Oyster bracelet. It is also water-resistant to 100 meters, features a scratch-resistant sapphire crystal, and its 904L stainless steel construction is tough and highly corrosion-resistant—all important considerations when picking the best travel Rolex watch.
Traveling with Your Rolex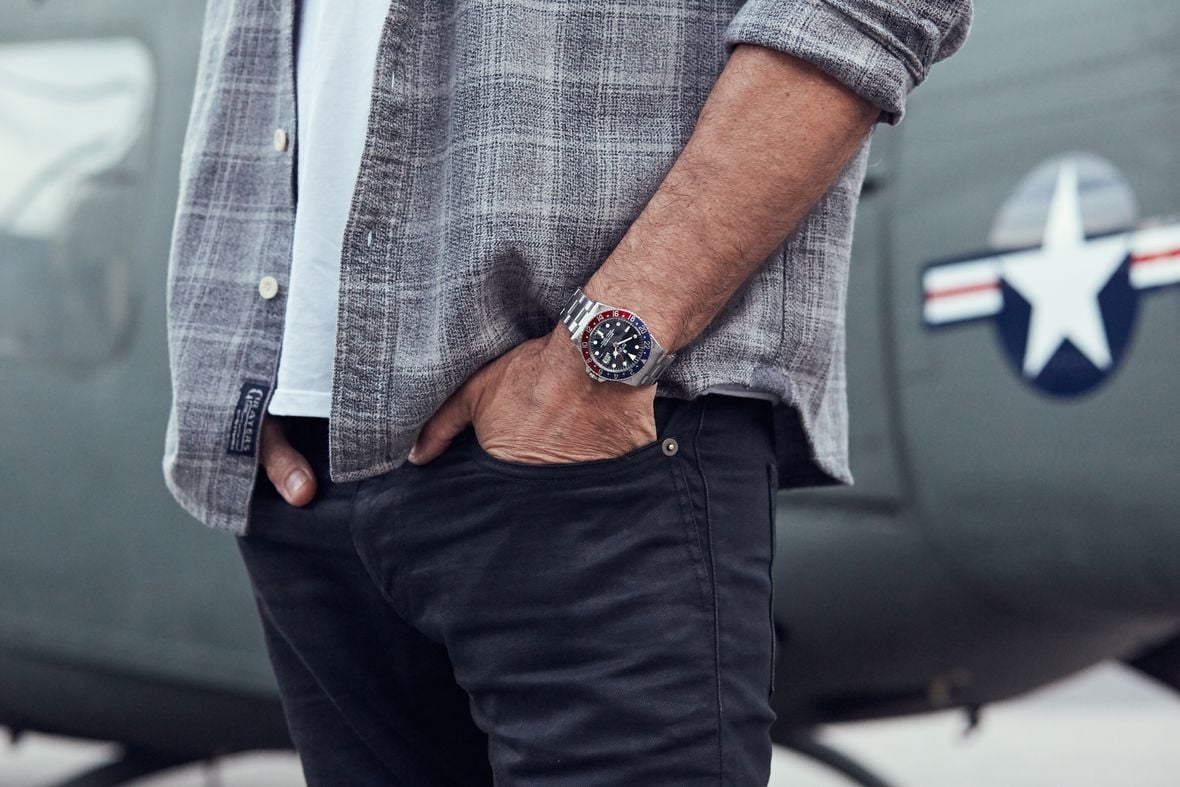 Depending on the airport, some security personnel will ask you to remove your watch prior to the x-ray machine and some will not. To make sure that nothing happens to your cherished Rolex, we would recommend stashing it in your carry-on (safely in a traveling watch roll of course) before arriving at the security line. Better safe than sorry!
What's your go-to Rolex watch to travel with? Leave us your thoughts and share your pictures with us in the comment section below.