The Milgauss has long been Rolex's antimagnetic watch, taking its name for its ability to withstand 1,000 gauss. For context, ISO 764 stipulates that a watch must be able to resist "a direct current magnetic field of 4 800 A/m," which is roughly equivalent to 60 gauss. While the Milgauss may be Rolex's most famous antimagnetic watch, there is another model in the current collection that uses the same case and movement.
When Rolex introduced the newest Air-King model a few years back, the brand equipped the watch with the same Caliber 3131 movement as the current-production Milgauss. Along with their antimagnetic properties, the Rolex Milgauss and the Air-King share a handful of other unique design traits. Today we investigate why magnetism matters to mechanical watches and compare a duo of modern antimagnetic Rolex watches. Read on for a comparative review of the Rolex Milgauss 116400 vs. Air-King 116900.
What are the effects of magnetism on a watch?
Magnetic fields are all around us – and not just because of all the electronic devices that are a part of our daily existence; they also arise from simple magnetic closures found on apparel and accessories. Prolonged exposure to strong magnetic fields can alter the balance spring inside a mechanical movement, thereby wreaking havoc on a watch's timekeeping ability.
A magnetized watch can end up running too fast or even stop working altogether. How do you know if your watch is magnetized? Get a compass close to your watch, and if the hands of the compass move around when you move your watch, it's magnetized.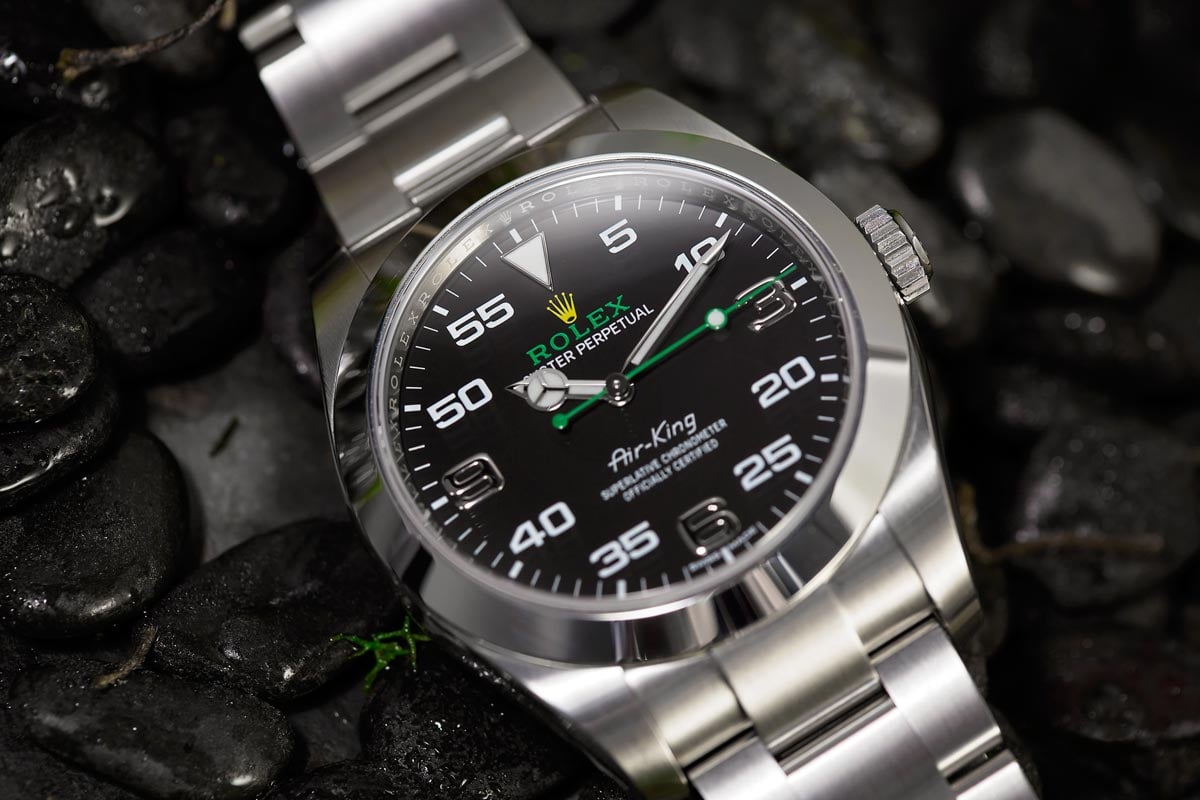 The good news is that the magnetization is temporary and demagnetizing watch is a relatively simple process. However, it can be impractical to wear a watch susceptible to magnetization if you work in environments that have strong magnetic fields.
Scientific research, medicine, and electronics were booming industries during the 1950s. As such, in 1956 Rolex introduced the Milgauss, an antimagnetic watch to cater to scientific professionals that were often exposed to strong magnetic fields. Tested by the European Organization for Nuclear Research (CERN), the Rolex Milgauss could withstand magnetic fields of up to 1,000 gauss thanks to a shield protecting the movement crafted from ferromagnetic alloys.
Design and Functionality: Milgauss 116400 vs. Air-King 116900
In 2007, Rolex revived the Milgauss model after about two decades of absence and with the new reference came plenty of design changes. The Milgauss 116400 grew by 2mm and now sports a 40mm stainless steel Oyster case with a smooth bezel, equipped with a Twinlock screw-down winding crown and fitted with a steel Oyster bracelet. Like all previous Milgauss models, the Milgauss ref. 116400 is a time-only Rolex. But, unlike previous Milgauss models, the dial designs of the Milgauss ref. 116400 are now colorful and quite quirky by Rolex standards.
Originally, the Milgauss came with the option of a black or white dial, each featuring bright orange details and the characteristic lightning bolt seconds hand. Then in 2014, Rolex added the Z-Blue dial option (an electric blue shade), also furnished with an orange lighting seconds hand. When the Milgauss was first introduced, Rolex offered the option of a green-tinted sapphire crystal – a Milgauss exclusive feature (designated as 116400GV where "GV" stands for "green glass" in French) alongside the traditional clear sapphire crystals. However, Rolex has since discontinued fitting the Milgauss with a clear sapphire crystal only makes the Milgauss 116400GV (with either a black dial or a Z-Blue dial).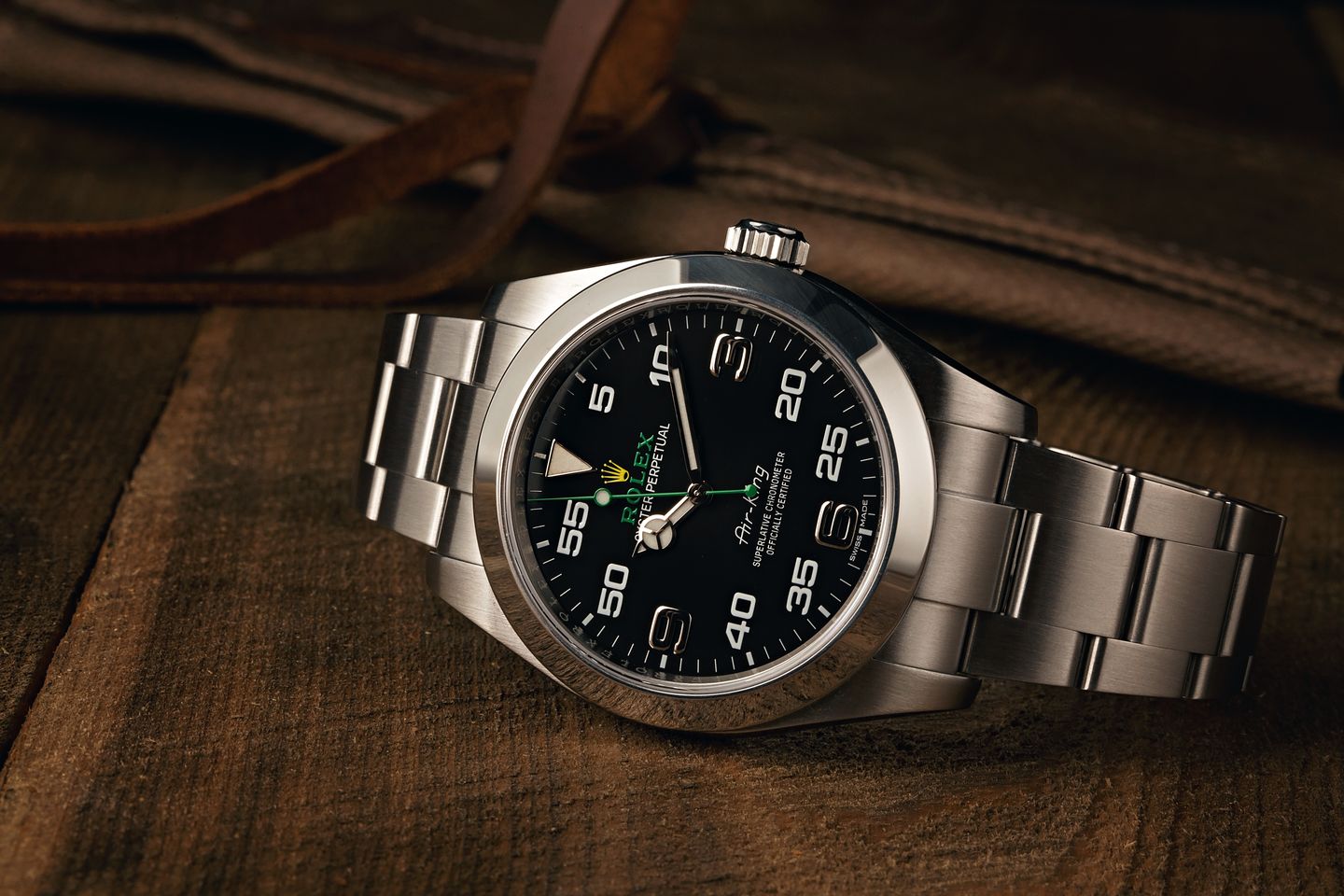 In a similar fashion, Rolex also discontinued the Air-King model in 2014 (albeit, for only two short years) only to revive it in a completely new form. When the latest Air-King ref. 116900 made its debut in 2016, it was markedly different to any Rolex Air-King models that had come before it – it was bigger, bolder, and moved over from Rolex's dress watch offerings to the "Professional" range. Like the Milgauss ref. 116400, the Air-King ref. 116900 also features a stainless steel 40mm Oyster case with a domed bezel, a Twinlock winding crown, and a steel Oyster bracelet. Yet, in contrast to the Milgauss, the new Air-King only has one dial design.
A far cry from the understated aesthetic of past Air-King models, the Air-King 116900 houses a black dial with a mix of hour markers at 3/6/9, an inverted triangle at 12, and minute markers for the remaining spots. Additionally, along with the Mercedes-style hour and minute hand set, Rolex also added a green lollipop seconds hand. Also appearing in the same shade of green is the "ROLEX" name, which is topped with a bright yellow crown. The dial design of the reference 116900 Air-King takes its inspiration from the dashboard chronograph and speedometer Rolex made for the Bloodhound SSC 1000 MPH Car.
Antimagnetic Rolex Caliber 3131
Both the Milgauss 116400 and the Air-King 116900 run on the in-house Rolex Caliber 3131 automatic movement. The movement utilizes a paramagnetic blue Parachrom hairspring made of a niobium-zirconium alloy with an oxide coating to remain completely unaffected by magnetic fields. Additionally, the movement also features a paramagnetic escape wheel made from a nickel-phosphorus alloy. Finally, the Caliber 3131 is protected by a two-part magnetic shield made of ferromagnetic material.
Identical to all modern Rolex movements, Caliber 3131 is COSC-certified and as of 2015, all Rolex watches guarantee a precision rating of -2/+2 seconds per day. The self-winding movement supplies the Air-King and the Milgauss with around 48 hours of power reserve and includes stop-seconds (hacking) for a precise time setting.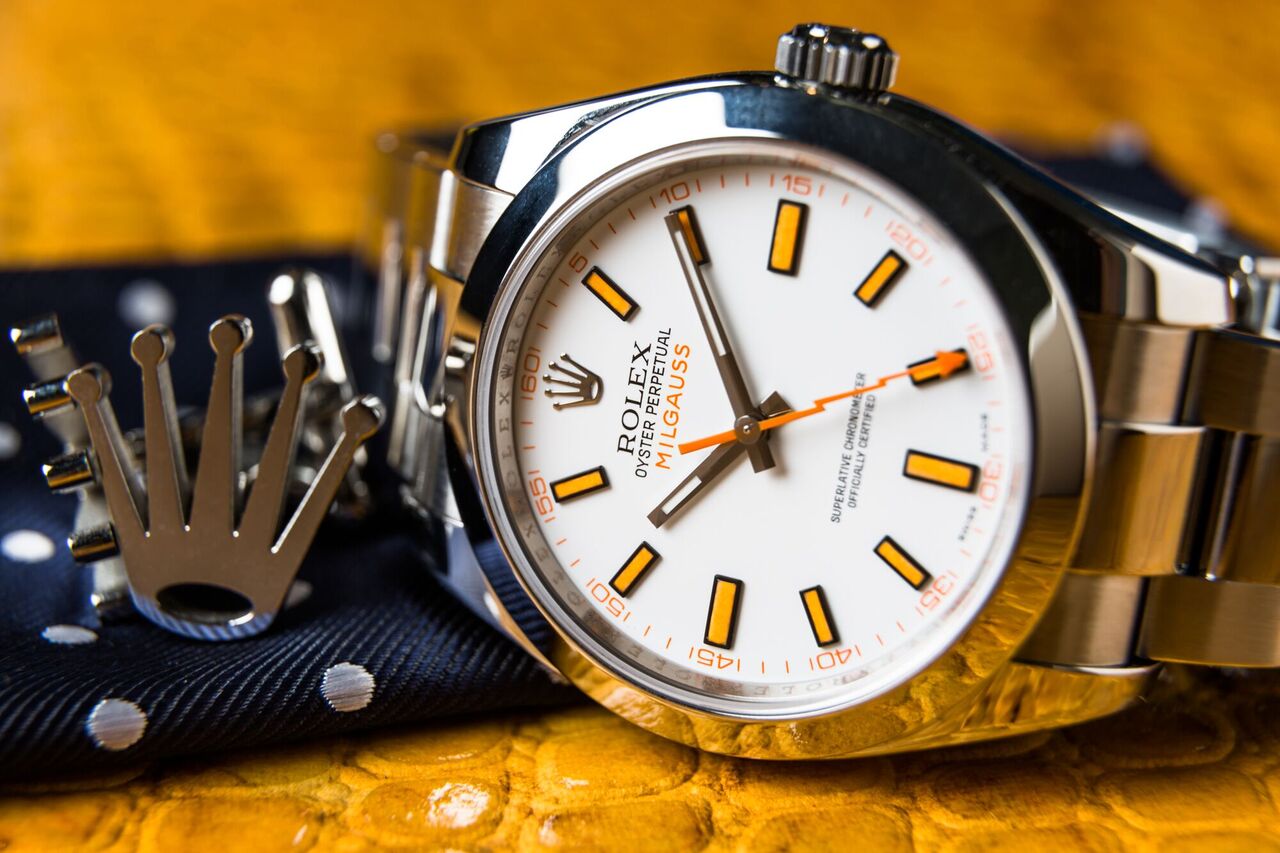 Milgauss 116400 vs. Air-King 116900 Quick Comparison
The Milgauss 116400 and the Air-King 116900 share many of the basic watch structures including the case, bracelet, and movement. The main differences between these two antimagnetic Rolex watches are found in the dial designs and the colors of the sapphire crystal.
Introduction Year
Milgauss 116400 – 2007
Air-King 116900 – 2016
Materials
Milgauss 116400 – Stainless Steel
Air-King 116900 – Stainless Steel
Case Size
Milgauss 116400 – 40mm
Air-King 116900 – 40mm
Bracelet
Milgauss 116400 – Oyster with Easylink 5mm extension
Air-King 116900 – Oyster with Easylink 5mm extension
Crystal
Milgauss 116400 – Clear Sapphire (116400 discontinued) or Green Sapphire (116400GV)
Air-King 116900 – Clear Sapphire
Dial
Milgauss 116400 – White (discontinued), Black or Z-Blue
Air-King 116900 – Black
Hands
Milgauss 116400 – Baton-Style with Orange Lightning Bolt seconds hand
Air-King 116900 – Mercedes-Style with Green Lollipop seconds hand
Movement
Milgauss 116400 – Caliber 3131
Air-King 116900 – Caliber 3131
Water Resistance
Milgauss 116400 – 100 meters
Air-King 116900 – 100 meters
Luminescence
Milgauss 116400 – Chromalight
Air-King 116900 – Chromalight
Retail Price
Milgauss 116400 – $8,200
Air-King 116900 – $6,200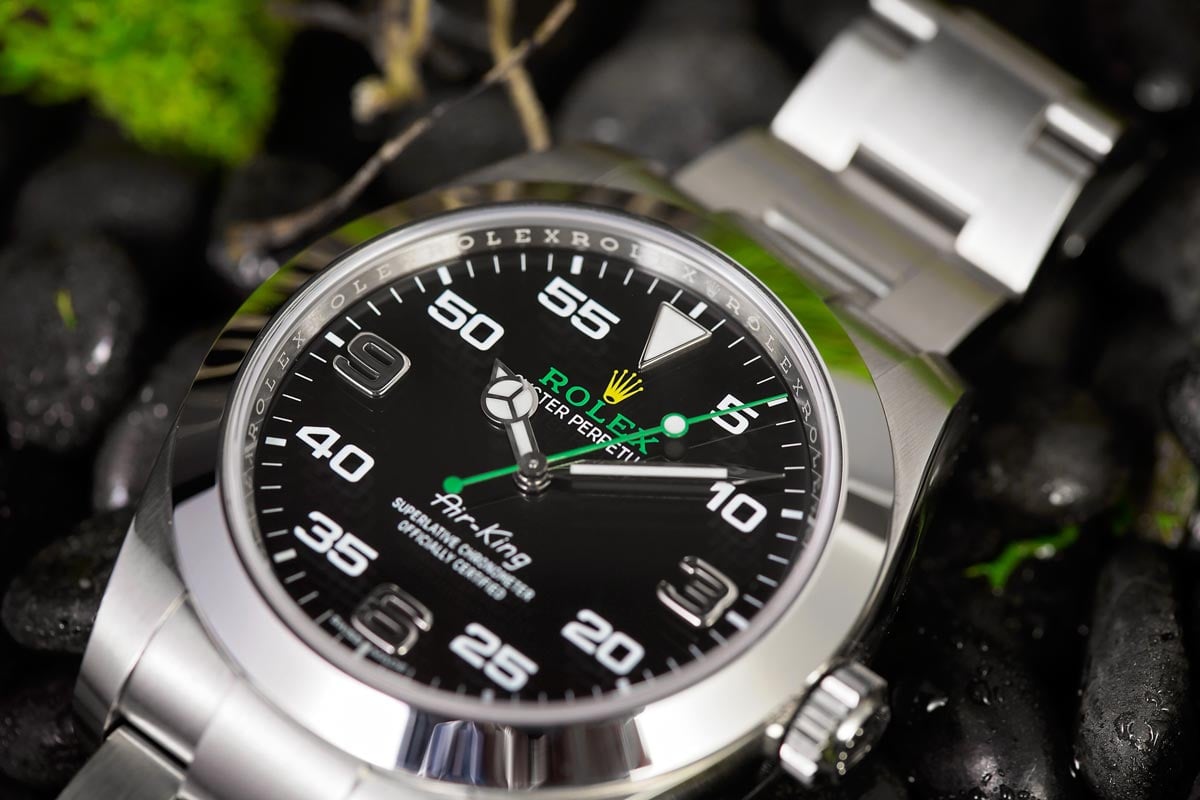 Rolex Milgauss 116400GV Overview
Released in 2007 after being discontinued for about two decades, the Milgauss 116400GV is a great blend of vintage details and modern features. Housed within the 40mm stainless steel case is a time-only dial that includes a distinctive lightning bolt seconds – reminiscent of those present in early Milgauss models. Dial colors include classic black or white, as well as an electric 'Z-Blue' dial that, paired with the orange details and green sapphire crystal, is uncharacteristically colorful for a sporty Rolex watch.
Exclusive to the Milgauss watch, the "GV" in the model number refers to the green sapphire crystal sitting on top of the dial. Tucked beneath the caseback of the Milgauss 116400GV and protected by a magnetic shield is the antimagnetic Caliber 3131 automatic movement with a 48-hour power reserve.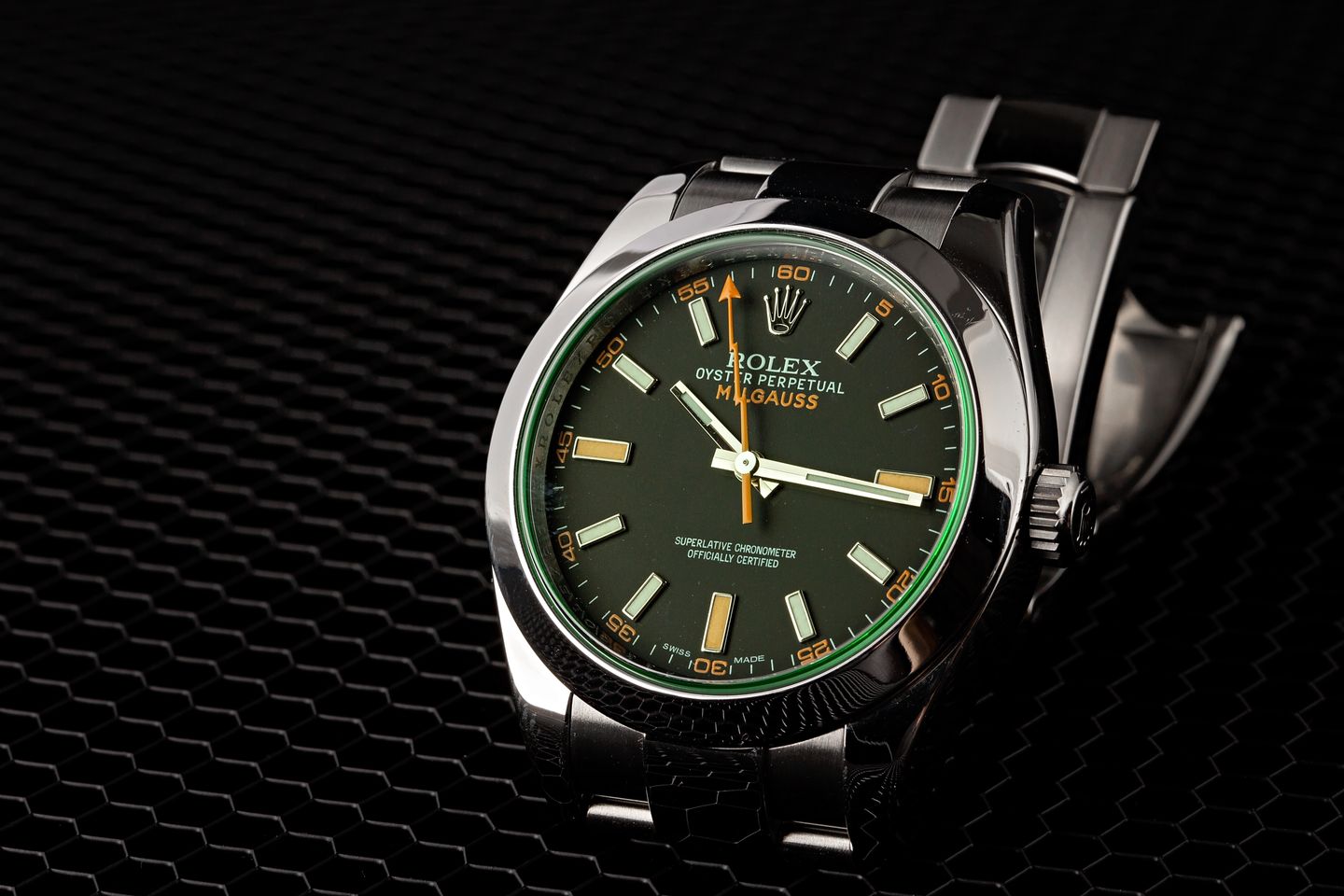 Rolex Air-King 116900 Overview
After being discontinued for only two years, the 2016 launch of the Air-King ref. 116900 was a surprising (and polarizing) one, given that the watch bears hardly any resemblance to past models that share the same name. Not only does the modern Air-King come with a larger-than-its-predecessors 40mm Oyster case, but also its once-simple dial is now one of Rolex's most dynamic.
The time-only black dial is in fact, inspired by the Rolex instruments on the dashboard of the BLOODHOUND SSC supersonic vehicle, as illustrated by the vibrant green and yellow accents. Interestingly, for indexes, Rolex uses a mix of the 3-6-9 numerals typical of Explorer dials, along with printed minute markers. In another surprising twist, the Air-King rejoined the lineup as one of the antimagnetic Rolex watches. Rolex furnished the Air-King ref. 116900 with the same case and antimagnetic Caliber 3131 automatic movement of the ref. 116400GV Milgauss, complete with its internal antimagnetic shield.
Similar But Different
It may not be apparent at first glance, but the modern Milgauss and Air-King – the two antimagnetic Rolex watches are quite similar. Not only did Rolex revive both of these watches after a period of discontinuation, but they also boast very distinct dial designs within their otherwise-identical understated steel case and Oyster bracelet exterior.
Many consider the ref. 116900 Air-King to be more-or-less a Rolex Milgauss with a different dial and set of hands, making it a perfect option for those seeking an antimagnetic Rolex watch at a more affordable price point. However, most importantly, with the new Air-King, we now have a choice between two antimagnetic Rolex watches – and variety is always welcomed.
From the Milgauss' orange lightning bolt seconds hand to the Air-King's bright green and yellow details, these are some of Rolex's most lively and youthful-looking watches. Luxurious but not stuffy, built tough but with a touch of playfulness, they each offer a distinctive style that is entirely their own.