For most of us, having an accurate timekeeper on our wrists helps us go about our daily business punctually. It is the difference between making or missing a train, being early or late for a date, and even earning a reputation as a good or bad employee. Rarely, however, does the reliability or accuracy of our wristwatch mean the difference between life and death.
For the men and women serving in the armed forces, this is sometimes the case. Military equipment needs to be put through more tests than pretty much anything intended for civilian use, simply because its application often shoulders an existential imperative. Watches are no different. Military personnel must be able to rely upon their timepieces to coordinate maneuvers and execute their duties to the standards expected of them.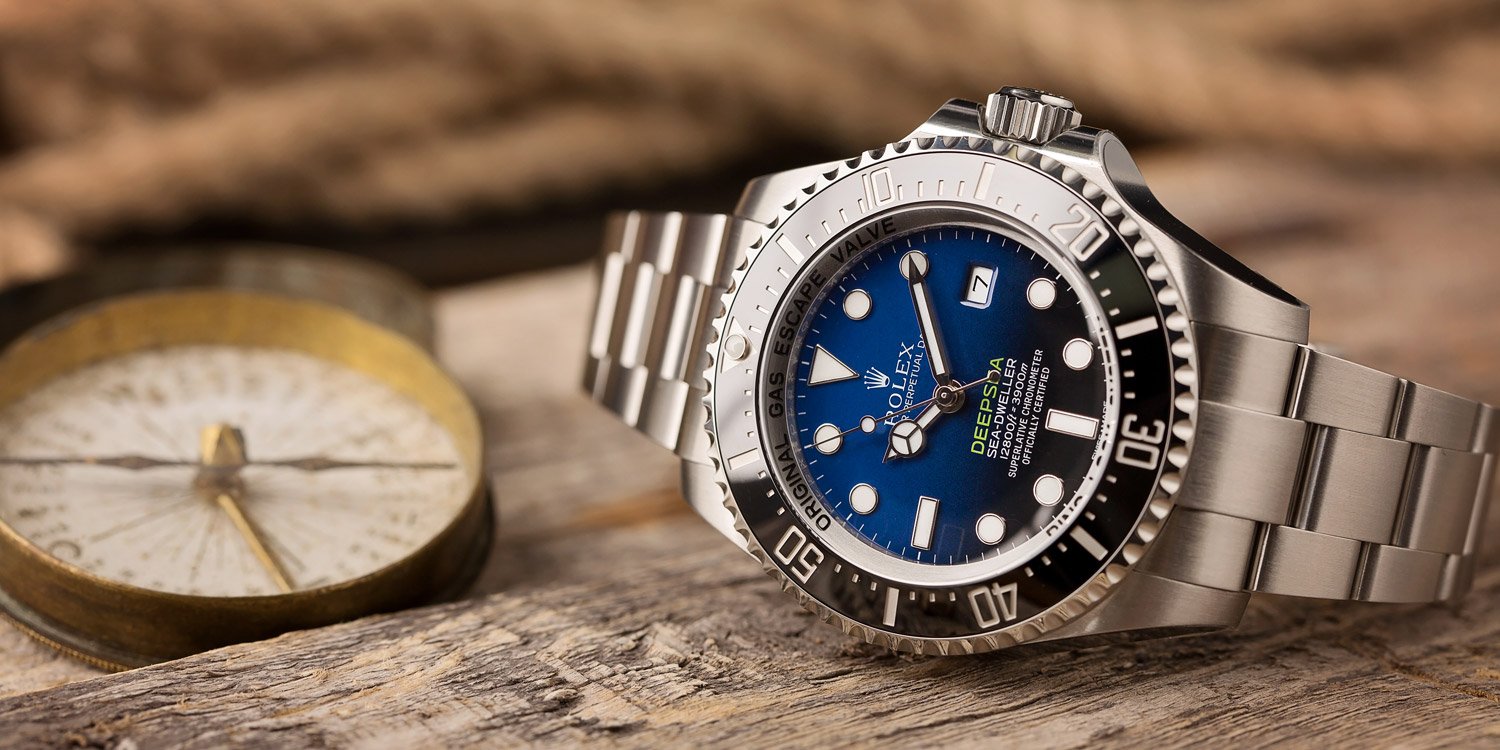 As such, many brands have emerged with supplying the military as their prime concern. The need for highly reliable, accurate, durable, supremely legible watches has created a market niche for certain rough-and-ready quartz-powered brands such as Marathon or Traser, but while these watches would be expected to perform well in the field, they are not as suitable for the other side of military life that requires a more uniformed approach.
For men, at least, one brand that can offer both high-level performance in action as well as unrivaled (aesthetic) performance is Rolex. But to suggest there is one Rolex above all others that would be suitable for every man in the armed forces would be ignoring how different the various environments in which the Air Force, Army, and Navy operate are. And so, for our servicemen friends, I have compiled a list of the top Rolex watches for men in the armed forces, whether they serve in the air, on the land, or at sea.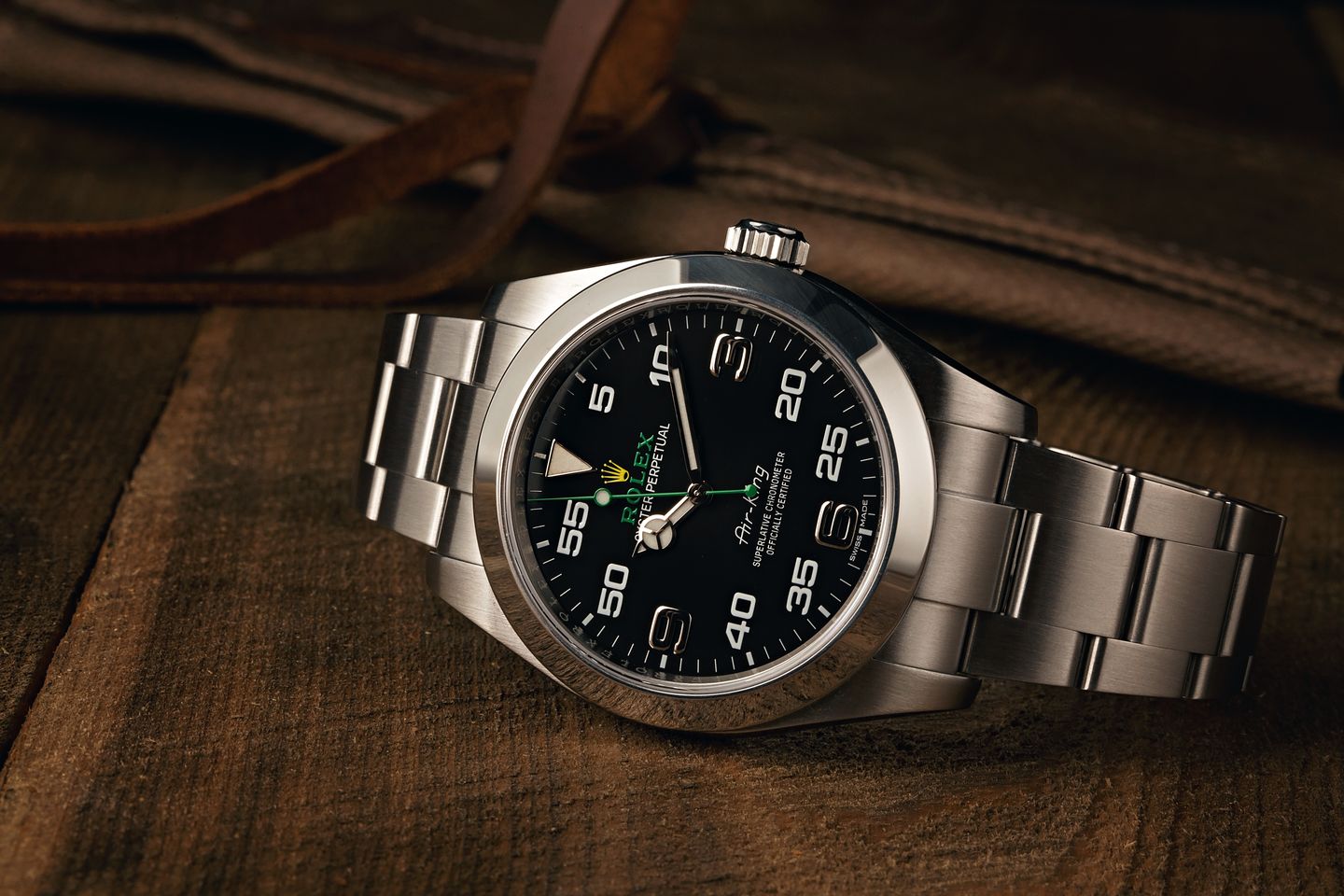 Air Force – Rolex Air-King 116900
The Air-King doesn't get enough love. Okay, it was low hanging fruit for this list (as the only model in the Rolex collection that features the word "Air"). I thought long and hard about putting the GMT-Master II or Sky-Dweller here, simply because of its multi-timezone functionality, but the legibility and wearability of the slim and humble Rolex Air-King won out.
The use of rich racing green and bold yellow for the 'Rolex' name and logo (respectively) gives this watch a character that is entirely its own. In many ways, this color scheme and the fact the colors themselves are so bright, gives this, of all Rolexes, the sportiest appearance. Add to that the double-digit minute markers (standing in place of the 1, 2, 4, 5, 7, 8, 10, and 11 hour indices) and you have a speedometer-inspired dial that gives off the impression of break-neck velocity whichever way you look at it.
Perfect for the cockpit or on parade, the Rolex Air-King is a fun and friendly Rolex whose cheerful face obscures a serious core.
Army – Rolex Milgauss 116400 (White Dial)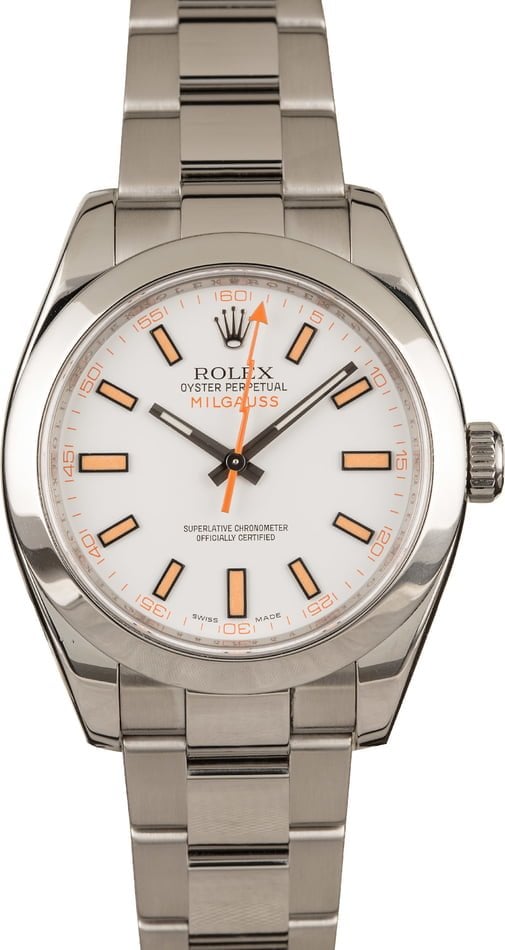 Shock horror! I picked a discontinued reference! "Why would he do that?" I hear you cry. Well, aside from the fact I think this is genuinely the perfect watch for military personnel on the ground (I'll explain why in a moment), writing for Bob's Watches means that recommending discontinued references presents no obstacle, as we have two (at the time of writing) available to buy pre-loved from the store.
So why did I pick 116400 when references 116400V (black dial) 116400GV (blue sun-ray dial) are both still available in the core collection? While I was training to be a watchmaker, one of my colleagues – a Rolex student, no less – wore this model. She also happened to wear a lot of camel-colored clothing and I couldn't help but think that the white dial, the sandy lume, and orange, lightning-bolt seconds hand looked simply outstanding next to it.
It makes sense to me, therefore, that this unusual colorway would look pretty darn good when decked out with desert camouflage. A Rolex Explorer would have been an obvious choice, but a white dial is less susceptible to the heavy patination of black dials exposed to extreme UV rays, while the legibility at day and night (along with the Milgauss's famous ability to withstand the harmful influences of magnetic fields) make this the perfect watch for ground troops to strap on before and after duty.
Navy – Rolex Sea-Dweller Deepsea 116660 (D-Blue Dial)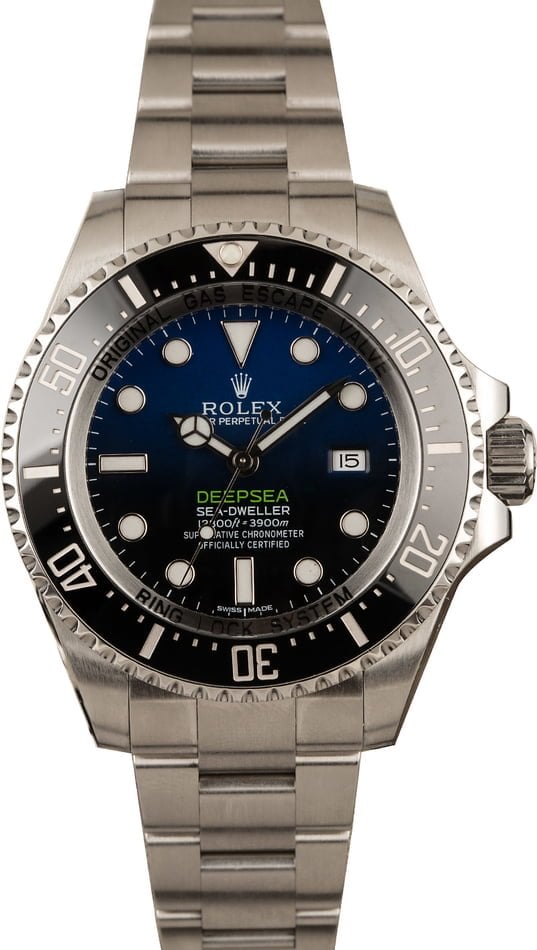 Reference 116660 has to be one of the most remarkable looking watches on the planet. The famous "D-Blue" dial is a top-to-bottom fade from blue to black, evoking the disappearance of light from the world beneath the waves as you travel deeper and deeper into the darkness of the Mariana Trench. It's an eerie and exhilarating effect that looks all the more unique amongst its Rolex brethren thanks to the bright lime green text printed on the dial (this is the only core Rolex professional that uses this print color and it really stands out for it; the Rolex Oyster Perpetual 114300 uses a similar color to a much dressier effect).
The Rolex Sea-Dweller Deepsea has fearsome proportions on paper, but it wears much smaller than one would think thanks to the sympathetically designed lugs (notice the quick tapering of the Sea-Dweller lugs in comparison to the boxier lugs of the Submariner). With a diameter of 44mm and a thickness of 17.7mm (with 5.5mm of that thanks to one of the thickest sapphire crystals on the market), the Deepsea is unlikely to be missed, nor to meet a challenge it couldn't put to bed.
Those aforementioned lugs make this a lot more wearable with formal attire than one might think given those gargantuan measurements. And even if it does jut out and get you noticed, there are worse things in the world than being identified as someone with impeccable taste, even if it is possible to do so from a hundred yards away!