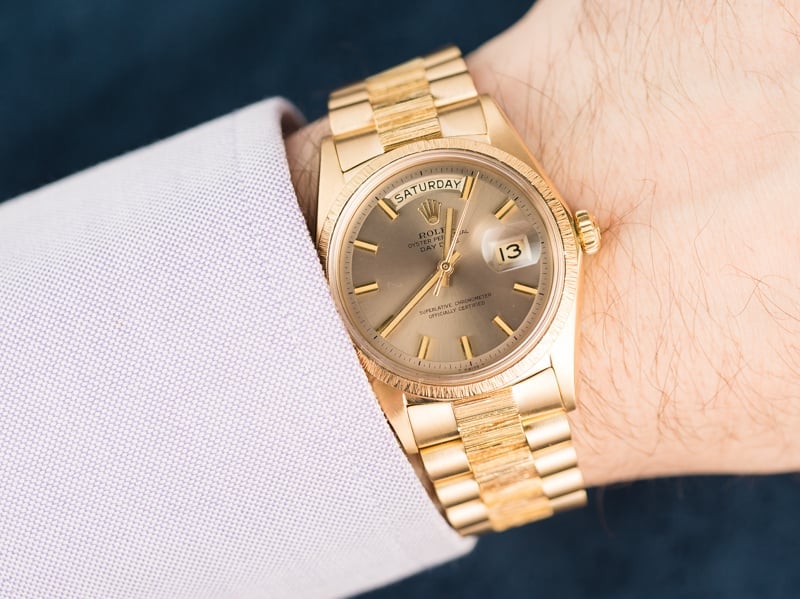 Barking up the right tree
Decorative elements on Rolexes are most commonly found on the dial or bezel. For instance, Rolex has produced hard stone dials, linen pattern dials, diamond embellished dials, fluted bezels, engine turned bezels, and so on. For the most part, Rolex bracelets – aside from gem-encrusted ones – whether Oyster, Jubilee, or President, remain relatively untouched from model to model. However, what we have here are some vintage Rolex watches that feature an interesting and unusual touch – the bark accent. Named so for their resemblance to tree bark, these particular textured elements are either on the center links of the bracelet, the bezel, or both. Produced from the early 1970s until the late 1980s, the bark finish was frequently used on Rolex President watches, although there have been a few Datejusts too. Here we delve into some examples of the bark accents on three vintage Rolex watches.
Rolex Day-Date President 18078
Produced in 1977, this solid yellow gold Rolex Day-Date sports the black dial and baton hour markers configuration. On its 36mm Oyster case lies a bezel with the textured bark finish. The bark accent is further carried through on the President's bracelet, where the traditional center polished links are replaced with these decorative ones. Wearers of bark accented Rolex watches have remarked how great these type of bracelets look in the light. The intricate grooves on the bracelet certainly adds a very distinct touch to an iconic Rolex model.
Rolex Day-Date President 18078 with Diamonds
Here we have the same reference number as the previous Rolex model, however, this one is ten years younger, dating back to 1982. On this particular President ref. 18078, the bark accent is only present on the center links of the bracelet since the timepiece has a diamond bezel. The diamonds are also on the champagne dial, thus the overall style of this vintage Rolex President is especially luxurious. Because of its gold construction, 36mm size, diamonds, and bark finish, this Day-Date would look great on a lady's wrist.
Rolex Lady-Datejust 6927
Here's one made just for the ladies. The Rolex Lady-Datejust ref. 6927 comes equipped with a President's bracelet with the bark motif. This ref. 6927 is an especially elegant timepiece due to the dainty 26mm Oyster case that houses a black dial with diamond hour markers. On this particular ladies' Rolex President from 1977, the bark decor is used on both the bracelet and the bezel. It's a beautiful vintage Rolex dress watch for women.
For those looking for a vintage Rolex President that's a little different than the rest, the bark accent is a solid option. A decorative element that was only used on a few models, the bark finishing is especially attractive to collectors that like collecting unusual vintage Rolex watches.