There's another kind of women's movement underway – one where women are kicking petite, quartz timepieces to the side and opting for traditional mechanical movements. And while we are seeing an increasing number of unisex watches from some of the biggest names in watchmaking, along with more women opting for mens watches (a trend we adore), we think it's a bit of a shame that there aren't more smaller, automatic options for the ladies market.
Lucky, we've entered an era where it's never been easier for women to make the switch from overly delicate, insubstantial feeling quartz timepieces to the quality and durability of an automatic ladies watch. As the market has adapted to the growing vintage trend, which typically embraces slightly smaller case sizes than your average timepiece, watch manufacturers have used that technology to create smaller timepieces specifically for the ladies market.
So here, we're going to highlight some of the most incredible automatic ladies timepieces today. They're not only practical, they're elegant, breaking boundaries and they feel and look great on.
Chopard Happy Sport 25th Anniversary Edition automatic ladies watch
Chopard Happy Sport 25th Anniversary
This year the family-run jewelry maker updated their classic Happy Sport with their very own in-house mechanical automatic Chopard 09.01-C — made of 159 components and boasting a 42-hour power reserve. It's outfitted inside a 30mm case that famously has floating diamonds on the face between two sapphire crystals.
Each of the automatic models is feminine, chic and of course, sporty. You can choose between a linked or leather bracelet as well as a variety of two-toned, plane and diamond encrusted cases — giving women more choice than ever. An automatic is also the ideal choice for this everyday watch, as the movement will self-wind as its worn.
Blancpain Villeret Date Moonphase
This timepiece, unveiled back in 2017, clocks in just under 30mm at 29.2mm wide and 10.36mm thick with an in-house caliber 913QL, and surprisingly, a full-size rotor tucked inside. At first glance of this petite, elegant stepped case with a sapphire backing — you might not realize it's an automatic at all.
The face of this watch is just as understatedly beautiful – from the roman numerals to the detailed moonphase above six o'clock. The smaller size, sophisticated dial and automatic movement clock will undoubtedly be a conversation starter.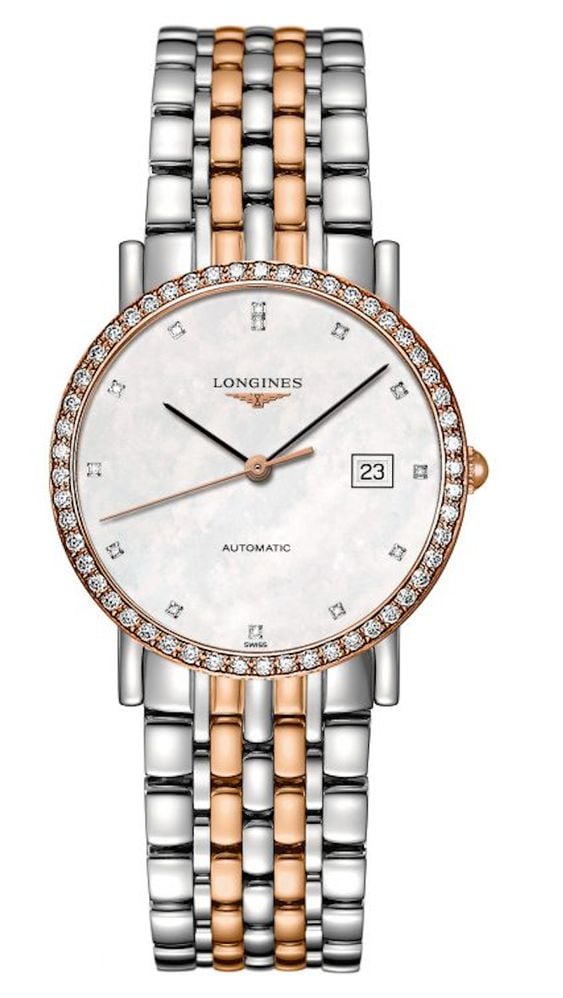 Longines Elegant with Diamond Case
If you're going to invest in an automatic timepiece, it's well worth it to go for an established Swiss watchmaker like Longines. Revered for their elegance and performance since 1832, each of their timepieces is built on tradition. Since everyone needs a dress watch in their closet, we chose this Longines Elegant with a diamond case and mother of pearl face.
Even though the 29mm case and bracelet of this watch are stainless steel, the luminescent face with thin hands and dainty-diamond hour markers elevate the look. But the combination of an automatic movement with a 40-hour power reserve and stainless steel also means you may just never want to take this timepiece off — and we can't say we'd blame you.
Rolex Lady-Datejust Watches
We can't highlight automatic ladies watches without taking a closer look at one of the all-time classics, the Lady-Datejust. One of the most recognizable watches in the world, the date is magnified with a cyclops sapphire crystal at 3-o'clock and encased within a world-class 28mm Oystercase. And with the width clocking in at just 11mm thick, this watch always sits elegantly on the wrist.
Of course, inside is an automatic movement, an in-house 2236 calibre that serves your busy life by having a 55-hour power reserve and being self-winding. Besides that, this watch is timelessly good-looking. We love the golden fluted bezel on this two-toned model. The Jubilee bracelet also adds a touch of elegance to this otherwise simple watch with a milky face and roman numeral hour markers.
Grand Seiko Ladies Automatic
Grand Seiko Ladies Automatic
The Grand Seiko Ladies Automatic is a wonderful modern example of form and function. The slender rose gold case, measuring in at just 28.7 x 10.8mm, houses an advanced Caliber 9S25 with a whopping 50-hour power reserve. But, it's the encrusted bezel – we counted 37 gorgeous diamonds – silver dial and diamond hour markers that really catch your eye.
What we love about this watch is that there is so much more to it than meets the eye. The calibre inside the Ladies Automatic is brand new – boasting 33-jewels with lighter, more efficient components so it not only runs on-time, but feels great to wear. Grand Seiko is only producing 50 of these world-class timepieces though, so you better try and get your hands on one quick.
Bonus: Want to go really small? Opt for a Jaeger-LeCoultre Calibre 101 Automatic Ladies Watch
If you're hunting for an mechanical bracelet watch that's petite and discrete, there's no doubt the Jaeger-LeCoultre Calibre 101 is for you. When this watch was first released back in 1929 it was the smallest movement in the world, and today, it still holds that title.
At just 14 x 4.8 x 3.4mm, this movement weighs just one gram and packs 98 moving parts inside. Now, it's not an automatic. But, Queen Elizabeth wore one at her coronation, so we bet it's good enough for us common folk, too. Getting your hands on one may be tricky, though, as Jaeger-LeCoultre only makes 50 a year.