If you were to think of any country whose name is synonymous with fine watchmaking, then it has to be Switzerland. But interestingly, many of the most important breakthroughs and innovations have been born on England's shores.
From Robert Hooke's balance spring and Daniel Quare inventing the minute hand in the 17th century, to the various styles of escapement pioneered by Thomases Tompion and Mudge in the 18th century, all the way through to John Harwood developing the first workable automatic winding movement in 1926, the Brits once led the world in horology innovations.
But that was a long time ago.
Failing to move with the times has since sent the U.K's watchmaking industry down the same path as their car making industry. There are now a small handful of independent manufacturers dotted around the country, including its tax haven islands offshore, producing watches in numbers that barely struggle into double figures each year, selling to die-hard enthusiasts for huge sums of money.
However, there is one exception.
Bremont
Founded in 2002 by brothers Nick and Giles English (yes, really), Bremont is about as quintessentially British as having tea with the queen or losing at football.
From their HQ in Oxfordshire's Henley-on-Thames (home of the Henley Royal Regatta—and things don't get much more English than that) the company produces the sort of watches that can compete with the very best any number of Swiss giants can offer.
The brothers' father Euan was a former Royal Air Force pilot who instilled in his sons an obsession for all things aviation. When he was tragically killed in a plane crash in 1995 while practicing for an air display, in an accident that left Nick with more than 30 broken bones, the boys decided to honor their father's memory by concentrating on his other great passion; mechanical watchmaking.
Positioning themselves as primarily a maker of pilot's watches, for obvious reasons, Nick and Giles set about slowly perfecting every element of the process—so much so that the first model to leave their assembly didn't emerge for five years.
In 2007, the initial collection arrived, the end result of the brothers' work with some of the best watchmaking experts in England and Switzerland. It was time well spent and, rather than simply fitting an off-the-shelf case with a new dial, as do the majority of startup watch brands, Bremont established their very own design language right from the outset.
That meant scouring the country for a supplier who could craft their style of three-piece case construction, while keeping the unique Bremont look; heavily-inspired by aeronautical engineering, with gorgeously flowing lugs that seem to melt into the bezel and an overall aesthetic like the leading edge of an aircraft's wing.
It was an arrival that struck a chord with pilots and horologists alike. The superb quality of the manufacture was evident in every line and there was enough aviation homage to appeal to even the most jaded squadron leader.
There was no resting on laurels for the Brothers English however, and the pair were determined to grow the brand by creating the toughest tool watches possible. They enlisted the help of ejector seat manufacturer Martin-Baker, whose labs subjected the Bremont models to 40-years worth of vibration testing in three days. Those cases, known as Trip-Tick (a play on words with triptych) were hand-finished in the same factory as the turbine blades of Rolls Royce aero engines.
Pretty soon, Bremont had matured from being a little-known cult favorite amongst collectors looking to stand out in a sea of GMT-Masters or Navitimers and gone on to scalp some seriously heavyweight names.
The dashboards of all new Jaguar cars are furnished with Bremont clocks, as are Norton motorcycles. Hollywood luminaries such as Tom Cruise, Orlando Bloom and Ewan McGregor are big fans, along with those two epitomes of British rock godlike-ness Ronnie Wood from The Rolling Stones and Roger Daltry of The Who. They have even made a bespoke chronograph pocket watch for The Duke of Edinburgh.
Multiple awards have followed and there are now three Bremont boutiques in London and one each in New York and Hong Kong.
Putting the 'Special' in 'Special Edition'
Bremont produces an estimated 10,000 watches a year; obviously a fraction of the output of the likes of Rolex or Patek, but a healthy number for a still young company.
Yet since the earliest days of the business, Nick and Giles have embarked on a series of projects that redefine what it means to make a limited edition watch, by including in their manufacture some incredibly rare ingredients.
It started in 2008 with the EP120, a dual time zone aviator containing parts of a 1942 Spitfire Mk V fighter. It is a similar story with the Bremont P-51, an elegant chronograph built with parts of a 1944 Mustang P-51K-10.
Not unique enough? The Codebreaker has components salvaged from the British stately home Bletchley Park, where Alan Turing broke the Enigma machine's coded Nazi transmissions during the war. The Bremont Victory has a middle barrel crafted from brass nails taken from Nelson's flagship at the Battle of Trafalgar, and the Wright Flyer (I am not making this up), contains a scrap of muslin from the wing of the world's very first airplane. Rather than mere vanity projects, a large portion of the proceeds from the sale of these extraordinary watches goes to charitable foundations connected to their respective subjects.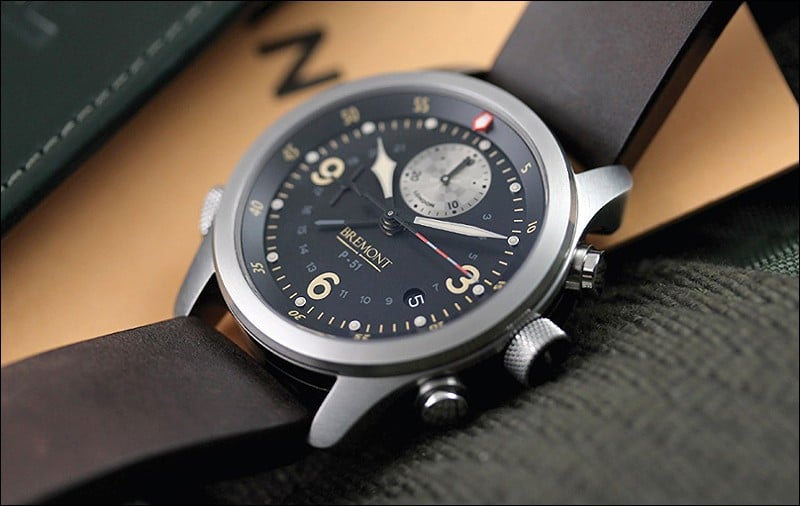 On top of that, Bremont also manufactures a range of models solely for military use, complete with the logos of their specific squadrons. And then there is the Bremont MBI, with its special red middle barrel, only available to pilots who have safely ejected from their aircraft in a Martin-Baker ejector seat.
So, What's With the Funny Name?
It may seem strange for an enterprise so keen to display its British credentials to have such a decidedly French name. But the story of how it came about is as good a representation of the company ethos as any.
A short time after the tragic death of their father, Nick and Giles were flying their 1930s German biplane across France when they were forced to make an emergency landing in a farmer's field. Rather than taking exception to two Englishmen using his crops as a runway, the farmer in question offered the boys a bed for the night and a barn to store their rough running plane.
As it turns out, the elderly Frenchman was himself an engineer as well as having been a pilot during the war, and he also shared a passion for horology. As Giles said, 'he was 78 and it was just as if our father had lived on 30 or so more years'.
Nick and Giles never forgot either his hospitality or his name; Antoine Bremont.
Nick and Giles on Bremont's Future
Launching a watch company into such an overcrowded marketplace is a ballsy move. Doing it with this sort of uncompromising focus on out and out quality is especially courageous. But the Bremont crew have gone about it in such a painstakingly methodical way that their reputation for producing exceptional products is growing all the time, and rightly so.
What started out as an aviation brand has since diversified into making dive watches as well as models aimed at sailing and motor racing.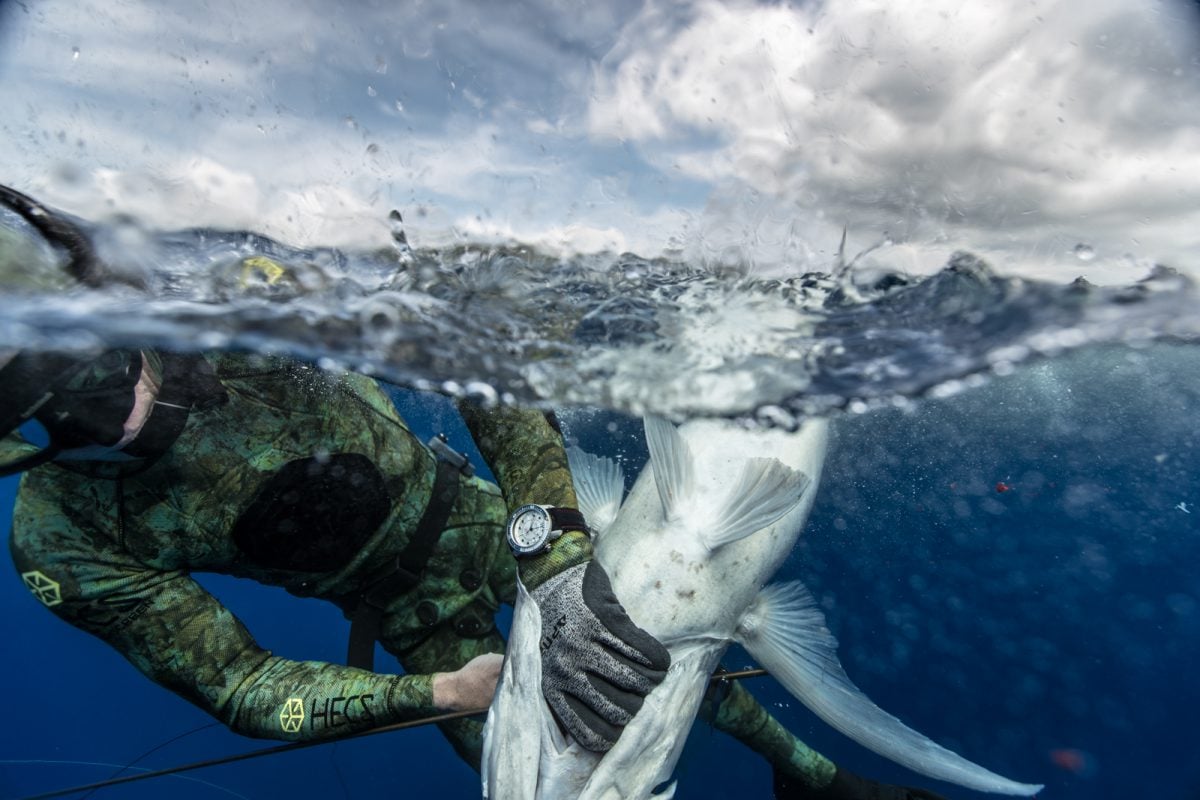 In each, the passion of the English brothers shines through and their relatively small numbers give them an exclusive cachet you don't get with many other brands.
Creative, characterful and stylish, Bremont are proud to be British.