It wasn't all that long ago that most Rolex watches generally fell into two main size categories: 36mm to 40mm for sports watches and 36mm or less for non-sport models. Things have certainly changed at Rolex since then; browse the brand's present catalog and you'll spot plenty of watches with larger-than-40mm cases.
The biggest Rolex case size you'll find right now is 44mm, which would have seemed implausible twenty years ago. However, as we've seen watches (in general) grow bigger and bigger, we've settled on the fact that the once "oversized" 44mm watch is now just a standard, large watch. And even Rolex joined the 44mm watch club with not one, but two collections: the Yacht-Master II and the Deepsea Sea-Dweller.
Some may balk at the idea of a 44mm watch, particularly one made by Rolex. However, that's the beauty of offering variety – there's something for everyone. Remember, Rolex currently makes watches that range from a petite 28mm to a generous 44mm and so much more in between. If the larger end of the case size spectrum piques your interest and you're curious about 44mm Rolex watches, then keep reading for all the details.
About 44mm Rolex Watches
There are only two Rolex watch models that currently sport 44mm cases: the Yacht-Master II and the Deepsea Sea-Dweller.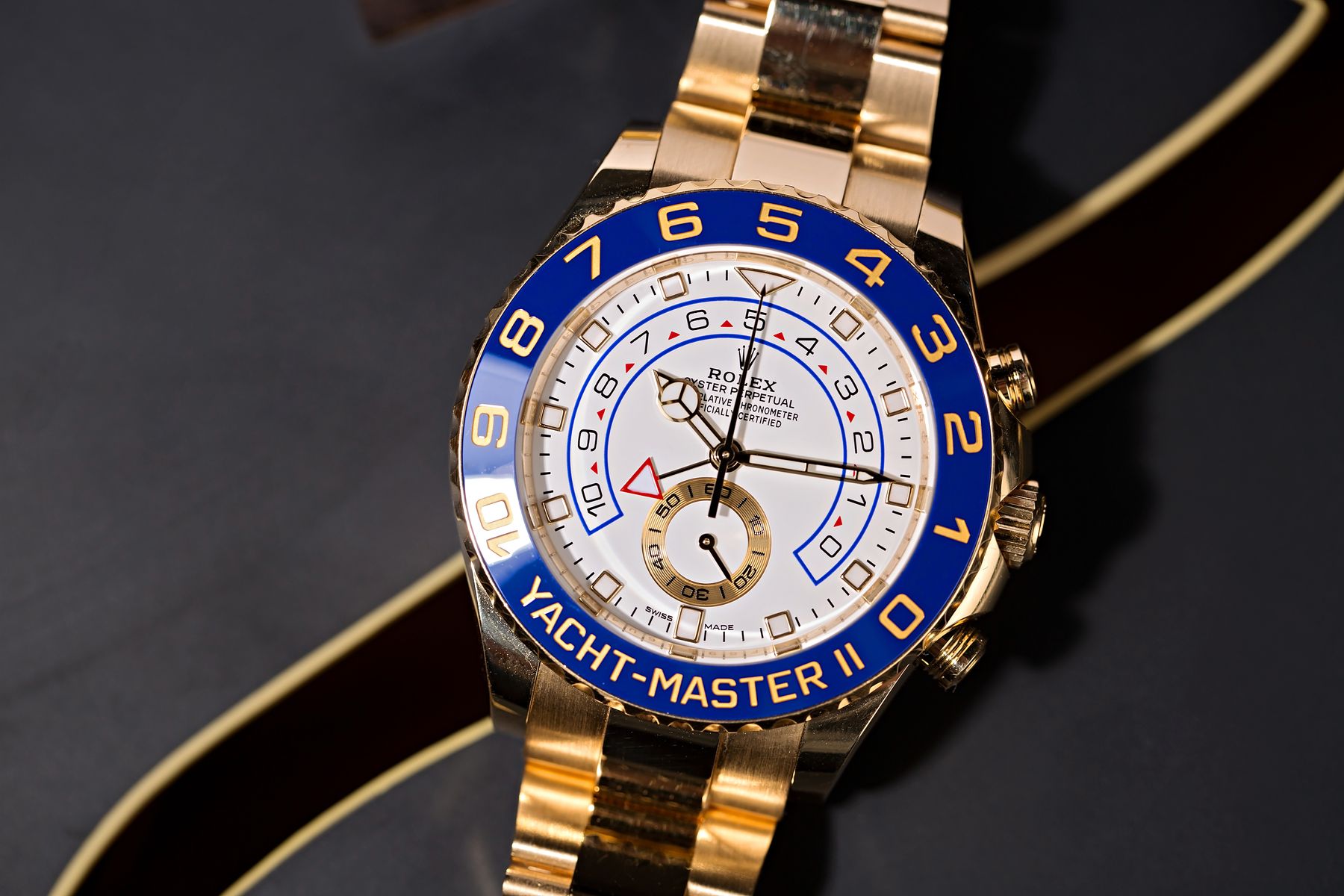 Rolex Yacht-Master II Quick Specs
Year of Introduction: 2007
References: 116689, 116688, 116681, 116680
Case Materials: White Gold, Yellow Gold, Everose Rolesor (Oystersteel/Everose Gold), or Oystersteel
Bezel: Bidirectional Rotating Ring Command Bezel; Blue Ceramic or Platinum
Dial: White
Bracelet: Oyster
Functions: Programmable Regatta chronograph Countdown (0-10 minutes) with Mechanical Memory and On-The-Fly Synchronization, Center Hours and Minutes, Small Seconds
Crystal: Sapphire (Flat)
Lume: Chromalight
Movement: Caliber 4160 or Caliber 4161 (Self-Winding)
Water-Resistance: 100 meters (330 feet)
Click here for our Ultimate Buying Guide on the Rolex Yacht-Master II.
Rolex Deepsea Sea-Dweller Quick Specs
Year of Introduction: 2008
References: 116660, 126660, 136660
Case Materials: Oystersteel
Bezel: Unidirectional Black Cerachrom, 60-Minute Graduations
Dial: Black or D-Blue
Bracelet: Oyster
Functions: Center Hours, Minutes, and Seconds, Date, 60-Minute Timing Bezel, Helium Escape Valve
Crystal: Sapphire (Domed)
Lume: Chromalight
Movement: Caliber 3135 or Caliber 3235 (Self-Winding)
Water-Resistance: 3,900 meters (12,800 feet)
Click here to learn more about the Rolex Deepsea Sea-Dweller.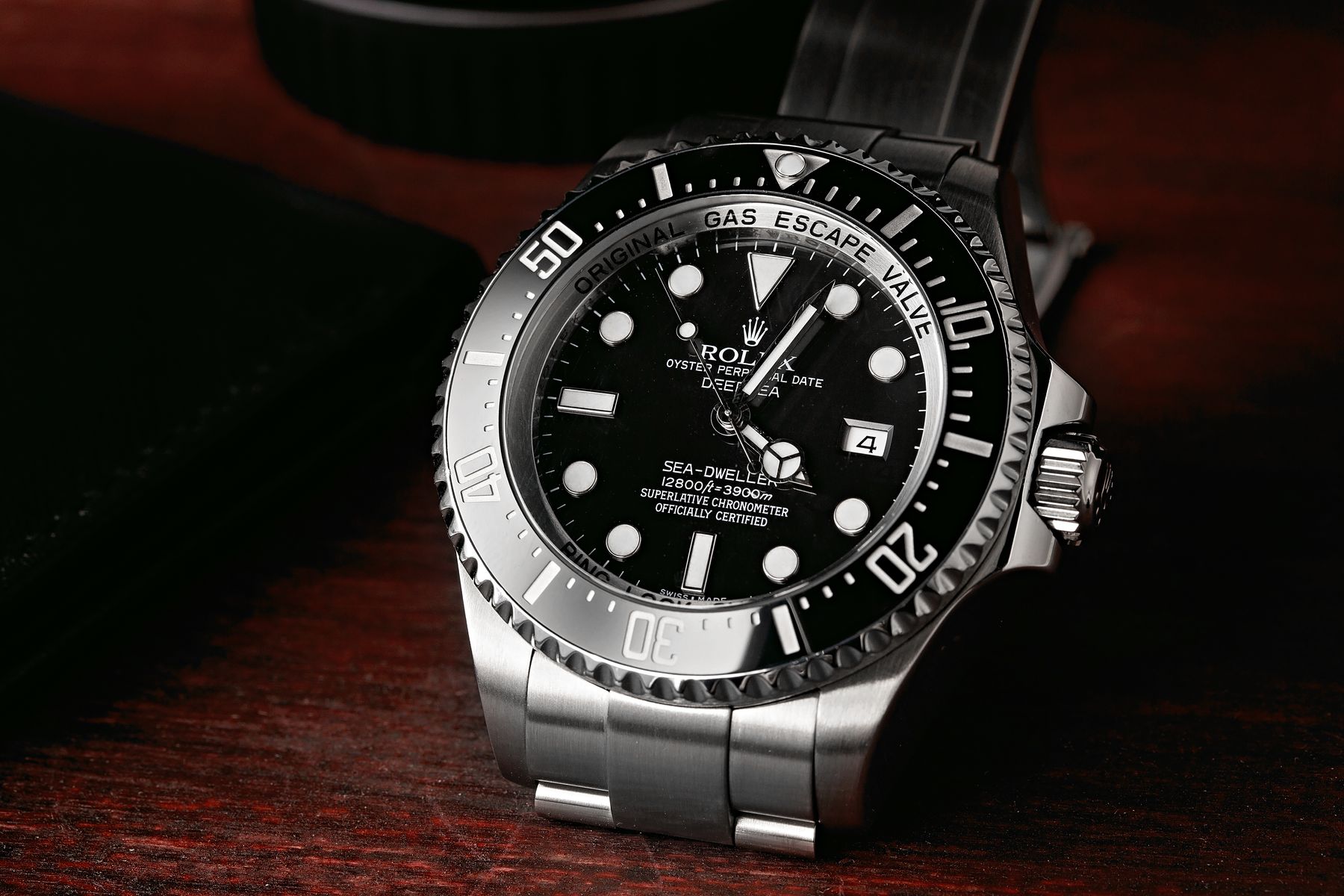 What is the Biggest Rolex Watch Size?
The largest case size Rolex currently offers is 44mm, which, as previously mentioned, is only found in the Yacht-Master II and Deepsea collections. This large case size is a relatively recent addition to Rolex's lineup, as it began with the 2007 release of the Yacht-Master II. Before that, the largest Rolex case size was 40mm; so the increase to 44mm was quite a jump!
Today, the next largest size after 44mm in Rolex's catalog is 43mm, which is exclusively found in the newest versions of the Sea-Dweller watches. Additionally, there are also 42mm Rolex watches in the form of the Sky-Dweller and Explorer II, while a number of other models such as the Submariner, Datejust, and Oyster Perpetual all have 41mm cases.
44mm Rolex Yacht-Master II
It's not often that Rolex introduces an entirely new watch model. But in 2007, Rolex did just that with the introduction of the oversized Yacht-Master II. While it shares an almost-identical name as the Yacht-Master (which was originally launched in 1992), the style and functionality of the Yacht-Master II couldn't be any more different.
The 44mm Yacht-Master II is not only big in terms of size but also in terms of its complication. Rolex developed the Yacht-Master II for competitive sailors; therefore the watch is equipped with a regatta chronograph, which allows the wearer to sync up with the official race start times to know exactly when to begin. Additionally, the countdown feature boasts a mechanical memory that's programmable from 1 to 10 minutes, and it can be synchronized on the fly. While this regatta-ready function is ultra-niche, to say the least, the cutting-edge mechanical capability of the Yacht-Master II (which is a world 'first") is impressive, nonetheless.
Rolex has made four references of the Yacht-Master II so far, each with 44mm cases, bidirectional rotating Ring Command bezels, and three-link Oyster bracelets.
Yacht-Master II ref. 116689: White gold case, platinum bezel (discontinued in 2022)
Yacht-Master II ref. 116688: Yellow gold case, blue Cerachrom bezel
Yacht-Master II ref. 116681: Everose gold and Oystersteel case, blue Cerachrom bezel
Yacht-Master II ref. 116680: Oystersteel case, blue Cerachrom bezel
It's also worth mentioning that those striking bezels emblazoned with "Yacht-Master II" on them aren't just decorative; they're Ring Command bezels that interact with the movement inside the watch. In short, the wearer turns the bezel to set the programmable countdown timer on the Yacht-Master II.
Rolex initially equipped early Yacht-Master II watches with the in-house Caliber 4160 automatic movement, but switched all models over to Caliber 4161 with the 2013 release of the steel Yacht-Master II. According to Rolex, the development of Caliber 4160/4161, which has 360 parts, took over 35,000 hours.
In 2017, Rolex gave all the Yacht-Master dials a refresh by replacing the original straight hands with the Mercedes hands that are customary to Rolex sports watches. The square lume-filled hour markers at 12 and 6 o'clock were also replaced by triangular and rectangular ones, respectively. Despite these dial updates, Rolex kept the same Yacht-Master II references.
44mm Rolex Deepsea Sea-Dweller
If onlookers thought that the 44mm case size was one-and-done with the Yacht-Master II, Rolex surprised us yet again with the introduction of the Deepsea the following year. Rolex was already the master of high-end divers with the Submariner and Sea-Dweller collections but the mega Deepsea saturation diving watch took things to a whole new level.
The Rolex Deepsea Sea-Dweller is rated to withstand the crushing pressures at 12,800 feet (3,900 meters) below sea level, and much of the capability has to do with the Ringlock architecture of its 44mm case. The Ringlock includes three main components: a titanium caseback secured with a steel screw-down ring, a 5.5mm thick domed sapphire crystal (with no Cyclops over the date), and a nitrogen-alloyed steel ring wedged between the caseback and the crystal. There's also a helium escape valve to release any built-up gasses in the watch, a unidirectional 0-60 timing bezel in black Cerachrom, and a robust Oyster bracelet with a Glidelock clasp extension system.
The first Deepsea Sea-Dweller watch included a customary black Rolex sports dial, complete with Mercedes hands and lume-filled plots for hour markers. However, Rolex introduced a special D-Blue dial variant in 2014, as a tribute to James Cameron's record-breaking dive deep into the Mariana Trench. Since then, Rolex has been offering both black and D-Blue dial versions of the Deepsea.
Rolex has made three Deepsea generations since the watch debuted in 2008, each with 44mm cases and all in 904L stainless steel:
Deepsea ref. 116660 (2008 – 2018): Caliber 3135
Deepsea ref. 126660 (2018 – 2022): Caliber 3235, redesigned lugs, and wider bracelet
Deepsea ref. 136660 (2022 – present): Caliber 3235, small updates, no more Fliplock extension
At Watches & Wonders 2022, Rolex unveiled a new Deepsea reference with subtle updates. However, as it's been said countless times before, Rolex is all about obsessing over tiny details. The new Deepsea Sea-Dweller ref. 136660 includes a slightly slimmer bezel, which means the sapphire crystal now has chamfered edges to accommodate the lower bezel height. Furthermore, the date window is a touch larger (8%) and Rolex has eliminated the additional Fliplock clasp extension.
Is 44mm Too Big for a Rolex Watch?
Generally conservative in its practices, Rolex has historically stuck to 40mm and below for most of its watches. However, the brand has been increasing case sizes across several models; the Submariner went up to 41mm, the Yacht-Master collection now includes a 42mm variant, the Sea-Dweller grew to 43mm, and even the understated Oyster Perpetual lineup has expanded to include a larger 41mm case option. Yet, 44mm is Rolex's biggest case dimension, which begs the question – is 44mm too big for a Rolex watch?
The simple answer is if it fits your wrist well, then no, it's not too big. Not everyone can pull off a 44mm watch, Rolex or otherwise, but there's no denying that they look truly fantastic on some wrists.
It's also important to keep in mind that on-paper measurements don't always tell the whole story. For instance, while the Yacht-Master II and the Deepsea both have 44mm cases, the Deepsea wears larger thanks to its thicker (17.7mm) profile.
In short, regardless of case size, it's always a good idea to try on a watch to see how it fits your particular wrist before deciding what's actually too small or too big. Sometimes on-paper case dimensions can be misleading, and nothing can quite offer the same experience as handling a watch in the metal and having the opportunity to try it on your wrist.