Sometimes reviewing new releases can be a walk in the park. But every so often, a new model comes along that forces you to really think about your reaction to it. The amount of time I've spent analyzing my feelings towards the HYT H0 Time is Precious watch is almost ironic given its name. That said, I do believe it is important to break down our initial reactions to challenging pieces, to better understand the watch itself, its context, and our own ever-evolving viewpoints on an industry whose job it is to keep us forever off balance.
Most of the time, luxury watch designs follow a certain pattern. There is a great deal of commonality between material choices. We read and write reams and reams of articles that seem to use the same words and terms over and over again. Then HYT pops up and ruins the formula. Ever since the brand's launch in 2012, the team behind these bonkers wrist sculptures has enjoyed messing with our heads and tugging at our heartstrings. And I for one can not get enough of it. Whether or not that means I am in love with the HYT H0 Time is Precious watch, however, is another matter entirely.
A Constant Fascination
I've been a HYT fanboy from day 1. I remember encountering the HYT H1 at SalonQP when I was still a wide-eyed watchmaker feeling my way around the industry. I'd never seen anything like it. At once it tapped into my love of mechanics, while simultaneously recalling the neon green plastic of my favorite Lego play-set from my youth. Somehow, this phosphorous green fluid, set against an industrial background of wheels and bellows, was able to make me feel like a fearless pioneer and a giddy little kid kid at the same time.
The H2, with its angled bellows and more dynamic dial, followed. I loved it. The H3 was cool although it never touched me in the same way. The skeltonized H4 was a return to glory, and the light-up Metropolis eventually won me over despite the presence of electricity 'shocking' me for a few weeks.
The Skull and its many variations was fun. It was about the maximum level of nonsense I was comfortable with. It was pushing it a bit, but the undeniable technical achievement of bending that glass capillary into such a creative shape, and then compensating for the pressure changes needed to push the fluids around the bends at the correct speed was stunning. But then they decided to blow the whole thing up.
The H0 was a new direction. Gone was the easily digestible watch case silhouette. In its place, a towering sapphire blob. Was it daring? Yes. Was it show-stopping? Absolutely. Was it for me? I'm still not entirely sure.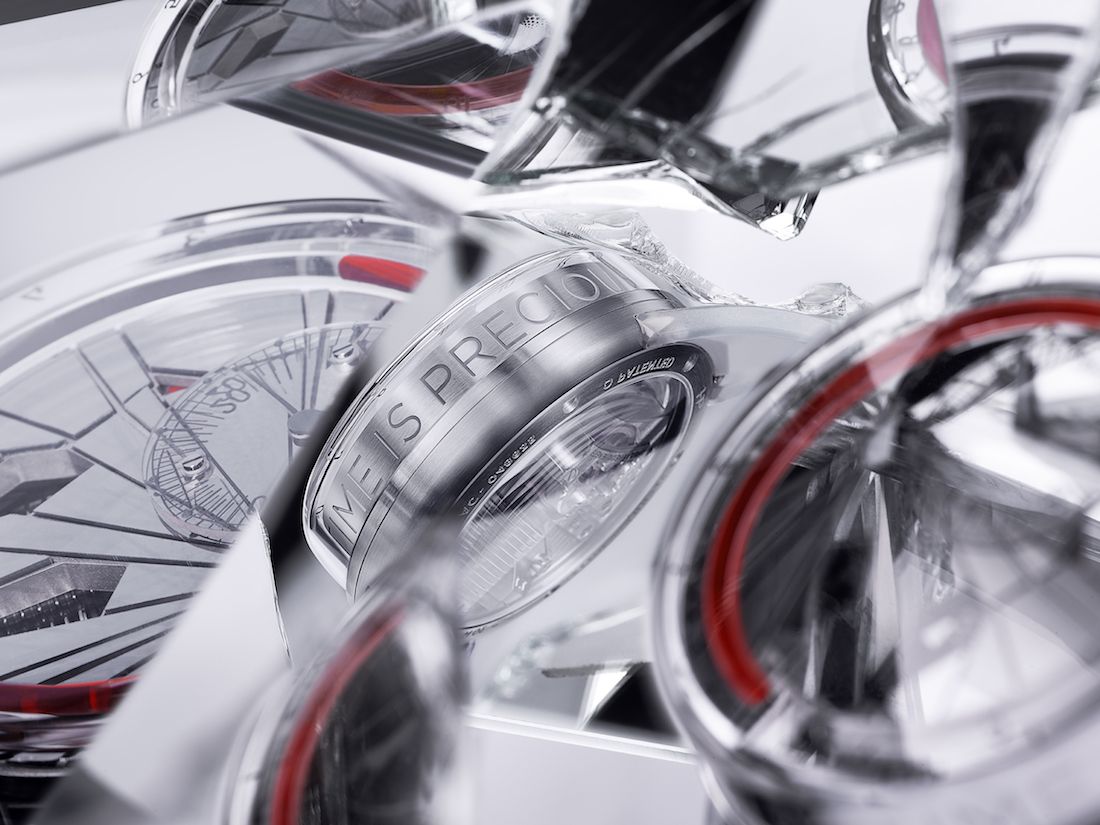 The Road to Acceptance
There is a process I go through when I encounter avant-garde designs for the first time. The worst possible reaction I can give is a shrug. Thinking something is 'fine' means it's boring. If someone has poured their heart, soul, and questionable sanity into pushing the boundaries of design, and the most impassioned response you can muster is, "Yeah, it's pretty nice," they have failed. You should either jump for joy or vomit on your sneakers. There's nothing wrong with that. Babies vomit and babies are cute. Supposedly…
A strong reaction is necessary for the formation of attachment. You may love the HYT H0, you may hate it. But as long as it makes you feel something, they've succeeded. They've got their claws into you. And to be honest, they've got their claws into me. Again.
The Watch Itself (Finally)
After that circuitous preamble, let's get down to the nitty gritty. The HYT H0 case is mostly domed sapphire crystal, with a blasted stainless steel base, and a DLC-coated stainless steel crown. The lugless case is comfortable despite the 48.8mm diameter, but it does stand up on the wrist, coming in at 18.7mm tall. With only 30m water resistance this is not a watch designed for any kind of activity, but that should come as no surprise.
The level of design – and I say design specifically rather than craftsmanship – of the dial is truly breathtaking. 63 subtly angled facets catch and throw light in an endless dance, instigated by the simple movement of the wearer's wrist. The shard-shaped facets are cut using a laser.
Center stage is most certainly given to HYT's unique time-telling mechanism. So often overused in our industry, the word unique really does apply here thanks to the technology being developed by HYT's 'in-house sister company' Preciflex.
The concept is quite simple: The two bellows, positioned at six o'clock are filled with fluid. The one on the left is full of colored fluid (in this case red), while the one on the right is (always) full of clear fluid. The two fluids flow through the same glass capillary. The point at which they meet is intercepted by a thin meniscus, invisible to the naked eye. The division between color and clear indicates the passage of time in the same way an hour hand normally would. The minutes are read by way of a sub-dial at 12 o'clock, and the seconds can be seen through one of four apertures on the dial.
The other elements visible through these asymmetric dial windows are the twin bellows, and the power reserve indicator, changing shade as the 65-hour reserve runs down.
Conclusion
Striking, stunningly engineered, and thoroughly bonkers, the HYT H0 Time is Precious is not a watch for the faint-hearted. Nor is it a watch with much practical application. Summarily, it is a work of art. As is the norm for HYT's wares is a limited item, with just 50 being produced. The limitation alone makes this watch very exclusive, but the $49,000 price tag takes it to a whole other level.
At the risk of sounding like I'm making excuses for the stratospheric price, it is a step in the right direction, and notably less than previous special editions that hailed from the older HYT families. Still far beyond the reach of mere mortals, but a wonderful work of horological art, and something to fawn over amongst fellow fans.