The life of the Rolex Daytona, currently the hottest ticket on the vintage watch market and the world's favorite chronograph, has gone through three separate generations (so far) that are largely defined by their internal movements. The first series started in 1963 and remained in production all the way up until 1988, relying on manually-wound, Valjoux-based movements. The modern models, first launched in 2000, are fitted with Rolex's own in-house Cal. 4130 movement, just like the current-production models that the brand sells today.
In between, there was a 12-year span where Rolex's legendary racing watch was powered by another third-party mechanism – arguably the first automatic chronograph engine ever made, the Zenith El Primero – and it is within this second generation that we see the Patrizzi Dial Daytona watches.
Rolex Daytona 16520 – Patrizzi Dial
Patrizzi Dial Daytona 16520 Key Features:
Reference Number: 16520
Production Years: 1988 – 2000 (Patrizzi Dials on Select Years Only)
Case Size: 40mm
Materials: Stainless Steel
Functions: Time w/ Running Seconds, 12-Hour Chronograph, Tachymeter Bezel
Bezel: Fixed, Stainless Steel w/ Engraved Tachymeter Scale
Dial: Black w/ Luminous Hour Markers
Luminous Material: Tritium
Crystal: Sapphire (Flat)
Movement: Rolex Caliber 4030 (Self-Winding, Zenith-Based)
Water Resistance: 100 Meters / 330 Feet
Strap/Bracelet: Oyster Bracelet (Stainless Steel)
Approx. Price: $23,000 – $100,000+ (Pre-Owned)
Click here for our Ultimate Buying Guide on the Rolex Daytona.
About Zenith Daytona Watches
It was the first of the Zenith Daytona watches, as they became unofficially known, that first introduced the overall design template that still defines the Rolex Daytona collection today. In addition to now being powered by a self-winding chronograph movement that was based on the Zenith El Primero (although its design was highly modified by Rolex), the new generation of Daytona watches also brought about an increase in case size to 40mm, the introduction of crown-guards, and also the switch from acrylic to sapphire crystals.
At a glance, these Rolex 'Zenith' Daytona watches look very similar to the modern models that are powered by Rolex's own in-house movement. However, there are a number of details that make this first generation of self-winding Daytona models unique, and the variations among them make these Zenith Daytona watches popular targets for Rolex collectors.
Patrizzi Dial Daytona 'Mistakes'
Among those original Zenith models, the all-steel ref. 16520 came with the option of either a black or white dial and, as is standard practice at Rolex, several elements of each were tweaked minutely throughout the watch's life. In total, there are five distinct "Marks" of the Zenith Daytona's dial, but among the most valuable today are the black Mark IV versions, prices of which can reach up to twice what you would pay for a similar white dial model.
Even more strangely, the huge gulf in value is all down to a rare and quickly corrected mistake. The black ref. 16520's made between 1994 and 1995 used an organic varnish, called Zapon, to protect the Daytona's face. Unrecognized at the time, the lacquer did not provide sufficient coverage and, over the years, the silver outer tracks on the iconic sub dials have oxidized, turning a definite brown color as they react with UV rays. Even more importantly to collectors, the changes do not stabilize and continue to take effect the older the watch gets. It means every one of the so-called Patrizzi dials is unique, and in the world of classic Rolex, unique often equals expensive.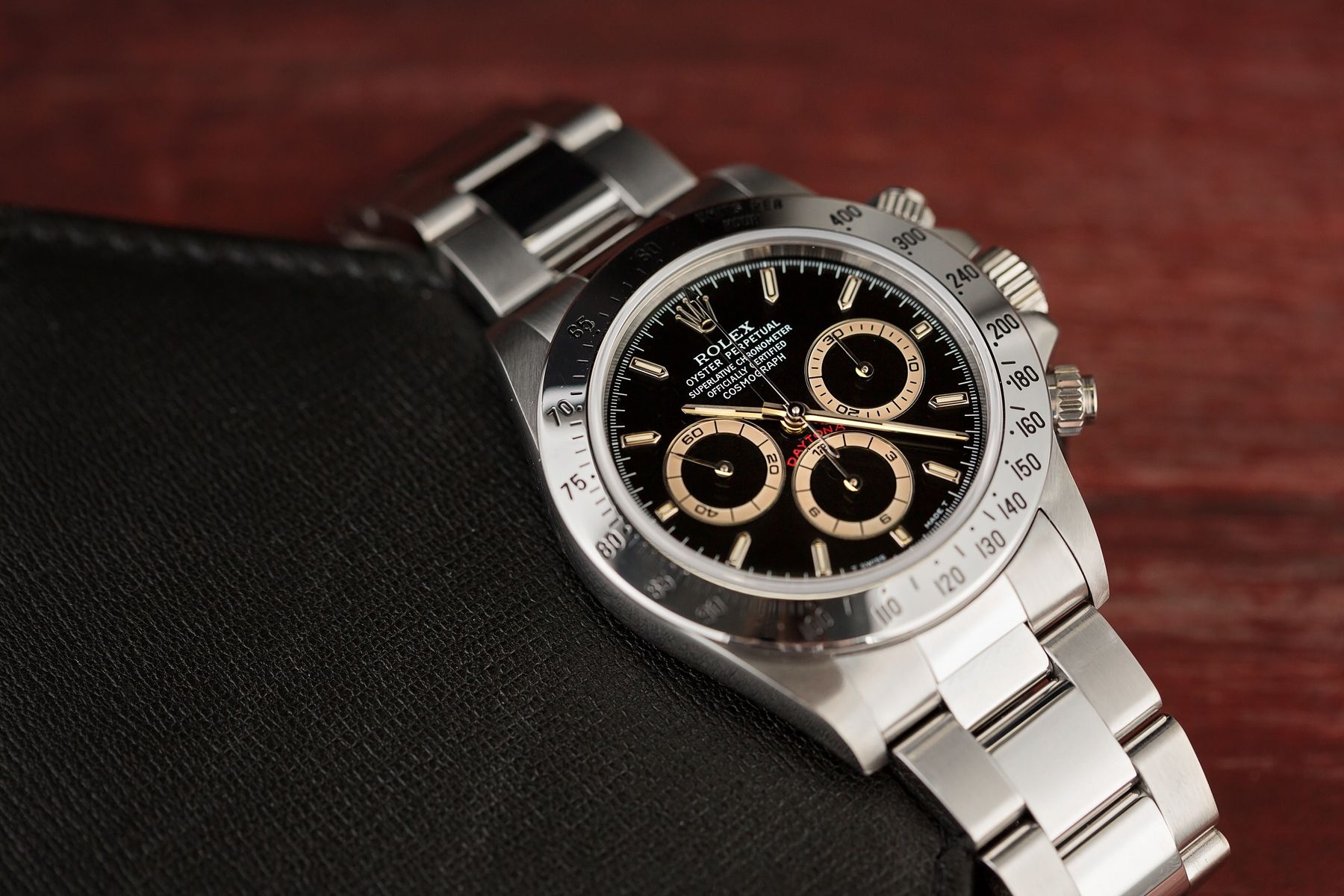 Why 'Patrizzi'?
The dials got their name from the first man to recognize the color changing phenomenon, Osvaldo Patrizzi. Originally a watchmaker and restorer, Patrizzi founded Antiquorum in 1974, now one of the premier auction houses specializing in fine timepieces.
In 2006, when Osvaldo Patrizzi decided to sell off his Rolex collection, he had one of the mid-nineties Daytona models among the haul, and it was then that he discovered the discoloration effect. The anomaly was not only an attractive feature on an already highly sought after watch, it also gave each individual piece its own character. Instantly attracting the attention of hardcore collectors, that first example of a Patrizzi dial sold for double its initial estimate, and these unique Patrizzi dials have ever since been valued by the vintage Rolex community.
Other Color Changing Rolex Daytona Dials
Although the fault was corrected as swiftly as possible by Rolex HQ, it was not the last time a paint defect would disturb the Daytona's output. The third generation model, the Daytona ref. 116520 launched in 2000 with Rolex's own Cal. 4130, also ran into problems, although this time it was the white dials that were affected.
Much like the ref. 16550 Explorer II from the 1980s, those models of the new Daytona produced in the first two years saw their once bright white dials fade to a rich cream color. With every enthusiast and aficionado forever clamoring to own the most exclusive, one-of-a-kind piece, prices for these rare errors also consistently outstrip the standard watch. With that in mind, these color-change dials should not be confused with Patrizzi dials from the Zenith-powered second generation, although both are worth a premium to Rolex collectors.
Zenith Daytona Vs. Rolex Daytona
Spotting the external differences between the Zenith-driven Daytona and the in-house Rolex successor takes an eagle eye. Look hard and you might notice the trio of sub-dials are a fraction higher now, and two of them, the standard running seconds indicator and the 12-hour counters, have swapped positions.
Other than that, there was obviously no sense in disrupting a winning aesthetic formula. The big difference between the pair is on the inside. Although Zenith's El Primero caliber was, and still is, a formidable performer, one made even better by its extensive reworking by Rolex's engineers, the brand's own Cal. 4130 is arguably one of the best chronograph movements ever made. Containing just 201 separate parts, 60% fewer than the Zenith, it is a stripped back, barebones mechanism designed to be as efficient, accurate, and easily regulated as possible.
It was the first of Rolex's calibers to house a Parachrom hairspring, made from a niobium and zirconium alloy that is resistant to variations in temperature and has up to 10 times the shock absorption of previous systems. In 2005, it was given a thicker oxide coating to protect its surface, causing it to change color when it reacts with the air, renaming it the blue Parachrom hairspring. The two modules that controlled the minute and hour counters in the El Primero were combined into one unit, freeing up enough space for a larger mainspring and raising the power reserve from 50 to 72 hours.
Most importantly, it brought a vertical clutch in to replace the horizontal one used in just about every other mechanical chronograph movement. Not only does it mean the stopwatch functions can be run for longer without affecting the accuracy of the main timekeeping, it also eliminates 'backlash', the tendency for the sub dial's hands to judder when activated as the gears fight for purchase. With all of that in mind, these in-house Rolex chronograph movements are exclusively found on members of the third generation of the watch, so if you are interested in a Patrizzi Dial Rolex Daytona, you are going to need to opt for an example from the older Zenith-powered generation.
Which Rolex Daytona to Choose?
Because of their inherent rarity, it is the Zenith Daytonas, with or without a Patrizzi dial, that are currently representing a better bet for collectors than the very latest models. If having all of Rolex's latest and greatest technologies is a priority for you, then you may want to choose one of the modern examples that is powered by Rolex's own in-house movement. However, if collectability and a one-of-a-kind appearance are your goals, a Zenith Daytona with a Patrizzi dial is hard to beat.
If you do manage to get your hands on a Patrizzi dial Daytona, it represents one of the most rock solid investments from the collection, outside of the vintage manually-wound models. A beloved watch, with a relative mere handful of examples displaying the unique flaw, its stock is only going to keep on rising. If you get the chance, you could do a lot worse than securing yourself one sooner rather than later.