In 2014, Parmigiani Fleurier introduced the Tonda Metrographe chronograph collection. Those who are familiar with this high-end niche watchmaking house will know that Parmigiani Fleurier is best known for impressive watch complications and expensive avant-garde timepieces.
However, the stainless steel models and lower price points of the Tonda Metrographe lineup was a clear indication that the brand was reaching out to a younger (and perhaps more price-sensitive) audience. In 2016, Parmigiani Fleurier updated the collection with new models featuring a redesigned dial, in addition to the option of a rose gold edition. Read on for our comprehensive review of the Parmigiani Tonda Metrographe chronograph watch collection.
Parmigiani Fleurier Tonda Metrograph
Key Features:
– 40mm case diameter
– Stainless steel and Grade 5 titanium construction
– Chronograph functionality – Date display
– Automatic Cal. PF315 movement
Click here to learn more about the history of Parmigiani Fleurier.

Brief History of Parmigiani Fleurier
Parmigiani Fleurier was founded in 1996 by master watch restorer and maker, Michel Parmigiani and towards the end of the decade, the brand presented its first few models. In the early-2000s, Parmigiani Fleurier began acquiring a slew of companies that specialized in manufacturing various watch components such as movement gears, cases, and dials. As a result, Parmigiani Fleurier now benefits from a vertical integration structure whereby almost all of its watch components are made in-house. In a little over two decades, Parmigiani Fleurier has introduced over 30 in-house movements and numerous world-firsts.
The three main watch models of the Parmigiani Fleurier lineup include the tonneau-shaped Kalpa, the round Toric with its knurled stepped bezels, and the Tonda with dramatically downward sloping lugs. These Parmigiani watch models are available in a wide assortment of iterations, ranging from simpler three-handers to sporty chronographs to high-complication editions with perpetual calendars, tourbillons, and even minute repeaters.
The Tonda takes its name from the Italian word for "round" and it is one of Parmigiani's most diverse and popular collections. While the vintage-inspired Tonda 1950 watches are an exercise in restraint and simplicity, the Tonda Metrographe is notably bolder in design, with several idiosyncratic design details that set it apart from other luxury chronographs.
First Generation Parmigiani Fleurier Tonda Metrographe
When Parmigiani launched the Tonda Metrographe chronograph in 2014, the watch was positioned as the brand's entry-level chronograph – built and priced to appeal to a younger crowd.
In terms of design, the Tonda Metrographe chronographs sport 40 mm stainless steel cases. The cases are 12.2 mm thick – a respectable width for an automatic chronograph with a modular movement (more on that later). Interestingly, the Tonda Metrographe does not include a large and marked bezel as so many other high-end chronograph watches do. Instead, it features a slim steel bezel and a standard minute/seconds track around the periphery of the dial. There are no tachymeter, pulsometer, or telemeter scales on the first generation of the Parmigiani Fleurier Tonda Metrographe.
The dial of the Tonda Metrographe, which is available in a few different colors, is home to the usual chronograph subsidiary dials: minute counter, hour counter, and running seconds indicator. Yet, in true Parmigiani Fleurier fashion, the layout itself is far from traditional. For instance, the minute and hour counters are outlined together, forming a distinct "8" shape. Some dial executions within the collection even use luminous material for the outline, further emphasizing the number eight silhouette.
There's also the oversized date window tucked into the 12-hour register at 6 o'clock. Yet again, in place of a conventional single-numeral-showing date window, Parmigiani opted for something a little different. The expanded date window displays three dates – yesterday, today, and tomorrow – where the odd digits are marked in Arabic numerals while the even digits are represented by dots.
For this chronograph, Parmigiani Fleurier opted for delta style center hands and large tapered baton indices. Depending on the edition, the Tonda Metrographe is offered with either a stainless steel and titanium bracelet or a Hermès (yes, that Hermès) leather strap. The use of titanium center links on the metal bracelets makes the watch notably lighter to wear, despite its bold appearance.
The heavily stylized lugs of the Tonda Metrographe are a distinguishing feature of the watch. Not only are they oversized and dramatically curved, but if you look at the side of the case with the chronograph pushers, you'll also see that the pushers are actually placed inside the lugs. Along with offering an intriguing design touch, this approach was probably done to offset the fact that the winding crown is positioned lower than the chronograph pushers – a telltale sign of a module movement.
Model: Tonda Metrographe PFC274
Case Size: 40MM
Water-Resistance: 30 Meters/ 100 feet
Movement: PF315 Automatic Chronograph With Côtes de Genève Finishing
Power Reserve: Around 42 hours
Material: Stainless Steel or Rose Gold
Crystal: Sapphire Crystal (Scratch-Resistant) On Dial-Side And Case Back
Dial: 30-Minute Chronograph Counter, 12-Hour Chronograph Counter, Running Seconds, Date Window
Bezel: Smooth
Band: Stainless Steel & Titanium Bracelet or Leather Strap
Tonda Metrographe Movement: Caliber PF315
If you turn the Tonda Metrographe around, you will see the Caliber PF315 through the sapphire exhibition caseback. Caliber PF315 is not entirely in-house made, which helps to keep the price point down. The self-winding caliber is a combination of an in-house Parmigiani base movement (Caliber PF331) fitted with a Dubois-Depraz chronograph module. Adding a Dubois-Depraz chronograph module to a base movement is quite common in the Swiss watch industry. For instance, top-notch watch brands such as Omega, Breitling, Audemars Piguet, and even Richard Mille have used this technique in some of their various watches
Caliber PF315 operates at a frequency of 28,800 beats per hour and has a power reserve rating of 42 hours. As it would be expected from Parmigiani Fleurier – even for entry-level models – the automatic movement is beautifully decorated and expertly finished, complete with hand-shaped bridges and "Côtes de Genève" stripes.
Movement: Parmigiani Fleurier PF315
Type: Self-winding mechanical movement
Functions: Hours, minutes, Small second, Date, Chronograph
Size: 28.0 mm diameter; 6.1 mm thickness
Frequency: 28,800 Beats Per Hour, 4 Hz
Power Reserve: 42 hours
Components: 351
Jewels: 46
Decoration: Côtes de Genève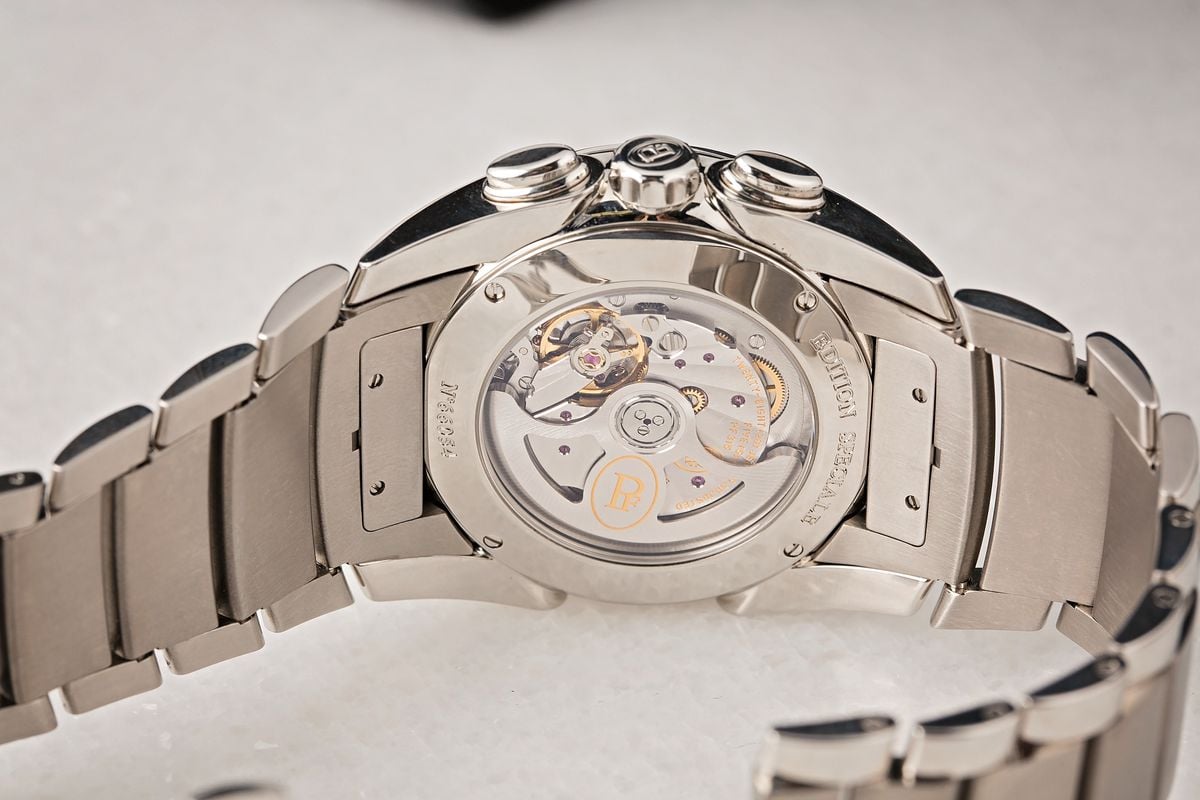 Second Generation Tonda Metrographe, What Changed?
In 2016, Parmigiani unveiled numerous revamped models to the Tonda Metrographe lineup with a handful of redesigned details. For instance, while the case retains the 40mm diameter and distinctive drop-shaped lugs, its profile is a tad slimmer, now measuring 11.7mm thick.
The biggest changes to the updated Tonda Metrographe are found on the dial. First of all, Parmigiani added a tachymeter scale around the periphery of the dial, giving the chronograph a sportier touch over the original dressier one.
Secondly, the new-generation Tonda Metrographe now has more restrained subdials, which are not only smaller in size but the borders of the "eight" are no longer coated in generous lume. Instead, the 8-shaped silhouette is subtly outlined with slighted elevated borders.
However, since Parmigiani is always looking to add a unique twist to its watches, there is still the unorthodox running seconds counter at 3 o'clock. It includes a double-sided hand to and two 30-second tracks – a feature that debuted on the Parmigiani Fleurier Tonda Chronor Anniversaire in 2016.
Another dial change is the repositioning of the date window to sit under 12 o'clock rather than integrated into the subdial at 6 o'clock. Finally, although the hour markers maintain the original tapered shape, they are significantly smaller on the newer Tonda Metrographes.
Along with the stainless steel models, Parmigiani Fleurier now also makes an 18k rose gold variant with a blue dial and blue leather strap. This edition marks the first time that Parmigiani has offered a precious metal version of the Tonda Metrographe.
Updates to the Newer Tonda Metrographe
– Slightly slimmer case
– Addition of the tachymeter scale to the dial
– Resized subdials without luminous outlines
– Redesigned running seconds indicator
– Smaller hour markers
– Date window moved to beneath 12 o'clock
– Options of a rose gold model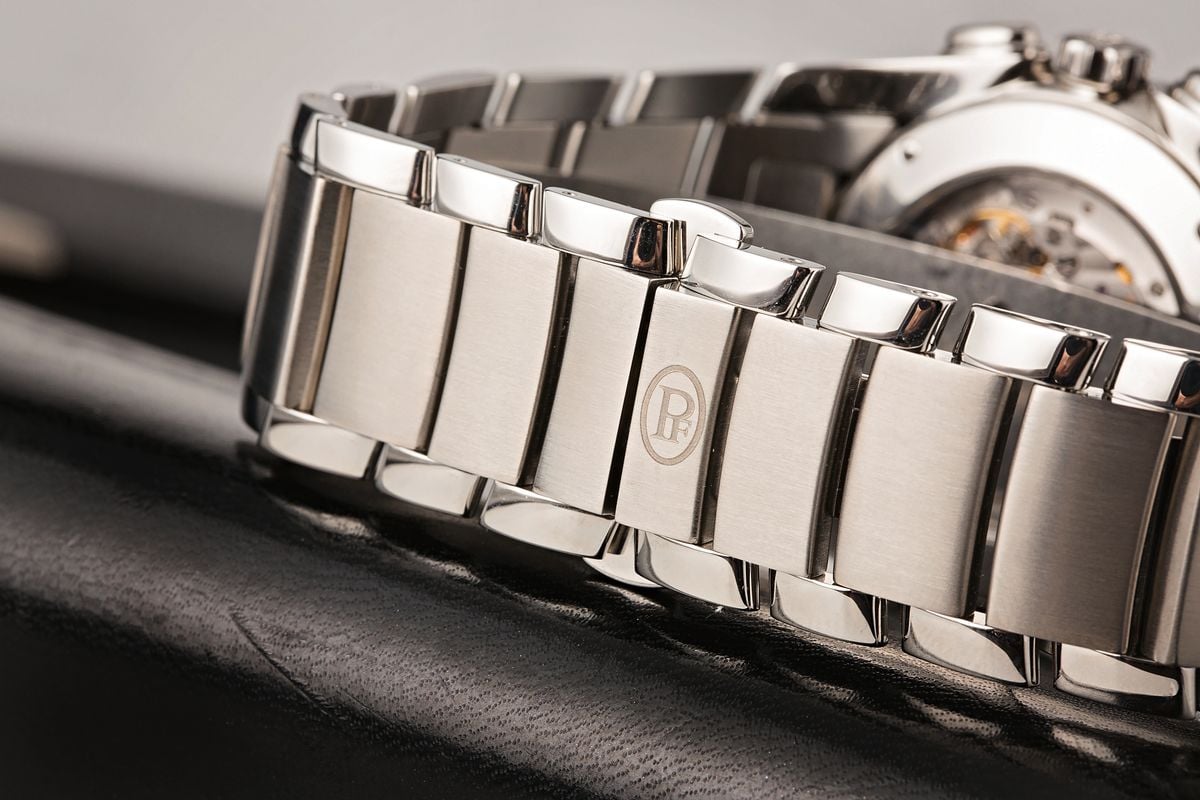 Tonda Metrographe Prices
As a watchmaker that is most famous for making high-complication watches and top-tier avant-garde timepieces for a niche audience, it's not uncommon to find Parmigiani Fleurier watches priced in the six-figure range. On the other hand, the Tonda Metrographe is an often-overlooked, budget-friendly alternative.
Compared to other mechanical models within the Parmigiani Fleurier lineup, the Tonda Metrographe is relatively accessibly priced. Retail prices for a Tonda Metrographe start at $11,900 for a steel model with a leather strap and $12,500 for a steel model with a metal bracelet. The most expensive Tonda Metrographe is (of course) the new rose gold model, with a manufacturer suggested retail price (MSRP) of $29,500. While these aren't cheap prices, the Tonda Metrographe models are the most affordable chronographs from the independent luxury watchmaker.
Tonda Metrographe Price Chart
| | | |
| --- | --- | --- |
| Reference | Materials | Retail Price |
| PFC274-0002400-HE604 (1st Generation) | Steel Case + Leather Strap | $11,900 |
| PFC274-0001401-B3300 (1st Generation) | Steel Case + Steel & Titanium Bracelet | $12,500 |
| PFC274-0002500-XC144 (2nd Generation) | Steel Case + Leather Strap | $11,900 |
| PFC274-0002500-B3300 (2nd Generation) | Steel Case + Steel & Titanium Bracelet | $12,500 |
| PFC274-1002500-HA324 (2nd Generation) | Rose Gold Case + Leather Strap | $29,500 |
The good news is that pre-owned Tonda Metrographe models can be significantly discounted in the secondary market. For instance, a used Tonda Metrographe with a stainless steel case and steel and Grade 5 titanium bracelet starts at $5,495, and leather strap options can even be a few hundred dollars cheaper. While this is still not expensive, this is a remarkably good deal for a high-end mechanical chronograph made by one of the most well-respected independent Swiss watch manufacturers today.
The Atypical Chronograph
With its quirky lugs and unconventional dial, the Parmigiani Fleurier Tonda Metrographe is certainly not a chronograph designed to suit everyone's taste. But that's the point of the Parmigiani Fleurier approach – to make high-end watches for those who appreciate atypical designs executed to the highest watchmaking standards.
In an industry packed to the brim with countless heritage-inspired pieces and derivative designs, a watch like the Parmigiani Fleurier Tonda Metrographe is a refreshing alternative and one with a design that is intentionally divisive. Whether or not a person is a fan of the Tonda Metrographe's design is almost secondary to the fact that regardless of their opinion, the design of this watch elicits a reaction and makes a person feel something. Be it the dressier original version or the newer sportier execution, the Parmigiani Fleurier Tonda Metrographe is ideal for watch enthusiasts looking for a chronograph that is decidedly different from more conventional designs.