Movie stars and celebrities have access to some of the world's most exclusive and luxurious watches on the planet. In this list, we're showcasing the glitzy, glamorous, and downright fantastic timepieces that famous actors wear in their personal lives – from red carpet events to everyday antics dodging the paparazzi. We'll also reveal the surprise watch connoisseurs hiding out in the Hollywood hills, the actors who have designed their own luxury watches, and the most lucrative brand ambassador positions. Excited for this industry insider look?
Kevin Hart – Rolex President
KEY FEATURES:
Solid gold or platinum construction
Automatic movement
Day and date displays
Screw-down winding crown
Sapphire crystal
Rolex President bracelet
Click here to learn more about the nicknames and defining elements of the Rolex President.

You could say that he has a collection after our own 'Hart.' Actor, comedian, writer, and producer Kevin Hart may be well known for his work on screen, but watch enthusiasts also love this celebrity for his extensive (and expensive) watch collection. Hart is often seen wearing popular Audemars Piguet or Patek Philippe models, but he clearly has a soft spot for Rolex. His Rolex President collection alone is incredibly extensive, one of the most famous being the yellow gold model with a fluted bezel and champagne dial he wore in the What Now movie trailer. But, we've also seen him wearing a Day-Date with a full diamond bezel, diamond hour markers, and a tri-color Masterpiece bracelet.
Jay Z – Patek Philippe Worldtime
KEY FEATURES:
38.5mm case diameter
18k white gold construction
Worldtime functionality
Day/night indicator
Micro-rotor movement
Sapphire crystal
Click here to learn more about the Patek Philippe World Time.

The world-famous music and business mogul isn't just a watch collector, he's an incredibly well-respected watch connoisseur. What we would do to get a tour of his watch boxes! Over the years, Jay Z has been seen wearing everything from gold Rolex Presidents to contemporary and complicated Richard Mille reference, and even an incredibly exclusive $2.2 Million Patek Philippe Grandmaster Chime 6300G with a reversible case. Alongside a number of excellent watches such as his Patek Philippe Worldtime, Mr. Carter has even designed his own collection for Hublot. How many watch lovers can say such a thing? Famously, Jay Z once even sent party invites to his friends in the form of solid gold Rolex Daytona watches. Yes, you read that right. And as if Jay Z wearing these watches wasn't enough good PR, you'll also often hear the rapper drop his favorite watch brands into his songs.
Daniel Craig – Omega Bond Seamaster Diver 300M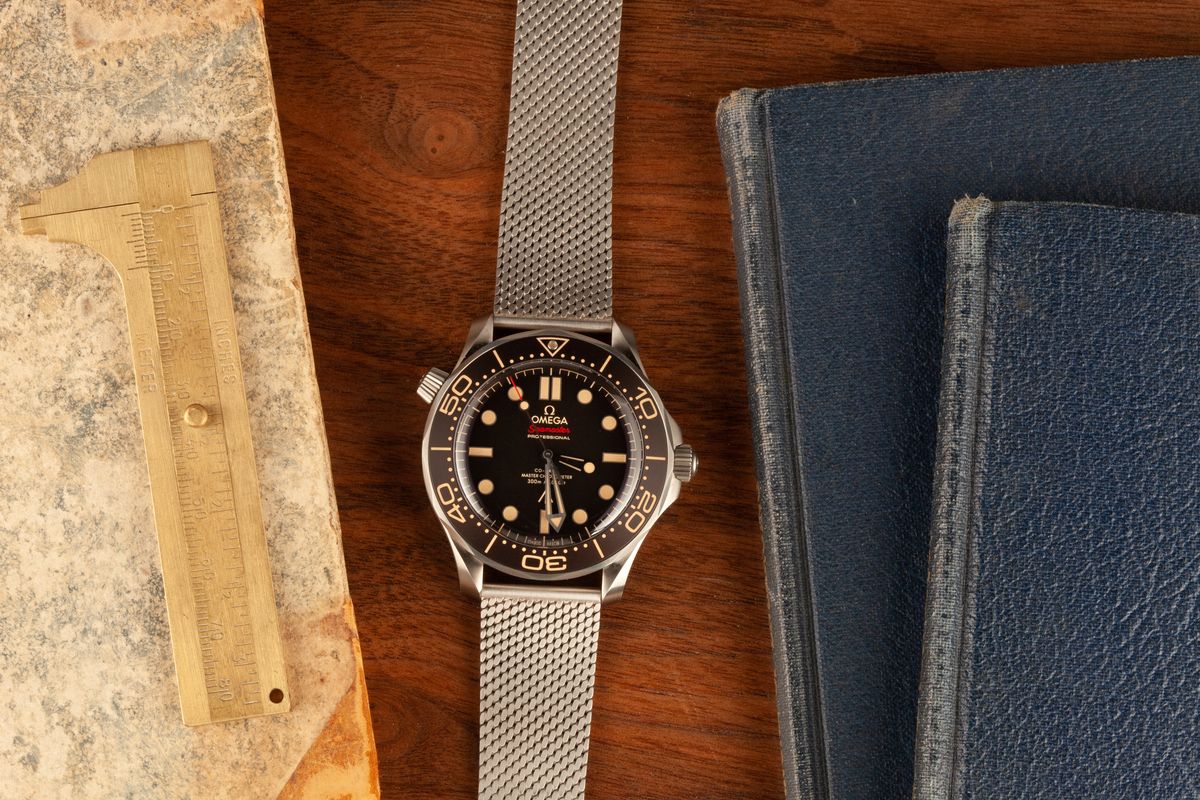 KEY FEATURES:
42mm case diameter
Titanium construction
Automatic movement
Rotating timing bezel
Helium escape valve
Sapphire crystal
Click here to learn more about the James Bond Omega Seamaster.

As James Bond, Daniel Craig has famously sported Omega, strapping on everything from a Seamaster Diver 300M Co-Axial to an Aqua Terra. However, there are also watches from other brands that we've spotted the British actor wearing over the years. Like 007, Craig is a serious watch fan and wears a number of different Omega models, such as the Seamaster 300 or a black dial Planet Ocean, both on and off-screen. When off the set, Daniel Craig often wears Rolex watches, like his Rolex GMT-Master II with a 'Pepsi' Bezel and his Milgauss 116400GV, which features a green-tinted sapphire crystal.
Tom Hanks – Rolex Milgauss
KEY FEATURES:

Tom Hanks isn't just Hollywood royalty, he's a cultural icon. The man has been entertaining us for the past 40 years, and it probably goes without saying that he could probably get his hands on any watch, or even any watch partnership deal that he wanted. But, it says a lot that Hanks mostly wears one brand — Rolex. Sure, he owns an Omega Speedmaster, which he started wearing after playing NASA astronaut Jim Lovell in the Apollo 13 film. However, more often than not, we'll see Hanks sporting a Rolex Sea-Dweller, Explorer, or Milgauss. The Rolex Milguass is a bit of a cult classic, and while you don't often see many people wearing it, there are a number of celebrities and other members of the Hollywood crowd who love it for its unique aesthetic. But, we have a feeling the splash of color and antimagnetic capabilities are what make it special for Hanks.
Mark Wahlberg – Rolex Yacht-Master II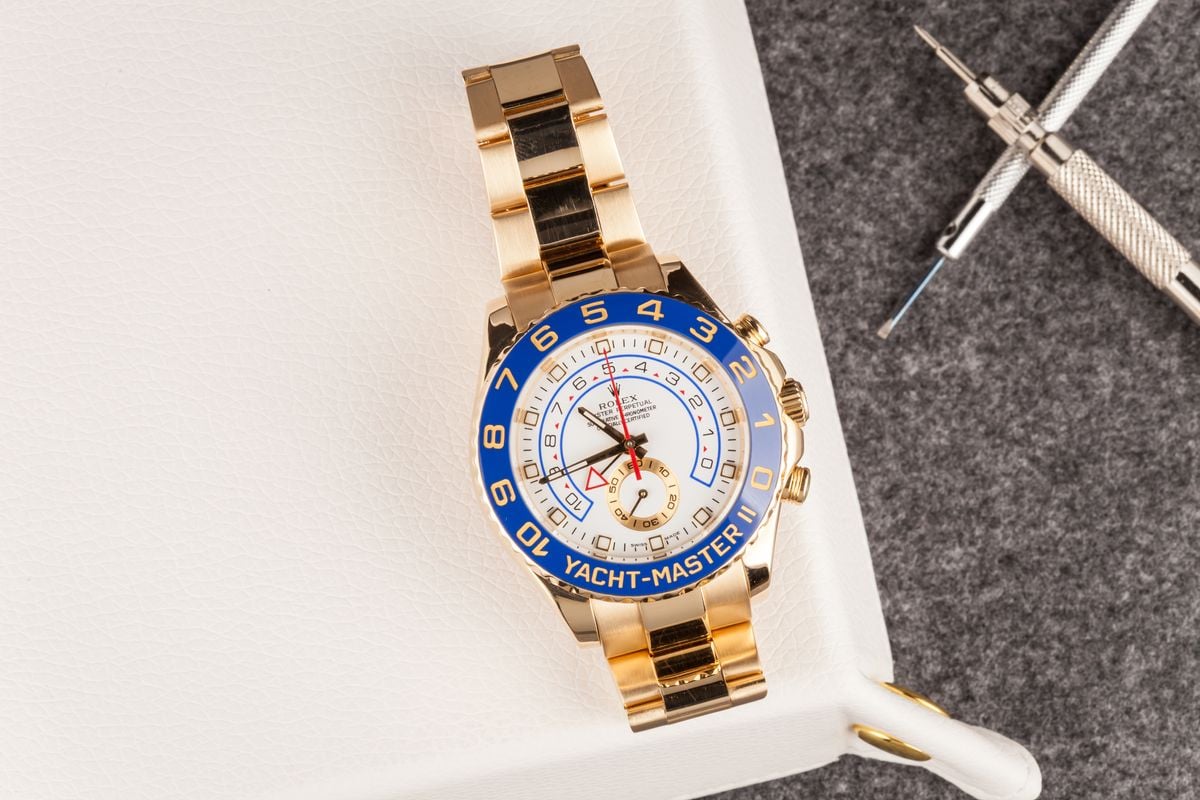 KEY FEATURES:
44mm case
18k yellow gold construction
Adjustable countdown timer
Flyback and Fly-forward functionality
Rotating Ring Command Bezel
Sapphire crystal
Click here to learn how to use the countdown timer on the Rolex Yacht-Master II.

It's well-known in the watch world that Mark Wahlberg loves Rolex – particularly precious metal models. The man has done so much in his career — from rapper to actor to restaurateur — and succeeded at all of it. So, it only makes sense that over the years he's collected some pretty incredible Rolex timepieces. We certainly can't count them all, but a few that stick out to collectors include his Rainbow Daytona ref 116598 and his Daytona Diamond Pave Dial in Platinum ref. 116576TBR. There's also the solid 18k yellow gold Rolex Yacht-Master II which we spot on his wrist constantly. With a bold, beautiful blue bezel and an incredible complication, we don't blame the actor for choosing this as his everyday favorite.
Matt Damon – Rolex Explorer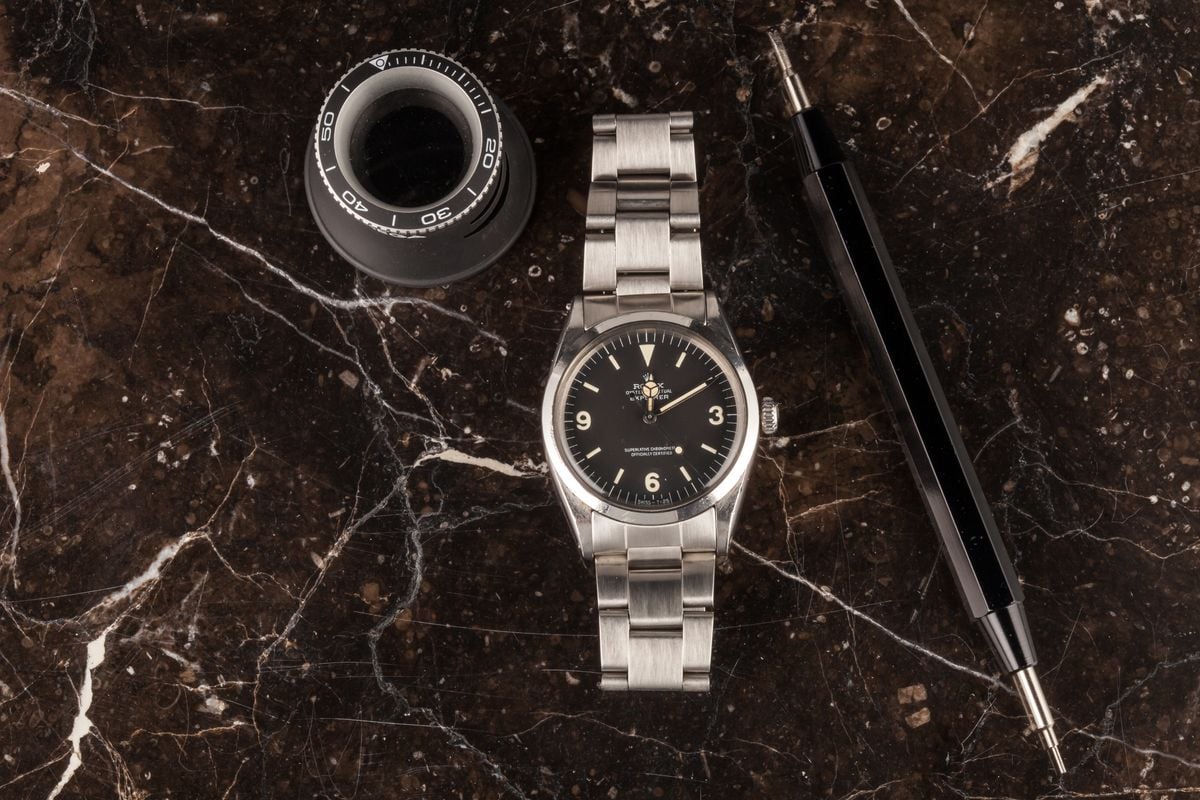 KEY FEATURES:
36mm case diameter
Stainless steel construction
Automatic movement
Time-only display
Screw-down winding crown
Acrylic crystal
Click here for the top 3 things to know before buying a Rolex Explorer.

Who doesn't love Matt Damon? The actor has been entertaining us for years — from classic films like Good Will Hunting and the Bourne series to the Ocean's Trilogy, The Departed, and so many more. All those great movies mean that he's had the opportunity to wear some great watches on the red carpet. One of the most incredible pieces he's worn is the Van Cleef & Arpels' Midnight Planetarium watch, which not only tells time but maps the movement of the solar system. When he's not on set, you can often spot the actor sporting a more subdued vintage Rolex Explorer 1016. It's a classic timepiece that is known for its enduring style and durability. With that in mind, we think Damon has many more years with this timepiece.
John Travolta – Breitling Navitimer
KEY FEATURES:
46mm case diameter
Stainless steel construction
Chronograph functionality
Internal slide rule bezel
Date display
Sapphire crystal
Click here for our complete buying guide on the Breitling Navitimer.

Alongside being a prolific actor, John Travolta is also an accomplished pilot. Naturally, he has gravitated towards the luxury Swiss watch brand, Breitling, who also has a rich aviation history. Travolta loves Breitling so much, it's pretty much the only watch you'll ever see him wearing. It also helps that he's an ambassador for the brand, getting the chance to wear and own many of the manufacturer's most popular and beautiful watches. You've probably seen Travolta in ads for the Navitimer and it is the Breitling model that he most frequently straps on his wrist. The actor likely adores the watch for its 70-hour power reserve, striking looks, rugged build quality, and its ability to serve as an analog flight computer with the help of its slide rule bezel.
Tom Cruise – Rolex Datejust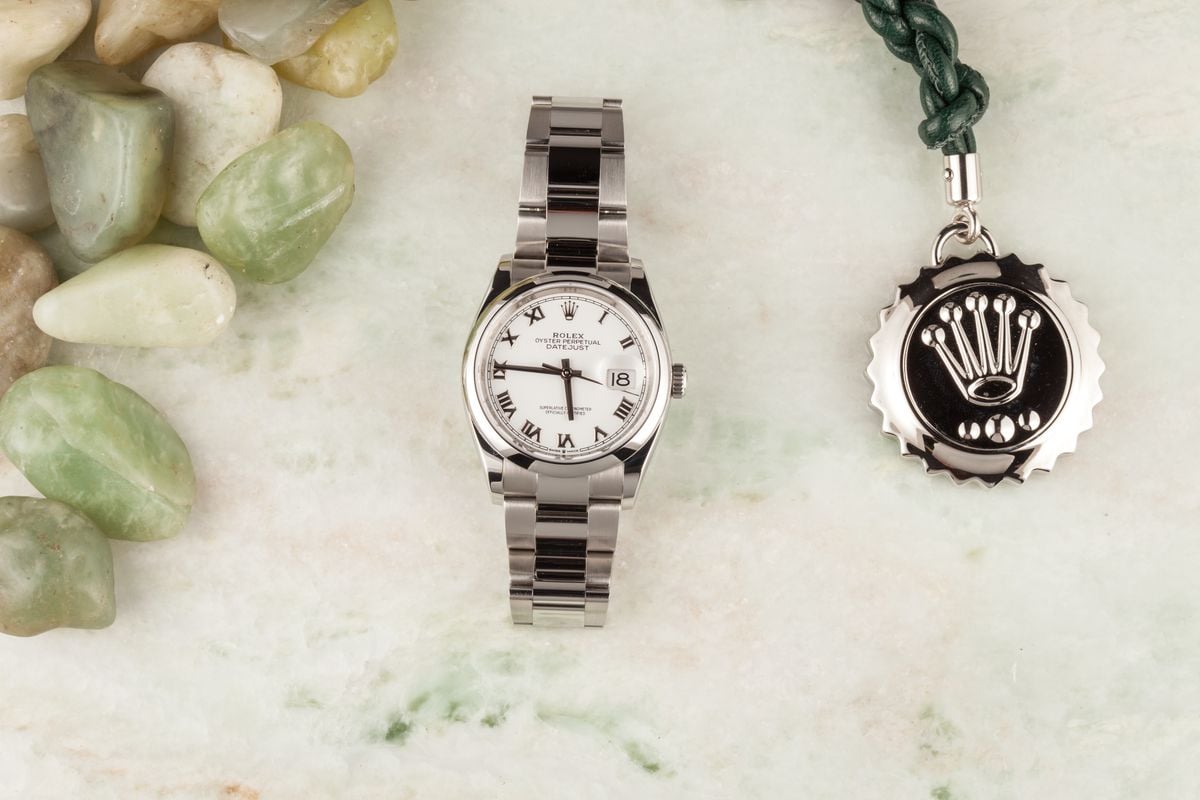 KEY FEATURES:
36mm case diameter
Stainless steel construction
Automatic movement
Date display
Sapphire crystal
Role Oyster bracelet
Click here for the complete history of the Rolex Datejust.

Staring in iconic films like Rain Man and Mission Impossible, Tom Cruise is an actor that doesn't need an introduction. However, his luxury watches certainly do. We know over the years that he's worn a lot of amazing watches on-screen, like the Breitling Chronomat, a Tudor chronograph, and the Panerai Luminor Marina. But when Cruise isn't starting in Hollywood's hottest films, we can spot the actor often wearing a Rolex. For years, his go-to watch has been the effortlessly handsome 36mm Rolex Datejust in stainless steel. Cruise's Datejust boasts a white dial and roman numerals — a totally classic look.
Orlando Bloom – Rolex Explorer II
KEY FEATURES:
39mm case diameter
Stainless steel construction
Automatic movement
Fixed 24-hour bezel
Additional 24-hour hand
Acrylic crystal
Click here to learn more about the very first Rolex Explorer II.

Everyone knows Orlando Bloom for starring in movies like Lord of the Rings and Pirates of the Caribbean. But, many don't know that the actor is actually quite the watch aficionado. Orlando has admitted he's a bit of a "watch freak" – having collected over 40 Rolex models over the years with a particular interest in rare, vintage pieces. Among his favorites is a Rolex Explorer II 1655, aka the orange hand "Steve McQueen" Explorer which he famously wore on the cover of a magazine. There's also his vintage GMT-Master 1675 with a red and blue 'Pepsi' bezel. Both watches were actually stolen in an elaborate robbery years ago (remember the 'Bling Ring' scandal)  but luckily returned. However, we don't think that's scared Orlando Bloom off from continuing to add to his collection.
Lady Gaga – Tudor Black Bay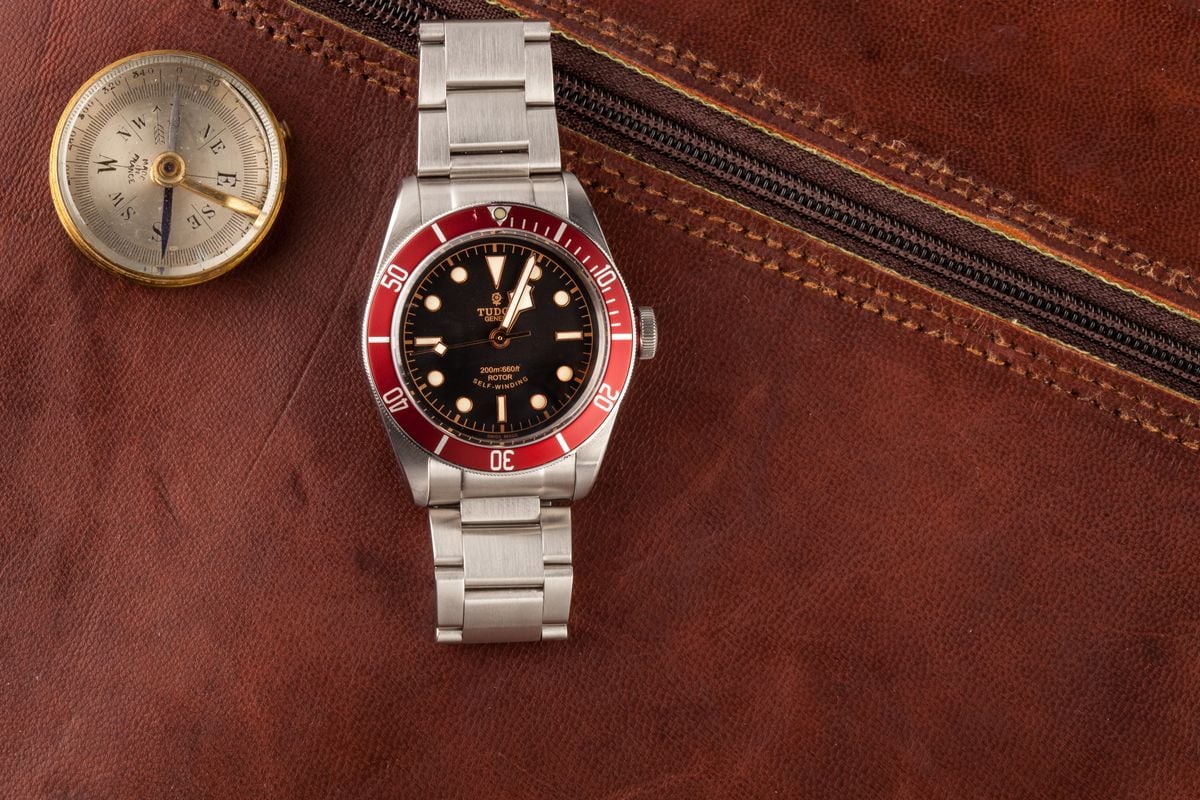 KEY FEATURES:
41mm case diameter
Stainless steel construction
Automatic movement
Time-only display
Rotating timing bezel
Sapphire crystal
Click here for our ultimate buying guide on the Tudor Black Bay.

We all know Lady Gaga as one of the wold's most famous musicians. However, it wasn't until her silver screen part as 'Ally' in A Star is Born, that the world also recognized her as a talented actor. The part got her a ton of acclaim, including a Critics' Choice Movie Award for Best Actress as well as nominations for an Academy Award, a Golden Globe, and a BAFTA Award. However, the year before all of that, Lady Gaga was approached by Tudor to be their first-ever female brand ambassador, with Tudor saying she was 'born to dare' — just like their famous slogan. Now, you can often spot the actor and musician spotting a Tudor watch, like the striking Tudor Heritage Black Bay with a red bezel.