These days, Rolex's various sport and tool watch collections often receive the most attention from collectors and enthusiasts, but long before the brand ever produced its first sports watch, there was the Rolex Datejust dress watch. Ever since the model first appeared in 1945 as the world's first self-winding chronometer wristwatch to display the date through a window in the dial, there has always been a Rolex 36mm Datejust version and for many people, the classic Rolex Datejust 36 serves as the quintessential example of a finely-crafted luxury timepiece.
Due to the fact that the Rolex Datejust 36 has been in constant production for more than three-quarters of a century and has served as one of the cornerstone offerings of Rolex's catalog, 36mm Datejust watches can be found in an incredibly wide range of materials, styles, and configurations. Additionally, due to its remarkably versatile case size and proportions that work well on virtually any wrist, the Datejust 36 has been incredibly popular throughout Rolex's entire history, so there are numerous examples in a wide range of styles available for sale on the pre-owned market.
It is often said that if you can't find a Datejust that suits your wrist than you really just aren't looking hard enough, so below we are going to break down everything you need to know about the Rolex Datejust 36, including the different available options, some of our favorite discontinued references, information about new vs. used pricing, and how you can add one of these luxury watch icons to your collection.
An Introduction to the Rolex Datejust 36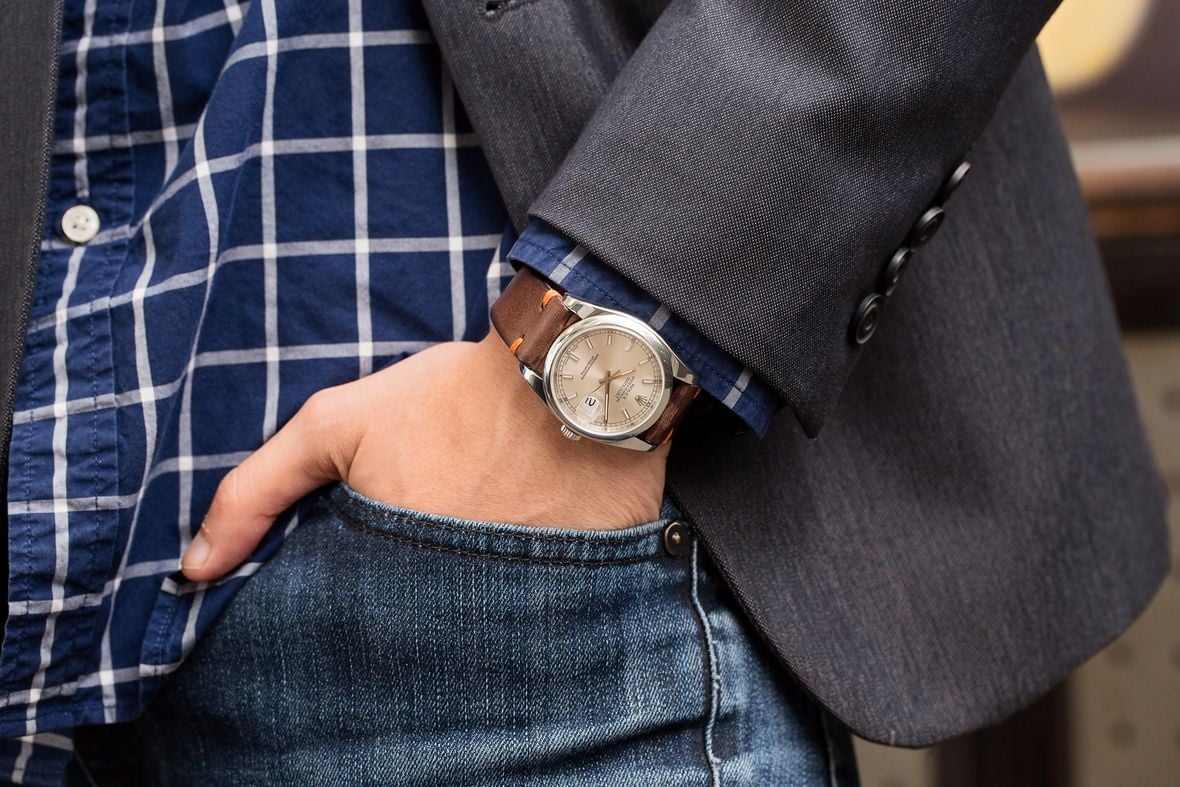 When we talk of icons in the watchmaking industry, the conversation could not be credibly exhaustive if the Rolex Datejust 36 were left unmentioned. It was not only a trailblazer upon its launch in 1945, but it has also remained the benchmark for elegant simplicity. In terms of versatility, few watches can hold a candle to the ever-appropriate Rolex Datejust, and it is no wonder that it is easily one of the most popular luxury watches ever created.
When it debuted, the Rolex Datejust was the first automatic wristwatch with a jumping date complication displayed via a window in its dial. Nowadays, it seems hard to believe something we so frequently take for granted could ever have been revolutionary, but it was. The classic 36mm Rolex Datejust was the watch that first set the standard for how a date display on a wristwatch should function, and virtually every single other watch that uses a similar style of calendar display was – in some way – inspired by the Rolex Datejust.
Rolex Datejust 36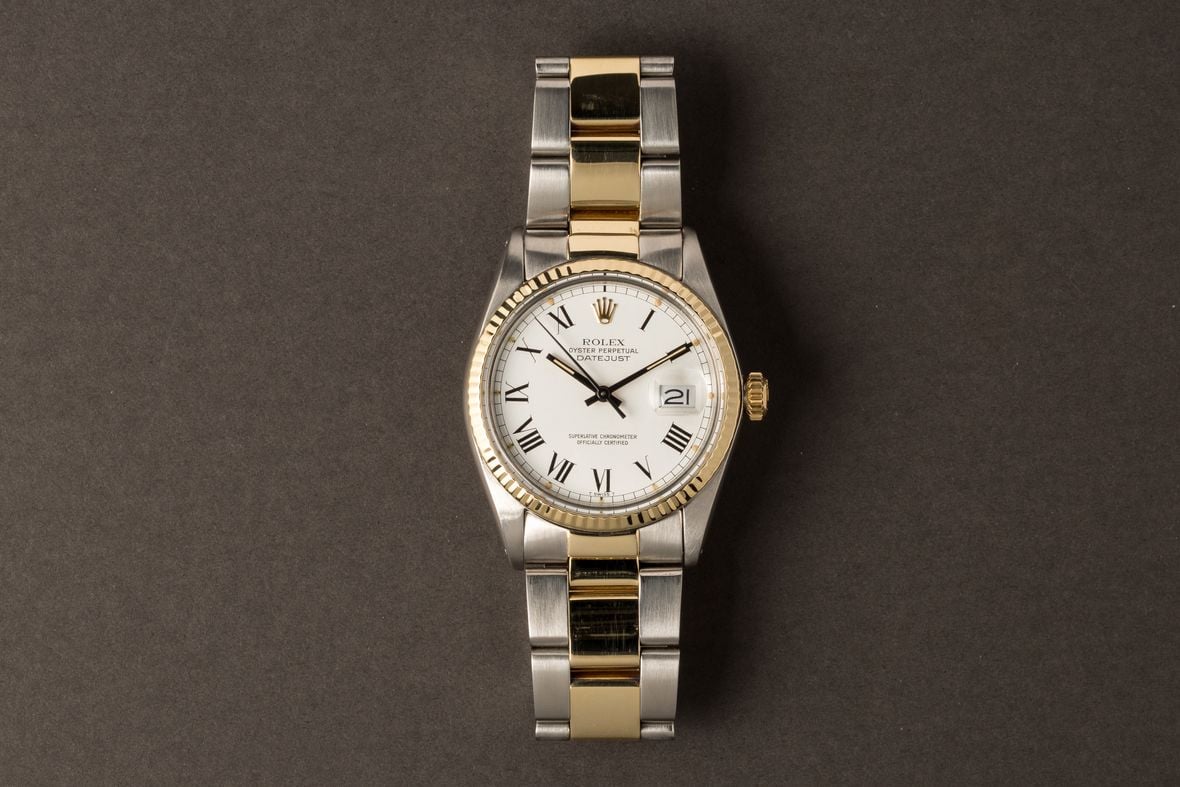 Datejust 36 Key Features:
– Case Diameter: 36mm
– Materials: Stainless Steel; Yellow Rolesor; White Rolesor; Everose Rolesor; 18k Gold (discontinued)
– Functions: Time w/ Running Seconds, Date Display
– Dial: Multiple Colors and Styles Available
– Bezel: Fixed. Fluted; Smooth; Gem-Set; Engine Turned (discontinued)
– Movement: Caliber 3235 (modern watches); Caliber 3135, Caliber 3035, Caliber 1575, Caliber 1565 (discontinued)
– Water Resistance: 100 meters / 330 feet
– Strap/Bracelet: Oyster Bracelet; Jubilee Bracelet; Leather Strap (discontinued)
– Retail Price Range: $7,050 – $23,700 (approx.)
View our Buying Guide on the Rolex Datejust.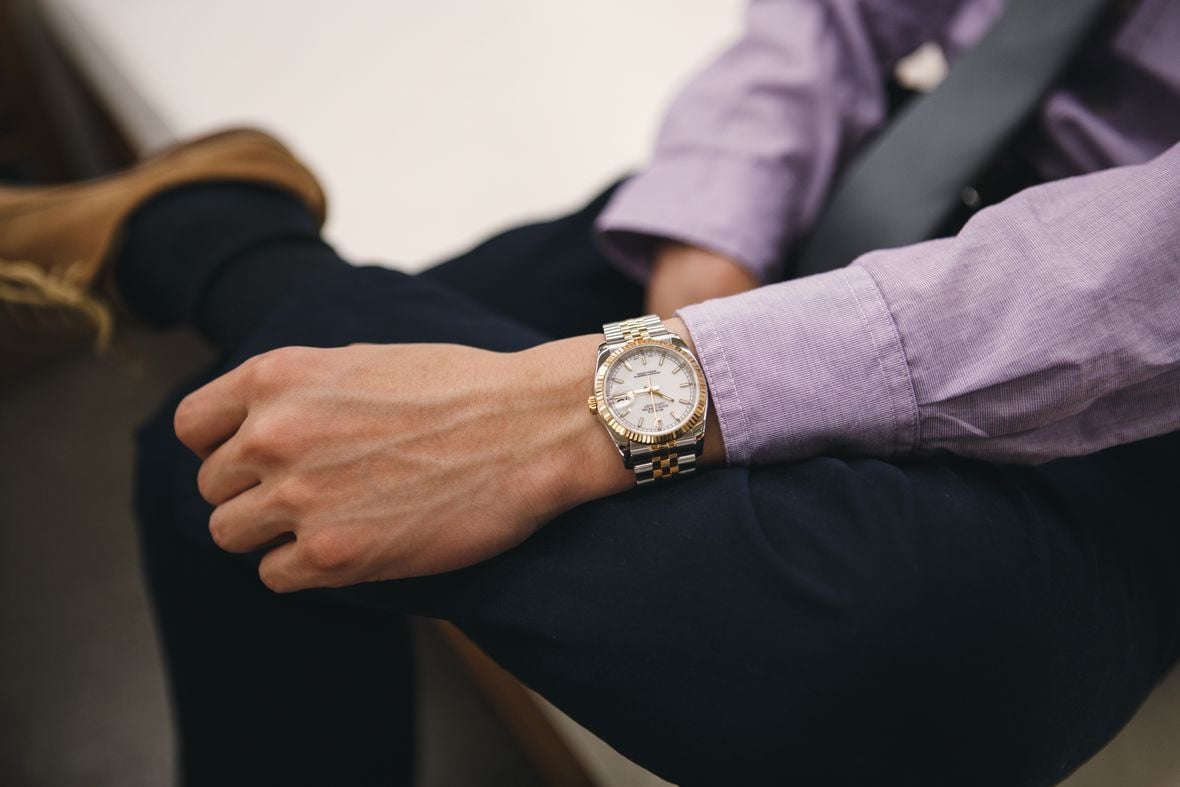 About the Rolex Datejust 36
The very first Rolex Datejust watches were produced without the equally-famous cyclops magnifier over the date. Legend has it that Rolex founder Hans Wilsdorf's wife complained of not being able to read the date, and that was what inspired the invention and addition of the x2.5 lens. It was added around 1954 and has remained an integral part of the model's DNA ever since.
Even if you aren't very familiar with the Rolex brand in general, you've probably found yourself admiring the Datejust on someone else's wrist at some point or another. The Datejust collection has steadily grown over the years and it is now among the brand's most varied. Between all the different metal combinations, bezel and bracelet styles, and a plethora of dial options to choose from, there are countless configurations available.
There are also even several different case sizes, including 28mm, 31mm, 36mm, and 41mm. However, the most popular remains the classic Datejust 36.
The Datejust was originally introduced in solid yellow gold. However, several metal options have become available over the decades, including all steel and two-tone – aka Rolesor. While stainless steel and yellow gold (Yellow Rolesor) is a popular choice, other two-tone options have also been introduced over the years, including steel and white gold (White Rolesor) and steel and rose gold (Everose Rolesor).
For decades, the Yellow Rolesor range has been among the brand's most successful options for its versatile and timeless style. If you're in the market for a gold Rolex that doesn't command the top-tier price of an all-gold watch, then the Yellow Rolesor Datejust is the way to go.
The ref. 116233 replaced the long-running ref. 16233. Among its many upgrades are an engraved rehaut, polished and slightly thicker lugs, and a new-style bracelet featuring solid links. Overall, this feature set offers the wearer a substantial and visually impressive presence on the wrist without appearing too flashy.
In 2018, Rolex updated the classic two-tone Datejust 36 again, with the introduction of the ref. 126233. While the watch received a number of small refinements and new dial options, the biggest change to accompany the new generation of Datejust 36 watches was the Caliber 3235 movement, which features Rolex's Chronergy escapement and a longer 70-hour power reserve.
With water resistance up to 100 meters and a chronometer-rated Caliber 3235 automatic movement fitted to the modern 36mm references, the Rolex Datejust 36 is truly a go-anywhere, do-anything kind of watch with timeless and celebrated styling.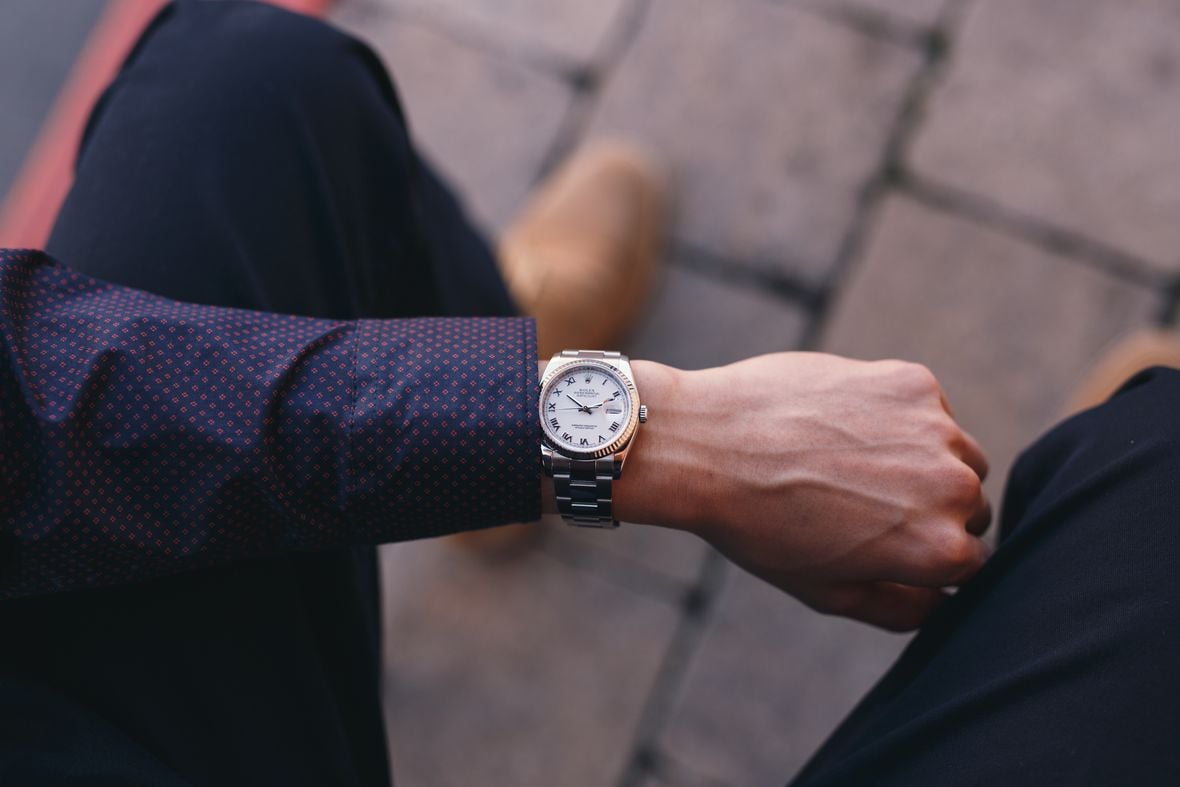 Rolex Datejust 36 Specifications
The Rolex Datejust 36 is, unsurprisingly, 36mm in diameter and it has a lug width of 20mm. The modern models feature sapphire crystals, which replaced the previously employed acrylic alternative. Given the long history of the Rolex Datejust, it isn't surprising that there are so many great updates, both technical and aesthetic.
The Datejust features the Twinlock crown system that screws into the Monobloc middle case to offer water resistance up to 100 meters (330 feet). Newer model Datejust watches also feature an engraved rehaut and a scratch-resistant sapphire crystal with a Cyclops magnification lens over the date.
Rolex Datejust 36 Dials and Lume
Depending on the production year, newer-model Datejust watches feature either Super-LumiNova or Chromalight to provide their dials and hands with luminescence. Super-LumiNova emits a green glow, while the newer Chromalight (Rolex's in-house lume) features a bright blue glow.
Vintage Datejust watches will have tritium lume, and they will not glow anymore due to the radioactive material only having a half-life of 12.3 years. Additionally, older Rolex Datejust 36 dials only feature small dots of lume next to their applied hour markers, while many modern examples have their applied markers filled with lume.
Rolex Datejust 36 Bezel Options
Rolex Datejust watches can have either smooth, fluted, engine-turned, or gem-set bezels. While certain options such as a solid-gold construction or an engine-turned bezel have been discontinued on the current 36mm line, the Datejust still offers a remarkably diverse range of configurations.
The Rolex Datejust 36 Movement
When conducting a Rolex Datejust 36 review you can't but help to applaud the intricate movement used by this model. Several movements have powered the Rolex Datejust 36 over the years, but it has always featured a self-winding caliber. First introduced during the late 1980s, Caliber 3135 was the movement that resided inside all Datejust 36 watches until just a couple of years ago.
It is a chronometer-certified, self-winding movement with a frequency of 28,800vph that features a balance bridge (as opposed to a less stable balance cock) and Rolex's paramagnetic blue Parachrom hairspring. Caliber 3135 is an accurate and reliable movement that offers a 48-hour power reserve with over a quarter of a century of proven performance.
The Rolex Datejust 36 received a movement upgrade in 2018 with the introduction of the Caliber 3235. Rather than being a slight evolution of the previous Caliber 3135, the new movement is an entirely new generation built around Rolex's new and more efficient Chronergy Escapement. Offering many new features, including Rolex's Paraflex shock absorbers, Caliber 3235 offers an accuracy rating of +/-2 seconds per day and a longer-70-hour power reserve.
The Rolex Datejust and the Jubilee Bracelet
The iconic Jubilee bracelet is quite possibly the most famous bracelet (by name) in all of watchmaking history. It is one of the few bracelet styles that's name may be more often uttered than the watch head on which it was first delivered. It got its name from the fact that the Rolex Datejust was first released in 1945 – the 40th anniversary (or "Jubilee") of the brand's foundation in 1905 (as Wilsdorf & Davis).
The Jubilee bracelet has a "five-link" construction. It comprises two wider lines of vertically brushed links flanking three, more delicate polished links running down the bracelet's center. In Rolesor (bi-color) models, the center links are presented in a different color when 18-karat yellow or Everose gold are used. When it comes to the White Rolesor models, white gold is not used in the bracelet (only on the fluted bezel when selected as an option over the smooth bezel). Instead, the White Rolesor models use 904L stainless steel for every link in the bracelet. This makes White Rolesor models considerably more affordable than their Yellow Rolesor or Everose Rolesor counterparts.
There are several different bracelet generations for the Rolex Datejust 36, with each new generation more solid and substantial than the last. A noticeable weight accompanies newer editions of the Datejust bracelet (both Oyster and Jubilee). These bracelets feature completely solid side and center links, solid end-links, and a sturdy machined clasp. This design, along with the slightly broader, high-polished lugs, gives modern Datejust watches a larger presence on the wrist and an overall more contemporary look and feel.
Both Oyster and Jubilee bracelets on the current models also feature clasps with Rolex's innovative Easylink extension system. This can instantly extend the length of the bracelet by 5mm without the use of any tools. As the wrist fluctuates throughout the day, the Easylink extension can be instantaneously engaged. This handy innovation allows Datejust owners to alter the length of their bracelets to achieve the perfect fit.
The Best Rolex Datejust 36 Watches
Since the very beginning of the Datejust's history, there has always been a 36mm model, and the Datejust 36 is the single most diverse watch in Rolex's entire portfolio. Some might argue that it is among the best Rolex Datejust configuration available. There are countless fantastic Rolex Datejust 36 watches to suit every possible style and personality, but below are a few of our favorites.
Rolex Datejust 36 ref. 16013 – Yellow Rolesor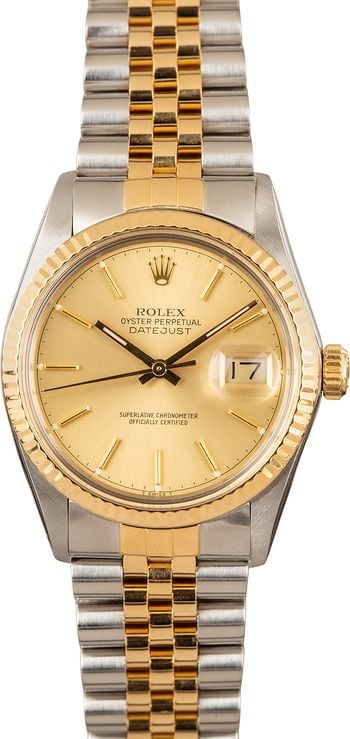 There are few more classic references than the 16013, which enjoyed a long production run. There are tens of combinations of dials, markers, minute tracks, bezels, and bracelets, which makes finding your perfect model an enjoyable pursuit.
Perhaps best known for the champagne dial models, the ref. 16013 is the quintessential vintage Datejust and the direct predecessor to the reference 16233, enjoying huge popularity in the 1980s, during which time the reputation of the model was firmly established. You'll usually find several examples of this reference on Bob's Watches, with many pieces from this heyday of production in excellent condition and selling now for around the $5k to $6k price range.
Rolex Datejust 36 ref. 6305 – 18k Gold
If you feel like stepping further back in time, why not explore the earlier ref. 6305 series, which saw some beautifully tieless models emerge during the 1960s. With patina-friendly dials, elegantly shaped hour markers, and the rather select "red date" models, the 6305 reference family offers a lot for the money.
These watches are not all that common and rarely pop-up compared to more modern references. When they do, expect to pay twice what you would for a Datejust 16013 in excellent condition (and that's comparing a ref. 16013 on a Yellow Rolesor Jubilee bracelet to an 18-karat gold cased ref. 6305 on a leather strap). That's the price you pay for rarity and a solid gold case, but few would argue it isn't worth it!
Rolex Datejust 36 ref. 16220 – Stainless Steel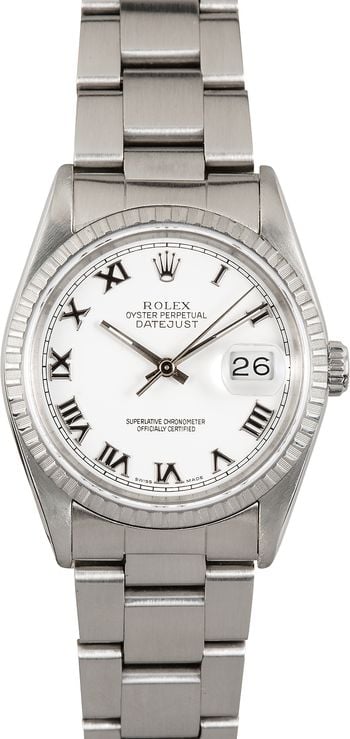 For an altogether crisper look, the all-steel ref. 16220 from the early 1990s provided a particularly sharp appearance – silver dials, the option of engine-turned steel bezels (which have a rather different look from the more commonly-seen fluted or smooth bezels) made the ref. 16220 from the early '90s is interesting.
By the time this period rolled around, the old acrylic crystals (that some prefer for their warmth and vintage appeal) had been replaced by scratch-resistant sapphire crystals. For some, this was the end of the classical Datejust era and the beginning of Rolex's journey towards alchemic excellence, which saw the brand leave its humbler roots behind in favor of pursuing material and mechanical perfection at perhaps the cost of the charm that typified many of today's highly sought-after vintage pieces.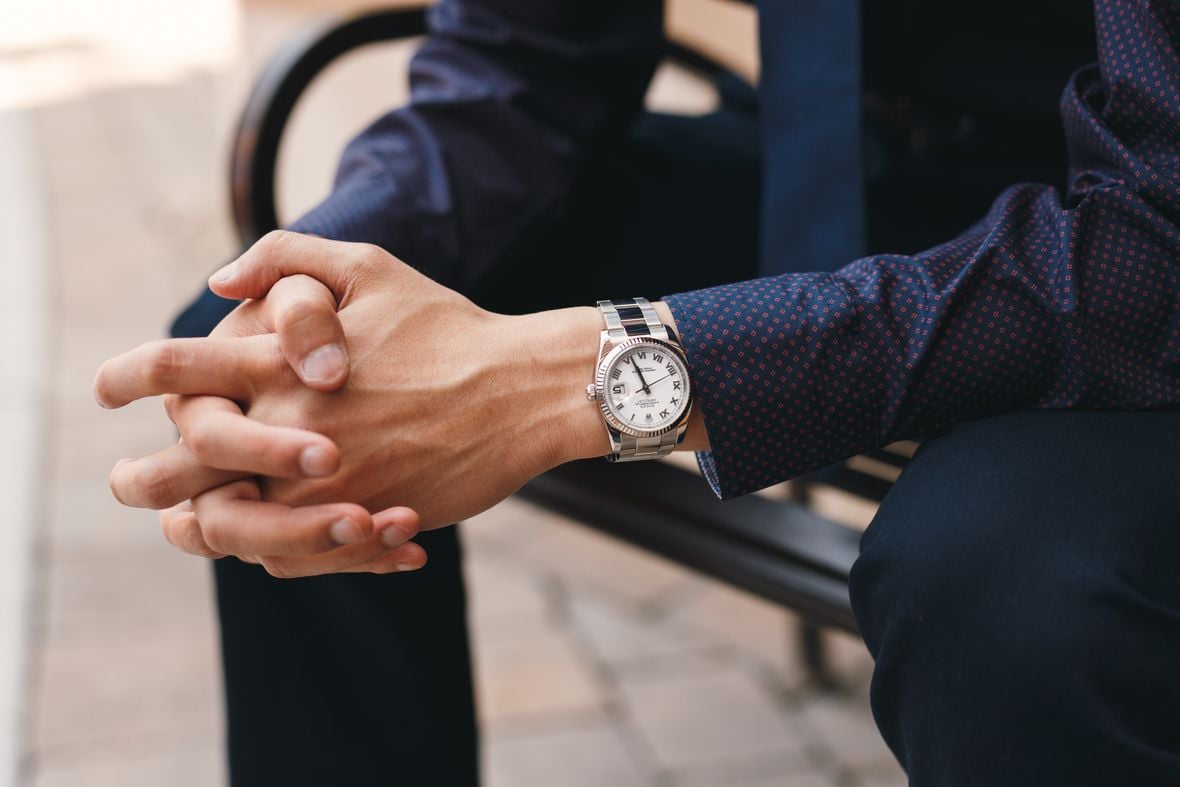 How Much is a modern Rolex Datejust 36?
The current Datejust collection is one of the most extensive ranges in the Rolex catalog, with many different models catering to all kinds of tastes. The best way to explore the range is to play about with the slick Rolex configurator on the brand's official website.
First, you should select your chosen material (a choice between Oystersteel, White Rolesor, Yellow Rolesor, and Everose Rolesor). Next, you choose your bezel style (which includes smooth, fluted, or diamond-set). Then you can choose between either an Oyster or Jubilee bracelet before finally choosing your dial color and configuration. Stick indices, numerals, and diamond-decorated dials exist in a multitude of complementary colors.
As a rough guide, the current entry point of the collection is the all-steel reference 126200. It has an Oyster bracelet and a smooth bezel. Reference 126200 has four dial options (silver, blue, and black sun-ray with stick markers, and white with Roman numerals).
The "classic" configuration of the Rolex Datejust 36 of the modern era – the Yellow Rolesor reference 126233 with a champagne stick-marker dial is a nice choice.
The very top of the range in the Rolex Datejust 36 collection is reference 126281RBR, which has an Everose Rolesor case, a Jubilee bracelet, a diamond bezel, and a Mother of Pearl dial with diamond hour markers.
Buying Pre-Owned vs. New
Possibly the best thing about considering adding the Rolex Datejust to your collection (or even collecting nothing but Rolex Datejust 36 models) is the enormous back-catalog of styles and specifications that surely offers something to (almost) all tastes. Better still, unlike many of the modern professional models such as the Rolex Submariner and Rolex GMT-Master II, the Rolex Datejust is readily available in most configurations.
Similarly, the pre-owned market is buzzing with exciting references and odd, often-forgotten forays down new and unusual paths. The Datejust's position as a market leader has afforded it many cracks of the whip. Unusually, Rolex has been quite willing to experiment with the material combinations and dial textures of the Datejust, the brand's most reliable piece. Furthermore, the pricing of pre-owned Rolex Datejust 36 pieces is favorable.
Once you've done your real-world research and decided what model style sits best on your wrist, feel free to contact one of our team members at Bob's Watches. You can talk to us about your decision and discover what we currently have available for purchase.
The Position of The Rolex Datejust 36 In The Luxury Watch Industry
From the movement that beats within the case to the impeccable metals and dials that decorate its exterior, the Datejust is a lesson in fine watchmaking. It accommodates any lifestyle and can be found on the secondary market for an incredibly attractive price, especially given its esteemed history.
Expertly crafted and offering a timeless design that always seems to be in style, the classic Rolex Datejust 36 has been a cornerstone offering of the luxury watch industry for well over half a century. Additionally, as it is the definition of a true classic, the Datejust 36 is free from much of the hype that surrounds many of Rolex's stainless steel sports watches. You won't have to pay double retail to buy a Datejust 36, and you also won't have to wait multiple years should you wish to purchase one brand-new at retail.
The Datejust was not designed for a particular sport or activity, but rather to be the one good watch that a person will ever need in their life. Instantly recognizable and happy to follow you from the beach to the ballroom, the Rolex Datejust 36 may just deserve the title as the ultimate luxury watch.