The beauty of using blue as the dominant color in any sort of design is its ability to work harmoniously with a host of other tones and produce strikingly different effects with each.
By nature a very cool color, matching blue with neutral shades such as white or silver gives a sense of strength and permanence. By contrast, pairing it with its opposite numbers on the color wheel, the warm tones of orange and gold, adds a touch of opulence and luxury. In 2008, Rolex celebrated their 100th year at the top of the watchmaking hierarchy by releasing their most famous creation, the omnipresent Submariner, in two color schemes with a rich, royal blue as its base. The Rolex Submariner ref. 116619, with its bezel and dial topping an 18k white gold case, and the ref. 116618, its identical features enclosed all in yellow gold.
Same watch, same faultless engineering, same timeless design—but two very different statements.
Below, we'll take a look at both and the individual looks they create.
The Rolex Submariner ref. 116619LB
The current stock of the world's favorite dive watch is bigger and bolder than any of the countless iterations that have come before. Whereas its closest predecessor was admired for its graceful proportions, with a case that swept gracefully into its bracelet, this latest version is all about demonstrating a more commanding presence.
Although technically the same size as previous issues, today's Submariners have been considerably beefed-up, with broad-shouldered lugs lending the watch a squarer profile and giving an impression of a piece much larger than its 40mm diameter.
Set with the new Maxi dial, with hands and indexes far fatter than before, along with a heftier set of crown guards, all the changes add up to a well-muscled, handle-anything vibe.
Combining these masculine upgrades with a rich blue face on a white gold body gives the ref. 116619LB an aesthetic that is pure versatility. While the dial and bezel provide an eye-catching emphasis, the steel-like coldness of the case and bracelet leaves this anniversary Sub with the tough guy persona that made it famous in the first place. (The fact that it's nicknamed The Smurf is something we can overlook for now).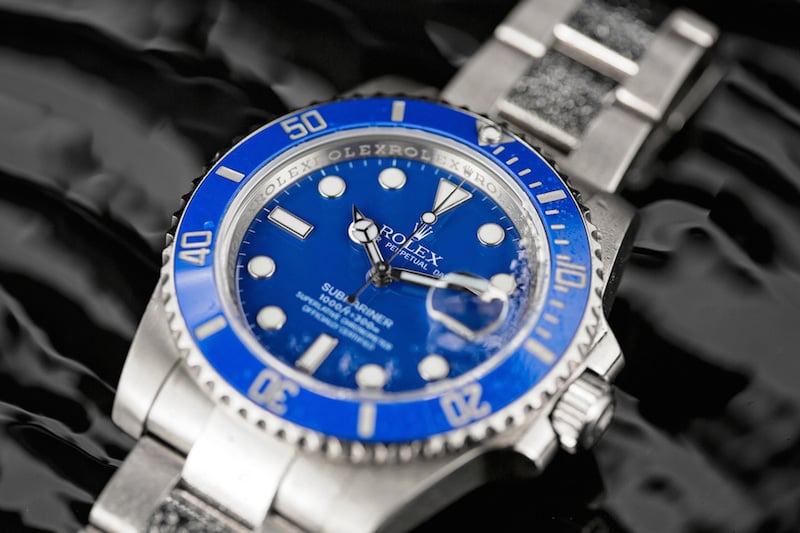 It is a watch that is at once both widely recognizable and completely unfamiliar. The white gold elements can easily be mistaken for the utility of polished steel, leaving the impression of the ageless black originals, but at the same time, we know Rolex reserves the lavishness of blue color schemes for their precious metal editions.
With the two dynamics of luxuriousness and brute force working together, the ref. 116619LB is a Submariner that underlines its go anywhere appeal. As was proved conclusively by James Bond, it has always had the party piece of matching effortlessly with whatever outfit is necessary—whether that's a tuxedo or a wetsuit.
In its newest blue form, it's something of a paradox; both understated and attention grabbing—a stunning reinterpretation of an iconic classic.
The Rolex Submariner ref. 116618LB
By comparison, there is nothing utilitarian or unassuming about an all yellow gold Submariner, and there never has been. Whether it's set off by a black dial or the deep blue on the ref. 116618LB, it communicates a very different message than its white gold counterpart.
With this version, all semblance of the Submariner's original purpose—to be the ultimate tool watch for underwater adventurers, has been cleared to make way for an out and out slice of opulent indulgence; a wearable symbol of achievement and accomplishment.
Still, whether or not it would ever be worn any closer to the water than the pool bar, it is still a Rolex dive watch, and the end product of several generations of constant evolution.
Like the ref. 116619LB above, it is from the series that introduced Cerachrom to the Submariner. Its famous unidirectional bezel, a fail-safe way for Scuba divers to keep track of their immersion times, is now forged from a fade resistant and virtually unbreakable ceramic. Its gradations are coated with an extremely fine layer of gold and given a final diamond polish to leave it impervious to scratches, corrosion and UV rays.
Inside, both models are powered by the same Cal. 3135, the most widely used and widely trusted movement the company has ever produced. Itself the subject of continuous improvements, the latest version beating away beneath the solid gold shells is outfitted with Rolex's own Parachrom Bleu hairspring, unaffected by both magnetism and temperature variation. Accurate far beyond the standards laid down by the official COSC certification, it carries the brand's own Superlative Chronometer tag, signifying a timekeeping precision of +2/-2 seconds a day.
The contrast between the glowing gold case and the brilliant blue of its dial and bezel gives the ref. 116619LB a brightness unlike any other model in the Submariner lineup. The complementary hues make it the most colorful piece in the range, with an almost lighthearted quality. It's a watch to wear on a beautiful summer's day; or on those days when you need reminding what summer is like.
Yellow or White?
Choosing between a white gold and yellow gold version of a blue dialed Rolex Submariner is not only a nice problem to have, it is also, of course, completely down to personal taste.
On the one hand, you have the best of both worlds; a watch that has kept much of its sturdy, workmanlike appearance, but with the addition of a richly colored face that will win the admiration of those with a deeper knowledge of the brand. On the other, the richness of the all yellow gold model leaves no one in any doubt, regardless of their interest in luxury timepieces.
Whichever you decide to go for, take a look through our selection of the finest examples of pre-owned pieces to ensure you are left with the Submariner you have always dreamed of.