In this ultimate guide to Rolex watches nicknames, we're going to tell you all the stories and explain the various meaning behind each and every one. In the watch industry, not all Rolex nicknames are as commonly used as others, and while there are some that you have almost certainly heard before, others are a bit more obscure and largely exist only within the most passionate and obscure collecting circles.
There are a lot more Rolex nicknames than you may realize, so to help keep things simple, straightforward, and easy to follow, we've broken down the list into three main categories: Rolex watches nicknamed after people, vintage Rolex watch nicknames, and Rolex nicknames based on watch colors.
Most Popular Rolex Nicknames
Nicknames are an inherent part of used Rolex watch collecting and this is especially true when it comes to Rolex. Only the most beloved and collectible Rolex watches have ever received nicknames, and despite the fact that many Rolex models are almost exclusively referred to by their now-famous monikers, these popular titles are all entirely unofficial. For years, Rolex nicknames such as "Pepsi GMT" and "Paul Newman Daytona" have been used by collectors and experts all around the world, but in reality, these names (no matter how frequently used they may be) do not exist anywhere in Rolex's official catalog. In truth, these names are just a form of universally accepted shorthand for how collectors and enthusiasts like to refer to rare models, vintage favorites, or unique and colorful stylings. Each nickname has its own story, and some are more literal or complicated than others.
Rolex Company Facts
Founded by Hans Wilsdorf in 1905
Headquarters in Geneva, Switzerland
Owned by the Hans Wilsdorf Foundation
Created the world's first waterproof watch in 1926
Invented the first self-winding Perpetual movement in 1931
Total annual production is approximately a million watches
Sold in more than 100 different countries
The world's most famous luxury watch brand
Click here for our Ultimate Buying Guide on Rolex watches.
Rolex Watches Nicknamed After People
Bao Dai
Before Paul Newman's very own "Paul Newman" Daytona broke the world record when it was sold for $17.8 million, the Rolex "Bao Dai" held the record for the most expensive Rolex ever sold at auction. The watch is a yellow gold Rolex ref. 6062 with a black lacquer dial with diamonds that belonged to the last emperor of Vietnam, Bảo Đại (hence its now-famous nickname).
Buckley Dial
This nickname is believed to come from collector John Buckley who was a collector and major proponent of this particular style. You can always spot a "Buckley Dial" on Day-Date and Datejust watches because they have painted Roman numeral markers instead of applied ones.
Clint Eastwood
Unlike other stars who had Rolex watches named after them, Clint Eastwood actually wore his and did so often too. The "Clint Eastwood" is the nickname for the GMT-Master 16753 with a brown dial and Root Beer bezel, named after the famous Hollywood star who wore his Rolex GMT-Master 16753 in several movies playing different characters.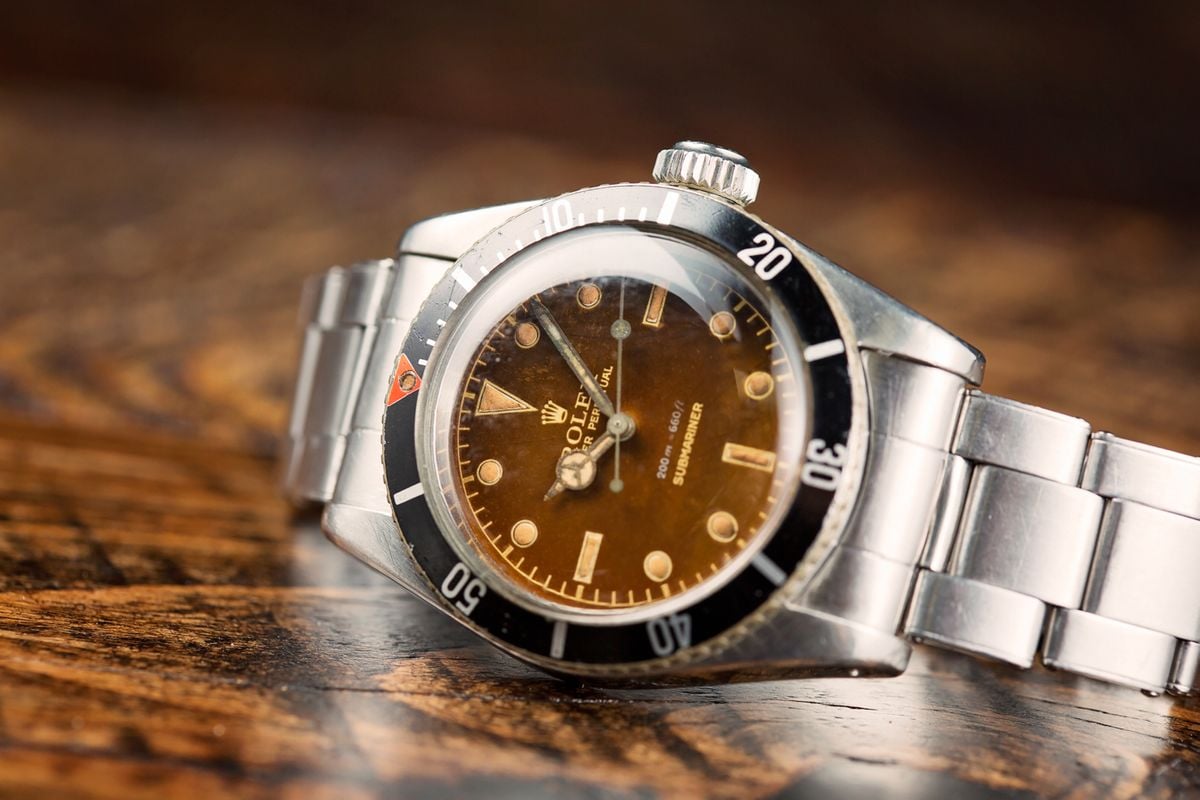 James Bond
Alright, James Bond may be a fictional character, but he's famous enough to be mentioned on this list since agent 007 does have a Rolex watch named after him. While author Ian Fleming only mentions that his protagonist wears a Rolex and makes no mention of a specific model, it was ultimately a ref. 6538 Submariner that actor Sean Connery wore during the inaugural James Bond film 'Dr. No' in 1962. Because the Submariner 6538 was the first watch to ever be used in a James Bond film, it will forever be known as the original "James Bond" Submariner.
The large, oversized crown and lack of crown guards on the Submariner ref. 6538 visually set it apart from other, later-era Submariner references. While the "James Bond" nickname often gets incorrectly used to describe other big-crown Submariner references or other vintage references without crown guards, it is actually only the reference 6538 that has the distinction of being called the original "James Bond" Submariner.
However, the ref. 6538 was far from the last Rolex watch that Bond would wear in the various films. Over the years, agent 007 has sported a variety of different watches in films, including a couple of different Rolex Submariner references, several different Omega models, and even a few digital Seiko watches.
Click here for our Ultimate Guide to Rolex Submariner nicknames.
James Cameron
As a tribute to filmmaker James Cameron's successful 2012 descent to the deepest part of the world's oceans, the Mariana Trench, Rolex released a special edition of its Deepsea Sea-Dweller line of watches – the Rolex Deepsea Sea-Dweller with D-Blue Dial.
Rolex actually had an integral part in the mission, supplying Cameron's submarine with a specially-designed timepiece that was built to withstand the massive pressures present at the bottom of the ocean. To celebrate the achievement Rolex released its special edition Deepsea Sea-Dweller watch, featuring a dial that fades from blue to black. The special edition dial also features 'Deepsea' printed on it in bright green letters as a reference to the color of Cameron's submarine. Naturally, this watch is now called the 'James Cameron' by countless collectors around the globe.
Jean-Claude Killy
Another line of Rolex watches to be nicknamed after a celebrity or professional athlete is the vintage Dato-Compax series of triple calendar chronographs, which have come to be known by their "Jean-Claude Killy" nicknames within Rolex-collecting circles.
If you're not familiar with the man himself, Jean-Claude Killy is a former French champion alpine skier who dominated the sport during the late 1960s. As a Rolex brand ambassador, Jean-Claude Killy was at the center of a number of different advertising campaigns, later even becoming a board member for the company. The Dato-Compax series of "Jean-Claude Killy" triple calendar chronographs is made up of five different reference numbers (4768, 4767, 5036, 6036, and 6236), and while he wore a number of different Rolex watches in his personal life, Killy's name is now inseparable from the entire Dato-Compax series.
John Player Special
There are quite a few Rolex Daytona nicknames, but the 'John Player Special' refers directly to the rare, yellow gold reference 6241. Much like many other nicknames for Rolex watches, the "John Player Special" moniker was something that originated in the strong Italian collector and dealer network, then simply stuck throughout the years. The watch itself looks a lot like the iconic black and gold race cars of the Lotus Formula 1 team which was sponsored by the John Player & Sons 'Specials' cigarette brand. Because of this resemblance, the reference 6241 naturally earned the nickname the "John Player Special" Daytona.
Click here for our Ultimate Guide to Rolex Daytona nicknames.
Patrizzi
This one is a little bit more obscure. Originally, the stainless steel Daytona ref. 16520 with a black dial came out of the factory with silver rings outlining its trio of sub-dials. However, the rings on some of them – estimated to be made in the mid-1990s – have since oxidized to a darker brown color due to the type of varnished used. These Daytona watches are nicknamed "Patrizzi" after the author Osvaldo Patrizzi, who is credited as being the first to highlight the phenomenon.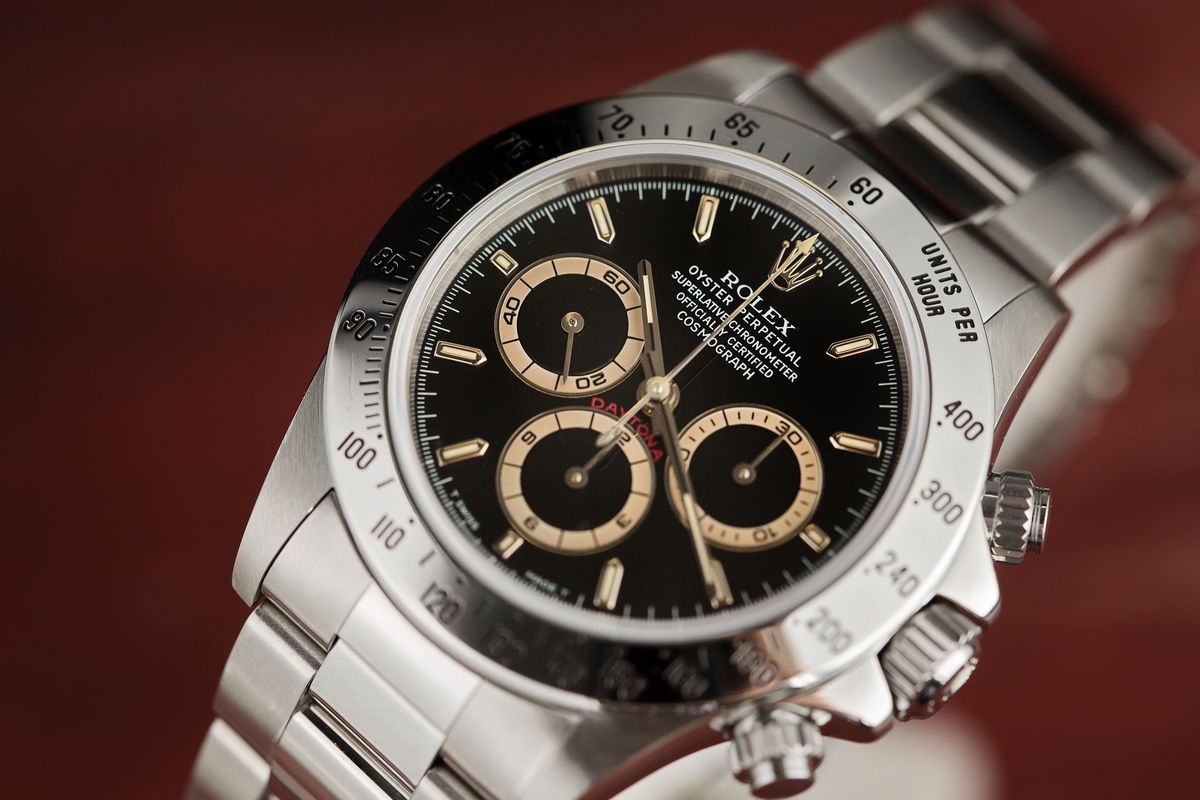 Paul Newman
One of the Holy Grails of Rolex collecting is a coveted Paul Newman Daytona. These watches are characterized by their dials, which slightly differ in font, colors, and configuration from other Daytona chronographs at the time in the 1960s-1970s. Although subtle, these rare, Art Deco-inspired dials give the Rolex Paul Newman Daytona a more exotic, somewhat retro appearance.
Originally, Rolex had trouble selling these slightly unconventional Daytona dials, and most customers of the time preferred their watches to have a more traditional appearance. Due to their lackluster sales, Rolex produced a relatively small number of these exotic dials and many were replaced with standard dials over the years, making Paul Newman dials quite rare and valuable among collectors today.
So how did it get the Paul Newman name? Paul Newman actually wore one of these watches during much of his personal life and according to legend, he wore one during a photoshoot for an Italian magazine, and due to Newman's star-power and a strong Italian collector/dealer network, these funky-dialed Daytona chronographs soon picked up their now-famous 'Paul Newman' nickname. Today, these unconventional dials are one of the most desirable traits in the entire world of watch collecting.
President
Many people simply know Rolex's Day-Date line of watches as the Rolex President. While the "President" name actually only applies to a specific style of bracelet, it has become possibly the most commonly used nickname in the entire world of Rolex ownership.
The President bracelet was designed specifically for Rolex's Day-Date line of watches, and it is only ever constructed from solid platinum or 18-karat gold. The President nickname is the result of a long history of Day-Date ownership by a number of different United States Presidents, and over the years, the President name has become synonymous with the Rolex Day-Date watch itself.
Click here to learn more about the nicknames and defining elements of the Rolex Day-Date.
Pussy Galore
While the Submariner ref. 6538 is known as the "James Bond," there is another vintage Rolex reference that holds a 007-themed nickname: the "Pussy Galore" GMT-Master. In the 1964 James Bond film Goldfinger, actress Honor Blackman wears a reference 6542 GMT-Master while playing Pussy Galore – the fictional character from the 1959 Ian Fleming novel. The watch receives plenty of screen-time throughout the film – its famous red and blue, Bakelite bezel insert making it instantly recognizable as a Rolex GMT.
The reference 6542 marks the first generation of Rolex's multi-time zone pilots' watch, and pre-dates the introduction of crown guards to the GMT-Master line. Today, the reference 6542 "Pussy Galore" GMT-Master is one of the rarest and most highly sought-after vintage GMT references – especially if it still has its original bakelite bezel insert.
Steve McQueen (aka Il Freccione)
As the original Rolex Explorer II, the reference 1655 has acquired a variety of different nicknames over the years, including "Il Freccione" and the "Steve McQueen."
"Il Freccione" roughly translates to "the arrow" in Italian, which is an obvious reference to the first Explorer II's most famous feature – its large and brightly colored, 24-hour hand. As for the "Steve McQueen" nickname, its origins trace back to a Rolex advertising campaign from the 1970s where the watch manufacturer used McQueen's image to try to boost sales of the slightly obscure watch designed for speleologists and other scientists and world explorers.
Despite sharing his name, the reference 1655 was never actually worn by Steve McQueen and no known photos exist of him wearing the watch. In his personal life, McQueen chose to wear a stainless steel Submariner, but the high-profile advertisement campaign made such an impression that the reference 1655 Explorer II will forever be known as the Steve McQueen Rolex.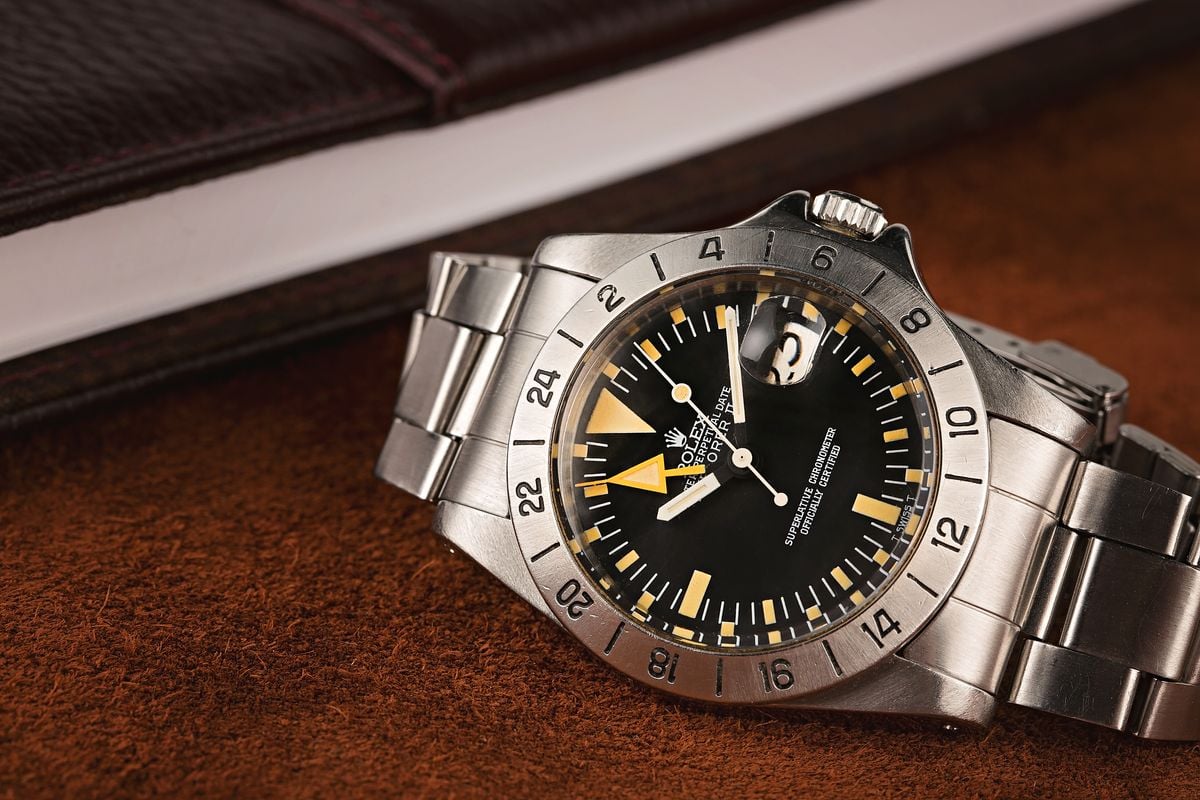 Vintage Rolex Nicknames
Bart Simpson
While this is a slightly more modern nickname, the "Bart Simpson" moniker actually refers to some mid-1960's Submariner ref. 5513 models which feature squat and flat points on the coronet logos on their dial, which look similar to the Simpsons cartoon character's head.
Big Eyes
The "Big Eyes" nickname refers to some larger than normal subsidiary dials on select vintage Rolex Daytona ref. 6263 and ref. 6265 models.
Bombay
The Rolex "Bombay" gets its nickname from the French word "bombée," which roughly translates to round or domed. This nickname is used to reference a specific kind of curvy, almost twisted lug case style that can be found on some vintage Rolex Oyster Perpetual models from the 1950s.
Bubbleback
During the 1930s, Rolex began fitting its watches with automatic, self-winding movements in lieu of traditional manual-wind calibers. Since the addition of the oscillation weight to the movement increased its overall thickness, these watches required more clearance for the rotor to move freely inside the case. Instead of making the entire case larger, Rolex decided to allow the case-back to protrude out further in a curved, bubble-shaped fashion – thus giving us the 'bubbleback' nickname.
Double Red Sea-Dweller (aka DRSD)
Much like how early reference 1680 Submariner watches had the 'Submariner' name printed in red on the dial, some of the very first reference 1665 Rolex Sea-Dwellers also featured red lines of text.
In these early years of its production, Rolex manufactured the reference 1665 Sea-Dweller with both the Submariner and Sea-Dweller names printed on the dial surfaces in red ink. Due to these two lines of red text, many Rolex collectors refer to these early iterations as "Double Red" Sea-Dwellers (often abbreviated as "DRSD") to help distinguish them from other reference 1665 Sea-Dwellers with later-era dials that had all-white printing.
These vintage 'Double Red' dials are already rare because of low production numbers. However, there are even fewer out there today, because similar to the Submariner, many of these Double Red dials were replaced with regular white text dials during routine servicing and repairs.
El Cornino
When Rolex first released the GMT-Master 1675 in the late-1950s, early examples had curved and pointed crown guards. This led to the "El Cornino" nickname because of their horn-like appearance.
Exclamation Point Dial
Rolex "Exclamation Point Dials" from the early 1960s are characterized by a small dot just below the baton hour marker at 6 o'clock, making it look like an exclamation point. Although unconfirmed, it is assumed that this detail signifies lower levels of radioactivity for the luminescent material used on the hour markers.
Fat Lady
In 1983, Rolex released the first GMT-Master II, the reference 16760. As an update to the GMT-Master line of watches, the reference 16760 marked the introduction of independently adjustable hour hands. Additionally, the watch was only available in stainless steel, and with the red and black, "Coke" bezel insert option (which we'll get to below).
So where does the 'Fat Lady' nickname come in? Well, the new reference 16760 GMT-Master II was fitted with a slightly thicker case than its predecessors (by about 0.5mm) which made the entire watch take on a somewhat more rounded and curved appearance. Although subtle, this minor design variation has resulted in the reference 16760 earning the nickname the "Fat Lady" or "Sophia Loren" among many members of the Rolex community.
Great White
In 1977, Rolex phased out the "Double Red" Sea-Dweller dials and replaced them with dials that used all white text. In addition to the change in color, the "Submariner 2000" line of text was eliminated from the dial entirely in an effort to draw a further distinction between the Submariner and Sea-Dweller lines of watches.
Interestingly, although the dial changed, the reference number for the Sea-Dweller did not; and later examples of the reference 1665 that were fitted with dials that had all-white writing have become known as "Great White" Sea-Dweller watches. Several slight dial variations for the "Great White" exist. However, the "Great White" Sea-Dweller is valued because it represents the point in history when the Sea-Dweller first became its own watch line, entirely separate from Rolex's highly successful Submariner.
Nipple Dial
Found on select vintage gold and two-tone GMT-Master and Submariner models, "Nipple Dials" are characterized by their domed, protruding hour markers. These applied round indexes are always crafted in yellow gold and are filled with luminescence in the middle for optimal legibility in low light.
Immediately recognizable thanks to their distinct design, the Rolex 'Nipple Dials' have an inherently vintage aesthetic and represent an important time in Rolex's history when the brand's tool watches took a turn towards becoming luxurious sports watches, worn more for status than for utility.
Oyster Sotto or RCO Daytona
This is one of those nicknames that needs a little explaining. The word "sotto" means "under" in Italian. So, vintage Daytona "Oyster Sotto" watches are those examples where the word "Oyster" was added below the words "Rolex Cosmograph." These vintage Rolex chronographs are also known as "RCO" Daytona watches, where "RCO" stands for "Rolex, Cosmograph, Oyster" – a reference to the order of the words on the dial.
Padellone
For many vintage enthusiasts, the reference 8171 triple calendar moonphase represents one of the Holy Grails of Rolex collecting. At 38mm in diameter, the reference 8171 is a rather large watch by Rolex standards, especially considering that it was first introduced to the public in 1949 when wristwatches were quite small – the average size of a men's watch was in the low 30mm range.
The name "Padellone" is Italian for a "large frying pan" – which became a nickname to reference the watch's sizable diameter and sharp curved lugs that stick straight out from the sides of the case. Many consider the "Padellone" to be one of the most well-proportioned Rolex references of all time, and its triple calendar function plus moonphase complication, makes it also one of the most feature-rich references that Rolex has ever produced.
Rail Dial
A Rolex "Rail Dial" refers to the instance where the letter "C" in "Chronometer" is perfectly aligned with the letter "C" in "Certified" on the dial text which reads 'Superlative Chronometer Officially Certified'. 'Rail Dials' are only found on select vintage Sea-Dweller and Explorer II models.
Red Line
For the first half of the iconic reference 1680's production run, the Submariner name appeared in red text on the dial surface. However, during the second half of production, Rolex switched to all-white text – a practice that has been maintained ever since.
To distinguish between the different types of reference 1680 dial variations, early production models with the red writing became known as "Red Line" Submariners among collectors. These 'Red Line' Submariner watches are quite rare and highly sought-after today. While Rolex did produce a decent number of them, over the years many owners had the dials replaced during regular servicing. Because there are so few of them left today, 'Red Line' Submariner watches are now among the most collectible vintage Rolex models.
Sigma Dial
Rolex "Sigma Dials" are characterized by a pair of the lower case Greek letter 'sigma' symbols (σ) on the bottom portion of the dial (below the 6 o'clock hour marker) to denote the use of solid gold components on the dial.
Solo
The "Solo" nickname refers to Rolex chronographs that do not possess any text on the dial other than the "Rolex" name. Generally speaking, the dials of Rolex chronograph watches are fairly text-heavy. However, a very small number of vintage chronographs can be found with simple dials that have only a single word printed on them: Rolex.
"Solo" dials can be found on both reference 6239 and reference 6240. However, there are some collectors that believe these "Solo" dials should actually only be fitted to the reference 6239, as the 6240 featured a screw-down crown and chronograph pushers, and thus would have additional text on the dial to mention its Oyster case.
So what happened? Well, Rolex advertisements for the reference 6239 exist, showing a picture of the watch with a "Solo" dial. So it is safe to assume that these dials are correct for the reference 6238. However, due to the lack of standardization surrounding certain aspects of Rolex's production assembly during that time period, it is highly likely these "Solo" dials were also fitted to certain reference 6240 chronographs at the Rolex factory.
Stelline
As one of two models that Rolex has ever produced with a triple calendar function and moonphase (the other being the reference 8171 Padellone), the reference 6062 is often a target for serious vintage collectors. Manufactured for only 3 years during the 1950s, the reference 6062 was fitted with dials that had either triangle or star-shaped hour markers.
The reference 6062s that had these star-shaped hour markers received the nickname "Stelline" through the Italian collector and dealer network, which means 'little star' in Italian. Over the years, the nickname for the watch's striking yet whimsical dial stuck. These watches, both the 'Stelline' and the ref. 6062 with triangle hour markers are now incredibly valuable and collectible.
Texas Timex
The "Texas Timex" nickname was first coined to refer to solid gold Rolex Day-Date watches since they were so popular in the state of Texas that it was often said that they were as common as a Timex in the region. However, the nickname soon expanded to include all yellow gold Rolex dress watches.
Triple Six
The second generation of the Rolex Sea-Dweller – launched after the "Double Red" and the "Great White" versions of the reference 1665, the Sea-Dweller "Triple Six" gets its nickname for the three consecutive 6 digits in its "16660" reference number.
Thunderbird
The "Thunderbird" nickname applies to any Rolex Datejust watch that is fitted with a rotating bezel (also known as a Turn-O-Graph). During the late 1950s, the U.S. Air Force Thunderbird squadron frequently used Rolex watches with rotating bezels. Rolex took full advantage of this marketing opportunity and released a special series of Datejust watches fitted with rotating bezels and the Thunderbird's logo printed on the dial.
Today, Datejust watches with rotating bezels are no longer in production, and the last generation was branded as the Datejust Turn-O-Graph. However, the Thunderbird nickname lives on, and all rotating-bezel Datejust watches are affectionately called "Thunderbirds" by many collectors.
Underline Dial
The Rolex "Underline Dials" are vintage dials marked with small horizontal lines near the text either above the center hands or below it. These 'Underline Dials' are found on select models from approximately 1962 to 1964. The most agreed-upon theory among collectors is that these markings signify the transition from radioactive radium luminescence to tritium.
Unicorn
This nickname refers to a single, special watch. The one-of-a-kind, white gold Daytona ref. 6265 "Unicorn" that once belonged to the renowned collector and Rolex scholar, John Goldberger, is the second highest-selling Rolex sold at auction with a price tag of $5.9 million. The vintage Rolex Daytona was manufactured in 1970 and is believed to be the only known example of a white gold, manual-winding Daytona that has ever been produced.
Wide Boy Dial
Found on select vintage Day-Date and Datejust models from the 1970s, "Wide Boy Dials" are characterized by wider than the normal hour markers that provide their watches with an unmistakably vintage aesthetic.
Zenith
There have been three main generations of the Daytona chronograph to date. The first ran on manual-wound movements, the second on modified Zenith El-Primero automatic movements, and the third on in-house Rolex automatic movements. As a result, this second generation is often referred to as 'Zenith Daytona' watches due to the base caliber that served as their foundation.
Click here to learn more about 5 of the most famous vintage Rolex nicknames.
Rolex Nicknames Based on Colors
Batman
The Rolex GMT-Master II watches with black and blue Cerachrom bezel inserts are frequently called 'Batman' GMT's due to their dark color profile that embraces the same colors as the Dark Knight. There is also a matching blue 24-hour hand that matches the DC Comics superhero.
Blueberry
A rare and somewhat controversial Rolex, the "Blueberry" nickname refers to Rolex GMT-Master 1675 watches that were (apparently) fitted with all-blue bezel inserts. It is rumored that these all-blue bezels were custom order components; however, some collectors believe that Rolex never produced these components as they were never standard options in the catalog. Regardless, it goes without saying that these are highly disputed and incredibly rare.
Bluesy
The nickname "Bluesy" refers to the two-tone, 904L stainless steel and 18k yellow gold Rolex Submariner ref. 116613LB which is outfitted with a blue dial and matching blue bezel. Despite not being the only Submariner model with a blue dial and bezel, it is the two-tone model that has picked up the "Bluesy" nickname.
Coke
Rolex GMT-Master II watches with red and black inserts are called 'Coke' or 'Coca-Cola' GMT's. Although the Coca-Cola Company's colors are actually red and white, the overall color profile of a stainless steel GMT with its black dial and red and black bezel insert looks quite similar to a full bottle of Coca-Cola.
Ice
Okay, ice isn't exactly a color, but the glimmering white shine of these diamonds are distinctive enough to have a place on this section of the list. One of the highest-priced Rolex watches (at retail) ever made, the solid 18k white gold GMT-Master II ref. 116769TBR (also known as "Ice") is entirely covered in diamonds and represents one of the most luxurious Rolex watches ever created.
Hulk
The green dial Rolex Submariner with a matching Green Cerachrom (ceramic) bezel insert has earned the nickname the "Hulk" due to its all-green color profile and thicker Super Case design. Although it is not the first time that Rolex has used the color green on the Submariner line of watches, the "Hulk" (reference 116610LV) marks the first (and so far only) time that both the dial and bezel insert have been manufactured in the brand's company color. While the addition of a purple strap would fully embrace the "Hulk" nickname, the thicker redesigned case and all-green color profile makes for an overall appearance that is understandably reminiscent of Marvel Comics' famous green superhero.
Kermit
In 2003, to celebrate the 50th anniversary of the Submariner – one of Rolex's most popular watches ever – the company decided to do something a little different. The iconic Swiss watch manufacturer introduced a bright green aluminum bezel into the collection, exclusively on the date-displaying stainless steel ref. 16610, with the green bezel version dubbed the reference 16610LV. The watch was highly unusual for the time, but has since become incredibly popular by collectors who lovingly call it the 'Kermit' after the famous green Muppet frog from Sesame Street.
Polar
The Rolex Explorer II was originally offered with only a black dial option, so when Rolex finally introduced the white dial version, the community began referring to these new white dial variants as "Polar" Explorers due to their snow-colored faces.
As the Explorer watch lines are designed for explorers and the adventurous, the "Polar" nickname is actually quite fitting for the version with the white dial. Other than the dial color and the hands and hour markers being finished in black (with the exception of the very first examples), there is nothing separating a "Polar" Explorer from a regular Explorer II with a black dial. Therefore, collectors use this nickname as a quick and convenient way to make a distinction between the two different watches of the same reference.
Pepsi
While the iconic red and blue bezel insert of the first GMT-Master was originally produced to match Pan-Am Airlines' company colors (along with the attitude indicators on the airplanes of the time), we commonly refer to these models as "Pepsi" GMT watches due to their resemblance to the famous soda company's logo. Any Rolex GMT-Master or GMT-Master II can be called a Pepsi GMT, no matter if it's vintage or modern, as the name really only refers to the watch's red and blue bezel insert.
Rainbow
The "Rainbow" nickname refers to special edition Daytona chronographs forged in yellow, white, or rose gold and fitted with a rainbow of gradient colored sapphires on the bezel. Ultra-rare and never produced as standard options within Rolex's catalog, these models rank among the most luxurious and in-your-face watches that Rolex has ever produced.
Root Beer
Keeping with the soda theme for Rolex's GMT line, the GMT-Master and GMT-Master II watches with brown bezels are often referred to as "Root Beer" GMT's; however, there are a few different variations of the 'Root Beer' GMT.
Generally speaking, the "Root Beer" nickname pertains to the half-brown and half-gold bezel inserts that are typically found on Rolesor (two-tone) GMT-Master and GMT-Master II watches fitted with brown dials. However, some collectors also refer to the solid-brown inserts with gold text as "Root Beer" GMT inserts. Additionally, there are also the modern Cerachrom ceramic Root Beer GMT inserts that feature black and brown ceramic and are found on either Everose Rolesor or solid Everose gold GMT-Master II watches.
Smurf
Rolex's reference 116619 Submariner is crafted from solid 18-karat white gold and features a blue Cerachrom (ceramic) bezel insert and matching blue dial. It's easy to see why collectors started calling this the 'Smurf,' as its bright white coloring and the blue flat hue of its dial and bezel insert are rather reminiscent of the fictional blue cartoon characters.
Although this Submariner has a cartoon nickname, the "Smurf" is one of the most expensive modern Submariner references available and truly represents the apex of luxury and function. In fact, because the "Smurf" Submariner is a premium offering in the Submariner line of watches and is now discontinued, it has become a favorite among celebrities and professional athletes due to its combination of premium materials and an understated, yet elegant appearance.
Stella
The 'Stella' nickname doesn't just refer to one color, but an array of brightly colored enamel dials outfitted on Rolex Day-Date and Datejust watches that first appeared during the 1970s. The colors ranged from pink to orange, green to turquoise, and they are rumored to have originally been intended for Middle Eastern markets and then eventually made their way out west. With the Stella dials, Rolex was appealing to a completely different kind of buyer, taking something as traditional and timeless as the classic Rolex President and making it bright and trendy.
There are several incorrect theories out there about the origin of the now-famous 'Stella' nickname. Some think that it is in reference to American artist Frank Stella and his choice of extremely bright colors, while others believe that it comes from the Latin word meaning 'star' due to the dials' bright and vibrant appearance. However, the leading theory – and the one that is likely closest to the truth – is that the "Lacquered Stella" name comes from a Swiss-based company named Stella who supplied Rolex's dial manufacturers with the special lacquers and pigments that were used in the production of these brightly colored dials. Consequently, the "Stella" name stuck, and now these dials are collectively known as Rolex Stella dials within the collecting community