Rolex Daytona Paul Newman Prices & History
Rolex "Daytona" watches, made famous by actor Paul Newman, are one of the most-recognized watches in the world.  However, like most Rolex watches, the Daytona watch is not a single watch, but a name given to a line of high performance timepieces. The Rolex Daytona Paul Newman is just one variety of this ubiquitous Rolex favorite.
Paul Newman's Rolex Daytona Sells for $17.8 Million – Setting a New World Record for the Most Expensive Wristwatch Ever Sold
On October 25, 2017, Paul Newman's personal Paul Newman Rolex Daytona Reference 6239 was auctioned off by Phillips Auction House at a final price of $17.75 Million US Dollars ( final hammer bid includes buyer's premium ).  The Wall Street Journal originally broke the story in June of 2017 announcing that the watch had been consigned to Phillips.
There was a euphoric 12 minute bidding war that started with a boisterous phone bid of $10 million dollars sending the crowd in an immediate frenzy.  There were approximately 10 bidders but, in the end, the final high bid came from someone on the phone. Watch collectors, journalists, and enthusiasts from around the world followed this momentous event online, on the phone, and in the jam-packed auction room of more than 700.  This is the watch that inspired and started it all.  Our Founder & CEO Paul Altieri was in the 2nd row to experience this historic event.
Looking to Sell a Paul Newman Daytona?
Below is a video that showcases one of these rare Paul Newman Rolex Daytona's, the reference 6239, and also illustrates how easy it was for a Bob's Watches customer to find the value of his own watch.
Read the full story about our customer's journey here or simply request a quote for your Paul Newman Daytona below.
The History of the Rolex Daytona Model
The history of the Rolex Daytona is an interesting one in which this watch developed along parallel lines to the Submariner. Both watches were originally designed for "working men" and served a particular function as timepieces. While the Submariner was specifically built to withstand the pressure of underwater diving, the Daytona, named for the famous racetrack in Florida, was built strictly as a timekeeper of the millisecond variety.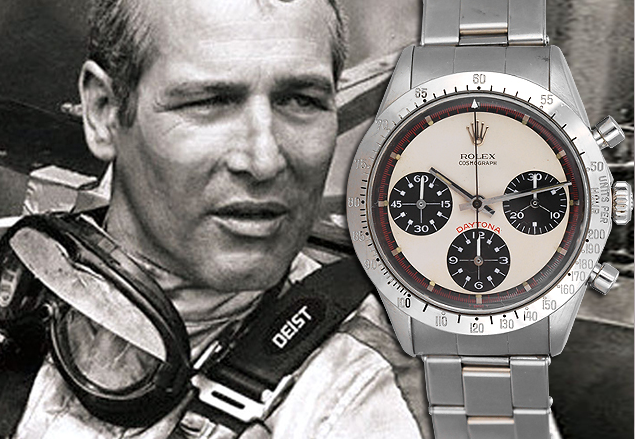 The Rolex Daytona Watch Has Seen Three Separate Series
Series one. The original Cosmograph Daytona has lived through three separate series. The original series was produced in very small quantities, beginning in 1963 and lasting through the 1980s. These watches have a four-digit model number and feature a manual-wind movement.
Series two. Because of the demand of the iconic first Daytona series, a second series was introduced in 1988, with automatic winding. These watches feature a five-digit number and were produced up until 2000.
Series three. In 2000, Rolex began producing a third Daytona series, equipped with a movement made in-house and a six-digit model number. These watches are self-winding and have chronograph functions.
Although Daytonas continue to be relatively abundant, the rarest and most sought-after of these watches continue to be the "Paul Newman" variety, a version of the Daytona made famous by the actor of the same name.
The Paul Newman Daytona Homage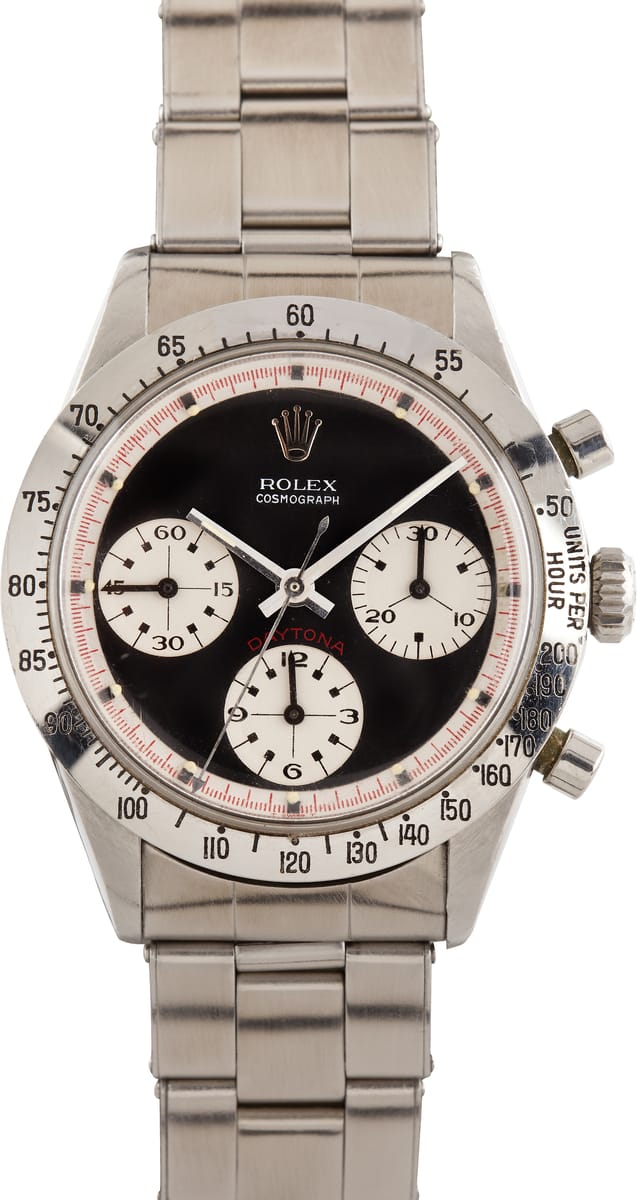 Not all Daytona watches are of the Paul Newman variety. These watches have a specific dial that includes distinguishing features that separate it from the other varieties of this watch. However, these specific details may be so subtle that it is easy for the untrained eye to miss them.
First thing to know, Paul Newman Daytona is a sports watch and can only have the reference number 6239, 6241, 6262, 6263, 6264 or 6265. These numbers must be featured in order for the Rolex to be authenticated. Furthermore, all of the Paul Newman Daytona references have domed crystals made of acrylic. Sub-dials include block markers rather than lines and each sub-dial center has crosshairs placed on it. The seconds sub-dial is marked at 15, 30, 45 and 60. On other Daytona watches, these markings exist at 20, 40 and 60.
A true Paul Newman Daytona comes in one of four colors for the dial and specific combinations of layout of dial features. These colored dial versions exist on the models 6239, 6241, 6263, 6264 and 6265. No replacement version exists for this watch.
Interactive Graph of Paul Newman Daytona Auction Prices
Individual models can be toggled on or off within the graph by clicking on the model numbers on the right side of the graph.
Please use a larger screen to view an interactive graph of Paul Newman Daytona auction prices.
Descriptions and Historical Prices of Rolex Daytona Paul Newman for Sale
Rolex Daytona Paul Newman Reference 6239
This is the one that started them all; the actual model worn by Paul Newman, until he passed. It is the most common and least expensive of the "Paul Newman Daytona's". The 6239 features a 300 units-per-hour, stainless steel bezel; pump pushers for the chronometer, and a Valjoux 722, 17 jewels, 18,000 beats-per-hour movement. Like the modern Daytona, it was available in both white and black dials. The dials were a three color dial, consisting of black, white, and red, and featuring the word "Daytona" written above the register at the 6 o'clock position. This was the first Daytona model to move the tachymeter scale off the dial and on to the bezel. Production on the 6239 models began in mid 1963.
Current Market Valuation for the Rolex Daytona Paul Newman Reference 6239
View prices of Rolex Reference 6239 for sale
Rolex Daytona Paul Newman Reference 6241
The 6241 reference is very similar to its 6239 predecessors in most respects. Again, the 6241 sports the Valjoux 722 movement and a three-color dial. But, and an oddity to this model is that it was available with pump pushers or screw-down chronograph buttons. It is also this model that the word "Daytona" makes its debut on the dial, and still takes up prominent residence there to this very day! Collectors seem to prefer this model, as they are rarer than the 6239, so expect them to command a better price than its older cousins, the 6240 and 6239.
Current Market Valuation for the Rolex Daytona Paul Newman Reference 6241
Sale on November 11, 2016 for $201,094 at Phillips.
View prices of Rolex Reference 6241 for sale
Rolex Daytona Paul Newman Reference 6262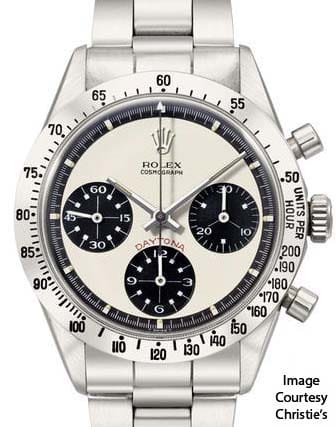 Following the mantra, "if it aint broke, don't fix it"; Rolex made very few changes to this model, aesthetically. Mechanically, however, it was given an entirely new movement with the new Valjoux 727. The noticeable difference to this movement is the increase of the beats-per-hour from 18,000 to 21,600. The 6262 also featured the metal bezel again, a tri-color dial (though it also had a two-color dial available, as well), and pump pushers. It was only manufactured for one year, from 1970-1971, and is a very rare reference.
Current Market Valuation for the Rolex Daytona Paul Newman Reference 6262
Sale on December 12, 2016 for  $150,000 at Christies.
View prices of Rolex Reference 6262 for sale
Rolex Daytona Paul Newman Reference 6263
The Rolex Cosmograph Oyster Reference 6263 with a Panda Paul Newman dial is the grail watch to most discerning collectors. The 6263 duplicates the 6262 technically, with the Valjoux 727 inside, but goes back to the screw-down pushers and black, acrylic bezel. Additionally, this model was even made in a 14k gold version for a very short time. This is the model that commands the ultra-high prices seen in recent auctions, based on condition and dial options.
Current Market Valuation for the Rolex Daytona Paul Newman "Panda Dial" Reference 6263
Sale on May 29, 2017 for $518,398 at Christie's.
View prices of Rolex Reference 6263 for sale
Rolex Daytona Paul Newman Reference 6264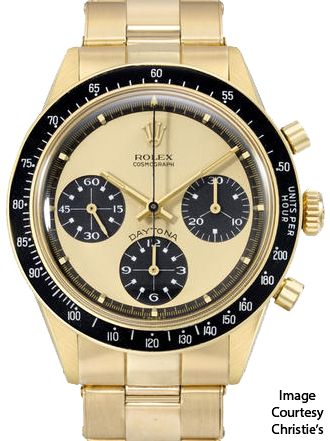 The 6264 is the twin to the 6262. The model features the higher beat, Valjoux caliber 727 movement and pump pushers. The main difference between the 6263 and 6264 models is the black acrylic bezel. Made to resemble the previous generations Bakelite bezels, this simple change really sets it apart visually from its counterpart model. Again, only being made in 1970 and 1971 makes this a very rare model.
Current Market Valuation for the Rolex Daytona Paul Newman Reference 6264
Sale on May 5, 2016 for  $204,651 at Phillips
View prices of Rolex Reference 6264 for sale
Rolex Daytona Paul Newman Reference 6265
Starting in mid-1970, Rolex released the final references of the manually wound Rolex Daytona series: the 6263 and 6265. Reference 6265 shows the return of the water-proof, screw-down pushers, features a thicker case, and continues to house the Valjoux 727 movement. The 6265 also brings back the graduated stainless steel bezel, and now instead of three color dial, has a traditional "Panda" style dial in just black and white. Additionally, there is no "Daytona" written above 6 o'clock. This model, as well as the 6263, was available at Rolex dealers until 1987, when the Daytona model was overhauled, updated, and given an automatic movement.
Current Market Valuation for the Rolex Daytona Paul Newman Reference 6265
Sale on May 29, 2017 for $351,000 at Christie's.
View prices of Rolex Reference 6265 for sale
Paul Newman's Original Rolex Daytona 6239 Has Been Found!

Paul Newman's name became inextricably linked to the Daytona when his wife Joanne Woodward gave him the watch when he took up racing in 1972. He is said to have worn the watch constantly until his death in 2008. Incredibly, the watch cost only $210 when it was first produced. Today, it is one of the most sought-after of all collectible Rolex models. And miracuously enough, the original Rolex Daytona reference 6239 worn by Paul Newman himself was just reported as found by the Wall Street Journal on June 1, 2017.