If you look at recent releases from Rolex, Tudor, Omega, Cartier, and others, you'll note that two-tone watches are at the forefront of their novelties. Not that two-tone timepieces are a new thing – in fact, a watch that combines both gold and steel can be categorized as a classic style.
But with all things style and fashion, trends are cyclical, and two-tone watches are most definitely having (another) moment. So with that in mind, we are taking a look at a couple two-tone versions of popular watch models: the Rolex Datejust and the Cartier Ballon Bleu. Let's find out how these classic yellow gold and stainless steel watches stack up side-by-side.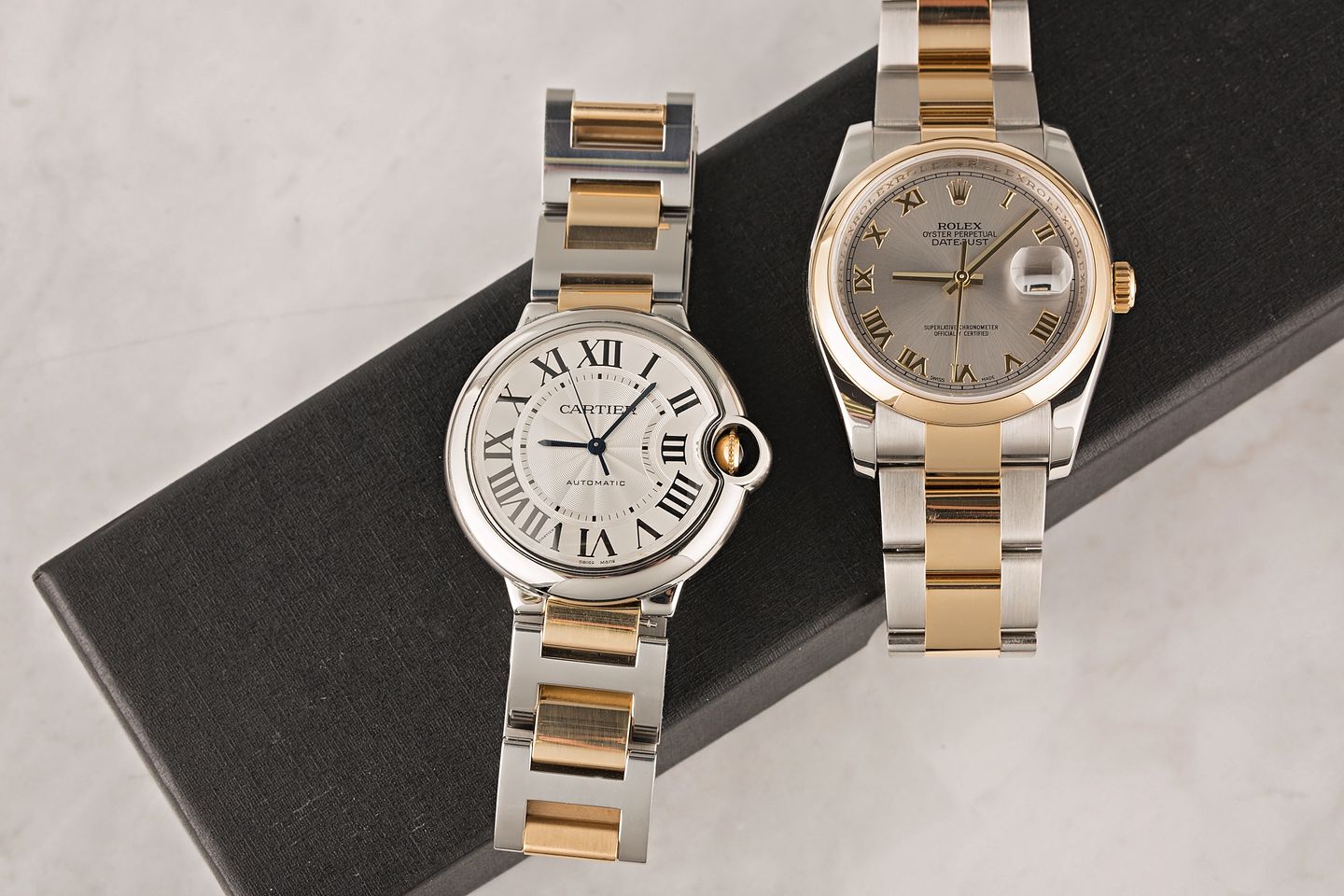 Design: Rolex Datejust 116203 & Cartier Ballon Bleu W6920047
For our two-tone timepiece tag team, we selected a Rolex and a Cartier with very similar styles. Both watches include round cases, metal link bracelets, Roman numeral dials, and their own particular combination of 18k yellow gold and stainless steel.
First up is the yellow gold and stainless steel Rolex Datejust ref. 116203. This particular Datejust sports a 36mm round Oyster case (water resistant to 100 meters) and a flat three-piece link Oyster bracelet. Yellow gold is used on the smooth bezel, the winding crown, and the center links of the bracelet.
Furthermore, the white dial of this Rolex Datejust ref. 116203 is home to yellow gold applied Roman numerals and a trio of yellow gold hands. Of course, as a Datejust model, the dial also includes the mandatory date window at 3 o'clock, accompanied by the familiar Cyclops magnification lens protruding from the sapphire crystal that protects the dial. Like all modern Rolex watches, the Rolex Datejust ref. 116203 runs on an in-house automatic movement.
Similarly, the yellow gold and stainless steel Cartier Ballon Bleu ref. W6920047 also has a 36mm case (but with a curvier profile), a flat three-piece link bracelet, and a sapphire crystal above the dial. Yet, there is much less gold on this watch with just a few yellow gold center links on the bracelet and a yellow gold winding crown (topped with a blue synthetic spinel cabochon). 
Additionally, the silvered guilloché opaline dial of the Ballon Bleu ref. W6920047 is also void of any yellow gold details and instead includes black Roman numerals and blued-steel sword-shaped hands. Also note that this particular automatic Ballon Bleu is a time-only model and it is water resistant to 30 meters.
Value: Two-Tone Rolex Datejust 116203 vs. Two-Tone Cartier Ballon Bleu W6920047
Although similar in looks, it is worth mentioning that while the Datejust has been a part of the Rolex catalog since 1945, the Ballon Bleu is relatively new to Cartier's collection, having made its debut in 2007. So how does the traditional Datejust compare to the modern Ballon Bleu in terms of value?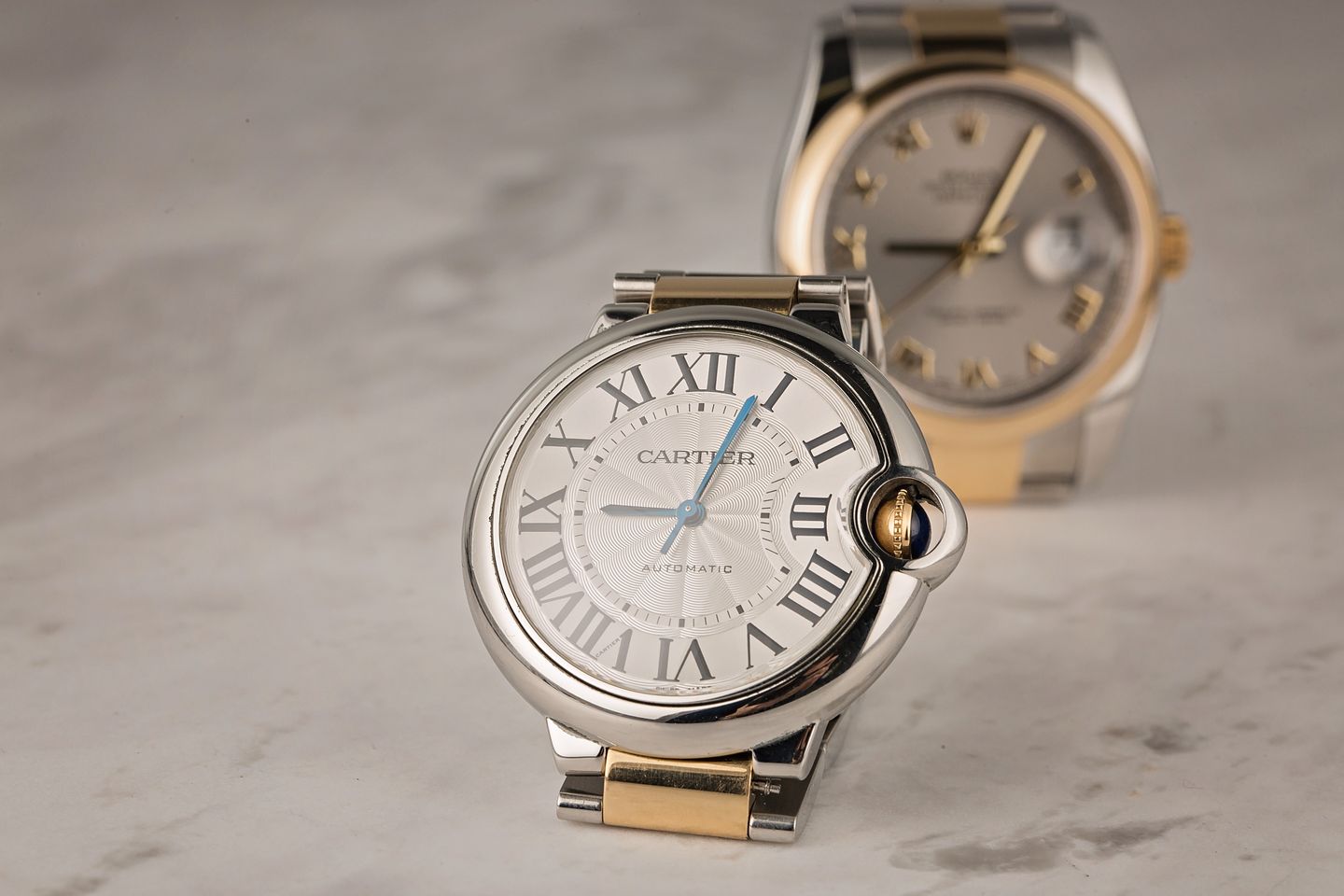 Currently, the Rolex Datejust ref. 116203 is roughly $800 more expensive than the Cartier Ballon Bleu ref. W6920047 in the secondary market. But then again, the Rolex also has more than triple the water resistance, more yellow gold on the watch, and the addition of a date complication – the price difference is well worth the added value in this instance. Plus, pre-owned Rolex watches are typically easier to sell than pre-owned Cartier watches on the secondary market.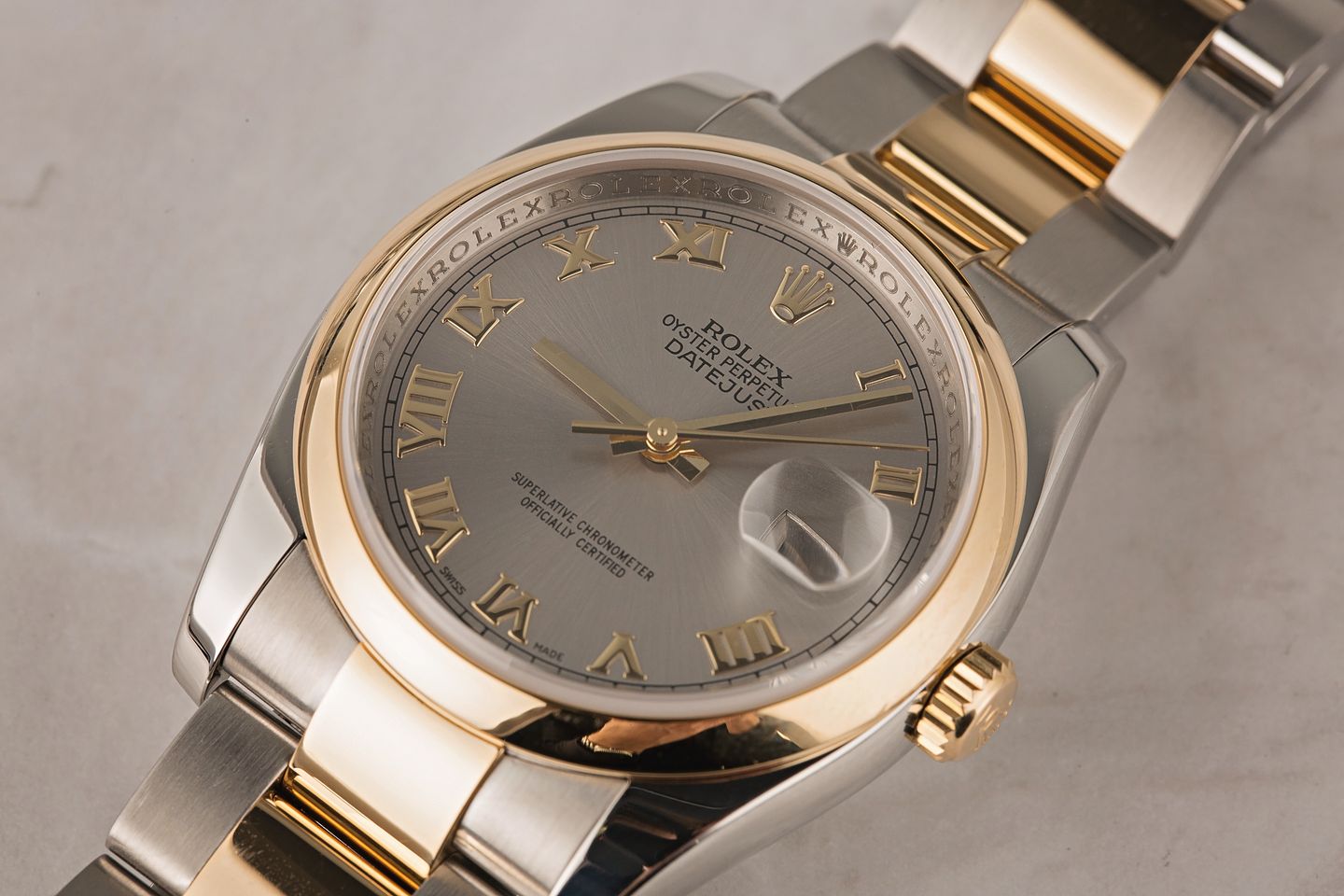 However, perhaps more importantly, given the nominal price difference between both models, it really comes down to personal taste and function preference. Some may appreciate the no-date dial of the Cartier Ballon Bleu and the subtle additions of yellow gold on a predominately steel watch. Conversely, some may prefer having a date window and more yellow gold on a two-tone watch.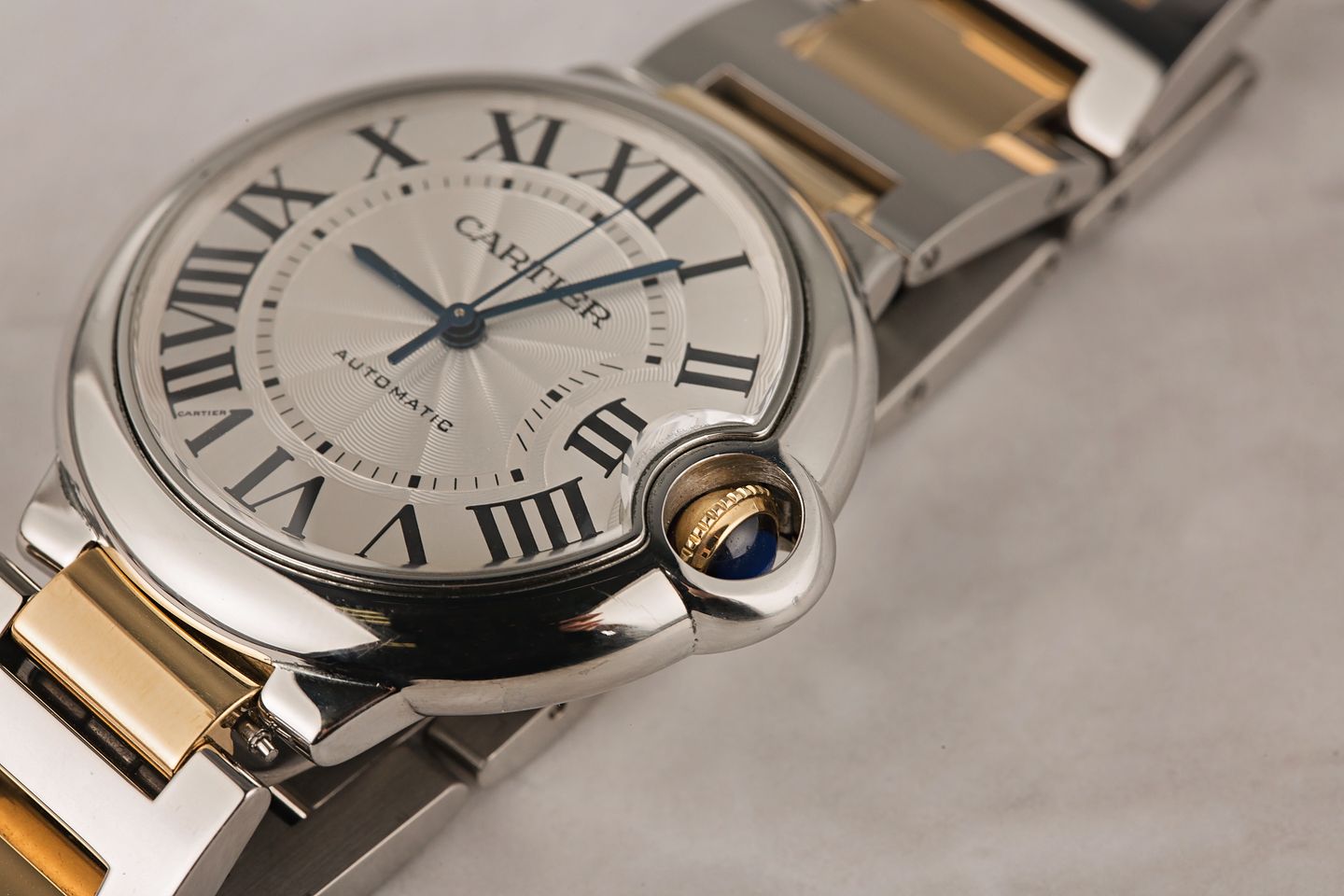 At the end of the day, both these two-tone luxury watches from Rolex and Cartier offer classic styles and well-balanced proportions. They fit right into today's two-tone trend, and given the recurring nature of this particular style, they will most likely be just as relevant to future fashion trends as well.