The Daytona has been coined by many as "the king of collectible Rolexes," as it tends to hold its value amazingly well in today's economy. In the following paragraphs, we are going to get to the bottom of exactly why the legendary pre-owned Daytona Cosmograph is frequently sought after by Rolex collectors around the world.
History
The Rolex Daytona was released to the market in the early 1960s as reference 6239. It initially appealed to a small number of sportsmen because of its external tachymeter scale on the bezel and an Oyster case that included a screw-on back and screw-down crown. The tachymeter made it amazingly easy to time car speeds, which is why the watch was given the name "Daytona."
The Daytona became somewhat popular in the 1960s and 1970s when the "Paul Newman" version Rolex Daytona was coined. The Paul Newman Rolex came equipped with an exotic solid colored dial that was offset by contrasting subdials and an outer minute track. This version is extremely valuable and is without a doubt the rarest Daytona on the planet. Actor Paul Newman is said to have worn the watch up until his recent death. The wildest bit of information on this collector's item is that it is rare only because at the time there were few individuals who wanted to purchase it! This inspired the Rolex Company to limit the production of the watch. There are even stories of various Rolex dealers deeply discounting the Rolex Daytona in an effort to sell them back at that time.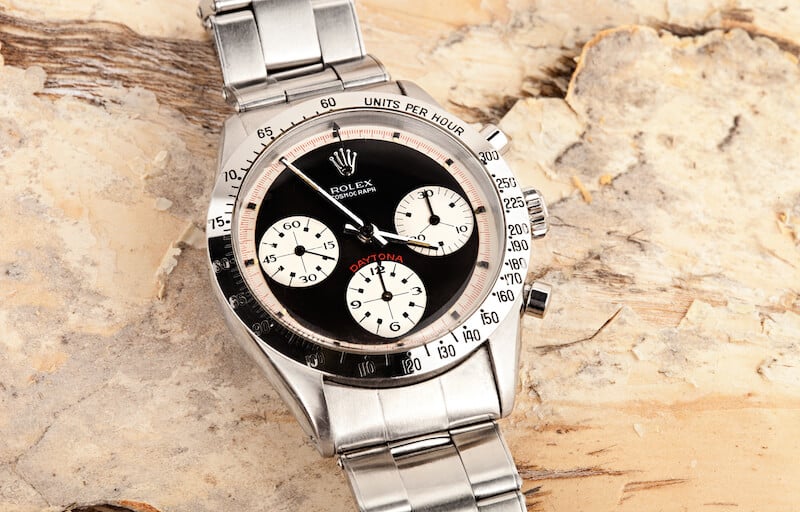 Rarity
The truth of the matter is that vintage Rolex Daytona watches hold value mainly because they are rare. It wasn't until the late 80s that earlier versions of the Daytona were considered collector's items, which spurred a rampant desire to purchase new versions. When the 90s rolled in, the Daytona stainless steel 16520 became a hit and inspired massive waitlists.
According to Rolex experts, the stainless steel model release was limited and because it was amazingly popular its value skyrocketed. Rolex was so buried in Rolex orders that it couldn't produce enough to meet the demand.
The lesson to be learned here is that the rarer the watch, the more valuable. Of course, quality is important as well, but for a Rolex watch to be a true collectible Rolex watch, it is the rarity that is the underlying factor. Also, the Rolex Daytona story reveals the true value that Rolex watches possess. What may not be a collector's item now maybe one in the future!