The Rolex Milgauss has been the model for the watch collector who doesn't really consider himself a "Rolex guy." Its design has always been a touch more outlandish than its counterparts, and among the brand's offerings, it's one of very few that you can easily pick out in a crowd and identify, without doubt and from a reasonable distance – especially when we're talking about the Rolex Milgauss Z-Blue.
After a long time out of the Rolex catalog, the Milgauss was re-introduced to the Rolex collection in 2007, followed by this especially funky Z-Blue dial variant in 2014. The latter is what we're going to be focusing on today, as it is hands-down one of the most interesting and peculiar Rolex models currently available and also the model that really started the. First, we'll take a look at the history of this unique Rolex watch that was designed for scientists rather than sportsmen, and then examine all of the key features that make the Rolex Milgauss Z-Blue a standout in the Rolex catalog. So, without further ado, let's take a closer look!
Rolex Milgauss Reference 116400GV – Z-Blue Dial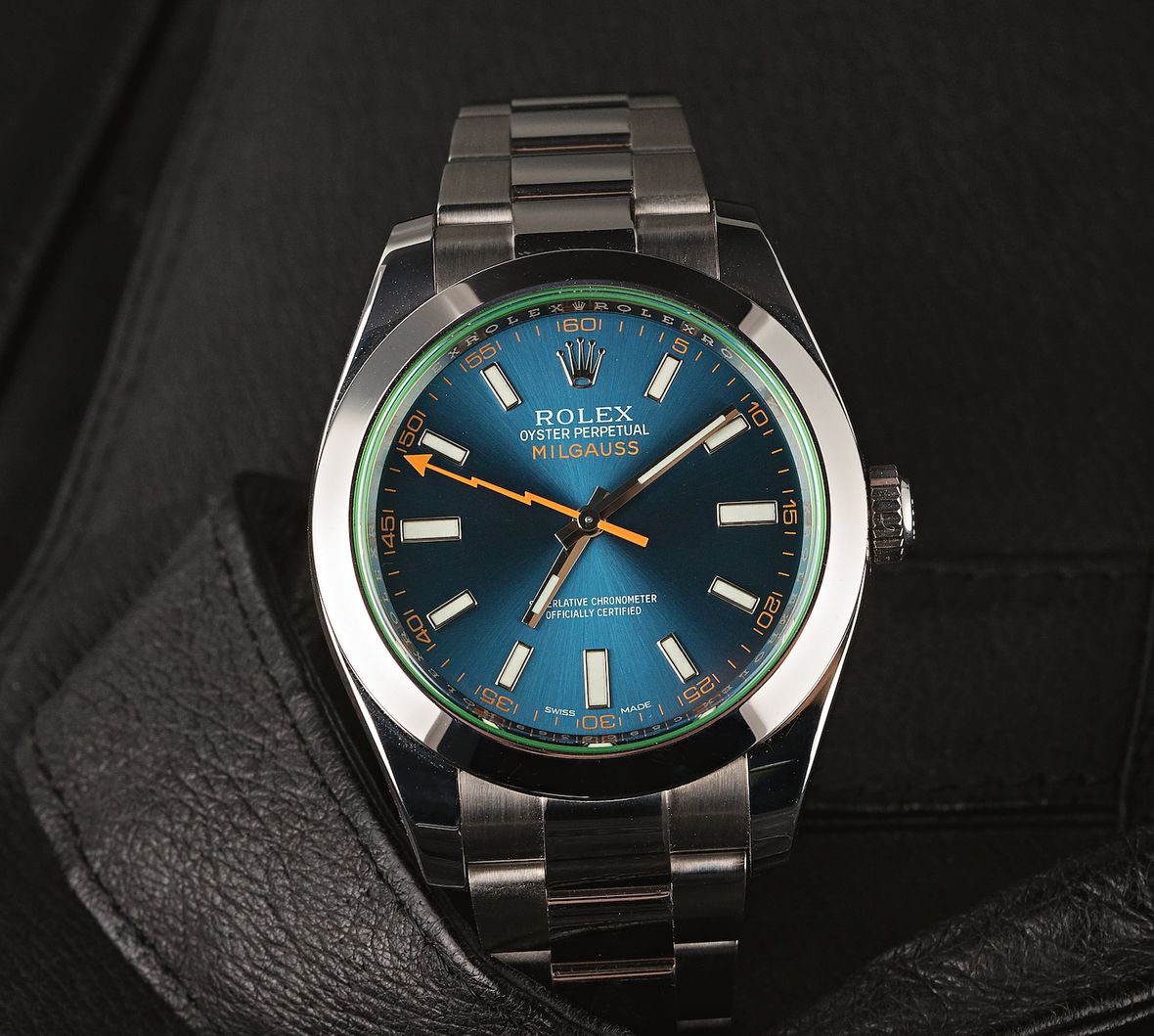 Milgauss Z-Blue 116400GV Key Features:
– Reference Number: 116400GV
– Production Years: 2014 – Present
– Case Size: 40mm
– Materials: Oystersteel (940L Stainless Steel)
– Functions: Time w/ Running Seconds, Antimagnetic
– Dial: Z-Blue w/ Luminous Hour Markers
– Luminescence: Chromalight
– Bezel: Fixed, Stainless Steel, Smooth Style
– Crystal: Green Sapphire (Flat)
– Water Resistance: 100 Meters / 300 Feet
– Movement: Rolex Caliber 3131
– Strap/Bracelet: Oyster Bracelet
– Approx. Price: $8,300 (Retail); $12,000 (Pre-Owned)
Click here for our Ultimate Buying Guide on the Rolex Milgauss.

The single feature that defines the Z-Blue version of the reference 116400GV Milgauss is its stunning Z- Blue dial, which is a unique shade of blue that is entirely unique to the Milgauss collection and that you won't find that same blue on any other Rolex watches. Rather than being a traditional blue, the Z-Blue is a kind of metallic electric blue that reflects the greenish tones created by the green-tinted sapphire crystal that protects it. Accented with bright orange highlights that compliment its orange lightning bolt-shaped seconds hand, the Z-blue dial makes for one of the most colorful and striking Rolex watches ever created.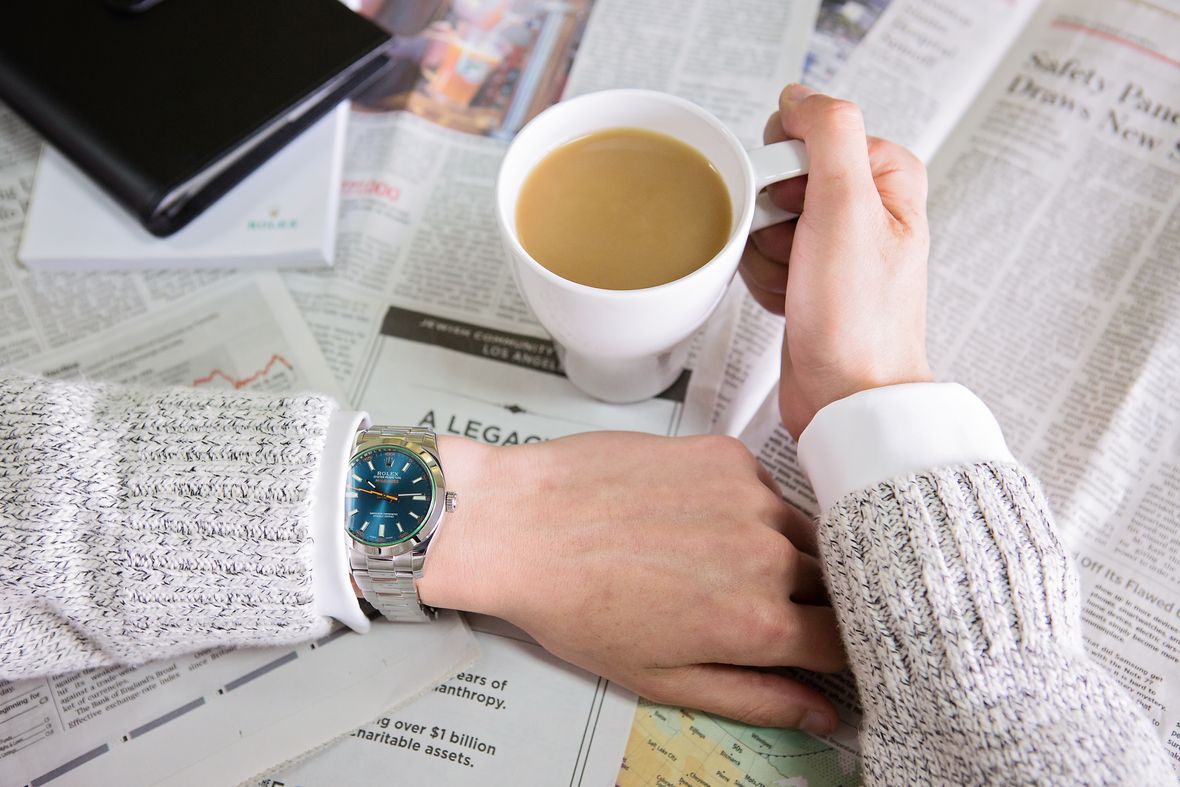 The History of the Rolex Milgauss Z-Blue
First introduced in 1956, the Milgauss was a revolutionary timepiece developed specifically for the scientific community. With the rise of industry during the 1950s and the increased presence of electricity, there were a whole new set of challenges for watchmakers in terms of dealing with magnetism. Many scientists and individuals working in power plants or laboratories were exposed to strong electromagnetic fields on a daily basis, which would significantly disrupt the timekeeping of their mechanical watches.
To help this community of professionals with this new issue, Rolex created the Milgauss – a self-winding chronometer that was resistant to magnetic fields in excess of 1,000 gauss. As an important point of reference, most "magnetic resistant" watches of the time could only withstand magnetic fields up to 200 gauss. So, the Milguass was a major leap forward in terms of anti-magnetic watchmaking technology. And if you're wondering where the name Milgauss actually comes from, it's actually a portmanteau of the words "mille" meaning a thousand in French, and "gauss" which is the standard unit of measurement used for magnetic fields.
However, the Milgauss was discontinued in 1988, and when it was re-introduced at Baselworld 2017, it was an entirely different and modern watch. This meant upgrading the watch from the inside out – like replacing the acrylic crystal with a new sapphire crystal for the new ref. 116400. Rolex even offered a green-tinted sapphire crystal on one of the new Milgauss watches – the ref. 116400GV. Additionally, the lightning bolt-shaped seconds hand returned to the collection, this time in bright orange to match the various dial accents on the new Rolex Milgauss watches.
Then in 2014, Rolex added a new blue dial to the Milgauss collection – aka the Z-Blue. Not only did this entirely upend the look of the watch, giving it an unusual and colorful appeal with that electric blue contrasting against its orange accents and green sapphire crystal, but it also helped further distinguish this antimagnetic watch line from the rest of the Rolex collection. With the Z-Blue dial, there was surely no way to overlook the Milgauss ever again, and it was really the model that started the Milgauss on its current trajectory of being entirely unavailable at a retail level and trading hands for values significantly above its brand-new price on the pre-owned market.
Appearance: Rolex Milgauss Z-Blue
If you like a watch with a little personality, the Z-Blue Milgauss has a lot to offer. The crisp and cool electric blue of its dial is distinct from any other Rolex offering – a color chosen thoughtfully, with the intent of letting its orange minute track, seconds hand, and dial text stand out brightly without seeming out of place. Blue and orange is a challenging combo that can go wrong in a hurry, but it works extremely well here.
Another thoughtful shift from the ef. 116400GV black dial variant is the fact that Rolex opted to use a single color of Chromalight luminous material for this dial. All of its indices, as well as its hour and minute hands use white colored, blue-glowing lume rather than a mix of colors as seen on the black dial. There's plenty going on with this watch as it is, so the multicolor lume would have definitely been a bit overkill, and the all-blue glow that it emits in the dark reminds you of the stunning electric blue that awaits you when the light returns.
Two requisite details that remain intact with the Milgauss are its "lightning" seconds hand, and the green-tinted sapphire crystal – two traits that are only found on the Milgauss collection. Though both details are purely aesthetic, they're charming in their own weird way and truly set the modern Milgauss collection apart from the rest of the generally more conservative models that make up Rolex's portfolio. The green-tinted sapphire crystal is a fun and odd choice that unfortunately will cost you an arm and a leg to replace if you manage to chip or damage it, but provided that you aren't too abusive with your watches, sapphire is extremely resilient.
Functionality Rolex Milgauss Z-Blue
So of course, the roots of the Milgauss remain in its anti-magnetic capabilities. Though still listed as resistant to at least 1,000 Gauss, there's much speculation that the actual spec is much, much higher. After all, Omega claims a 15,000 Gauss resistance on many of its models, and Rolex isn't one to be outdone with much of anything.
The Milgauss is currently fitted with its own movement that differs from the Submariner, Explorer, and other time-only models. Residing inside its internal anti-magnetic shield is the Caliber 3131 with a 48h power reserve, Parachrom hairspring, nickel-phosphorus lever/escape wheel, and Superlative Chronometer timekeeping standard +2/-2 seconds per day accuracy. Fun fact, this movement also appears in the current 40mm Rolex Air King, complete with antimagnetic components and shielding.
The Milgauss is fitted with a conventional 904L steel Oyster bracelet that has an Easylink 5mm comfort extension in its clasp. While its 40mm case is high-polished throughout, the bracelet features brushed surfaces with glossy polished center links, and this polishing pattern extends to the clasp.
Although its case thickness is still incredibly manageable, the Rolex Milgauss is a bit on the portly side when compared to things like an Oyster Perpetual or Datejust. This is in large part due to the ferromagnetic cage that separates the case and movement, which helps bolster the piece's antimagnetic properties by redistributing magnetic fields through its structure and protecting the movement within. A Twinlock screw-down crown assures water resistance of 100m and grants access to both hand-winding and time-setting once unscrewed from the side of the case.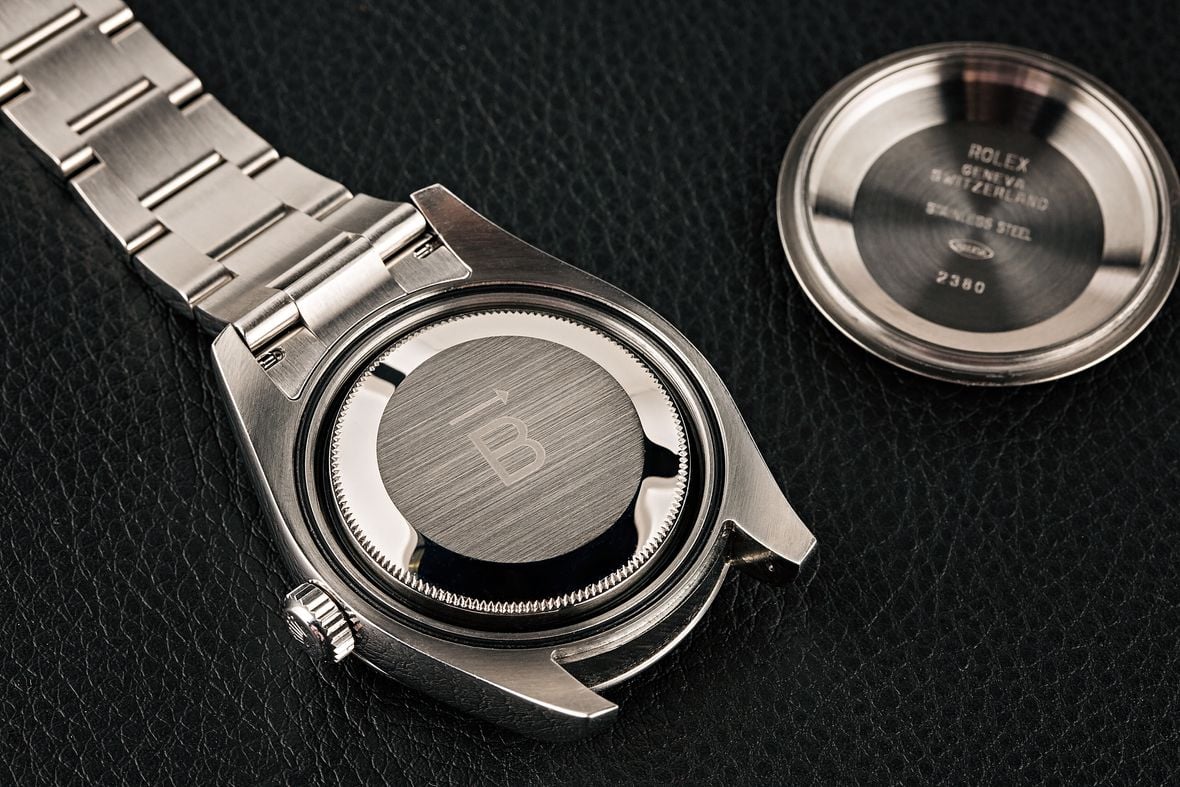 On The Wrist: Rolex Milgauss Z-Blue
All told, the Milgauss is another one of those great Rolex models that you can just wear day-in and day-out. Though its case is by no means an ultra-thin, it is sleek enough to tuck under a shirt cuff yet offers a bit more wrist presence than your standard Rolex watch. It's also fun and funky enough to throw on with jeans and a t-shirt, or other attire to wear during anything from a night out at the bar, to a day of tackling some home maintenance projects.
Like most 40mm watches built entirely from solid stainless steel, the Z-Blue Milgauss 116400GV can be a bit on the hefty side if you leave it on its bracelet; however the Milgauss uses standard lugs, so there are countless third-party straps out there if you really need to "lighten the load." Also be warned that the combination of its blue dial and green crystal will ensure that this watch gets noticed wherever you go – similar to wearing any gold or two-tone Rolex, don't expect this watch to go unnoticed, despite its all-stainless steel construction and lesser-known positioning within Rolex's catalog. All told, the Z-Blue dial makes it a statement piece, which isn't a bad thing at all depending on your mood or preference.
Buying The Rolex Milgauss Z-Blue 116400GV
For its average asking price just north of $8k at retail and closer to $12k on the pre-owned market, there are a number of solid options out there, Even opting for the black dial version of the reference 116400GV can save you as much as a couple thousand dollars when shopping on the secondary market, and that number increases to around a $3k savings if you opt for a standard ref. 116400 Milgauss that lacks the green sapphire crystal of its 'GV' counterparts.
However, if you fall into the category that finds a conventional Submariner, Datejust, Explorer, or Yacht-Master just a little too boring, the Z-Blue Milgauss is a compelling alternative. You won't see nearly as many out in the wild, which will be an added bonus for many, and as antimagnetic watches are slowly becoming the industry standard, the Rolex Milgauss's days in its current form are numbered if Rolex intends to continue to stay ahead of the pack.
Built for scientists and laboratory technicians, the Rolex Milgauss is a tool watch rather than a sports watch. However, despite its tool-oriented origins, it is now one of the most playful and unusual Rolex watches currently in production, and the Z-Blue dial variant is the single most colorful Milgauss watch that has been produced thus far.