Vintage Rolex watches have skyrocketed. Now viewed by many as being the "next best thing" that won't run you 6 figures, vintage Heuer chronographs have been seeing a boom of their own over the last couple of years. Watches that were $3k or $4k are now upwards of $14k to $20k (especially certain Autavia and Monaco models), and even things like the obscure and underappreciated Monza have seen a modest bump in value and desirability. With any grouping there is always an outlier of sorts, and thus far, the Heuer Daytona firmly occupies that slot.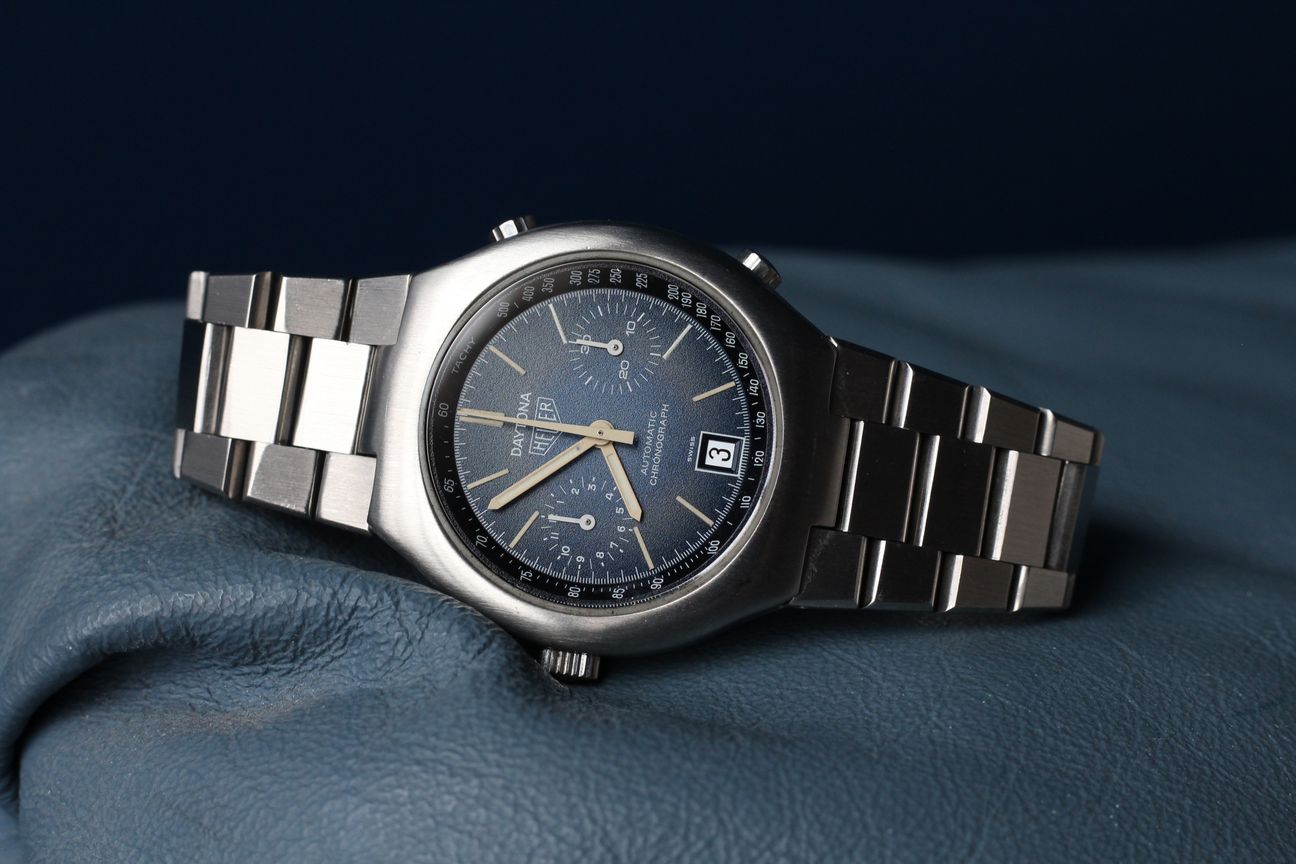 The Heuer Daytona
No more than 4 or 5 years ago, a Heuer Daytona in reasonable condition floated around the $1,500 mark, and buyers were few and far between. These days, you're looking at roughly $3,000 to $4,000, but when compared to things like the Autavia 2446c for example, these are coming in at maybe 1/5th the price. My personal example (as seen in the attached photographs) landed in my hands some 5+ years ago, beaten and battered and having lived in a drawer for decades, which provided me with an opportunity to go through the Heuer restoration process. It also fueled motivation to dig through the history books to get a better perspective on the underdog of the brand's assortment of classic chronos.
The Heuer Daytona is a rare bird in the grand scheme of things, as its production cycle only ran from 1976 through 1980. It was offered in two dial variants – the blue seen here, as well as a smoky grey version. Both dials have a degrade finish, meaning the color very subtly darkens as it moves from the center of its dial to its outer edges. Additionally, this is one of very few Heuer models to feature an integrated bracelet, meaning that you'll never spot one on a leather or rubber strap.
Sadly, the connecting point at the case was occasionally a weak spot with heavy wear, and owners didn't have many repair options should part of the bracelet or case fail. It's also worth noting that the Daytona was one of the last new collections of watches to be fitted with Heuer's Caliber 12 automatic movement, as it wasn't long before the brand started moving towards the now much more common Valjoux 7750.
In terms of dimensions, its case is a modest 39mm across though its is anything but petite on the wrist. Its case is relatively thick (no spec available but if I were to guess I'd likely say close to 13 or 14mm), and because of how the bracelet mounts to the case along with the thickness of its caseback, it sits a little proud when on the wrist. I'm the first to admit it that took some time getting used to it, though given its tapered bracelet design it wears quite comfortably.
Interestingly, both dial variants of the Heuer Daytona have been aging very gracefully over the years. Due to a bit of instability in its finish, fading is quite common on vintage Daytona models. While some can be quite dramatic/excessive if they've spent much of their life in the sun, most fade in a more subtle and uniform fashion. The same can be said for their indices and hands, which commonly take on a much more creamy tone over time when compared to the stark white color they started their life with.
Though quite distinct in design when compared to its siblings, a few design details from other Heuer chronographs are echoed in this model. Its fluted pushers, slightly recessed into its case, are a direct crossover from other models, as is the raised Heuer logo on its crown. You'll also note a stamped Heuer logo on its bracelet clasp – sadly an item that saw replacement on my personal example before it arrived in my possession. Given the era, there's little surprise Heuer opted for a flat flush-mounted plexiglass crystal.
At the end of the day, its case proportions and integrated bracelet will always leave the Daytona as a bit of an "acquired taste" for collectors. It will never see the fame of the Monaco, nor will it see the collector appeal of other Heuer models that have been reborn as reissues (at least for the time being). That said, its design and build quality are easily on par with any of its siblings, and for that the Heuer Daytona remains an underrated vintage gem (at least for now).