The Rolex Oyster Perpetual ref 1002 is an affordable vintage watch from a very popular period of Rolex watchmaking. As always, Rolex made a great effort with ref 1002 to create a long-lasting and quality timepiece. Perhaps not as flashy as some other Rolex models, the simple look of ref 1002 Rolex Oyster Perpetual gives it a classic and timeless appearance, while its quality construction keeps it running smoothly and accurately for generations.
For anyone interested in investing in their first vintage Rolex, ref 1002 is one of the best options on the market. Let's find out what makes this edition of the Oyster Perpetual so remarkable by taking a closer look at its history, feature set options, and pricing.
Oyster Perpetual ref 1002 History
OYSTER PERPETUAL TIMELINE
– 1926: Rolex invents the world's first water and dust-proof watch case.
– 1931: Rolex unveils its first self-winding movement.
– 1964: The first Ladies Oyster Perpetual is introduced by Rolex.
– 1986: Sapphire crystal used for the first time in the collection, added to the midsize Oyster Perpetual model.
– 2014: Rolex refreshes the Oyster Perpetual and introduces multiple sizes to the collection to include 26mm, 31mm, 34mm, and 36mm.
– 2015: Rolex adds a 39mm option to the Oyster Perpetual line.
– 2020: Rolex updates the entire Oyster Perpetual collection and replaces the 26mm model with a 28mm version and the 39mm model with a larger 41mm equivalent.
Click here for some additional fast facts about the Rolex Oyster Perpetual.

The Oyster Perpetual is a cornerstone of the Rolex catalog, coming to market in the 1950s and continuing production today. However, to fully understand reference 1002's history, we must first venture back to the 1920s and the invention of Rolex's famous waterproof Oyster case in 1926. At the time of its release, the Rolex Oyster was the world's first waterproof wristwatch during an era when pocket watches were more commonplace. A few years later, in 1931, Rolex released the Perpetual movement, the first of its kind. Unlike Quartz or hand-wound movements, the Perpetual movement automatically winds as the wearer moves their wrist. As long as the watch is worn regularly, it never needs to be manually wound, hence the name "Perpetual."
Today, nearly every model in the Rolex lineup uses both features and subsequently carries the distinction "Oyster Perpetual" on their dial, including the Datejust, Submariner, Explorer, and GMT Master II, among many others. In its purest form, the Oyster Perpetual features a time-only dial and a smooth bezel. Rolex released the first Oyster Perpetual in the late 1950s, equipping it with various calibers, including the 645 and 1030 often found inside vintage Explorer and Submariner models. Reference 1002 made its debut around 1959 and continued production until around the 1980s. During this time, countless editions of the watch hit the market, featuring several metal finishes, dial colors, movements, and bracelet options. Let's take a closer look at each of these features.
Rolex 1002 Movement
The Oyster Perpetual ref 1002 originally featured a robust 26 jewel calibre 1560 automatic movement. Calibre 1560 possesses a Rolex p/n 7980 balance assembly with a Breguet hairspring, running at 18000 bph and a 42-hour power reserve. Some later Rolex ref 1002s feature the calibre 1570 automatic movement. Calibre 1570 was introduced in 1965 and has a balance assembly Rolex p/n 8106 with a Breguet hairspring, running at 19800 bph and a 48-hour power reserve. The calibre 1570 automatic movement was very popular among both dress and sports Rolex models. Unfortunately, because of the movement's popularity, many watches from the 1960s were taken apart, and their movements removed and placed in other watches. Therefore, it is becoming increasingly hard to find watches, like ref 1002, unaltered.
The Oyster Case
The movement was held in a 34-36mm screw-down Oyster case available in stainless steel, two-tone, or either 14ct or 18ct gold. Additionally, each case was topped with an older-style acrylic crystal. The dial was originally either silver or gilt, typically depending on the finish of the case. However, as production continued through the decades, new dial color options became available. Each dial was signed Rolex Oyster Perpetual, Superlative Chronometer Officially Certified and topped with various handset options depending on the production year. For example, the earliest examples of the ref 1002 featured Alpha-style hands before the standard stick hands were introduced. This is an excellent Rolex watch example for anyone studying vintage Oyster cases.
The Bracelet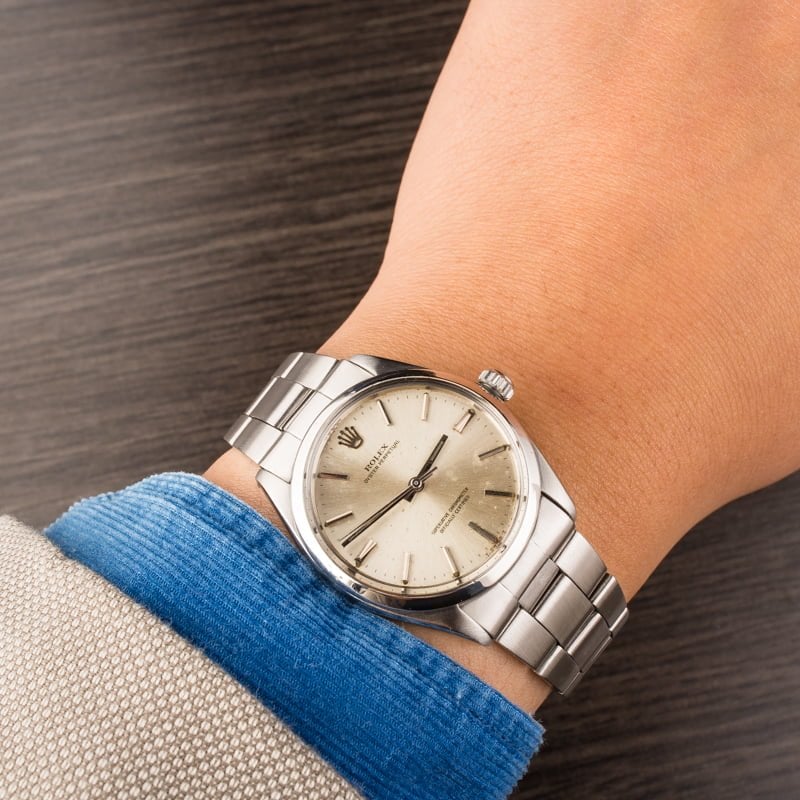 The bracelet came in various styles to match the case, including stainless steel, two-tone, and either 14ct or 18ct gold Oyster bracelets. Some ref 1002s feature a black or brown leather strap instead of an Oyster link bracelet.
Rolex Oyster Perpetual ref 1002 Value
Ref 1002's master craftsmanship was intended to last for at least one generation. 40 plus years later, many Ref 1002s still remain. Ref 1002 is also a very reasonably priced vintage Rolex watch. Many in good working order sell anywhere from $2,500 to $7,000, depending on age, condition, movement, and metal finish. On average, you can expect to pay around $4,500 for the all-steel model in excellent condition. This affordable and varying price range makes ref 1002 a viable option for those who wish to enter the Rolex collectors' market. It also makes ref 1002 an affordable gift or vintage addition to any existing Rolex watch collection.
When it comes down to it, the Oyster Perpetual 1002 is the quintessential luxury dress watch. It boasts the exclusivity of the Rolex brand without the exorbitant prices we've seen on the market as of late. And with a design set this nostalgic and classic, who wouldn't want to wear this edition of the Oyster Perpetual on their wrist?