Even your most loved watch in the collection, after a certain period of time, will begin to lose a little of its luster. We've all been there, having that feeling of lusting for a change in rotation. Thankfully, changing your watch strap on a Rolex to give it a new look is far easier (and vastly more cost-effective) than chasing your next grail. The question is, what route to explore? There are so many strap options out there it's enough to do your head in, and once you know the lug width of your watch – the distance between the two points where the strap is installed, in millimeters – finding options online is like shooting fish in a barrel. That said, not all straps are suited to all watches, so rather than spending money like throwing paint against a wall, we've prepared a bit of a "straps 101" lesson to help steer you in the right direction.
Leathers
Best For: Dress watches, Pilot Watches, Chronographs
Under the broad umbrella of leather straps, there's a lot to digest. On the more dressy end of the spectrum, thin-cut straps made of alligator, crocodile, stingray, can add just the right punch of texture and sheen to a watch—especially one whose case is primarily polished. From there, the semi-matte finish of Horween, calfskin, pebble grain, and even suede leathers provide a more muted aesthetic for slightly more casual watches with brushed steel cases. This grouping is also generally more supple, and very comfortable on-wrist. Strap thickness will make a significant difference here, and depending on the case and lug profile of your watch, you're going to want to select your strap accordingly.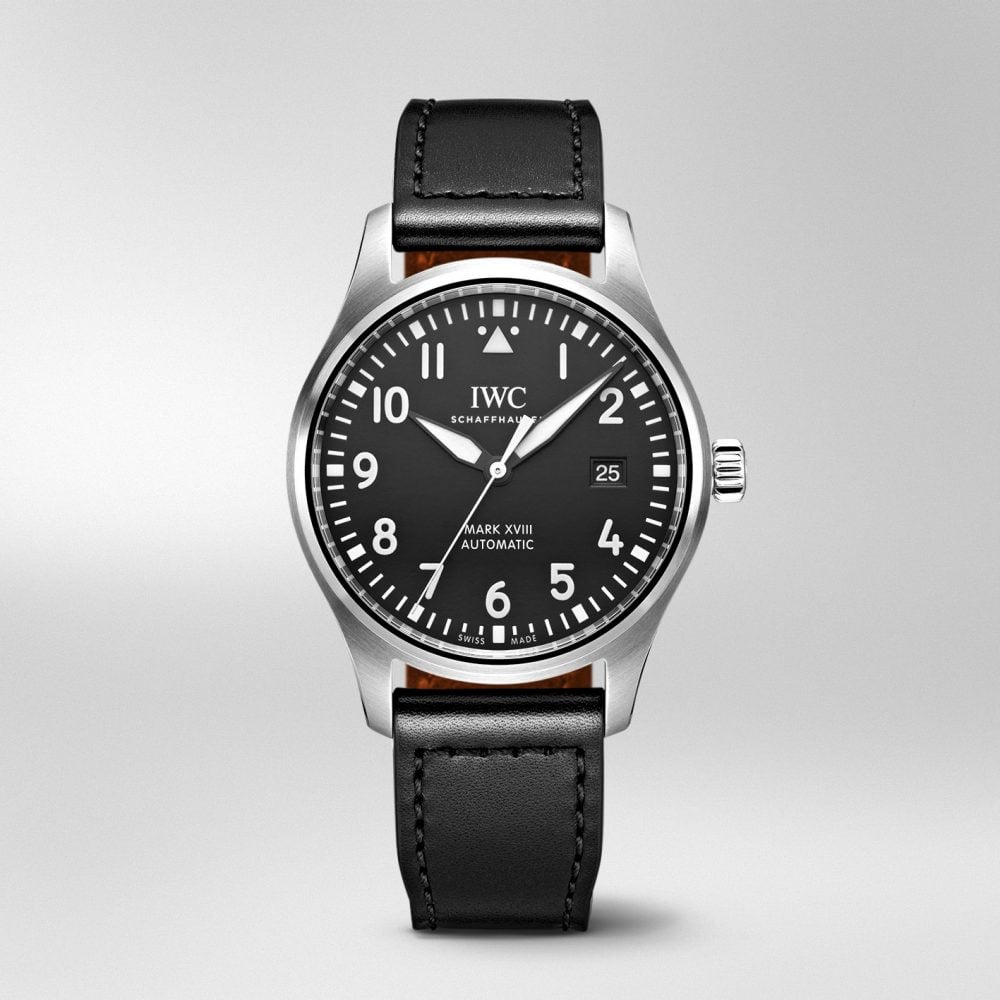 Things like an IWC Big Pilot will be better suited to a thicker pebble grain leather, likely with contrasting stitching, whereas something more slender like the Pilot Mark XVIII will be more suited to a thinner strap, possibly with a slightly distressed finish to it. Speaking of pilot watches, the classic Bund strap can be a fantastic choice, though not one we would recommend for those living in warmer climates. Given the broad swath of leather it uses, sweating can be a legitimate concern with those. Last but not least, the beloved Rally strap, recognized by its round cut-outs is a must have for any motorsport-inspired chronograph, whether old or new.
Rubbers
Best For: Dive Watches, Sports Watches
Generally speaking, rubber straps are entirely best left to the many dive and sport watch options out there. Yes, you can get the Oysterflex rubber for the Daytona, and this is a respectable route to pursue, but fitting a rubber strap on a dress watch or pilot's watch is simply out of the question. Once again in this category there are ample options. For a modern utilitarian dive watch, the classic Isofrane rubber strap is one of the best options on the market in terms of quality and comfort. For more compact and vintage-inspired divers, a thinner Tropic rubber strap will be a better fit without compromising comfort whatsoever. If you're chasing Rolex options, the ample offerings from Everest Bands offer model-specific straps that are perfectly fitted to align with your Rollie's case. Last but not least, those of you with an interest in loud colors and camouflage patterns will want to have a look at Miami-based Horus Straps, who are making a range of straps, primarily to fit Audemars Piguet and Panerai watches, among others.
NATOs
Best for: Divers, and (almost) anything else.
NATO straps have to be one of the most misunderstood and underappreciated options—not to mention the most affordable. Originally designed specifically for divers to allow them to wear watches over wetsuits, the NATO strap is a fun and playful way of converting even conservative offerings like the Datejust into the perfect casual summer watch. Fitting a pilot's watch onto a NATO strap will seem inherently out of place, but otherwise the question of "will it suit my watch" comes down to case design and thickness more than anything. The biggest pitfalls generally are cases that are either far too large/thick for the supple nature of the fabric nato, as the layer of fabric that rides behind the caseback makes the watch stand that much taller on your wrist. Thin watches can look a little out of place on this style of strap as well, but generally you can get away with a lot on a NATO, especially if you're choosing more colorful or patterned strap options.
Canvas Watch Strap
Best for: Field watches, Pilot watches, Bronze or Matte finish cases
In the grand scheme of things canvas traps are anything but common, but for the right watch they are another option that ticks a lot of boxes in terms of both comfort and aesthetics. Their textured and often aged appearance makes them an ideal choice for more tool-focused watches, especially when looking at cases that have a blasted finish, or bronze watches that have developed a modest amount of patina. IWC is one of the few that actually has canvas options straight from the factory, but otherwise you'll be relegated to some of the better custom strap makers out there to scratch this itch. Among others Combat Straps out of Montreal does some incredible work using vintage military canvas. If your watch has a bit of a military vibe to it, this would be the perfect option for a new watch strap combo.