Sorry, this item is no longer in stock!
Rolex Explorer Polar Additional Pages
About the Rolex Polar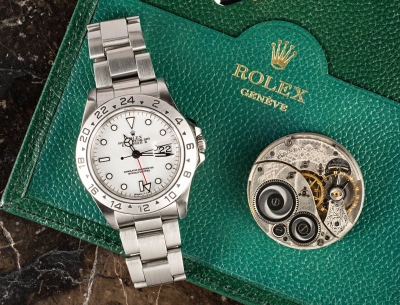 Rolex Polar Reference Number(s):
16550, 16570, 216570
Years Rolex Polar was Produced:
1985 - Present
Rolex Polar Nickname Origin:
Rolex originally only offered the Explorer II with a black dial; however the release of the reference 16550 also marked the introduction of the white dial option to the Explorer II line of watches, and collectors began referring to white dial variants as "Polar" Explorers. As the Explorer lines of watches are designed for adventurers and use outdoors, the "Polar" nickname is fitting for the version with the white dial. Other than dial and hand colors, there is nothing separating a "Polar" Explorer from a regular Explorer II with a black dial. However, the simple change in dial color results in a remarkably different looking watch.
Rolex Polar Celebrity Associations:
Tom Hardy, Prince Harry of Wales, Jordan Spieth, Jack Hanna
Unique Features for the Rolex Polar
A white sport dial, fitted with either white gold or black hour markers (depending on the year of production).