Seeing as Rolex watches are luxury items, it comes as no surprise that they are generally expensive; however not all Rolex watches cost the same price. While the Rolex Submariner and Sea-Dweller are both dive watches, one costs noticeably more than the other. So, what do you get for the price of a Rolex? A high quality mechanical Swiss wristwatch that not only bears a brand name that is recognized the world over, but that is built to last for generations. Rolex watches are not only luxurious but practical too. They are typically fitted with complications and features that are useful rather than whimsical. However, if you know where to look and which models to add to your list, you can also score a great deal by buying a pre-owned Rolex. Here are ten Rolex watches under $6,000 to consider.
Air-King Rolex Watches Under $6,000
The Rolex Air-King is simultaneously one of the brand's oldest and most affordable collections. According to Rolex lore, the Air-King was developed to honor British Royal Air Force pilots who fought in World War II. The Air-King grew to become a cult favorite among Rolex enthusiasts thanks to its minimalist style and reasonable price point. Throughout the Air-King's long history, there are four standout models that offer great value.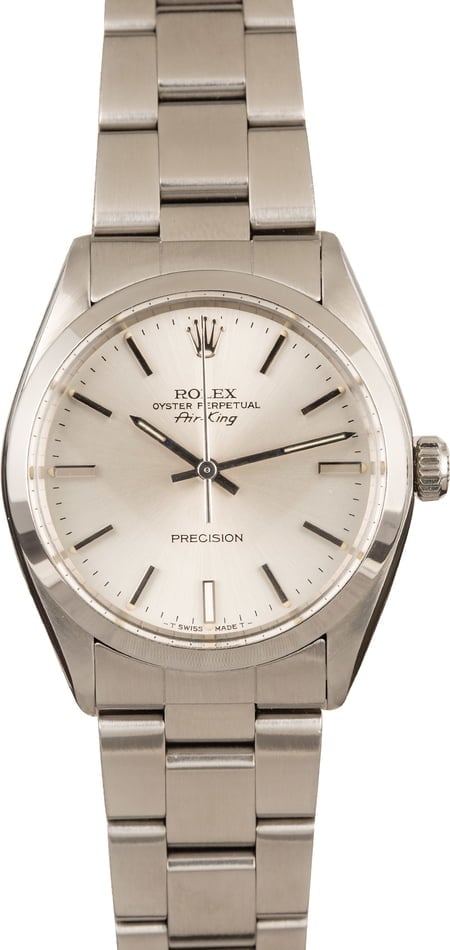 The first is the Air-King ref. 5500, which made its debut in 1957. Incredibly, Rolex continued to produce the Air-King ref. 5500 well into the 1990s, thereby leaving behind a solid assortment of well-priced pre-owned examples for today's collectors. This particular Air-King ref. 5500 ($3,395) from the mid-1980s is a great example of a pared-down Rolex watch that would serve as the perfect daily luxury watch. It features a 34mm steel case with a matching steel Oyster bracelet and a clean silver dial with a trio of hands and understated stick indexes.
In the 1990s, Rolex introduced the Air-King ref. 14000. While the watch retains the familiar 34mm steel case and time-only dial, protecting the face of the watch is scratch-resistant sapphire crystal rather than one made from acrylic. Furthermore, the vibrant blue dial of this particular Air-King ref. 14000 ($3,795) includes the 3, 6, and 9 indexes normally found on Explorer watches, which gives this Air-King an intriguing design twist.
Next in line was the Air-King ref. 114200, launched at Baselworld 2007. Although this generation of the Rolex Air-King carries the same official 34mm case size, the watch actually wears slightly bigger due to its thicker profile and wider lugs. Additionally, the Air-King ref. 114200 was the first in the collection to be COSC-certified as denoted by the "Superlative Chronometer Officially Certified" text on the dial. This particular Air-King ref. 114200 ($3,595) includes a fancier dial execution with Roman numerals, 11 hand-applied white gold hour markers, and a prominent minute track.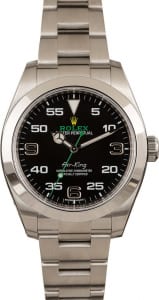 Rolex discontinued the Air-King ref. 114200 in 2014 and replaced it with the Oyster Perpetual 114200, raising speculation that it was the end of the Air-King collection. However, in 2016, the Air-King made its comeback with an entirely new design. Bearing almost no resemblance to its predecessors, the current-production Air-King ref. 116900 ($5,995) sports a larger 40mm steel case borrowed from the Rolex Milgauss, complete with an antimagnetic shield. Plus, contrary to past understated dial styles, the new Air-King flaunts a much sportier dial, complete with a mix of minute numerals, hour numerals at 3/6/9 similar to the Explorer, and flashes of green and yellow. Its revamped steel Oyster bracelet is also equipped with an Oysterclasp and the handy 5mm Easylink comfort extension system for a better fit.
Explorer Rolex Watches Under $6,000
The Explorer is another long-running Rolex collection with time-only functionality. Yet, rather than a tribute to airmen, Rolex launched the Explorer in honor of Sir Edmund Hillary and Tenzing Norgay reaching the summit of Mount Everest. Officially released in 1953, the Rolex Explorer was one of the brand's earliest tool watches built to withstand arduous adventures.
Among Rolex's popular tool watches, the Explorer has always been considered the entry-level option given its discreet style, stainless steel construction, and simple set of features. Rolex has made several references over the years; however, since vintage Explorer models are now commanding high prices within the collector community, we turn our attention to versions that are less than three decades old.
The Explorer ref. 14270 came onto the scene towards the end of the 1980s and this particular example dates to the early 1990s ($5,295). Similar to the references that came before it, the Explorer ref. 14270 features a 36mm stainless steel Oyster case, steel Oyster bracelet, and black dial with the characteristic 3/6/9 hour markers. However, Rolex fitted the 14270 with modern touches such as a sapphire crystal, a glossy dial, and hand-applied white gold hour markers (instead of painted ones) filled with luminous material.
In 2010, the Explorer line received its biggest design updates since its inception in the 1950s. The current production Explorer ref. 214270 now comes with a larger 39mm Oyster case and is powered by the updated Caliber 3132 movement, which features Rolex's new Paraflex shock absorbers. This particular example of the Explorer ref. 214270 ($5,995) is an earlier example of this reference family with the so-called Mark I Dial, which includes solid white gold 3, 6, and 9-hour markers instead of the lume-filled ones that came after.
Datejust Rolex Watches Under $6,000
The most "Rolex" of all Rolex watches is the Datejust, which was initially released in 1945 to commemorate the brand's 40th anniversary. Throughout its history, the Datejust has grown into Rolex's best-selling model. Though the Datejust features a strong design language that makes it instantly recognizable; however it is also Rolex's most diverse collection with plenty of material options, bracelet choices, bezel styles, and dial designs available.
For instance, if classic two-tone luxury watches are your style, then this Datejust ref. 16013 ($3,995) and this Datejust ref. 16233 ($5,195) are fantastic options for Rolex watches under $6,000. Both versions have yellow gold fluted bezels on top of their 36mm cases, two-tone steel and gold Jubilee bracelets, and automatic movements with quickset date functionality. However, the later-produced ref. 16233 features a sapphire crystal above its champagne dial while the earlier ref. 16013 has an acrylic one protecting its silver dial.
If stainless steel Datejust watches are more your speed, then the Datejust ref. 16234 or the Datejust ref. 16200 are solid choices. With its white gold fluted bezel on top of its 36mm steel case, Jubilee bracelet, and salmon dial, this Datejust ref. 16234 ($4,895) is the dressier option. Alternatively, for a sportier style, this Datejust ref. 16200 ($4,195) with a smooth steel bezel, Oyster bracelet, and Arabic numerals on the dial is a great one to consider.
Whether you opt for an Air-King, Explorer, Datejust – or any other Rolex watch for under $6,000, it's clear that you will have plenty of options to choose from at that price point.
'