Panerai is famed for its minimalist and robust aesthetic designs, with many of its watches showcasing simple and highly legible watch faces. But there are a few models that have additional functions and complications, such as GMT. These are much harder to find in general, and the added feature makes them a tad more expensive than their regular watches.
It can be challenging to find and select Panerai GMT watches given how limited the choices are. But if you've dreamt of adding one to your collection, Bob's Watches has you covered. Read our ultimate buying guide for Panerai GMT watches to avoid the confusion.
What Is the GMT Complication?
Before diving into Panerai GMT watches, let's first discuss what GMT means and why it's a sought-after feature. GMT stands for Greenwich Mean Time, with the "0" being the beginning of the 24-hour international time zone scale. While it's rather outdated compared to UTC or Coordinated Universal Time, they're more or less the same thing.
GMT and UTC are used to help identify the exact time in any location across the world. From Greenwich, England, you can add one hour (+1) per time zone by moving east and subtract one hour (-1) per time zone by moving west. A timepiece with a GMT function makes this easier, allowing wearers to differentiate their local time and that of another location.
In the past, GMT watches were an essential accessory for pilots who had to travel over multiple time zones. Today, jet-setting personalities and frequent travelers rely on these types of watches to help keep track of time back home as well as their destinations.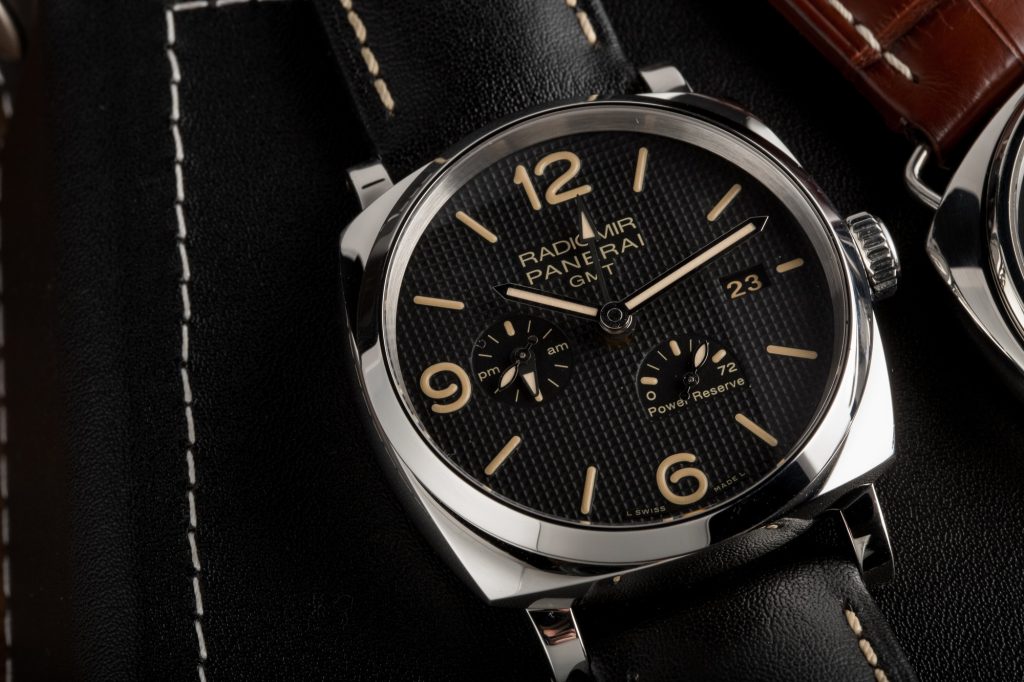 The Panerai Brand: Design Features to Look For
While there are plenty of available designs from Panerai, there are a few universal design cues that distinguish the brand from other luxury watchmakers. Look out for the following characteristics common to almost all their models, especially when trying to distinguish between fake and genuine items.
Legible and Resilient Cases: As mentioned, Panerai has large and blunt watch faces. There's almost a utilitarian feel to this aesthetic, with functionality favored over flashiness. The same robust design also makes the watches eye-catching and alluring.
Round Faces and Thick Lugs: The classic circular faces offer timeless elegance, while the thick lugs offer a more masculine look. It all comes together to create a watch with a cushion silhouette.
Flared Crown: The most prominent characteristic of the watches is the flared crown, which makes it easier to wind the manual movement watches. This is especially apparent in the Luminor lineup.
Minimal Numerals: Instead, the numbers are represented by single lines (or dots) that radiate from the center. These, as well as the hands, are coated with photoluminescent material that glows after exposure to light.
Panerai Watches With GMT
There are four main model categories that divide the vast Panerai catalog. Each of them has a GMT model, but there are only a few of them. While it may seem like the choices are a bit small, there are still other features that help diversify your options. Sizes, dial colors, and other compilations are just some of the things you can also take into account.
Panerai Luminor
The Luminor line is arguably the most well-known model from Panerai. It has been around since the 1940s, with the release marking the company' s departure from the radioactive material that coated watch hands and dials. The Luminor line uses a much safer Tritium-based compound to give the trademark glow.
The oversized crown guard bridge is the most distinctive feature of this line, but Luminor watches still have the classic cushion silhouette. While there are plenty of in-house-made movements from Panerai, the Luminor line usually has manual and automatic movements.
12-Hour GMT: The Panerai Luminor GMT Automatic is the most well-known Luminor variation with a GMT complication, and it utilizes a P.9010 movement. The most recent model (PAM01616) has a modern black hue and blue dials that exude a contemporary aesthetic.
24-Hour GMT: The PAM01088, PAM00088, and PAM00531 are some of the Luminor GMT models with complete 24-hour dials.
Panerai Luminor Due
The biggest difference between Luminor and Luminor Due is that the latter is much smaller and thinner. Thanks to this, wearers can enjoy a more refined and luxurious feel. Overall, the design cues follow the same aesthetics as the original Luminor line. In exchange for the smaller configuration, the Luminor Due has reduced water resistance – something you'll want to consider before wearing one while diving or swimming.
If you're just looking for the perfect dress watch, then the Luminor Due is an excellent model. The variations range from just 38mm to 45mm in diameter, making one an elegant addition to your outfit. The Luminor Due GMT Power Reserve is the most well-known model with a GMT complication. With the added power reserve indicator, it's much easier to keep track of when to wind up the watch again.
Panerai Submersible
As the name suggests, the Panerai Submersible line is specialized for underwater use. If you're one who frequently dives, then this purpose-built timepiece is the best option. Like the Luminor Due, the Panerai Submersible takes design inspiration from the Luminor. It was actually part of the Luminor collection before branched off in 2019 into its own model. That's why the GMT watches under this model still carry the "Luminor" name.
Some of the models with GMT compilations are the Panerai Submersible Marina Militare Automatic and the Luminor Submersible 1950 3 Days Automatic.
Panerai Radiomir
The Radiomir is the first model from Panerai, so it doesn't have the classic flared crown that's ubiquitous on the Luminor watches and the derivatives. However, it still has a classic, cushion-shaped design that makes it a staple on the shelves of collectors. The model may look retro, but today's many variations allow you to choose ones that have more contemporary designs.
The Panerai Radiomir GMT has many added features and complications in each variation, giving you more options before committing to one of them. Some have the complete 24-hour numerals while others have alarms with two crowns.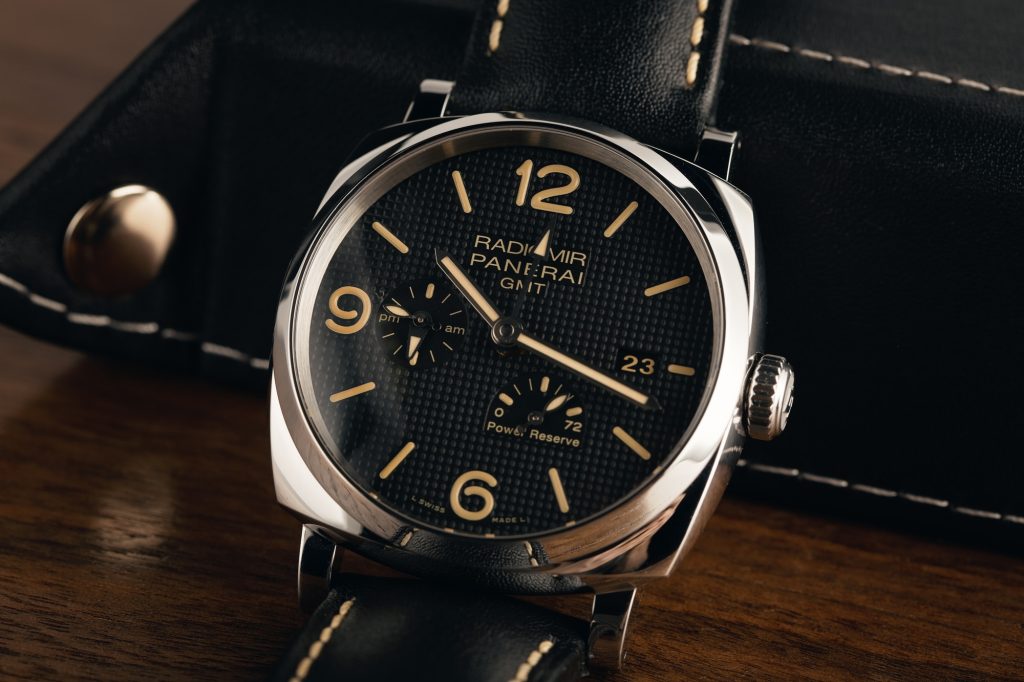 Tips for Buying Panerai GMT WatchesPersonal Style
Panerai GMT timepieces come in many designs, colors, and sizes. You'll want to consider how these characteristics fit your personal style. Some have understated elegance, while others are eye-catching and bold. There are also plenty of strap options, from metal to leather. Whatever the case, make sure to select the model that you can wear on casual dates, formal occasions, or everything in between.
Budget
When shopping for Panerai watches, you can expect prices to be on the high end. It's a luxury brand, after all. If money is not an issue, then go ahead and get your desired timepiece. Otherwise, you can wait for clearance or sales. Another alternative you can try is getting pre-worn Panerai GMT watches from platforms like Bob's Watches. These watches look like new, but you'll get them at more affordable prices! It's the perfect way to get your own Panerai timepiece.
Demands of Your Lifestyle
If you frequently swim or dive, then getting the Panerai Submersible is your best move. You also want to consider your daily activities and how long you're going to wear the watch on your wrist. Finally, will you be content with the more classic designs, or are you looking for something that shows off your distinct personality? Take note of your answers when choosing a Panerai watch to make the investment worth it.
Shop Panerai GMT Watches at Bob's Watches
At Bob's Watches, we have a wide selection of pre-owned Panerai watches, including those with GMT complications. If you've been dreaming of owning your own luxury timepiece, you've come to the right place. These products are in like-new condition and certified genuine.
We're a trusted platform where watch owners and enthusiasts can sell, buy, and trade used watches. With our transparent business model, you can be confident that our prices reflect real-world market value. In addition, we make sure to provide top-notch customer service for your maximum satisfaction. Check out our collection today or contact us for more details.