The Rolex Datejust stainless steel is a timepiece that has been on the market for decades, with a design that has barely changed since its inception. It is an iconic piece of jewelry that has stood the test of time, and only gotten more popular over the years. In addition, you can wear it at any occasion, whether a formal event or a casual day out with friends. This beautiful piece features a stainless steel case, bracelet, and bezel, making it both durable and stylish.
The first thing that people notice about this watch model is its classic design. It looks like a piece that would have been worn by kings and queens hundreds of years ago but still manages to look modern thanks to its stainless steel case, bezel, and bracelet.
With so many Rolex Datejust options available, it can be challenging to decide which one would be best suited for you. If you're looking for a less pricey option, then the stainless steel version might be right up your alley. This guide will give you all the relevant information you need to decide whether this Rolex model is ideal for you.
The History of the Rolex Datejust Stainless Steel
The history of Rolex Datejust stainless steel dates back to 1957 when the company introduced its first-ever stainless steel version of the Datejust. This model was unique among its peers because it was the first watch to be made entirely out of stainless steel. It became an instant hit with watch enthusiasts.
The first model was made of a combination of stainless steel and 904L, which gave it greater strength than other cases made from pure metals. Besides solid stainless steel, it featured a dial with Roman numerals. It was also equipped with a self-winding movement that had an audible tick, which set it apart from other watches. It was also recognized as a Datejust because of its signature fluted bezel and magnifying cyclops lens.
The Rolex Datejust stainless steel model continued to evolve, including updating relevant features and using Oystersteel. Regardless of its long history, this model is what we know today: a classic piece of jewelry that is both functional and beautiful. It can be found with oyster and jubilee bracelets and fluted bezels.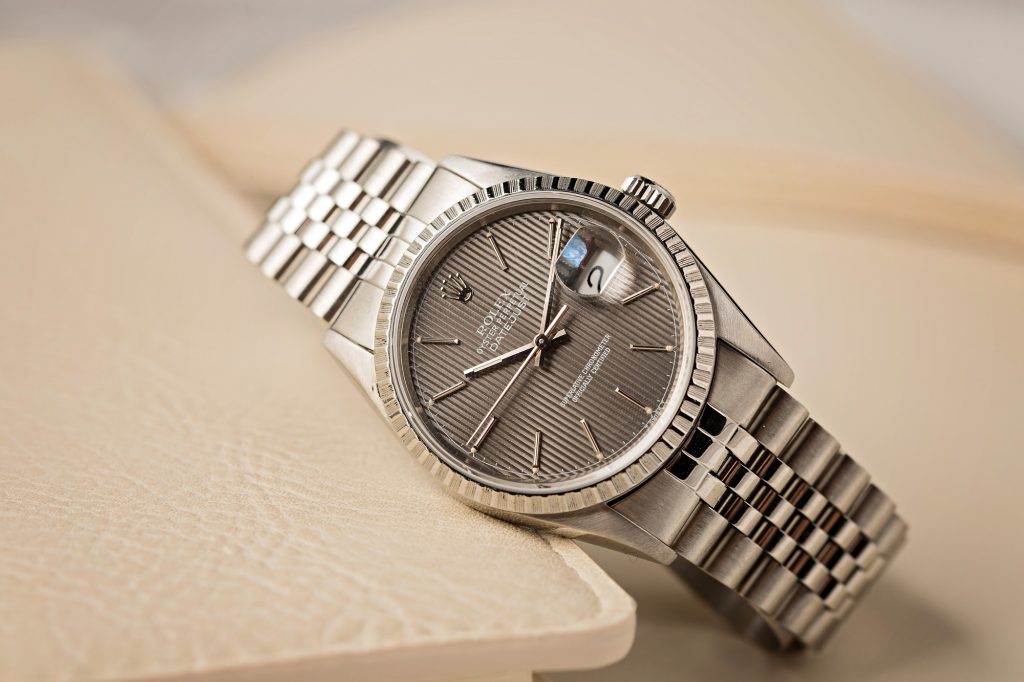 Rolex Oystersteel – 904L Stainless Steel
Rolex is known for using precious metals and valuable materials in their watches, but there's one model that stands out for its quality alloy material. It's the Rolex Datejust stainless steel. This model must present impeccable performance, even in the harshest of conditions. This is why Rolex uses the world's finest steel in its construction – the Oystersteel!
Oystersteel belongs to the 904L steel family, which makes it extremely resistant to corrosion. When polished, it acquires an exceptional sheen and shimmers like gold when wet. Indeed, this material is a symbol of the piece's quality and durability.
Due to their purity and stability, 904L steels are used in the aerospace and technology sector. It's also non-magnetic and resistant to salt water. This makes it ideal for use in marine environments where corrosion is often an issue. Oystersteel can also be polished to a mirror finish, making it attractive for people who want a highly reflective surface on their watch face.
Overall, Oystersteel is a symbol of strength and beauty when used in the construction of watches. Always elegant, never ostentatious, there's one reason why Oystersteel is the best in watchmaking materials. Its outstanding corrosion resistance and value are comparable to that of precious metals.
Rolex Datejust Stainless Steel Price
The Rolex Datejust stainless steel can be found at a wide range of prices. Generally, like any Rolex collection, the timepiece is expensive yet a worthy splurge. For brand-new ones, you expect to splurge tens of thousands of dollars depending on the specific model. For example, the least expensive model costs around $10,000, and the most expensive one can cost you around $200,000.
The good news is that you don't have to splurge such an amount to own a Rolex Datejust stainless steel. You can purchase a pre-owned one that is as good as new. Authentic stores, such as Bob's Watches, offer pre-owned models for as low as $5,000 to $20,000, depending on the condition and distinct model. We have a wide range of models to suit different tastes and budgets. In addition, our selections are all meticulously examined by an expert watch connoisseur and are in good working condition. You can rest assured that you get the best value for your money.
Why Are Stainless Steel Rolex Datejust Watches So Popular?
As with any other Rolex watch in the Datejust family, the stainless steel version is well-known worldwide. Besides durability and exceptional performance, one of the major innovations that helped make this particular watch famous is its ability to withstand water damage and corrosion. The material can resist rusting when exposed to moisture or other corrosive substances.
Moreover, the watch symbolizes wealth, prestige, and taste. They also have a timeless design that will never go out of style, with an understated style that can be worn casually and formally. Also, the stainless steel material has a smooth, sheen finish that reflects light beautifully.
There are many reasons why this version is popular, but one thing is for sure: celebrities, high-profile individuals, and successful professionals love it. With groundbreaking functions, such as a date display and stainless steel construction, it has become a desirable piece of jewelry for both men and women who value style and sophistication.
Rolex Datejust Stainless Steel Jubilee Bracelet
Rolex is known for its iconic watch faces. However, its bracelets have also become some of the most admired in the industry. Conceived of innovative and durable materials, the Rolex bracelet is engineered to offer a lifetime of performance – no small feat for the world's most enduring watchmaker.
One example of the brand's uncompromising commitment to quality is its stainless steel jubilee bracelet. It was designed with the same meticulous attention to detail as every Rolex timepiece. Plus, its supple and comfortable five-piece link metal bracelet provides a perfect fit, with a clasp that blends seamlessly into the design. It not only represents the Rolex brand but also embodies the spirit of possession. The increased number of links contributes to its luminous appearance, almost as if it were a piece of jewelry in itself.
Crafted with a special folding technique, each link is doubled, making the piece remarkably supple in comparison with other bracelets. Some Datejust reference numbers with jubilee bracelets are 1601, 16264, and 126300.
Rolex Datejust Stainless Steel Oyster Bracelet
Tenacious, impeccable, uncompromising, and with full rigidness, the Oyster bracelet is arguably the best watch strap design of all time. It's the epitome of prestige, class, and culture. Also, it has a rich history and has transcended the boundaries of time. Made from durable stainless steel, it's as functional as it is stylish.
The Oyster bracelet is a famous watch bracelet that has been with Rolex watches since the Datejust was first released. This stainless steel model is incredibly resistant to corrosion and features a flip-lock clasp for secure and convenient use. It ensures the watch remains firmly fixed to your wrist, while the three‑piece links add a modern feel.
Today, the oyster bracelet remains the symbol of Rolex's rich heritage. It's considered the most qualitative, robust, and reliable among several bracelet designs. It has a solid link construction and can withstand harsh conditions. With its Oysterlock safety clasp and flip-lock extension system, the bracelet never comes off unintentionally and doesn't require any special skills for size adjustment. Some models that have the oyster bracelet include 152684, 116264, 116200, and many more.
Does the Rolex Datejust Stainless Steel Watch Tarnish?
As mentioned, Rolex uses premium 904L stainless steel. This material is highly resistant to corrosion, which means that it's not prone to discoloration or rust. Compared to other watches, a Rolex Datejust stainless steel watch will maintain its shine for many years without tarnishing or losing any of its luster.
Does Stainless Steel Rolex Datejust Hold Value?
Similar to other Rolex models, the Datejust stainless steel maintains its value over time. If you can afford one, it will be an investment worth making. They hold their value incredibly well and are great for people who want an iconic timepiece. They're known for their durability and longevity, so they're perfect for people who want to invest in quality.
The critical factor in determining the worth of a timepiece is whether or not it's rare. For example, if you have an older Rolex model that's still in good condition and has some history behind it, it will likely hold its value better than newer models. This is because there's less demand for new Rolex watches, especially those models that haven't been in production for very long. Thus, our vintage collection is a worthy purchase.
Explore Our Rolex Datejust Stainless Steel Collection
Rolex Datejust stainless steel is a cult classic. One of the most celebrated watch models of all time, it has cemented its position as a timeless fashion accessory. If you want to buy one at a discounted price, browse our collection today!