Rolex has been manufacturing watches with 34mm case diameters for the majority of their long and distinguished history; however, these "mid-size" models such as the Date and Air-King often get overlooked due to the multitude of options that exist in the more standard, 36mm Rolex Oyster Perpetual case size. However, Rolex has manufactured a number of excellent watches – both vintage and contemporary – that have 34mm case diameters, and their highly versatile size allows them to look at-home on wrists of virtually any gender or measurement.
Rolex Watches with 34mm Cases
Although the Datejust collection has historically had a case diameter of 36mm for the standard full-size model, Rolex also manufactures a line of watches called the Date that offers many of the same design traits and features of the Datejust – even the same movement too – only in a slightly smaller overall package.
One of the most "quintessentially Rolex" watches currently in production with a 34mm case diameter is the reference 115234 Date. With a Cyclops magnification lens, stainless steel Oyster bracelet, and 18k white gold fluted bezel, the reference 115234 Date checks all the same design boxes as the Datejust, just with a slightly reduced size. Additionally, since the 34mm Date and the 36mm Datejust share the same movement, the reference 115234 is in no way a "lesser" watch compared to the Datejust, just one that is 2mm smaller.
Since consumer trends favored smaller wristwatches in past decades, a number of great vintage Rolex references exist with 34mm case diameters. One of the longest-running Rolex models of all time is the reference 5500 Air-King, which boasts a super clean and minimal dial design that perfectly complements its slightly reduced case size.
The reference 5500 remained in production for thirty-seven years, during which time it was fitted with both Rolex's Caliber 1520 and Caliber 1530 movements – neither of which were chronometer-certified. Due to their long production run, reference 5500 Air-King watches were manufactured in relatively large numbers and can still be purchased for very reasonable prices. Fitted with one of the cleanest and least text-heavy dials found inside any Rolex watch, the Air-King 5500 pre-dates the widespread implementation of chronometer-certified movements and represents one of the best entry points into vintage Rolex collecting.
Although the Day-Date President is the classic all-gold Rolex watch, it has never been manufactured in a size smaller than 36mm. However, throughout its history, Rolex has produced a number of all-gold watches within their Date collection that have 34mm case diameters, and lack the additional complication for displaying the day of the week that is found on the flagship Day-Date line of watches.
One of the more modern incarnations of the all-gold 34mm Date is the reference 15238, which stands out due to a number of characteristics that help separate it from previous iterations of Rolex's all-gold 34mm Date watch. While earlier examples were made from 14k gold, there reference 15238 is craft from 18k – the same as what Rolex uses to manufacture their flagship Day-Date President watch. Additionally, the Date 15238 is fitted with Rolex's Caliber 3135 movement and a synthetic sapphire crystal, which give it all the ingredients necessary to be a fairly modern watch.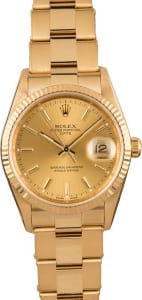 However, rather than being fitted with the same style of bracelet that is found on other Date watches of the same circa, the reference 15238 Date is fitted with a rivet-link Oyster bracelet in 18k gold. The watch itself is fairly modern, both inside and out; however, this style of bracelet was most commonly seen throughout the 1950s and 1960s, and was phased out long before the reference 15238 ever made its first appearance. The unique combination of modern and vintage aesthetics provided by the unusual presence of the rivet-link bracelet, helps to set the reference 15238 apart and make it unique; however, it also makes the watch an excellent option for those in the market for a slightly smaller alternative to the Day-Date that is also still crafted entirely from solid 18k gold.
For a number of years, modern consumer trends have been favoring larger watches. As a result of this, Rolex's 34mm references have become somewhat forgotten in all the excitement and shuffle that surrounds their larger, sport/professional watch lines. However, recently it seems that smaller-sized watches are starting to make a comeback, and Rolex's once-overlooked, 34mm watches now represent some of the best values for the money among all Rolex timepieces, both vintage and contemporary.