Aside from the ability to tell the time, which watch feature would you say is the most practical? A date window? Perhaps a second timezone or a chronograph? We'd argue that one of the most practical features that a watch can have is the ability to glow in the dark. Many Rolex watches feature luminous hands and hour markers and this highly practical feature has become standard throughout much of the industry. A watch glows in darkness thanks to luminous materials (more commonly referred to as "lume" in watch collecting circles), which are typically found on the dial, hands, and sometimes on the bezel.
Glow-in-the-dark objects contain phosphors. A phosphor is a substance that radiates visible light after being energized. Have you ever wondered why some Rolex watches glow blue in the dark while others glow green? The difference lies in the type of luminescent material used. While vintage Rolex watches first used radioactive radium followed by tritium to illuminate in low light, modern Rolex watches use Super-LumiNova or Chromalight to supply them with their luminescence. Read on to find out the similarities and differences between Chromalight vs. Super-LumiNova on modern Rolex watches.
Rolex Chromalight vs. Super-LuminNova
Rolex Luminous Material Timeline
Before Early-1960s: Rolex uses radium for lume (radium dials are generally marked as "SWISS").
1963: Rolex switches from radium to tritium for lume (tritium dials are generally marked as "SWISS – T < 25" or "T SWISS T").
1993: Nemoto & Co invents Luminova (patented in 1995).
1998: Rolex begins using Luminova on its watch dials (Luminova dials are generally marked as "SWISS").
2000: Rolex begins using Super-Luminova, which is similar to Luminova but sold through a different supplier (Super-Luminova dials are generally marked as "SWISS MADE").
2008: Rolex debuts its proprietary Chromalight display on the Sea-Dweller, which glows blue.
Click here for our Ultimate Buying Guide on Rolex watches.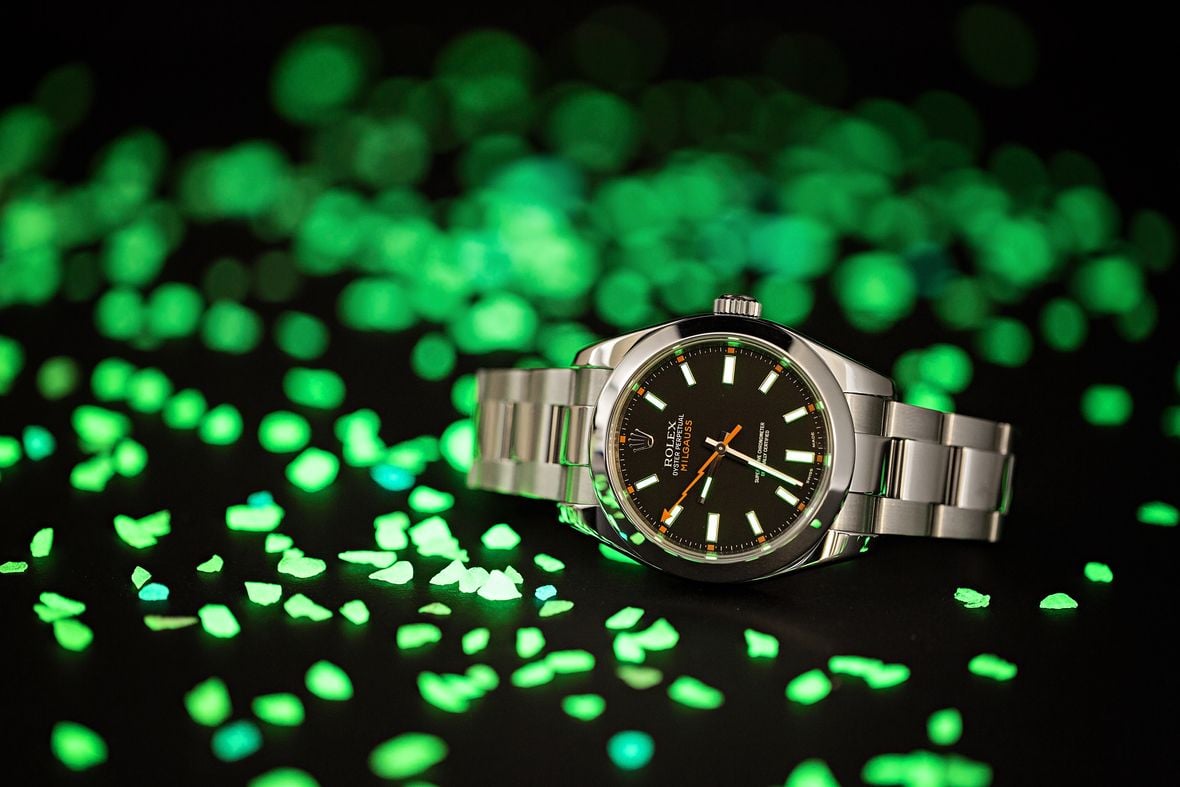 About Lume on Watches
An essential component of a tool watch is how well it works in low light. Take the diver's watch for instance – if it didn't glow in the dark, it would be significantly less useful for actual scuba diving applications. A diver depends on how legible their watch is in murky waters, and a luminous display is crucial for maximum visibility.
The same logic applies to watches worn for other adventures, such as mountaineering or cave exploring. In fact, a big selling point of the first Rolex Explorer was its ability to tell the time in the dark, with its oversized luminous hour markers. Additionally, the Rolex Explorer II was positioned as a spelunker's tool watch and specifically designed for those living and working in dark conditions, thanks to its abundance of luminescent markings on the dial and the addition of its large 24-hour hand.
However, even the most unadventurous of us need lume on our watches. Whether it's to check the time after waking up in the middle of the night (without reaching for the phone) or making sure we're on time while riding in a dark car (again, without reaching for that phone), the practicality of a wristwatch that can glow in the dark is one that we often take for granted.
Radioactive vs. Photoluminescent Materials
As mentioned, vintage Rolex watches relied on radium or tritium to light up dials. However, after it was discovered that radium is a highly radioactive element and can be extremely dangerous, watchmakers (and other manufacturers across various industries) switched to less radioactive tritium. The negative health effects of radium are well documented, and the tragic story of the Radium Girls is definitely worth checking out for a real-world look at what prolonged radium exposure can do to the human body.
Radium and tritium are radioluminescent materials, which are self-luminous. Radioluminescence is the phenomenon by which light is produced in a material by bombardment with ionizing radiation. Radium has a half-life of 1,600 years while tritium has a half-life of 12 years. This massive difference in half-life is indicative of just how much more radioactive radium is compared to tritium lume.
On the other hand, photoluminescence is the ability of some materials to emit light after absorbing energy from a radiation source. In other words, photoluminescent materials first need exposure to light (to charge) before they can emit their own light. The key difference with photoluminescent lume is that its ability to glow is not limited by its half-life. Instead, it will glo in proportion to the light it receives, and this is where modern Rolex lume such as Super-LumiNova and Chromalight come into play.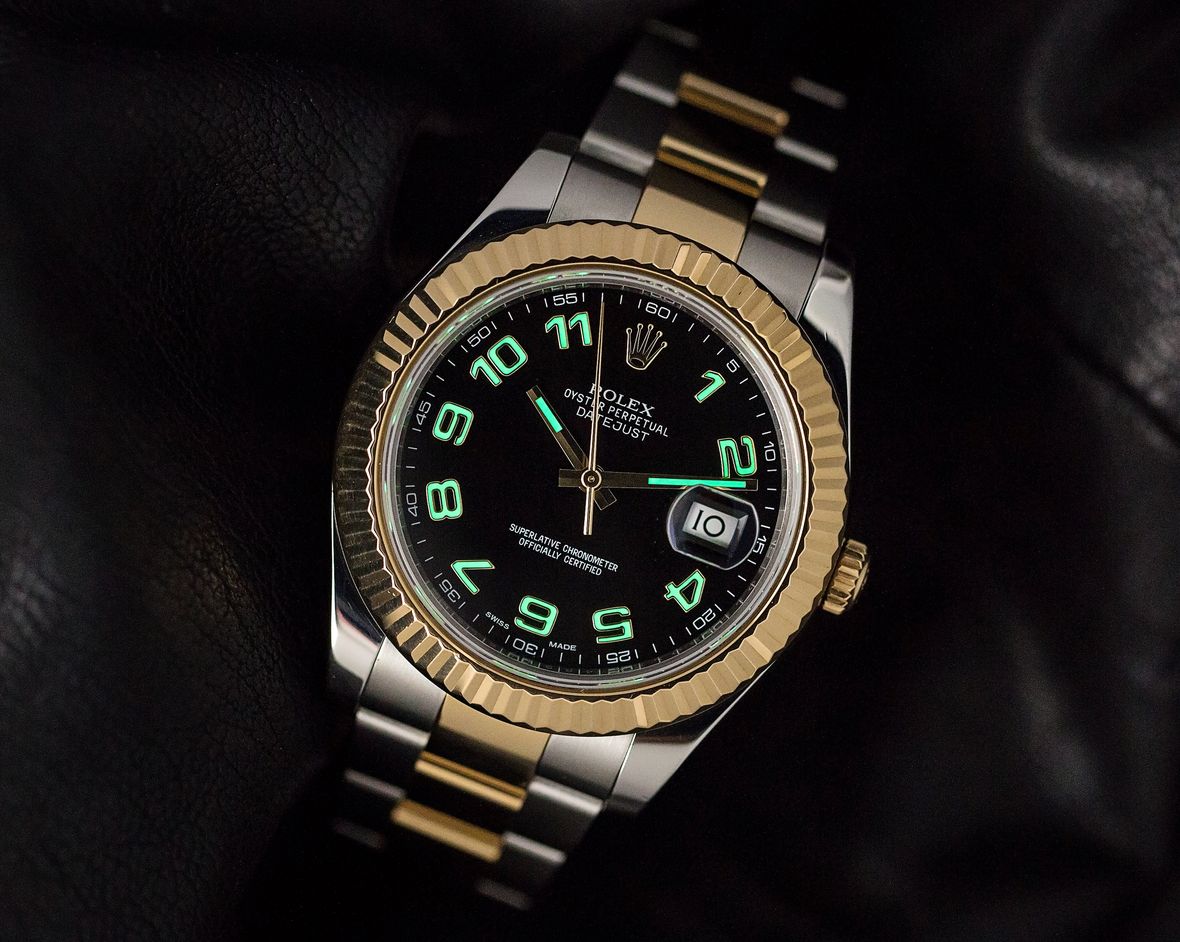 Rolex Super-LumiNova
A Japanese company called Nemoto & Co. invented Luminova in 1993 and patented the luminous substance in 1995. In contrast to radioluminescent materials like radium and tritium, Luminova is a non-radioactive substance that is based on strontium aluminate. Strontium aluminate (when activated by europium, a non-toxic chemical element) is a phosphor that is energized by light, and it is ten times brighter and lasts ten times longer than its predecessor, zinc sulfide.
The Swiss company RC Tritec AG was founded in the 1990s with the licensing rights to produce and distribute LumiNova under the registered name Super-LumiNova. In 1998, RC-Tritec AG partnered with Nemoto to establish LumiNova AG Switzerland as the go-to source for the Swiss watch industry for high-performance phosphorescent pigments. Therefore, despite its Japanese origins, Super-LumiNova is 100% Swiss-made.
Although Rolex began using Luminova in 1998, the brand quickly upgraded to Super-LumiNova in 2000. Rolex watches with Super-LumiNova details glow green in the dark. Again, unlike radium and tritium, Super-LumiNova first needs to be charged by light to give an afterglow, which then illuminates the face of a watch in the dark. Yet, despite its need to charge, the big advantage of Super-LumiNova over tritium is that it's non-radioactive and completely harmless. Plus, tritium paint eventually loses its ability to glow while Super-LumiNova will continue to glow long after the half-life of tritium, just as long as it's charged beforehand.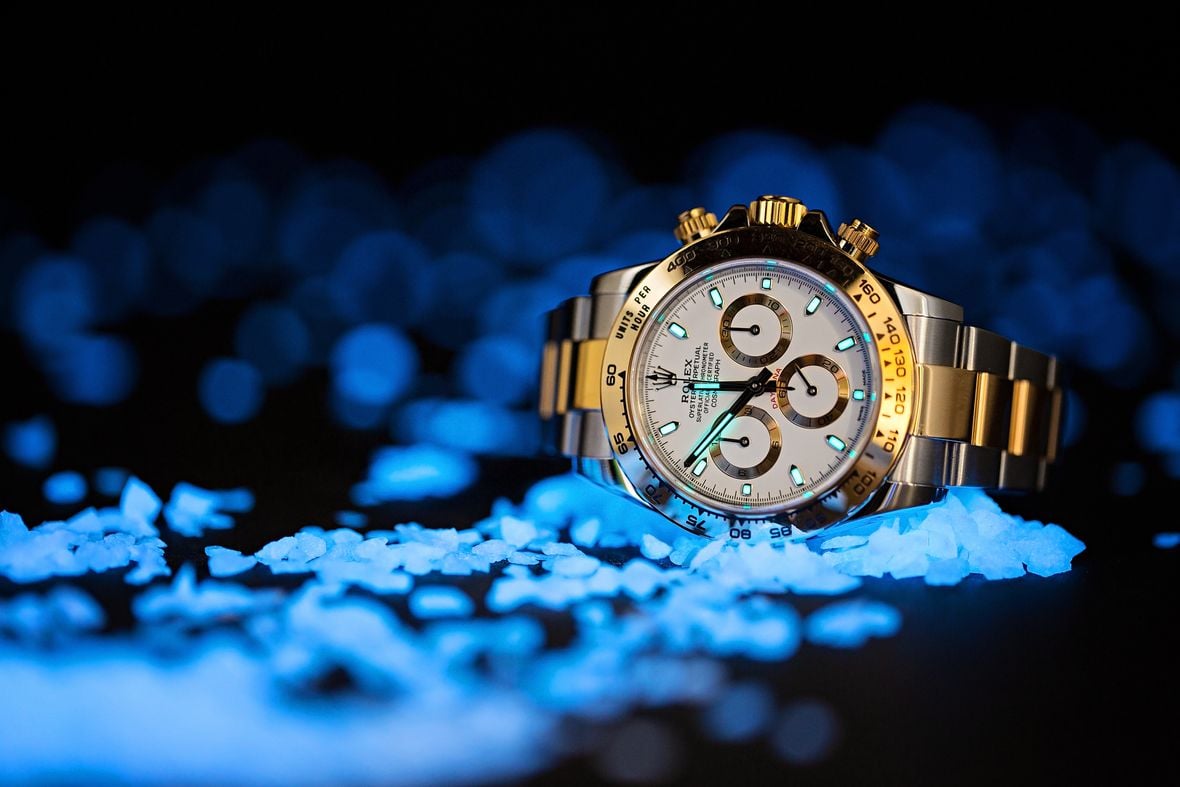 Rolex Chromalight
In 2008, Rolex debuted the Chromalight display on the Deepsea Sea-Dweller. Although it is also a photoluminescent material, this time, rather than green, the Rolex proprietary compound gives off a blue glow in the dark. Furthermore, according to Rolex, Chromalight can last up to eight hours, which is more than double the duration of other luminescent materials. Following the Deepsea, Rolex began furnishing other sports watches such as the Submariner, Daytona, and GMT-Master II with Chromalight rather than Super-LumiNova.
Today, Chromalight (which is a proprietary compound that is entirely exclusive to Rolex) is applied to the hands and hour markers of every single Rolex sports watch. Additionally, ever since 2015, most of the brand's classic watches in the Oyster collection are also furnished with Chromalight on their hands and hour markers.
While all current Rolex Oyster Professional watches sport the blue Chromalight display, there are some relatively new (post-2010) Rolex watches that glow with green Super-LumiNova. Interestingly, some modern Milgauss watches (as well as some of the now-discontinued Datejust II models) included both the blue and green luminescence for a brief period of time. With that in mind, the most recent Milgauss models are all exclusively furnished with Chromalight.
How Is Rolex Chromalight Manufactured?
To create its proprietary Chromalight display, Rolex starts with an ultra-fine metal oxide powder consisting of aluminum strontium, dysprosium, and europium. Making this powder requires an intricate and delicate manufacturing process to achieve the proper balance of materials. The mixture is then heated to form crystals through a reaction that can only happen under controlled high temperatures.
At this point, the luminous material is in the form of a crystalized powder and although it will still glow in response to light, it is not in a form that allows it to be applied to the hands and hour markers of a watch. In order for it to be able to used to finish the tiny surfaces found on watch components, this luminous power must first be turned into a liquid paint.
The phosphorescent powder is then combined with liquid resin before it can be applied to the hands, hour markers, and any other details that need to light up in the dark. Naturally, it takes an incredibly detailed application process and rigorous quality control to apply the exact quantity needed to make sure all Chromalight glows consistently across all modern Rolex watches.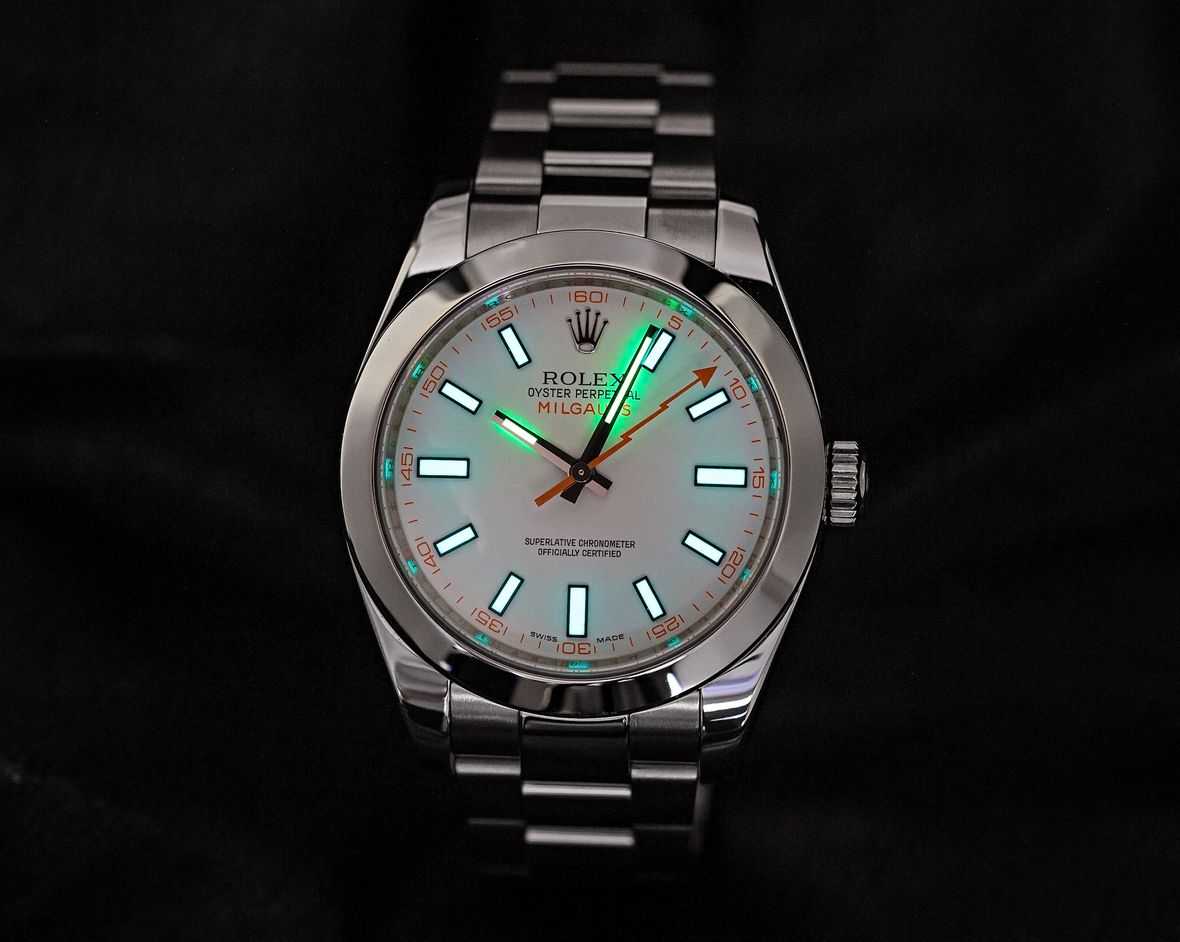 How To Tell If A Rolex Watch Has Super-LumiNova or Chromalight
If you're not sure which lume your Rolex has, the quickest way to tell if your Rolex has Super-LumiNova or Chromalight (or both) is to simply turn off the lights! Remember, green for Super-LumiNova and Blue for Chromalight.
Regardless of the color, Rolex watches perform superbly at night and boast a distinct look, even in the dark. Some Rolex watches, such as Submariner dive watches, will glow brighter than others (like, let's say a Daytona) because there's more luminous material on the former than the latter. All other things being equal, more luminous material results in a brighter and longer-lasting glow – and this is precisely why Rolex's sports watches typically feature larger hands and hour marks than their classically styled counterparts.
Looks-wise, do you prefer your Rolex to emit a green or blue light in the dark? Leave us a comment below.