A striking combination, a gold Rolex watch with black details is a classic and stylish choice. Aside from the more obvious sizing considerations, design plays a major factor in a watch's appeal. There are a number of color schemes in Rolex's catalog that manage to suit both masculine and feminine tastes, and the pairing of black and gold is one such combination. The warmth of a luxurious yellow gold case against a rich black dial (and in several instances, black bezels or straps) creates a look of sober luxury, regardless of the wearer.
If you love the mix of black and gold, then Rolex has plenty to offer. Not only are there black and gold Rolex dress watches but the brand makes several sports watches with that color profile too. Additionally, you can take your pick from vintage Rolex models or modern ones – the marriage of black and gold has been a mainstay of the Rolex lineup for decades. If you're looking to add one to your collection, then read this handy black and gold Rolex guide to help you decide which one belongs in your collection.

What are Rolex Black Onyx Dials?
Before getting into the details of the watches themselves, we have to discuss black onyx Rolex dials. From the 1970s until the 1990s, Rolex equipped select Datejust and Day-Date references with stone dials, including onyx ones. Onyx is a variety of the Chalcedony gemstone and while it is available in a multitude of colors, solid black onyx is the most popular.
Vintage Rolex watches with black onyx dials are generally sparsely decorated with a trio of gold hands at the center, a Rolex crown at 12 o'clock, a few lines of text, and either one or two calendar windows. These dark and stark dials, which almost never have hour markers (except for some rare variations with a smattering of diamond indexes), look especially good when paired with a solid yellow gold Rolex watch.
Gold Rolex watches with black onyx dials are highly collectible; their demand coupled with the fact that stone dials have a tendency to crack if handled improperly make them a prized find in the collector's market.
Black and Gold Rolex Classic Watches
Of all the precious metals available, yellow gold remains the most traditional option. So it comes as no surprise that Rolex makes plenty of classic watches in yellow gold. Some of Rolex's most famous classic models like the Day-Date, Datejust, and Sky-Dweller, are available with yellow gold cases and black dials.
Rolex Day-Date
The Day-Date, commonly known as the Rolex President, is the brand's most exclusive and famous gold watch. Since the mid-1950s, the model's defining trait has been the pair of calendar windows on the dial (one for the day and one for the date). While Rolex has paired the Day-Date with various different bands such as Oyster bracelets and leather straps, it is traditionally fitted with the President bracelet, which was specifically designed by Rolex for the Day-Date collection.
Rolex exclusively makes the Day-Date in precious metals, with yellow gold being the go-to option. Given that black dials are common in Rolex's collection, there is no shortage of black and gold Day-Date President watches. Plus, there are Day-Date references available with black onyx dials too, such as the President ref. 18038 and ref. 18238.
Aside from vintage or modern models, there are also gold and black Day-Date watches in different sizes. There are of course the classic Day-Date 36 models, but let's not forget the larger Day-Date II (ref. 218238) with a 41mm case and the newer Day-Date 40 (ref. 228238) with a 40mm case.

Rolex Datejust
The Datejust has served as the archetype of the quintessential Rolex watch since the model's debut in 1945. Available in a multitude of sizes, materials, and styles, there are hundreds of references available. What they all have in common is the date window at 3 o'clock, magnified by Rolex's signature Cyclops lens on the surface of the crystal above it.
The current two larger sizes of the Datejust are the Datejust 36 and the Datejust 41, both of which are not available in full yellow gold. However, there are discontinued yellow gold Datejust watches like the Datejust 36 ref. 116238 and the Datejust 36 ref. 16238, and some examples are fitted with black dials. There's also the superb vintage Datejust 16018 with a black onyx dial housed inside its yellow gold case.
Of course, Rolex has always offered the smaller Datejust models like the now-discontinued Lady-Datejust 26, the current Lady-Datejust 28, and the midsize Datejust 31, in precious metals. From vintage variants to modern reference, you can find plenty of yellow gold women's Datejust models with black dials, and you'll have your option of examples both with and without diamonds.

Rolex Sky-Dweller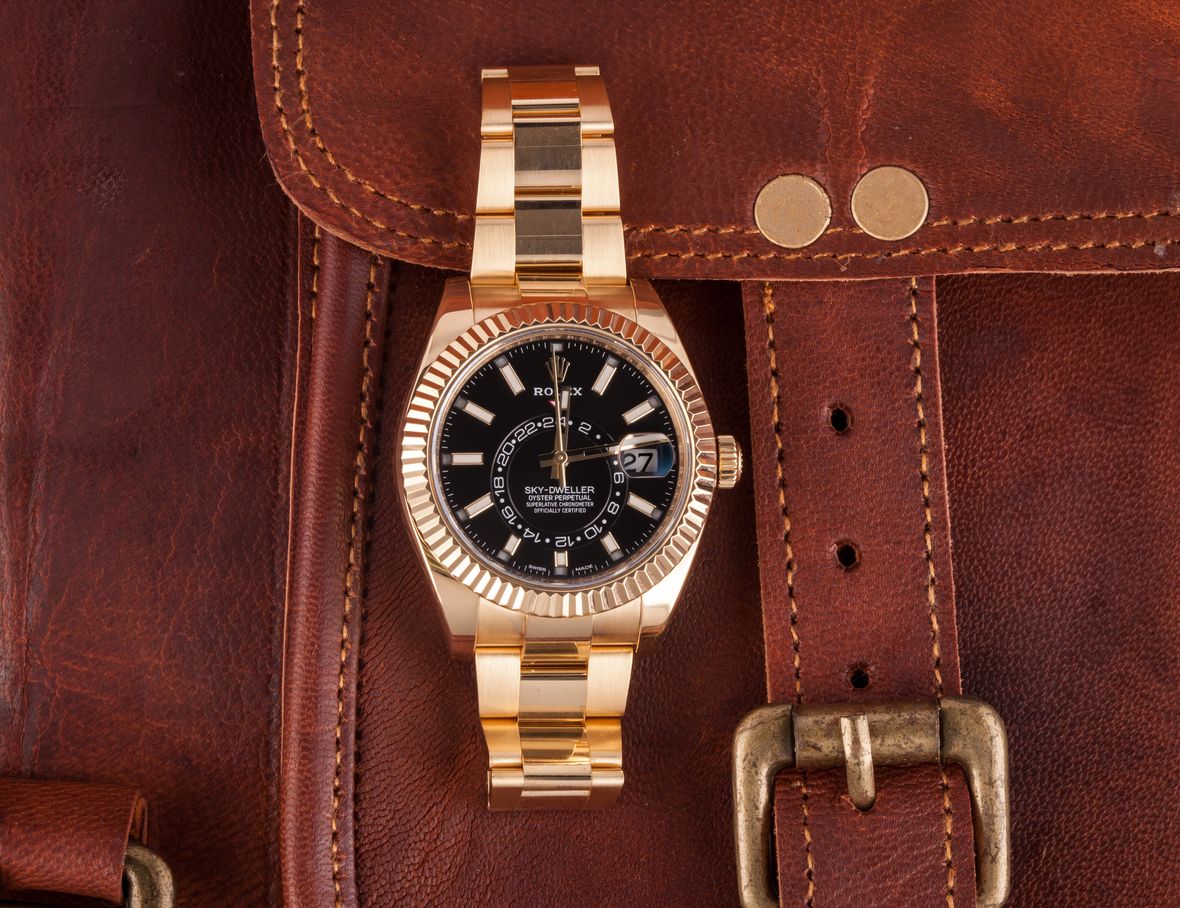 The Sky-Dweller is not only one of Rolex's newest collections but also one of the brand's most complicated watches. First introduced in 2012, the Sky-Dweller boasts a dial with date, month, and two time zone indicators. What's more, it is an annual calendar, which means that it keeps track of the different numbers of days in each month and only requires resetting once per year. While there are now stainless steel and two-tone Sky-Dweller watches, Rolex initially only made these 42mm luxury travel watches in three different shades of solid 18k gold.
For yellow gold and black Sky-Dweller watches, you have a few choices. First, there's the Sky-Dweller 326938 with a solid yellow gold Oyster bracelet. Then there's the discontinued Sky-Dweller 326138, fitted with a black leather strap. Finally, there's the new Sky-Dweller 326238, which is equipped with a black Oysterflex bracelet.

Black and Gold Rolex Sports Watches
The vast majority of Rolex sports watches are fitted with black dials. A smaller number of Rolex sports models are available in 18k yellow gold and when they are, you can be sure they can be found with the option of a black dial. Here are some black and gold Rolex sports watches to consider.
Rolex Submariner
Known as the world's most famous diving watch, Rolex released the Submariner in 1953 as a no-nonsense stainless steel tool watch. However, after 16 years of production, Rolex saw the opportunity to expand the appeal of the Submariner beyond a utilitarian diver into a luxury sports watch. In 1969, Rolex unveiled the first gold Submariner in the form of the reference 1680/8 – and the watchmaker has produced a yellow gold Sub ever since.
All gold Submariners are available with black dials and black bezels (Rolex also makes blue ones; LN references are black while LB references are blue).
Here's a list of black and gold Rolex Submariner references made throughout the years:
Submariner 1680/8 (1969-1979)
Submariner 16808 (1979-1988)
Submariner 16618 (1989-2008)
Submariner 116618LN (2008-2020)
Submariner 126618LN (2020 – present)
Vintage Submariner models, notably the ref. 1680/8 and ref. 16808, have what are referred to as "nipple dials," which are characterized by raised lume-filled hour markers that are crafted from yellow gold.

Rolex GMT-Master / GMT-Master II
The GMT-Master is Rolex's pilot watch collection, introduced in 1955 for Pan-Am pilots to track two time zones. Gold variants (with brown dials and bezels) of the GMT-Master were available right from the initial launch of the model; however, it wasn't until the late-1960s that Rolex made gold models with black dials and bezels.
Here's a list of black and gold Rolex GMT-Master references made throughout the years:
GMT-Master 1675/8 (late-1960s – 1980)
GMT-Master 16758 (1980 – 1988)
GMT-Master II 16718 (1988 – 2005)
GMT-Master II 116718LN (2005 – 2019)
Today, Rolex no longer makes yellow gold GMT-Master II watches. They were phased out in 2019 and replaced with Everose gold models.

Rolex Daytona
Just like the Submariner is the must-have diving watch and the GMT-Master is the brand's globally famous travel watch, the Rolex Daytona is arguably the world's most iconic chronograph. Rolex unleashed the Cosmograph Daytona in 1963 and continued to make these manual-winding chronographs, sized at around 37mm, until the late-1980s. Along with steel variants, Rolex offered most vintage Daytona references in yellow gold – many of them with the option of a black dial and some even fitted with a black "Paul Newman" dial.
Here's a list of black and gold vintage Rolex Daytona references:
Daytona 6239 (1963 – 1969)
Daytona 6241 (1965 – 1969)
Daytona 6262 (1969 – 1970)
Daytona 6264 (1969 – 1972)
Daytona 6263 (1971 – 1988)
Daytona 6265 (1971 – 1988)
In 1988, Rolex revamped the Daytona collection to offer bigger modern chronographs, complete with automatic movements. Rolex sourced Zenith El-Primero automatic calibers but significantly modified them to create the Rolex Caliber 4030. As such, this generation of 40mm automatic Daytona watches are commonly nicknamed the "Zenith Daytona" and Rolex made three main metal versions: steel, two-tone, and gold. The full yellow gold version is the Daytona ref. 16528 (with a matching gold Oyster bracelet). There's also the Daytona ref. 16518 that is fitted with a leather strap. Rolex offered black dial variants of both these gold Rolex Daytona Zenith references.
Finally, in 2000, Rolex introduced a new generation of the automatic Daytona equipped with an in-house manufactured movement: the Caliber 4130. Rolex has made several gold six-digit Daytona references since then, all of which offer the option of a black dial.
Here's a list of black and gold Rolex Daytona references:
Daytona 116528 with gold bezel and gold Oyster bracelet (discontinued in 2016)
Daytona 116518 with gold bezel and leather strap (discontinued in 2015)
Daytona 116508 with gold bezel and gold Oyster bracelet (2016 – present)
Daytona 116518LN with black Cerachrom bezel and Oysterflex bracelet (2017 – present)

Celebrities Who Wear Black and Gold Rolex Watches
From dressy styles like a President to sporty models such as Daytona, the variety of black and gold Rolex watches is immense. Interestingly, although this colorway has been available in the brand's catalog since the mid-20th Century, black and gold Rolex watches are very much on-trend today.
Check out some of the celebrities we've recently spotted wearing a gold Rolex with black dials:
The Weeknd wears vintage gold Datejust with a black onyx dial.
Justin Theroux wears a vintage black and gold Submariner 1680.
Bruno Mars wears a gold President with a black diamond dial.
Sofia Vergara wears a gold Daytona with a black mother-of-pearl dial.
Ellen DeGeneres wears a vintage gold Daytona 6241 "John Player Special" with a "Paul Newman" dial.
LeBron James wears a Day-Date II 218238 with a black Roman numeral dial.
Adam Levine wears a vintage gold GMT-Master with a black dial.
Celebrity or not, a black and gold Rolex watch looks good on just about everybody and it's a design that will never go out of style!