By Rolex's standards, 2019 was far from a quiet year. Several updates to established collections caused waves around the industry when they were unveiled in the springtime, with the Rolex Yacht-Master 42mm setting a new (white) gold standard in the sports watch realm. With the year about to draw to a close, we take a look back at the top 3 new Rolex watches of 2019.
Rolex Sea-Dweller Ref. 126603
The Sea-Dweller for 2019 brings a luxurious look to one of the most uncompromisingly rugged Rolex watches in the brand's catalog. There will be some that deride the use of a precious metal – 18-karat gold, no less – on what is undoubtedly a tool watch first and foremost, but in light of Rolex's standing as a brand that is more powerful than the sum of its products, it perhaps makes sense to offer a flashier version of this loveable underwater wrist giant.
What Rolex does exceptionally well with its bracelets, is fashion end-links that add to (rather than detract from) the link formation. Oftentimes, you will see beautiful bracelets with excellently machine links, with an end-link set-up that looks like the bracelet just kind of ran out of steam as soon as it met the case. Rolex makes a point of emphasizing the central link to great effect. In this example, the polished, 18-karat gold center link sits proud of its Oystersteel flankers. Sitting snugly beneath the bezel, the result is one of considered design and shouldn't ever be taken for granted. Once again, Rolex justifies its position as a market leader by paying attention to the details so many other brands fail to appreciate.
Rolex Yacht-Master 42 Ref. 226659
While the Yacht-Master II's connection to yachting needs no explanation thanks to the prominently-displayed in-house Regatta Timer on the dial, the original Rolex Yacht-Master is a different animal. This is not, thanks to the lack of a luminous marker on the black ceramic bezel, a dive watch. The white gold case precludes it from classification as a sports watch too. This is a watch to be worn while experiencing the on-deck luxury of a yacht, for recreation rather than competitive purposes.
The latest addition to the Yacht-Master line is perhaps the best example of a luxury lifestyle watch from Rolex thus far. It is unmistakably bold, self-confident in its luxury abandon, and just about as contemporary a timepiece as you're likely to see from the Crown. The achingly cool Oysterflex rubber strap (which, thanks to its metal core enhancing fit and durability, almost qualifies it as a strap/bracelet hybrid) is a welcome and appropriate addition to the line at this larger case diameter, having previously been deployed on the smaller Everose gold variants in 40mm and 37mm.
Rolex GMT-Master II Ref. 126710BLNR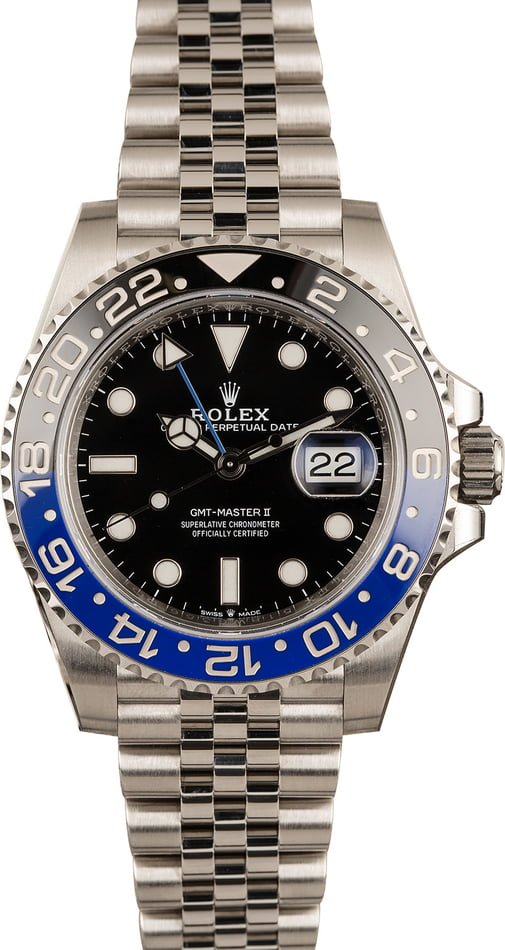 Adding a Jubilee bracelet and a new movement to the GMT-Master II "Batman" may not seem like big news, but the waiting lists that have sprung up for this model since would beg to differ. One of the best-selling models of recent years finally got the luxury treatment it deserved. This release brings the model in line with the desperately popular "Pepsi" version from 2018.
For some, the GMT-Master range will always look more at home on the blockier Oyster bracelet, but many others disagree. The Jubilee elevates what is essentially a pilot's tool watch to the level of refinement one might expect to see sported by the men and women capable of hauling our civilian backsides through the clouds on a daily basis. Given this model's wide appeal amongst businessmen and women as a status symbol, it makes sense to dress it up with the beautiful Jubilee bracelet, which is perhaps the brand's most famous design outside of the watch heads themselves.