With his career to date seeing him sell more than 15 million records, and in the process bag himself three Grammys, a mentoring role on one of the most successful reality TV series ever and his very own Victoria's Secret Angel, Adam Levine can afford to treat himself to a few luxuries.
Those luxuries should include a bank of some of Rolex's finest, and most expensive, vintage pieces perfectly in keeping with the singer's personal style and philosophy. Earning his formidable success the old-fashioned way, through hard work and dedication to his craft. Levine is the epitome of Rolex's overriding principles and classic good look don't hurt either party as well.
Along with his music and TV work, he has expanded his reach by releasing clothing and fragrance lines and his own brand of guitars. With such a varied outlook, it should come as no surprise that he likes to mix things up in his wrist attire too. Adam Levine's vintage Rolex collection is as eclectic as it is desirable, containing the kind of grail pieces most of us can only dream of.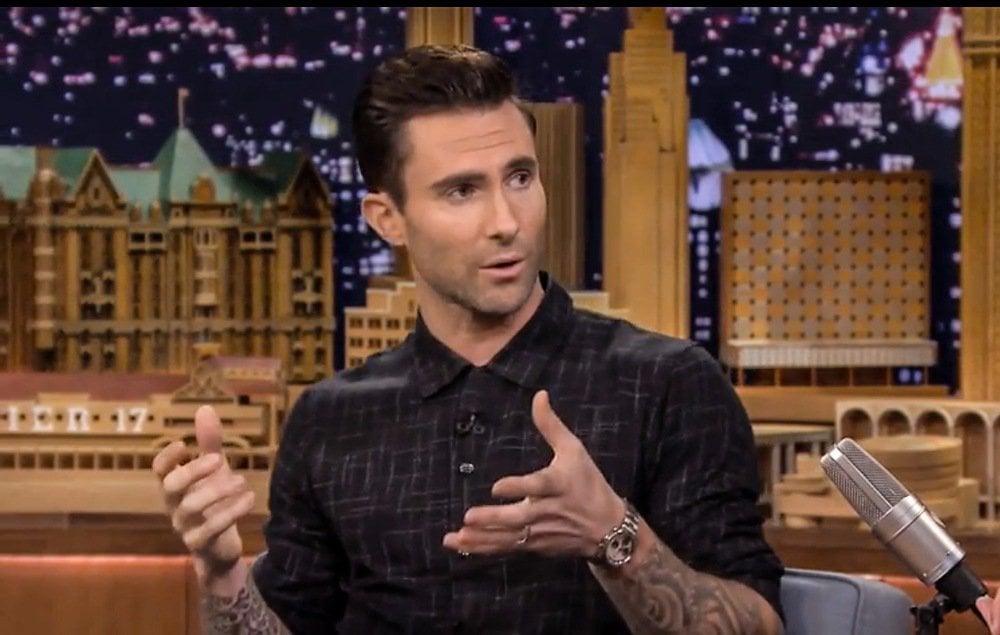 The Paul Newman Daytonas
When you've shifted as many records as Levine, the only thing better than rewarding yourself with one of the most coveted vintage watches in the world is rewarding yourself with three of them. The Maroon 5 frontman has been spotted with some stunning examples of the Paul Newman Daytona, including two steel versions—the white dial, black subdial Panda and black dial, white subdial Reverse Panda, along with a very special ref. 6264 in yellow gold that was only in production for one year around 1969.
With the Panda dials most commonly seen during TV appearances and when performing on stage, the ultra-rare gold version of an already ultra rare watch is a frequent addition to a more formal red carpet outfit, topping off an immaculate tuxedo with just a hint of theatricality.
The Submariner ref. 6538
Underlining his reputation as a purist, particularly when it comes to his taste in watches, Levine's most frequently worn piece is the original Bond Submariner, the ref. 6538. Launched in 1956, the legendary big crown, no guard Sub first gained recognition on the wrist of Sean Connery in Dr. No, and served the superspy well through From Russia With Love, Goldfinger and Thunderball.  
The dial on Levine's example has aged with a beautiful patina and its four lines of text identify it as being from later in the production run, after they had gained their Officially Certified Chronometer status; what's known as the OCC watches.
This was the reference that secured the Sub's reputation as the ultimate dive tool, and the first in the series to uprate its water resistance to 200m.
Full of the tiny classic details that would make any fan's mouth water, such as the gilt hands and text, Levine's Bond Submariner is an effortlessly cool watch and a fine addition to his collection.
The GMT-Master ref. 1675
When he was voted the 'Sexiest Man Alive' by People Magazine in 2013, the accompanying photo shoot at the star's LA home featured Levine rocking a stunning vintage GMT-Master ref. 1675 in yellow gold with a Jubilee bracelet.
Fitting an all-out tool watch with that most intricate of Rolex's bands, originally designed for the launch of the Datejust in 1945, lends the GMT a more measured, refined look, and makes an intriguing contrast next to Levine's  heavily tattooed arm.  
In production between 1959 and 1980, Levine's ref. 1675 with an all black bezel was available from 1972 and is a departure from the two-tone surrounds on which the GMT-Master made its name. That, along with the black dial finished with the distinctive gold nipple-style hour markers, further establishes this particular example as more of a statement piece than the ultimate traveler's watch.
It is the ideal blend of dressy showmanship and down to earth style, a vintage classic with the Midas touch.
The Rolex Day-Dates
To round off a truly enviable collection of some of the crown's best, Adam is the proud owner of not one but two Rolex Day-Dates, in both yellow and white gold. A watch with firm links to the establishment, the President is not an obvious choice for a full-blooded rock star, but both examples here are fitted with what's known as Stella dials, the short-lived seventies trend for ferociously colorful faces on that most traditional of designs.  
Regular viewers of The Voice have sighted the bright turquoise dial on the white gold piece, complete with diamond indexes, and the yellow gold President, finished off in fuchsia pink, has accompanied Levine on more than one live performance.
Matching the watch's button-down conservative understatement with the luridness of the attention-grabbing colors gives the impression of a man very much confident in his own tastes. The Day-Date has always been Rolex's most aspirational offering, one that tells the world you've achieved most, if not all, of what you wanted in life. The Stella dial examples have always appealed to the most successful artists and performers; a subversive watch for the modern rebel.
The vintage pieces Adam Levine has chosen to populate his collection with show someone with a thorough understanding of the Rolex brand, its history and its cultural significance. And someone with a great big pile of cash. With the Daytonas and Submariners in particular easily running deep into six-figure territory, it takes a superstar's salary to fund this pricey obsession.
With his continued success both on and off screen, we're confident more rare and desirable watches will make their way on to Levine's wrist—and we'll keep you updated of any news.